Showing results for
Did you mean:
Sorry, something went wrong. Please refresh your browser and try again.
Last updated on
March 27, 2018
The Best Medical Alert System
We investigated 23 popular medical alert providers and hand-tested 5 finalists to find our 2 top picks
Elder care experts agree: The best medical alert system offers reliable equipment, transparent pricing, and help at the push of a button. After tracking down all 23 nationwide providers, we scored them on service, transparency, and breadth of equipment. Then we hand-tested 5 finalists for the easiest setup and speediest response. Our 2 top picks left us confident our loved ones would be in good hands.
The best medical alert systems
Our top picks
Other options
How we chose the best medical alert systems
Starting criteria
Customer service
On paper, most medical alert companies look identical — the exact same products at very similar price points. We found that customer service is one of the main things that sets them apart. Factors like website layout, FAQs, live chat, and a customer service hotline can be the difference between a ten-minute ordering process or an hours-long ordeal.
Nationwide coverage
Some providers don't offer their service in every state. We wanted to focus on medical alert systems that are available anywhere in the U.S., so we eliminated regional providers from our starting pool.
Standalone alert service
Many home security companies offer personal emergency response systems — but only as add-ons to a larger suite of security offerings. With so many standalone services available, there's no need to install an entire security system — that would be like buying a Swiss army knife just for the corkscrew.
Upfront pricing
When we talked with Scott Knoll, MSW and owner of in-home senior care agency By Your Side Home Care, about how to find a reputable service, he told us, "Look for a company that transparently lists prices and services on their website — while not requiring a lock-in contract." Many companies had fees hidden behind asterisks: Alert1, ResponseLINK, GreatCall Lively, and Philips Lifeline all added $50-60 activation fees at checkout, with no prior warning. (In fact, Alert1 even claimed to offer "free activation.")
Ordering and setup
Easy ordering
Companies lost points if they didn't provide multiple ways to order. While some seniors might feel more comfortable ordering over the phone, many customers are younger people shopping for their parents, grandparents, or another loved one; so online ordering should be standard and simple.
Simple setup
We ordered both systems from each of our finalists to test them for ourselves. Once the equipment arrived, we unboxed them and assessed how easy it was to get each system up and running.
Hands-on testing
Equipment quality
To evaluate equipment, we began by looking for two basic pieces of technology. Given that over 60% of falls occur in the tub or shower, we saw no reason why any service's wearable devices shouldn't be waterproofed. We also wanted all units that relied on a wall plug to have battery backup in case of power outages.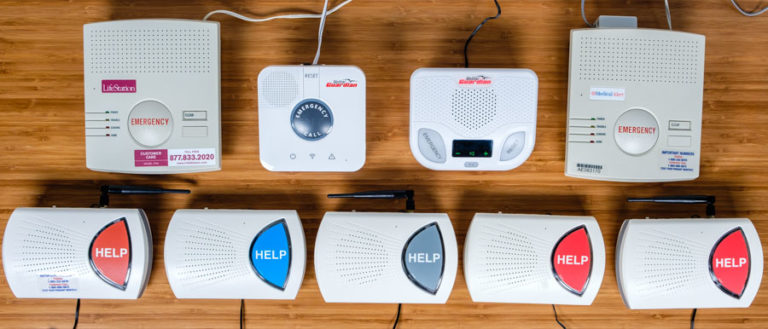 Comfort and style of wearables
Once we set up the base units, we tried out their accompanying pendants and wristbands to see which were the most comfortable. We docked points for scratchy wristbands, unattractive colors, and designs that felt heavy or awkward when worn. Our favorites were sleekly designed and didn't irritate our skin or immediately scream "medical alert."
Response time & professionalism
As a final step, we placed at least five test calls to each company's monitoring center — both by hitting the base unit's emergency button and by pressing the alert buttons on our pendants and wristbands — then timing how quickly each call was picked up. We also noted operators' professionalism when we called. We had a uniformly good experience at this step: All operators were kind and thorough, asking us to confirm multiple times per call that no one was in actually in danger.
Our Top Picks
Medical Guardian
Fastest Response Time
Starting at $29.95
Why we chose it
Fastest response time
Medical Guardian blew the competition out of the water with its incredible response time. Other finalists required us to wait at least a full minute between placing our emergency calls and receiving a response (a surprisingly long time when you're counting every second), but Medical Guardian averaged 39 seconds across five test calls. We let the operator know each time that we were only testing, but in a real emergency, those extra seconds matter.
Customer service
Medical Guardian had uniformly impressive customer service. When we called their helpline, our call was answered immediately, and the rep helpfully answered our questions before wishing us a good evening by name. Medical Guardian was also one of few companies with a live chat option. Our rep's name and phone number appeared as soon as our chat began — giving us a way to address follow-up question to the same person — and we had the option of forwarding our chat transcripts via email (helpful if you're a caregiver collecting information on behalf of someone else).
Simple setup
We were delighted with how straightforward activation was. The device was ready to place emergency calls as soon as we plugged it in. Medical Guardian also clearly lays out how to cancel an accidental call, which is more useful than you might think: Our Medical Alert cellular unit summoned paramedics to our office after we bumped against the unit and couldn't figure out how to cancel the alert quickly enough. Like all of our finalists, Medical Guardian also allows you to contact a customized list of emergency contacts before calling emergency services. This means you can contact trusted family or friends instead of emergency personnel at your discretion.
Stylish equipment
Among our finalists, Medical Guardian has a unique base unit design. Its landline model is sleeker than similar brands like LifeStation, and its cellular model includes date, time, and temperature on its visual display — not a necessity by any means, but a nice touch when most other units resembled vintage answering machines. Medical Guardian also has the most unique wearables. As with other brands, you'll get your choice of a watch or a pendant; but while most of the watches we tested had a scratchy velcro wristband or displayed the standard white-and-grey alert button with a cross that was obviously medical alert equipment, the Medical Guardian band looked pretty discreet. Testers with slender wrists found it bulky and preferred the pendant, but both wearables were unusually stylish.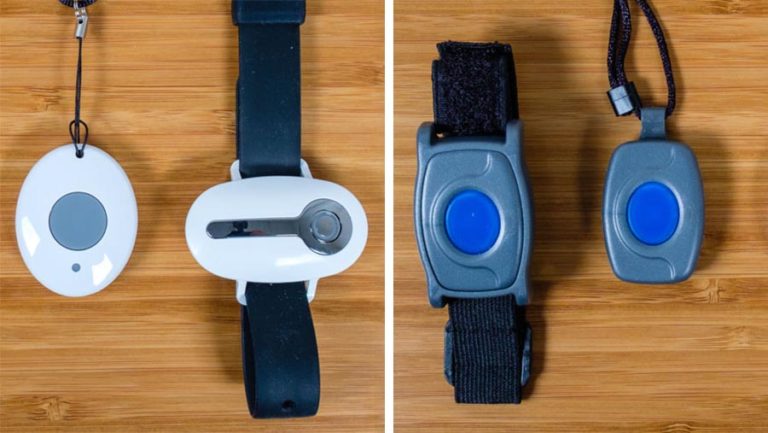 Points to consider
Difficult-to-read manual
We had just one qualm with Medical Guardian during setup. We received two instruction booklets: a quick-start guide, and a more in-depth instruction manual. The manual had a comprehensive list of clearly labeled diagrams that explained how the device worked, which we loved — but the font was small enough to be difficult for vision-impaired seniors to read. It's easy to use the system without reading through these details, but vision-impaired folks who want to understand every detail of their system should plan on having a caregiver present during installation.
Initial contract required
Medical Guardian's main con is that it requires a three-month commitment before you can move on to a month-to-month plan. However, they do have a 30-day money back guarantee, so you can cancel your service within 30 days of receiving your equipment for a refund. If you miss that window, you'll have to pay for the full three months' initial commitment before you cancel.
Bay Alarm Medical
Flexible Plans
Starting at $27.95
Why we chose it
Easy Ordering
Medical Guardian blew the competition out of the water with its incredible response time. Other finalists required us to wait at least a full minute between placing our emergency calls and receiving a response (a surprisingly long time when you're counting every second), but Medical Guardian averaged 39 seconds across five test calls. We let the operator know each time that we were only testing, but in a real emergency, those extra seconds matter.
Solid Response Time
On average, Bay Alarm Medical took 60 seconds to connect us to a monitoring center: faster than our other three finalists (though a bit longer than Medical Guardian's 39-second average).
Free trial and flexible plan terms
Bay Alarm plans offer plenty of flexibility. First off, there's a 30-day trial period, during which you can receive a full refund if you return your equipment. After your trial ends, plans can be set up to bill at one-, three-, and six-month intervals. And multi-month billing doesn't require a contract; Bay Alarm will refund you for any remaining, unused months of your plan if you cancel.
Points to consider
Aesthetics
Bay Alarm's equipment isn't the sleekest or most discreet. Our base station was clunky, with nothing but a speaker and a brightly colored alert button. There's also nothing stand-out about the way the wearables look: they're white and grey, with medical crosses clearly visible, and look identical to OneCallAlert's wristband and pendant. They're comfortable, but if you want equipment that's not blatantly obvious about being a medical alert device, we'd suggest Medical Guardian instead.
Unexpected alerts
Our cellular unit alerted us to signal strength by calling out "Two bars" or "Three bars," sometimes when weren't expecting it — not particularly helpful information, especially since we don't know Bay Alarm's maximum number of bars.
Other Options
OneCallAlert
Starting at $24.95
OneCallAlert's equipment looked identical to Bay Alarm's and functioned just as well, with easy setup and prompt customer service. Our biggest concern came from the fine print. In its Terms and Conditions, OneCallAlert retains the ability to increase its fees at any time as long as it provides 30-day written notice — unlike our top picks, which offer a price lock that guarantees the initial fee you sign up for. When we asked OneCallAlert customer service reps whether there was a cap on how much or how often their fees could be raised, we received vague, evasive responses.
Medical Alert
Starting at $19.95
Medical Alert got high marks for its clear instructions and easy setup, but a few flaws kept it from a top spot. It had the slowest response average of all the contenders at 74 seconds, and while its Terms and Conditions didn't concern us as much as OneCallAlert's, it does allow for a 10% price increase each year.
LifeStation
Starting at $25.95
LifeStation's equipment looked identical to Medical Alert's, but its instructions failed to explain set-up as thoroughly, leaving us confused when the machine started yelling voice prompts like "Ready for learning!" and "Timer off!" — disorienting when we were just trying to figure out how to place an emergency test call. The recessed power switch on its landline unit was also difficult for our testers to reach and would make setup difficult for anyone with reduced mobility. But LifeStation did win a few points for customer care: it was the only company to contact us when it detected that the power for our unit had been disconnected, sending us an email that urged us to re-test our system.
Guide to medical alert systems
How to find your perfect fit
Compare pricing information
Our top picks offer transparent pricing, but that may not be the case with all providers. Watch for extra fees that may be assessed on top of monthly monitoring charges, such as installation or activation fees; these can increase your total cost significantly.
Study plan terms
Look for a price-lock guarantee. If there isn't one, your monthly service cost could increase in the future, even if you choose a plan with a contract. It's also a good idea to investigate whether a contract is required — and if there's a cost associated with cancellation.
Check for promotions and discounts
Many medical alert system providers offer promotions for new customers, from free shipping to equipment discounts. Some also offer discounted monitoring if you agree to pay for more than one month at a time. (Note: multi-month billing is not necessarily the same as a contract. Some providers, like Bay Alarm, will refund unused months if you cancel.)
Ask about certification
All of our finalists have monitoring centers with third-party certification, either from Underwriters Laboratories (UL) or the Central Station Alarm Association (CSAA). This level of training helps to ensure your call will be handled appropriately in the event of an emergency.
Consider included and add-on features
Recent advances in tech have allowed companies to offer increasingly advanced features, from fall detection to mobile GPS tracking. But don't get too caught up in the bells and whistles. Family caregiving expert Stephanie Erickson recommends, "Keep it as simple as possible. If there are too many buttons or too many features, many seniors will say, 'Forget it, are you kidding me? I can barely work two remote controls.'"
Medical alert system FAQs
What features should I look for in a medical alert system?
This depends largely on your lifestyle. If you travel often, mobile medical alert systems provide on-the-go monitoring. If falls are a concern, many providers offer fall detection for an additional monthly cost. Keep in mind, all medical alert systems provide the same fundamental service: access to a professional monitoring center that will contact emergency services when you need help.
Do all medical alert systems require a landline connection?
Nope — many providers offer both landline and cellular options for at-home monitoring. For active seniors in need of a medical alert system with GPS, check out our review of the best mobile medical alert systems.
What's the difference between landline and cellular medical alert systems?
Landline systems plug into a phone jack. They include a base station and a wearable device (usually a watch or pendant), which routes calls through the base when you call for help. Cellular systems connect to a cellular network, much like a mobile phone. They can be designed for at-home or mobile use. Cellular systems are less susceptible to power outages but can be less reliable in areas with spotty cell service.
What's the difference between at-home cellular and mobile medical alert systems?
Both connect via a cellular network; the difference is whether a base station is required. At-home systems route calls for help via a base station. These systems typically have a maximum range within which the base and wearable device (usually a watch or pendant) can communicate. Mobile systems connect to a monitoring service directly, without passing through a base station. They're equipped with GPS so the operator can send help to your exact location.
What is two-way voice?
Medical alert systems equipped with two-way voice allow you to speak with the operator in real time. This feature is valuable for calling off a false alarm if you call for help accidentally. In case of emergency, it also allows the operator to get more information about your situation to dispatch the right type of help.
If I cancel my medical alert service, do I have to send my equipment back?
Yes — in most cases, your medical alert equipment must be returned to your provider when you cancel your service. Be aware that some providers may charge a fee if equipment is lost or damaged. Check your terms of service or contact customer service for details.
The best medical alert services: Summed up
| | | | | | |
| --- | --- | --- | --- | --- | --- |
| | | | | | |
| Reviews.com Top Pick | ✓ | ✓ | ✗ | ✗ | ✗ |
| Monthly Cost | Starting at $29.95 | Starting at $27.95 | Starting at $24.95 | Starting at $19.95 | Starting at $25.95 |
| Wireless Range (in-home systems) | 600 - 1,300 feet | Up to 1,000 feet | 600 - 1,000 feet | Not specified | Up to 500 feet |
| Fall Detection Available | Yes ($10/month) | Yes($9.95/month) | Yes($10/month) | Yes($9.17/month) | Yes($7/month) |
| Water Resistant Wearable Device | ✓ | ✓ | ✓ | ✓ | ✓ |
| Plan Terms | | | | | |
| | Shop plans | Shop plans | Shop plans | Shop plans | Shop plans |