The Best Medical Alert System for Active Seniors
For independence and peace of mind no matter where you are
Latest Update
November 28, 2017
The 30-Second Review
Medical alert systems can help loved ones feel more secure, and with recent advances in tech, users can stay protected on-the-go with GPS- and wireless-enabled mobile devices. We hand-tested 9 different devices for several weeks (and made over 70 test calls) to find the best medical alert system for active seniors: one with straightforward setup, intuitive controls, and stellar service.
Best Overall
Medical Guardian's Active Guardian device knocked out the competition thanks to its 5-day battery life and 22-second response times, specs that none of our other finalists could match. We were also impressed by the company's friendly and professional customer service reps. ($49.95 per month)
Best Budget
Response times are slow, at over a minute, and we found the initial setup process confusing, but Bay Alarm offers reliable customer support and the cheapest service of our finalists. ($27.95 per month)
Runner-Up
Acadian On Call
Response times nearly as fast as Medical Guardian, and extremely speedy, simple setup. But there's no price lock, which means no guarantee that the $36.95 per month won't go up.
The Best Medical Alert System for Active Seniors
Medical alert systems let you push a button when you need help and receive quick support. Mobile devices go a step further: With features like GPS location tracking and fall detection, mobile medical alert systems protect seniors who might spend more time outside of the house than in it. There's a stigma that medical alert systems are just for the frail and very old, but as doctors and caregivers stressed repeatedly to us, that's simply not true. Whether your lifestyle involves commuting to work, touring new cities, or visiting family, the best medical alert system for active seniors offers discreet, prompt support from virtually anywhere.
After testing nine systems, we liked Medical Guardian's Active Guardian the most. It's an easy-to-use device that can be clipped to your belt or worn around your neck. When you need help, you press the emergency button and are connected to an operator. We only had to wait only 24 seconds, on average, before being put through to a friendly, human voice, a response time that was faster than any other provider. Medical Guardian's equipment is also well-made, with a 5-day battery life. At $49.95, it's not cheap, but it offers the very best we could find in terms of unobtrusive, prompt, courteous service.
If price is a constraint, you do have more affordable options. Bay Alarm Medical starts at $27.95 per month for similar equipment, and they're also a great choice. When we tested the emergency help button, our wait time was lengthier, at 1:22 minutes, and the battery life of the device is shorter, at 72 hours. But the responders we spoke with were consistently warm and professional, and we felt inclined to trust our loved ones to their care.
Acadian On Call is our runner-up. It falls in the middle of the price spectrum, at $36.95, and it impressed us with its 29-second response time, a very close second to Medical Guardian. It's a little easier to set up than our other two providers. As soon as it finishes charging, it can be used immediately, without the activation step that our other picks require. But battery life is shorter — 24 hours — which means you'll need to commit to charging it nightly, like you would a cell phone. We're also not wild about Acadian On Call's contract. It doesn't offer a price lock, unlike our other two picks, so there's no guarantee that you'll pay $36.95 forever.
How We Found the Best Medical Alert System for Active Seniors
This isn't our first rodeo: We've reviewed medical alert systems before, focusing on the plug-in, answering-machine-sized units intended for home use. Mobile medical alert systems work a little differently — they're small enough to take with you and include location tracking technology — but they perform the same function, providing help when you need it. To find the best, we started by compiling all the mobile medical alert providers with nationwide coverage that we could find, giving us a list of 20 companies.
The brands we considered for best medical alert system for active seniors
We made sure each company offered a smooth ordering process.
On paper, our contenders didn't differ all that much: they all had GPS technology, waterproofed equipment, and US-based monitoring centers (the only exception was Walgreens ReadyResponse, which we eliminated from the running). And once we took a look at the devices themselves, we found that a lot of them looked literally identical. But what ended up being a major differentiator was the ordering experience: a well-designed website and excellent customer service can be the difference between a straightforward ordering process versus an extended headache. We preferred companies with easy checkout and that sent us a package to our door within a few days. Those with hidden fees that popped up at checkout, or delayed shipment due to lost or incorrect orders, were docked points. The very worst companies had us waiting in limbo for weeks while our shipments were lost, cancelled, and misdelivered.
After evaluating each company's ordering experience and tallying up our scores, we cut the companies that performed below average, and ordered from the 8 high-scoring finalists.
We ordered nine finalists and tested them for easy setup.
Acadian On Call Mobile Medical Alert
ADT Health
BayAlarm Medical
LifeStation
Medical Alert
Medical Guardian
MobileHelp
OneCallAlert
Since many of our finalists advertised 1-3 day shipping, we didn't expect that simply receiving our orders would be a big to-do. But ADT took nearly a month to get us our equipment, unexpectedly cancelling three separate orders and proving difficult to reach over the phone. LifeStation sent us the wrong order, then delayed delivery of the correct device for an extra two weeks. Mistakes happen, of course, but we were worried by the lack of follow-through to correct them.
Once all of our mobile alert devices arrived, we unboxed them and got ready to activate. There weren't huge differences between the devices themselves — in fact, some looked identical. The units are typically about half as big as a deck of playing cards, and weigh only a few ounces. Most come with a belt clip and a lanyard to make them easier to carry around discreetly, and some companies also provide an even smaller wristband or pendant that you can wear instead, letting you keep the main device in your purse or bag.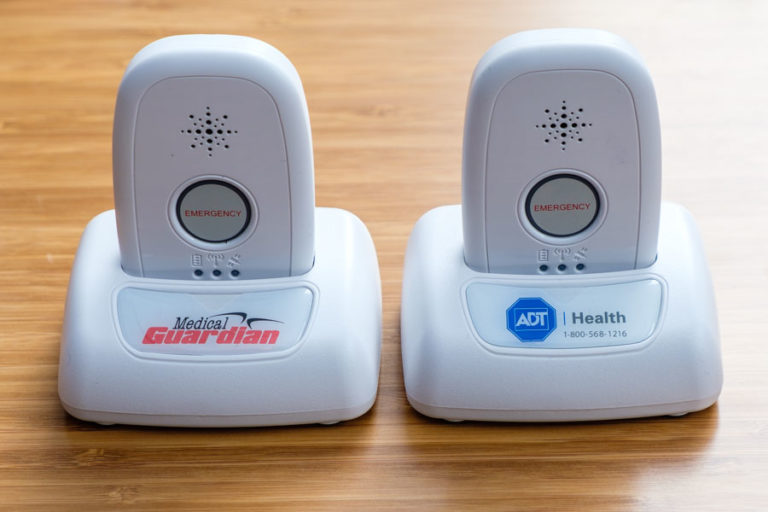 Charge your device before activation.Most mobile medical alert devices have to be fully charged before initial setup. This typically takes between 2-4 hours and can be an unexpected slowdown. Plan accordingly!
But despite their similar experience, the setup process varied widely, with instruction sheets and user guides that ranged from crystal clear to baffling. MobileHelp included instructions for every single equipment model that they sold, crammed into one poorly designed booklet with tiny font. Acadian On Call was one of our favorites, thanks to easy-to-understand paperwork, large font, and clear directions.
Most of units were ready to go after being fully charged, but a few required us to call customer service to complete the activation process, a step we would have preferred to skip. Bay Alarm and Medical Guardian both required us to sit on the phone for a good 20-30 minutes waiting on hold and being transferred between service reps. We greatly preferred being able to plug in, charge, and then immediately use our devices.
Then we called repeatedly to see how promptly we received help.
As a final step, we placed at least five test calls to each company's monitoring center, timing how long it took us to receive a response. Medical Guardian took the lead with a speedy 24-second response time. Bay Alarm and ADT weren't even close, both averaging about 1 minute and 20 seconds per call.
We also noted the general manner of each operator when they picked up. We had a uniformly positive experience at this step, with kind, professional operators who asked us to confirm — often multiple times per call — that no one was actually in harm's way. Exceptions were minor. Our ADT reps sounded a little short when telling us we needed to call the customer service helpline to finish activating our device, but overall, we felt that if we had been in the middle of a true emergency, every single rep would have been capable of handling matters. And, in fact, we learned that all of our finalists operate call centers certified by an independent, third-party group — either the Central Station Alarm Association (CSAA) or Underwriter Labs (UL) — ensuring that reps are trained in how to respond to emergency situations.
Finally, we called each customer hotline with questions about cancellation, setup, and the fine print in our contracts. Results varied at this step. Standout companies had reps who picked up quickly and provided comprehensive, cheerful answers to our questions. Others put us on hold, or, in Bay Alarm's case, became noticeably cooler when we asked about how to cancel our service. Most finalists fell somewhere in the middle, but Medical Guardian earned an edge thanks to consistently professional, polite, and prompt service.
Our Picks for the Best Medical Alert System for Active Seniors
Best Overall
Medical GuardianThe fastest response time of all our finalists, plus attractive, easy-to-use equipment.

Price: $49.95
Battery life: 5 days
Charge time: 3 hours

We had high expectations for Medical Guardian — this company won the top spot in our review of at-home medical alert systems. So we were happy to find that their mobile GPS unit performed just as impressively. The average response time for all nine of our finalists was 55 seconds, but Medical Guardian's Active Guardian device ($49.95/month) swept the board with its lightning-fast 23-second average.
The unit has a 5-day battery life, which means you'll only have to charge once a week or so, unlike the daily or every-other-day charge required by most of our finalists. It comes with a lanyard, plus a wallet clip for discreet portability.
Medical Guardian does offer a lower-tier option with its $39.95-per-month Mobile Guardian package, but we found that this device had a much slower response time — 1:20 — that puts its on par with our runners-up, Bay Alarm and Acadian On Call, which are both cheaper a little cheaper. We'd suggest either springing for the Active Guardian plan, or going with one of these other picks.
Our biggest disappointment with Medical Guardian was the set-up process. Our device came with a user manual that was thorough and helpful (we especially liked its guide to understanding what all the flashing lights on the device indicated), but it had such small font that we had trouble reading it. Given the company's excellent response time and customer service, this wasn't a dealbreaker. But if you have weak eyes, plan for someone with stronger vision to be present during set-up to make sure nothing's missed. We also had to call customer service in order to activate our Active Guardian device, which wouldn't work otherwise — we were reassured that this was part of the design, and not a fluke, but it was a step that most of our other finalists didn't require.
On the plus side, the reps we spoke with were patient and friendly. Our office wifi was down the day that we tried to activate our device, so our rep contacted a tech team to start the activation process manually, then patiently walked us through the test call process step-by-step before cheerfully signing off. The entire process took about half an hour. Once the device was activated, we found the Active Guardian a breeze to use. We were especially happy with its loud, clear sound quality, which was worlds better than the tinny, buzzy calls we made with One Call Alert's device.
Medical Guardian requires a 3-month commitment before you can move on to a month-to-month plan, but they do offer a 30-day money back guarantee. If you're not sure if a medical alert system is right for you, Medical Guardian gives you 30 days from receiving your equipment to cancel service for a full refund.
Best Budget
Bay Alarm MedicalA slower response time than Medical Guardian, but also $20 per month cheaper.

Price: $27.95
Battery life: 72 hours
Charge time: 3 hours
Compared to Medical Guardian, Bay Alarm didn't wow us. Its average response time was a thumb-twiddling 1 minutes and 22 seconds — which, in a true emergency, can feel like a dreadful wait. The device itself is also less intuitive. The power light turns off both when the device is off, and when the charge is between 30%-100% — resulting in confusion over whether our device was at full charge, or even on, when we first attempted to test it. The user guide lists additional device statuses according to how quickly the lights on the unit are blinking, but we had trouble telling a two-second blink from a three-second blink.
But after you figure out how to use it, and after completing the activation process with a customer service rep, Bay Alarm will do what a medical alert system is supposed to do: protect you with 24/7 help whenever you need it — and at a notably low cost ($27.95 per month). The device looks nearly identical to those offered by LifeStation and Acadian On Call, though it has slightly better specs: it charges within 3 hours, and has a battery life of 72 hours, unlike the 24-hour battery life offered by most of our finalists.
Bay Alarm was also the only device that didn't have a voice prompt confirming a call had been placed when we pressed our help button: perhaps good if you want to place calls discreetly (say, if you're thinking someone's following you in a dark parking lot). The device also comes with a lanyard and belt clip wallet for discreet portability. All things considered, it's a solid option if budget-consciousness is a priority. If you're not sure you want to commit just yet, you can also try out Bay Alarm before making a decision, as it offers a 30-day free trial with no cancellation fee.
Acadian On CallThe easiest setup, with middle-of-the-road response times but no price lock.

Price: $36.95
Battery life: 24 hours
Charge time: 3 hours
Acadian On Call ($36.95 per month) was a surprise finalist — the company didn't make the list when we tested at-home units, and it lacks the name recognition of big brands like ADT or LifeAlert. Acadian's mobile device specs are respectable, with a charging time of 3 hours and 24-hour battery life. But it averaged an impressive 29-second response time, beating out Bay Alarm, and its activation process was the simplest of all our finalists.
The user guide walked us through setup with large, easily-legible font and graphics, which made it straightforward to set up our device — no half-hour customer service call required. The legal paperwork was also clearly organized, with everything stapled neatly and grouped according to what we should keep for our own files, and what should be sent back to Acadian On Call.
The device itself is on the smaller side, and comes with a pre-threaded lanyard. It doesn't include a wallet case or belt clip, so unless you have your own, you'll be stuck wearing it around your neck. We didn't find this uncomfortable, since mobile devices are relatively light, but if discreet portability is important to you, know that it's a little more obvious than our other picks.
Acadian On Call has one notable downside: their terms and conditions don't include a price lock, which allows the company to raise prices at any time with 10-day written notice. This is pretty common among medical alert companies — Medical Alert, MobileHelp, and OneCallAlert also lacked price locks — and when we called Acadian's customer service line to inquire about this stipulation, they just repeated that any price increases would be announced through written notice. Since you pay for your service on a month-to-month basis, it's relatively easy to cancel your fee does increase, but be aware that this a possibility. Like Bay Alarm, Acadian On Call also offers a 30-day free trial with no cancellation fee.
Did You Know?
Your mobile device has the same limitations as a cell phone.
Because mobile medical alert devices rely on cellular signals to work — usually AT&T or T-Mobile — they'll be fine wherever you're able to use your cellphone. But be alert for rural areas with spotty signal, or any extremely dense urban areas where you have trouble making calls. These are often the same areas that will offer spotty service for a medical alert device. We'd suggest having a backup plan in place for these locations, whether communicating plans to a family member ahead of time, or just testing the device upon arrival to see if it works.
Medical alert systems aren't a replacement for medical care.
Although medical alert systems are great for added peace of mind, they're not a replacement for individualized medical care. Dr. Novak, gerontologist and Oxford University researcher, reminded us that "medical systems are a tool to help individuals retain their independence as long as possible. However, they are not a failsafe and should not be used in lieu of telephones or other tools that are important for safety."
You'll need to return your device if you cancel your service.
When you order a medical alert device, your monthly payment allows you to continue renting the equipment. Upon cancellation, providers will ask that you return the device in working condition. Failing to do this can result in sizeable fees. Acadian On Call, for example, values its units at $250.
The Best Medical Alert System for Active Seniors: Summed Up