The Best Online Flower Delivery Service
When a card isn't going to cut it
Latest Update
January 12, 2018
The 30-Second Review
Even the best online flower delivery relies on local flower shops to fulfill its orders — your location matters more than you might think. So we tested both urban and rural addresses to find out which companies could deliver the most beautiful bouquets (and the best customer service) no matter where we sent them.
Best Overall
We sent flowers to Seattle and Chicago — then two tiny towns in the middle of nowhere — and loved every single bouquet. Where FTD really stands out, though, is its customer service: far and away the best of the competition.
Others to Consider
Beautiful blooms in three of the four cities we tested — even though its website is horribly outdated.
Great flowers, but if you have questions about your order, be prepared to jump through hoops to get in touch with a customer service rep.
January 12, 2018 - We're in the middle of re-examining one runner-up, Bouqs.com, whose services have changed since our initial 2016 publish. We'll be adding our findings this coming March. In the meantime, we've re-assessed the services offered by our top picks to ensure that they remain accurate. We've also made some light changes to clarify our methodology. We continue to recommend FTD for their excellent customer service and the consistent quality of their bouquets.
The Best Online Flower Delivery Service
A bouquet is more than just a bunch of cut stems. For many, sending flowers is shorthand for, "I love and care about you!" That is, unless those flowers don't arrive. Or they arrive wilted, or dead, or in a box with no water and no vase at noon in Phoenix when the recipient isn't home.
The online flower delivery industry is huge, accounting for more than $3 billion in sales in 2017. But it doesn't have a great reputation. It's easy to find customer horror stories that range from wilted, pitiful bouquets to deliveries that simply never showed up. The best online flower delivery service should be different: It should reliably deliver beautiful blooms anywhere in the continental US. Our quest to find the best took us past company websites straight from the year 2000, through some seriously underwhelming customer service calls, and led — eventually — to a handful of stunning bouquets. Our winner was Florists' Transworld Delivery (FTD), one of only a few companies that managed to meet all our criteria. FTD delivered bouquets of consistent quality across our four test cities, and we had no trouble getting a real, live customer service rep on the phone to address our questions. If this company doesn't have the flowers that you want, you can also try FlowerPetal or 1-800 Flowers, but we found their quality less consistent.
How We Found the Best Online Flower Delivery
For us, "best" meant a company that would be able to deliver flowers anywhere in the United States. We didn't include mobile apps, focusing solely on flowers that can be ordered through a website. We also looked only at companies that deliver to individuals, leaving off florists that specialize in arrangements for events, groups, or corporations. That left us with 27 companies, and we started by analyzing their selection, ordering experience, quality, and customer service to find our top picks.
We looked for florists with same-day delivery.
If you can't go to work in the morning, realize it's your mom's birthday, order flowers, and then have them there that very afternoon, what's the point? Many online flower delivery companies charge extra (sometimes 25-50 percent extra) for same-day delivery service, but we wanted this feature to be an option in case you needed it.
That said, it did eliminate a few contenders that we'd initially been excited to work with, most notably Farmgirl Flowers, which offers US-grown, local arrangements delivered by bike or scooter (cute!). Demanding same-day delivery also cut out One World Flowers, a licensed importer and distributor of Fair Trade Certified flowers.
Plan ahead for major holidays
Mother's Day and Valentine's Day are the busiest days of the year for florists, which can strain resources and limit what's available for same-day delivery. To avoid the frustration of seeing "not available" next to the bouquet you've picked out, we recommend placing your order as far in advance as possible. This ensures you get what you want and can help avoid rush delivery fees.
And we wanted satisfaction to be guaranteed.
What about Bouqs.com?When we published our review in 2016,
The Bouqs Co. was initially disqualified for not offering a satisfaction guarantee. They've since updated their terms to guarantee satisfaction. We'll be taking a more in-depth look at this option in March 2018.
Since there are so many reviews of flowers never arriving, or flowers arriving dead or days late, we only wanted to deal with companies willing to offer refunds, exchanges, or satisfaction guarantees. Sending flowers can be an expensive endeavor (a standard order of a dozen red roses can range from $42-$96), and we wanted our investment to come with a promise that we'd be satisfied. This was where we parted ways with H. Bloom, a luxury flower company with modern arrangements and an otherwise impressive website.
No tracking? No thank you.
When we looked at Yelp and Better Business Bureau reviews for our remaining contenders, we found the same complaint again and again: Flowers never arrived, and the person ordering them had no idea until they called to check if their intended recipient liked them. To help avoid some seriously awkward phone calls, we made sure all remaining companies offered online tracking. This lets you monitor, for yourself, whether your bouquet has been delivered.
Our finalists for best online flower delivery service: 16
1-800-Flowers
AvasFlowers
Flora 2000
Florists' Transworld Delivery
Flower.com
FlowerDeliveryExpress.com
Flowerpetal
FromYouFlowers
Harry & David
JustFlowers.com
KaBloom
Pickup Flowers
ProFlowers
SendFlowers.com
Teleflora
Wesley Berry Flowers
Then we started buying bouquets.
We were left with 16 online flower delivery companies to test. But hold up! Some of these companies, such as Flower.com and JustFlowers.com, are actually the same, with identical checkout systems, mailing addresses, About Us pages, and customer service phone numbers. (JustFlowers owns Flower.com, but we decided to order from Flower.com since its website was way cleaner than JustFlowers'.)
Another well-known brand, Harry & David, has its flower orders fulfilled by 1-800-Flowers, so we decided to skip the middleman (men?) and go straight to the source.
We settled on a standard order for the 14 remaining companies: a dozen long-stemmed red roses. Since most rely on local florists to actually fulfill the orders, bouquets vary depending on location. To see how that played out in real life, we sent 14 bouquets to our writer in Chicago and the same 14 to our offices in Seattle — which company would deliver the same quality of flowers in two urban locations?
Then, we tested the top-performing companies by sending the same bouquets to two rural towns — Rhinelander, Wisconsin, and Washington, North Carolina — in a final floral deathmatch.
We rated each company on six things:
A simple ordering experience. It should be easy to find a bouquet you want and buy it.
Some level of customer service. We thought our standards were pretty basic: customer phone support, a human being instead of an automated message, and no more than three minutes of hold time. We also wanted to be offered a refund or credit if we had any issues. (As it turns out, this was shooting for the moon.)
If flowers arrived on time. Bouquets had to arrive when they said they would to get a passing score.
If flowers arrived arranged. There are companies that don't disclose that they just send stems in a box, requiring the recipient to arrange the flowers themselves — which defeats the purpose of paying a florist to arrange your flowers.
If flowers arrived intact, without damage or wilting. We wanted pretty flowers! Not old or wilted flowers, and not blossoms that are dropping petals all over the place.
Wow factor. As in, "Would we be thrilled to have this bouquet sitting on our desk at work?" We wanted to be bowled over by these bouquets.
Looking for sustainably grown flowers?
Our Picks for the Best Online Flower Delivery
Best Overall
The bouquet from Florists' Transworld Delivery (FTD) was beautiful when it arrived in Chicago. It arrived on time and completely arranged in a heavy, clear glass vase that was securely packed in a sturdy box. Each of the red roses was gorgeous, lush, and fully blooming with a rich rose scent, and surrounded by dense greenery. We were made even more impressed by the FTD bouquet considering that its website didn't do great in our evaluation — it's confusing to navigate, with annoying pop-ups and guilt-trip-heavy bouquet upgrades that are ranked "good," "better," and "best."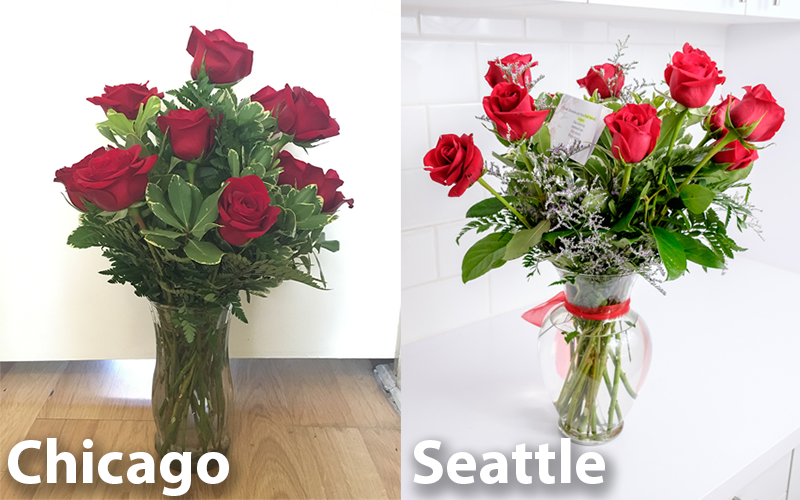 While lovely, the FTD bouquet was not actually the most stunning arrangement we saw. Where FTD won us over was with its consistency in all four of our test cities — the company's bouquets got top scores in Chicago, Seattle, and our two rural communities, which we discovered is hard to do. In Seattle, tiny purple buds accented the roses, and this delivery was the only one that included a little red ribbon around the vase. In our two rural cities, the quality of the roses was striking, although our Wisconsin-based recipient pointed out that each FTD bouquet had a lot more greenery than the pictures on the website suggested — which is good or bad depending on how you feel about greenery.
FTD was also the hands-down total dominator in customer service. When we called to file a (fake) claim about a missing bouquet, someone answered in under 20 seconds at 12:30 AM on a Sunday night. She was apologetic, kind, and offered us a refund or a store credit immediately upon hearing the problem. Why is this worth noting?
Because literally no other company we called did this, or came anywhere close to matching this level of service. Only one other company, ProFlowers, got a decent customer service score. This was a refreshing change after dealing with companies like FlowerPetal and Ava's Flowers, which kept us on hold for so long that we finally hung up. Even worse was 1-800-Flowers: The company greeted us with an automated operator, who proceeded to connect us to a conference call center, demand a passcode and then hang up on us. If we'd had truly urgent questions, FTD was one of the few services that left us confident we'd actually be able to get in touch with a human being.
Biggest Surprise
FlowerPetalIts website is in dire need of an update, but Flowerpetal was highly rated in three of our four test cities.

We were not prepared for the beautiful arrangement from FlowerPetal. In fact, we were bracing ourselves when we received the order because Flowerpetal's website is awful. It looks like a 1999 site for popular baby names, and many of the bouquets shown online are missing vital product details, such as how the flowers will arrive and whether they'll have a vase. Imagine our surprise, then, when a truly beautiful bouquet showed up in Chicago, and equally lovely blossoms arrived in Wisconsin and North Carolina. (In Wisconsin, the order was actually fulfilled by the same company as our Wisconsin FTD order.)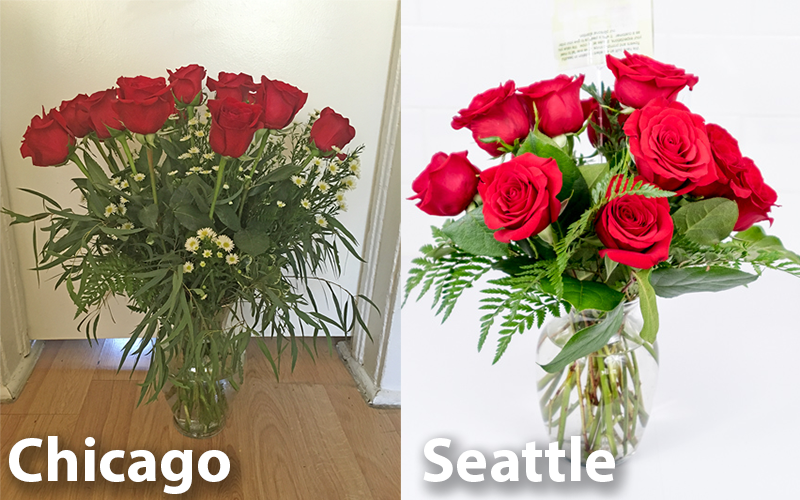 The Chicago bouquet was delivered in a clear glass vase, dropped off by hand with no box or wrapping — the delivery person just handed us the vase of flowers and that was it. The arrangement was kissed with tiny daisies we didn't know would be there, and dramatic, trailing greenery trickled down the sides of the vase. It didn't look like its picture online (which actually makes the bouquet look sparse); it was better. It was also bigger by a third than most of the other bouquets we received, and carefully arranged to set off the red roses, which were fresh and at the height of their beginning-to-open beauty. They smelled wonderful. We were stunned.
Interestingly, FlowerPetal got poor ratings in Seattle: while lovely enough, the roses weren't long-stemmed and the bouquet lacked the drama that was advertised online. Would the baby's breath have helped?
When we called to inquire what went wrong in Seattle, it was frustrating: we were disconnected twice after waiting awhile on hold before finally getting in touch with a customer service manager who informed us that we had actually been sent the wrong bouquet! We walked through our options: FlowerPetal said Seattle's flower shop has been a trusted partner for years and was quick to offer a replacement bouquet or full refund — all great to hear, but the experience coupled with an outdated website couldn't top FTD.
Great Flowers, Bad Service
1-800 Flowers1-800 Flowers doesn't like to show you your total costs until the last minute — plus they hung up on us!
In Chicago, the roses in the 1-800 bouquet were seriously glorious — big, luscious, bold blooms dotted with sprays of baby's breath, and the vase was nice and heavy. This was the most traditional bouquet we saw: Close your eyes and picture a dozen red roses; that's what these were. These roses got good scores in all four cities, although you can see that even between Seattle and Chicago, the arrangements were very different. Seattle's felt sweeter and less dramatic, although it got extra points for being delivered within hours of placing the order.
Coupons typically cover just your flowers.Got a half-off coupon? Great! Just keep in mind that discounts typically apply only to your bouquet — you'll still have to pay full price for shipping, delivery, and sometimes "extras" like vases. Based on our ordering experience, we'd suggest budgeting at least $20-30 in fees, on top of the bouquet cost.
The high scores were a surprise. 1-800-Flowers isn't exactly beloved, and we experienced a few of its biggest complaints first hand. When you place your order, shipping costs are hidden until the very last second — a shock if you're not braced for it. Our bouquet of 12 long-stemmed red roses jumped in price from $60.00 to $96.44, and we wish 1-800-Flowers hadn't waited until the last possible second to include this cost in our order total. 1-800-Flowers is also the company whose robo phone center hung up on us. We assume these factors have a lot to do with the company's numerous 1-star reviews, and they are definitely the reasons 1-800-Flowers came in third. But would we be thrilled to have their bouquets on our desk at work? You better believe it.
Other Companies to Consider
SendFlowers.com. With a decent website and consistently good scores in Chicago, Seattle, and North Carolina, these flowers could have made it into our top three picks — if they would have arrived in our fourth location. The roses weren't able to be delivered to our Wisconsin location, so SendFlowers.com lost major points. Our order was initially accepted, but the only local florist within 20 miles rejected the order; we were notified by email that our recipient was too remote. It's too bad: In Chicago, the arrangement was unusually lovely, with deeply scented, velvety roses that were so dark red they were tiptoeing toward black, surrounded by lush ferns and glossy dark leaves. If you're going with SendFlowers.com, our advice is to only send arrangements to mid- or large-sized cities.
Flower.com. While boasting a less-cluttered website than its twin company, JustFlowers.com, Flower.com still has, to put it bluntly, a crappy website. Blurry pictures, poor product descriptions, and an overall "it's 2002 and online shopping is a new phenomenon" feeling left a bad taste in our mouths. But, the bouquet itself was perfection and looked just like its (blurry) online picture — at least, in Chicago and North Carolina. But the bouquets received poor scores in both Wisconsin and Seattle. Our Wisconsin tester reported that while her flowers weren't show-stopping, they looked decent — once they actually arrived. Delivery was delayed — twice — because the florist was out of red roses. At our Seattle location, we were greeted with a bouquet that looked drastically different than the online photo, complete with a different vase, no baby's breath, and a scant amount of greenery. You win some; you lose some, but at $85.46 for a dozen delivered roses, it's an expensive gamble.
Ava's Flowers and ProFlowers. Both of these companies had the same problem as Flower.com — they were great in some cities and awful in others, gathering both very high and very low scores depending on location. In Chicago, both companies sent the worst, saddest bouquets our writer received — the roses were shedding leaves and petals like crazy; some blossoms were entirely broken off; and the stems hadn't been dethorned. So why include them on our list of companies to consider? Because in Seattle, both Ava's Flowers and ProFlowers got perfect scores.
Some Companies to Avoid
Wesley Berry Flowers. In both Seattle and Chicago, the bouquets were sent unarranged, with no vase, and the ends of the roses weren't kept wet. There also wasn't any greenery whatsoever; it was literally just 12 rapidly drying roses in a box, and Seattle's were already a little wilted. Wesley Berry's website also got the worst score — it had annoying pop-ups; it refused to show us the shipping charges; and, at the end of the transaction, we found a tiny "donation" box pre-checked that would have charged us an additional $4 had we not caught it. These roses had the distinction of being the first roses we had to throw out — a mere three days after receiving them. Not recommended.
PickupFlowers. Did the roses arrive? Yes. But there was no vase and no water, and in Seattle, six of those roses were carnations. The company had an appalling website that felt so sketchy that we paused hard before entering our credit card information, and customer service answered zero of our three calls. In Chicago, the bouquet was delivered with a free small box of Godiva chocolate, but the chocolates were completely melted. Bummer.
Flower delivery services that we didn't love, but didn't hate: 5
Did You Know?
Prep for delivery.
It may mean ruining the surprise, but if you're sending flowers to someone, make sure the recipient will actually be present at the address where you're sending them. With the majority of online flower delivery companies, you can authorize the delivery person to leave the flowers at the recipient's address, but, during testing, we realized that our writer lived in a Chicago house with a locked front gate, and she needed to be home for the flowers to be delivered. When she asked several delivery companies what she should do about the front gate, they stated that they do their best to leave the flowers inside locked gates, but if there is no access, the flowers simply can't be delivered.
Your flowers are probably from Colombia.
Colombia is the largest flower cultivator for the US flower market, claiming 70 percent of the industry. According to Smithsonian.com, "If you buy a bouquet in a supermarket, big-box store or airport kiosk, it probably came from the Bogotá savanna." That also held true for our online flower deliveries — many of our ordered bouquets came marked with a sticker or stamp that said, "Product of Colombia." (Others arrived unmarked, with no indication of origin.) Just a 3-hour flight from Miami, Colombia has the perfect climate for year-round flower growth and farming, and annually ships more than $1 billion in blossoms.
There are ways to choose more responsibly harvested flowers.
Remember when we mentioned we'd love the option to choose organic, sustainably harvested, and/or Fair Trade Certified Flowers? Those options do exist. There are companies that offer online flower delivery services with a smaller ecological footprint, and there are companies that only offer ethically sourced flowers that are grown by employees paid a living wage and treated well. Check out FairTradeUSA to see a list of flower companies dedicated to the greater good, but keep in mind that they might not have options like same-day delivery and out-of-season blooms.
Flowers have symbolic meanings.
Since ancient times, flowers have acted as meaningful symbols. The meanings of particular flowers vary wildly, but there are some standards that most flower dictionaries and guides, like Old Farmer's Almanac, seem to agree on.
Chrysanthemum: Cheerfulness
Daisy: Innocence, Hope
Iris: A message
Lavender: Devotion, Virtue
Lilac: Joy of youth
Poppy: Consolation
Red Rose: Love, Desire
Violet: Loyalty, Faithfulness
Many flowers — not just roses — can make up a romantic bouquet.
Roses will always be the queen of the "I love you" bouquet, but many recipients will also appreciate a more creative approach. Expert floral designer Casey Sabatka of Flowers for Dreams says when she's making a non-rose romantic bouquet, she'll pop in some "burgundy and red dahlias or raspberry calla lilies. I would mix this with chocolate Queen Anne's Lace, privet, and eucalyptus," and adds that she likes to use less-common flowers to make a statement. "This often changes with season," she explains. "Right now, a couple of stems that are a little less common that we are using are nigella and saracena" — a cornflower-blue starburst of a blossom and a colorful, tube-shaped lily, respectively.
Neil Gilbert, floriculturist foreman at Chicago's venerable, century-old Garfield Park Conservatory, agrees about the impact of lesser-known flowers. "One of the most unusual flowers I've worked with as a florist are Protea magnifica or Queen Proteas. The petals' edges have soft fringes like feathers; they are a subtle, warm attractive shade of pink and inexplicably smell like a metal pan baking in the oven." There's a flower you don't come across every day!
Not all online flower companies offer rare blooms, but if you're looking to send a more personalized bouquet to your loved one, you might want to consider spicing things up a bit with something unexpected. In these cases, a local florist is often your best bet — many are happy to schedule a consultation to discuss your vision and your budget, and you'll get a better sense of what flowers are currently in season.
The Best Online Flower Delivery Service, Summed Up