Showing results for
Did you mean:
Sorry, something went wrong. Please refresh your browser and try again.
Last updated on
March 14, 2019
The Best Online Tax Software
File with confidence
We recommend products and services based on unbiased research from our editorial team. We may receive compensation if you click on a link. Read More.
Best Range of Tools

Cheapest Audit Defense

Best Customer Support

Cheapest Tax Software

TurboTax
TaxSlayer
H&R Block
TaxAct
How We Found the Best Online Tax Software
21 programs evaluated

17 features considered

4 top picks
The Best Online Tax Software
Doing your taxes can feel like going to the dentist — a necessary, sometimes painful evil — but the best online tax software makes paying your dues to Uncle Sam (almost) stress-free. We looked at 21 of the most widely available providers, then narrowed it down to the four with the most intuitive interfaces and widest breadth of features.
How We Chose the Best Online Tax Software
Free federal 1040 filing
This was an easy decision for us. If the IRS lets you file a federal return on its website for free, then the best tax prep software should, too. The IRS announced that this year it will consolidate the three previous versions (1040, 1040A, and 1040EZ) into one easy form. About 150 million taxpayers can now use the same form. So we made sure free federal filing was for the simplest form was a staple of our favorite software.
1040.com, 1040now.net, E-file, EFileTaxReturns, ExpressTaxRefund, ezFile, ezTaxReturn, FileYourTaxes.com, OnePriceTaxes, Taxbrain, TaxHawk, TaxSimple
Support for self-employed filers
We wanted our recommendation to be robust enough to fit the needs of any taxpayer, even if they ran their own business, collected rental income, or worked as freelancers. In fact, TurboTax told us that every one in five files become self-employed each year, as the gig economy rises. We only included software that offers a business or self-employed option, ensuring that each of our finalists can accommodate all income types. Even Liberty Tax Service, previously cut here, has updated its service to accommodate these filers.
Free options for state taxes
If you live in one of the seven states without an income tax, any of our remaining options could be a good fit for you. However, to accommodate the most users, we dropped any software that doesn't let you file state taxes for free. While this isn't a requirement for many taxpayers, most states require their citizens to file state taxes on top of federal. In addition, this option makes tax prep easier and cheaper if you moved in the past year — after all, moving is expensive enough. Though many companies advertise free filing, that often only refers to the federal portion. The best online tax software should let you file all of your taxes without any hidden charges.
eSmartTax, FreeTaxUSA, Jackson Hewitt, Liberty Tax Service
Ease of use
Our goal was to find the tax prep software that makes filing as easy as possible. We tested our three finalists using tax information for a single male who makes $22,485 per year and has no dependents (and got the same $860 refund on each software product). In these tests, we evaluated ease of navigation, helpful hints and guides, and answers to commonly asked questions. We also compared the free versions and paid options to examine which offered the best premium features, including customer support by phone and live chat. We also dug deep into mobile apps and how easy it was to file with your phone. And in light of this year's new tax laws, we paid special attention to how the software guided us through those major changes.
Customer support
Finally, we combed through help forums, asked questions on chat, and listened to our share of mediocre hold music before talking with customer support on the phone. Most of our top picks also offer support and tax review with specialists via live video chat — a new way to make online filing seamless. We gave props to companies that provided support for any question, whether simple or complex — everything from where to find our W-2 to what we need to report if we're under the Affordable Care Act.
The 4 Best Online Tax Software Programs
TurboTax - Best Range of Tools
Basic state and federal filing are free, with upgrades for deluxe filing at $60, and self-employment filing at $120. Intuitive guidance through every step of your tax filing. It's extremely beginner-friendly by anticipating questions, offering helpful explanations, and automating processes.
TaxSlayer — Cheapest Audit Defense
TaxSlayer's $57 Ultimate package gives you extra protection in the form of audit defense, giving you peace of mind at a lower price point than competitors. We also liked its low price for state filing when using its premium services ($29).
H&R Block - Best Customer Support
Free options for standard state and federal fillings. Additional options include $40-$50 for unlimited chat with a tax pro for simple questions, or upgrade to the digital Tax Pro Review service for $60-$90 to get paired with a pro who will help complete and file your return. Impressive customer support, both in-person and digitally. The most affordable way to get expert assistance.
TaxAct - Cheapest Tax Software
The lowest prices and seven years of free storage. Even its premium options are more affordable than competitors', topping out at $35 for federal filing. It's a little difficult to navigate, but worth it for a tight budget.
TurboTax
Step-by-step instructions and a user-oriented design take the guesswork out of doing your taxes.
Pros
Online and mobile apps
Beginner-friendly
Helpful explanations
Live support
Cons
Expensive premium plans
Price
Federal: $0 - $90
State: $0 - $40
Why we chose it
Online and mobile apps
TurboTax's online app is incredibly intuitive, with large buttons and friendly, conversational text. You can upload your W-2 simply by taking a picture of it, and if your employer's payroll provider is a TurboTax partner, you can import it directly with a few clicks. Its tablet and mobile apps are just as navigable, and you can transition seamlessly from one device to another. TurboTax has managed to make doing your taxes feel like a simple game, a breezy slideshow that might end with a fat refund check and no audit. You can live and video chat via mobile too — you won't sacrifice any features with mobile filing.
Beginner-friendly
During our testing, we loved that TurboTax didn't push its high-priced options when we didn't need them. Right from the start, TurboTax helps you choose the software that is best for you depending on your needs, even if it's the free version. On its recommendation screen, we entered that we had a job, dependents, and rent payments, and it still pointed us right to the free federal 1040 option.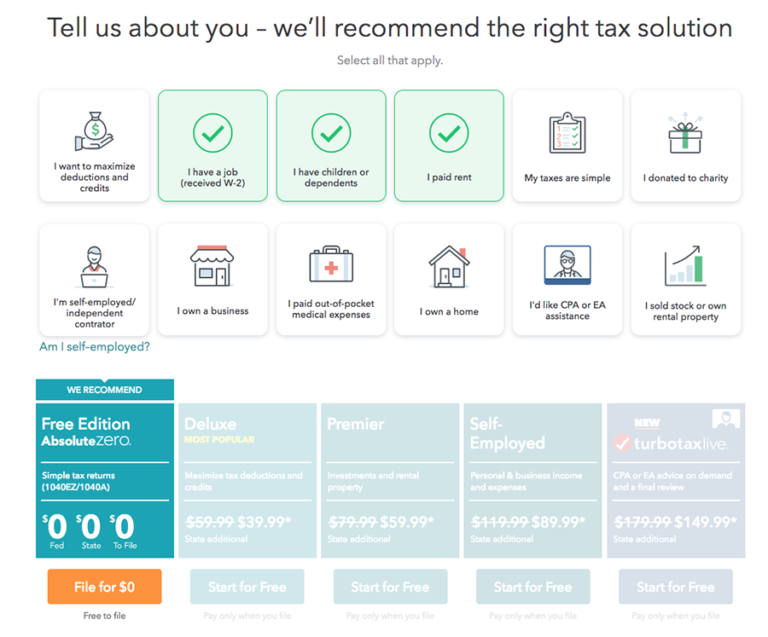 From there, filing with TurboTax was like having a pleasant grade-school teacher direct us through our taxes. The software is incredibly instinctive, and our testers never felt lost, thanks to ever-present help functions and guides. When providing our health insurance information, for instance, TurboTax offered detailed but straightforward explanations to help our tester figure out what type of coverage they had.
Even self-employed beginners will find unique support tool through the QuickBooks included subscription. It's an expense-tracking feature that can store photos of your receipts and help pinpoint any transaction that may qualify as a business deductible.
Helpful explanations
We also like that TurboTax checks in to make sure you understand why your taxes are being filed in a particular way. If you aren't 100% confident, TurboTax keeps you moving but promises to go over the information again later. TurboTax also rewards you for successes; after the completion of almost any task, even an incredibly tiny one, TurboTax is quick to give a pat on the back with an entire screen dedicated to a big thumbs up: "Great job so far!" When we're in the throes of tax season, we'll take any clarification and encouragement we can get (even if it's from software).
TurboTax's blog alone won favor for its robust guides to all things taxes — whether it's an article on what tax brackets are or a detailed explanation of how the new tax reforms will affect you.
Live support
In its second year, the TurboTax Live service, which connects you via one-way video to a certified public accountant (CPA) or enrolled agent (EA), is still a seamless resource. Your filing process starts with a one-on-one talk with a CPA, and you receive their continued support and advice as you go through the process. After connecting with a tax expert, you can get professional advice on maximizing your returns, and your assigned CPA or EA will even review your entire return to get as many dollars back as possible. The one downside is cost, which ranges from $50 to $170 depending on your filing status. TurboTax Live is the most expensive software packages we found, but is still cheaper than going to a tax professional.
If you don't need help from a CPA or EA, you can also get extra help with any paid plan through SmartLook™, which connects you via one-way video to a TurboTax specialist. With this service, a specialist can help guide you through the steps of filing a return, though they won't be able to answer tax-specific questions to maximize your return like a CPA or EA would. No matter which service you use, you'll be able to schedule appointments anywhere from the same day to dates more than two weeks in advance, which means that even the busiest of customers can get the help they need.
Points to consider
Expensive premium plans
While TurboTax provided the best online tax filing experience we saw, it does come at a price. Like all of our picks, it offers free filing for federal and state taxes, but anything above that will cost you. Its Deluxe plan starts at $60, while the package for self-employed filers climbs to $120. In comparison, TaxAct's paid plans start at $15, with the self-employed option costing $60. That said, it's very possible that TurboTax's excellent deduction tools could help you save money and file easier, even with the higher upfront price.
TaxSlayer
A relatively limited free version, but the best price for adding state taxes
Pros
Affordable audit defense
An interface for the experienced
Cons
Limited free software
Confusing pricing messaging
Why we chose it
Affordable audit defense
TaxSlayer's new Ultimate package comes with free audit defense for three years, identity protection and restoration charges. This is different from the more common audit support, which only offers assistance in gathering everything you'd need to prepare for an audit. Audit defense is a more involved process that includes representation in front of the IRS. TaxSlayer offers audit defense with its $57 package, whereas H&R Block's $50 package only includes audit support.
An interface for the experienced
We found TaxSlayer's interface to be clean, simple, and fairly flexible. It was easy to move through, fairly modern, and clearly labeled. We also liked that TaxSlayer let us skip around to different steps. H&R Block, on the other hand, wouldn't let us proceed to a different step until we'd filled out the current form — even for options as mundane as a phone number. Anyone who considers themselves fairly savvy with terms and tax credits won't have a problem navigating TaxSlayer's software.
However, TaxSlayer couldn't quite stand up to its competitors like TurboTax — especially because some of TaxSlayer's form pages were pretty text-heavy. In places where TurboTax will break up and explain each section you have to fill out for a W-2 or state form, TaxSlayer will try to explain the whole form and collect the information on one page. The same philosophy applied to searching in the help menu. It's the difference between a server at a restaurant noticing you need more napkins and bringing them to you (Turbo Tax), and a server who brings extra napkins only after you've asked (TaxSlayer). Both are good, but one's more convenient.
Points to consider
Limited free software
TaxSlayer's Simply Free version only works with 1040 filers with no dependents and only W-2 reported income. Most deductions and credits will require an upgrade to its Classic service. H&R Block's free version is open to more tax situations and offers more perks, like snap-a-pic W-2 import and support for Schedules 1-6.
However, it's worth noting that TaxSlayer's one-step-up Classic version costs just $17 and is competitive with comparable offerings from TaxAct ($19) and TurboTax ($40). And adding on a state filing is just $29 at any level with TaxSlayer, which makes it the most affordable state filing for higher-tiered premium services.
Confusing pricing messaging
While our other favorites like H&R Block expressly communicated the cost of their service, TaxSlayer consistently warned us about unforeseen adjustments. In our example, below, you can see a pretty stark difference between the two messages. H&R Block is assuring us we'll know when we need to pay more to file, while TaxSlayer is saying they don't need to offer notice to tack on different prices. In one phase of our testing, it appeared to show us that state filing would cost us an additional $29 even though we had selected the free version. We were never charged the extra $29, but the messaging made for a confusing and stressful process.
H&R Block
If in-person support sets your mind at ease, then an agent at one of H&R Block's 12,000 locations should do the trick.
Pros
Customer support
In-person service
Hands-off option
Cons
Rigid design
Lack of clarifying information
Price
Federal: $0-$80
State: $0-$37
Why we chose it
Customer support
H&R Block was an easy pick for personalized customer support. When we submitted a request for instant chat, H&R Block was immediately on the line. And even though it took a few minutes to talk to someone on the phone, it was still such a short wait that we didn't ding the company. Plus, our customer service representative was kind and patient as they walked us through pricing — without pushing paid options.
In-person service
H&R Block's calling card is a real-life, flesh-and-blood helping hand. If you're someone who appreciates the safety net of a human being guiding you through the muck of tax jargon, H&R Block is the way to go. (Free federal filers: You don't get in-person assistance unless you upgrade, but you can still file your return in an office.)
H&R Block offers a 1:1 digital expert service called Tax Pro Review. Essentially, clients begin their tax return online and can then choose to be paired with a tax professional who will help them complete, review, and file the return. The best part? It can be purchased as a separate service for $60 to $90 (depending on the complexity of the return) rather than as part of a $150+ package like the similar TurboTax Live. Better yet, the Tax Pro service gives you the option to choose a tax expert in your local H&R office for a face-to-face chat. And if you just need simpler support, you can opt for H&R Block's new service, Ask a Pro for $40-$50 for unlimited chat and screen-sharing with a tax expert. They won't deep dive into your filing specifics or optimize your return like the Tax Pro Review feature, but can still answer most all tax-related questions and guide you through the process.
Hands-off option
In addition to Tax Pro Review, H&R Block is rolling out a service called Tax Pro Go, which starts at $60 and matches consumers with a digital tax professional. Clients simply have to upload their documents, and the professional will take care of the rest. This is more hands-off than the other support options, which mostly offer professional advice while you still complete the filing. Better still, the return will be sent to clients within five days for approval. The offer sounds tempting — a lot of tax software, including TurboTax, starts around $60, while still requiring you to do most of the heavy lifting.
Points to consider
Rigid design
H&R Block's software uses a simple design with straightforward progression, with logical checklists that show you how far you've come and how much is still ahead. The checklist might be a little too restrictive for some, though. You can't skip around to different sections or even preview them to see what's in store. If you try, you'll be greeted by harsh red text that lets you know you haven't finished the step you're on yet. Not so fast, tax filer.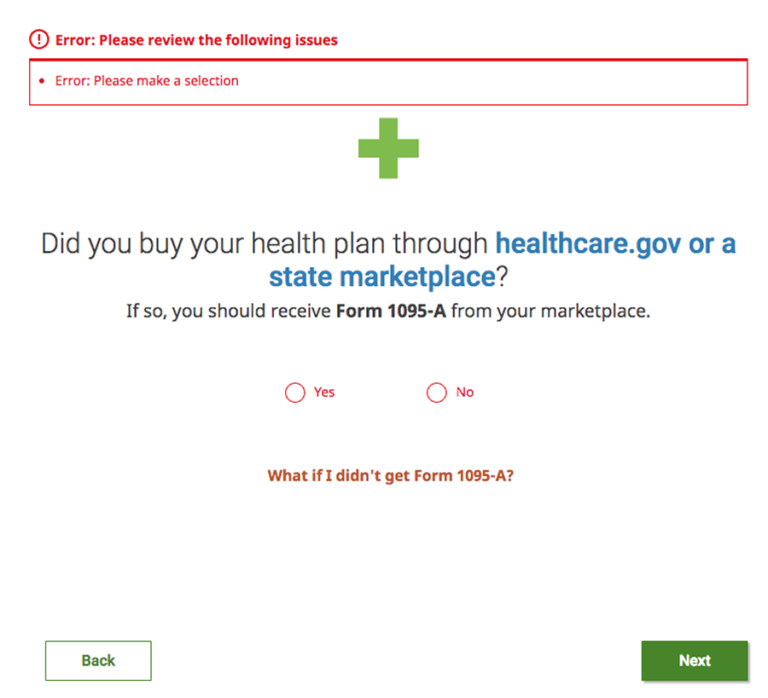 Lack of clarifying information
At times, H&R Block's software also fails to predict common questions. For example, our tester wasn't sure what to do when filling out their employment information — they had three jobs in the past year, which was one more than the allotted space on H&R's online form. Under the "Need Help?" banner, H&R Block's system drew a blank. Even though TurboTax only offered space for a single job, it still predicted the confusion and provided an explanation, reassuring our tester that the software wouldn't forget extra income.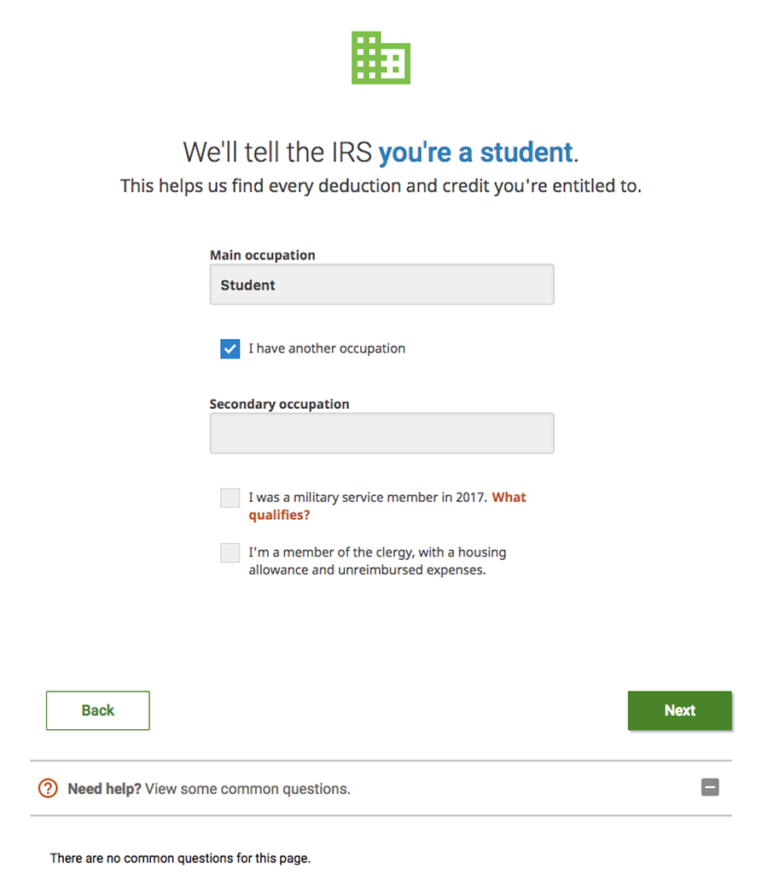 TaxAct
By far the cheapest tax software, but lacking guidance and a clean design.
Pros
Low prices
Free access to returns for seven years
Cons
Hard to navigate
Limited state tax filing
Price
Federal: $0-$35
State: $0-$40
Why we chose it
Low prices
If you want to get in and out of your return as inexpensively as possible, TaxAct is the way to go. Even its Premium option is cheaper than that of competitors, maxing out at $35 (with an additional $37 per state filing). It also has a PriceLock guarantee, a not-so-subtle dig at competitors like TurboTax, which notoriously charges for add-on features after you've started your return.
Free access to returns for seven years
Additionally, we loved how TaxAct users can access their tax returns for seven years — even when using the free version of the software. TurboTax charges a whopping $50 per return for this feature, while H&R Block only lets you go back three years.
Points to consider
Hard to navigate
Though TaxAct has updated its interface since last year, it still isn't nearly as interactive or enjoyable to use as our other top picks. We initially liked the no-frills nature of its simple, text-heavy screens, but it made the process feel monotonous after a while. At times, the amount of text makes the process more difficult to navigate — when compared with the large, scannable tools of TurboTax, it can be hard to find the information you're looking for. The software didn't take as many opportunities to inform or guide us.
There were also a few times in our testing that a calculation was made without us being informed. It got us to the same bottom line, but in the meantime, we were confused about what had suddenly changed our totals.
Limited state tax filing
The software's limited e-filing of state taxes might also be a deal breaker for some users. The software is missing key forms that make it ineligible for e-filing in some states: It doesn't have 1041, 1065, 1120, and 1120S for every state. To be fair, forms 1120 and 1120S are for corporations, and most corporations won't use simple consumer tax software to file. Regardless, if you have a small business, you probably don't want to file with TaxAct.
Guide to Online Tax Software
How to protect yourself when filing taxes online
File early
A common way for identity thieves to make cash is by filing fake tax returns based on stolen information before you have the chance to submit the return yourself. In 2013, the IRS prevented about $24.2 billion in attempted fraud but ended up paying an estimated $5.8 billion in fraudulent tax refunds. Online tax software companies insist that it's not the products that are insecure, it's that identity thieves are getting better. To avoid any surprises, file as early as you can — before identity thieves do it for you.
Take precautions
You can take steps to add security on your end, too. Keep clear of phishy emails; shred old tax documents; don't file your tax info over unsecured wireless networks. The IRS puts out a list of the "Dirty Dozen" tax scams every year, and it's worth taking a look early in tax season. If you really want to up your peace of mind, check out our review of the best identity theft protection services.
Use a unique password
For every financial website you're using, we strongly recommend you choose a unique password. While that can get hard to keep track of, you don't want to cut corners when it comes to filing your taxes online. If an identity thief somehow obtains your Facebook password, you don't want that to open the door to your tax returns as well.
Watch out for suspicious phone calls
Unfortunately, the IRS has seen a rise in phone scams in recent years where the callers impersonate IRS agents and try to get victims to pay exorbitant tax bills through wire transfers or prepaid debit cards. Some scams have even gotten so sophisticated that caller IDs show legitimate IRS numbers. Don't fall for it. The IRS will always send a bill in the mail first, and it will never threaten to bring in police for an unpaid bill. If you think you might have an outstanding debt to the IRS, just call directly at 800-829-1040.
Online Tax Software FAQ
How have tax software companies responded to increased security threats?
All of our top picks beefed up their security in 2019. In addition to asking for your password, they now require you to answer personal questions that are harder for a stranger to get right, like, "What is the name of your third-grade teacher?" TurboTax goes a step further by sending a six-digit verification number to your phone or email whenever you login.
What is the Free File Alliance?
The Free File Alliance is a nonprofit collection of 12 tax software companies that agreed to partner with the Internal Revenue Service (IRS) and provide free filing for low- and moderate-income taxpayers. The Free File versions give you access to more forms than you'll find in a software company's standard free option.

To be eligible for Free File preparation, the government mandates that your adjusted gross income be $64,000 or less. However, companies are allowed to make the same cutoff even lower for their individual versions of Free File software — the cutoff for TurboTax's is $33,000. In fact, as long as they don't exceed the government's cutoff, each participating software company can set its own eligibility requirements, which can be found on an IRS-sponsored list.

Free File Alliance software isn't available until January, but could be worth a look for many; at the last estimate, 70% of all taxpayers would qualify. When the software is available, you'll see a "Start Now" button on the IRS Free File site to review the list of participating companies, and you must start the process on the IRS site in order to ensure you don't pay fees. For those who may need more free forms than a 1040, it's definitely worth a look.
How has the new tax bill affected 2019 filing?
At the beginning of November 2017, a bill called the Tax Cuts and Jobs Act was passed. There are some significant changes that will impact your 2018 taxes that you're filing in 2019.

To start, whether you're single or married, it's likely that you'll be paying a lower federal tax rate next year. The bill nearly doubles the standard deduction as well (increasing to $12,000 for individuals, $18,000 for heads of household, and $24,000 for married couples filing jointly). To make up for these cuts, personal exemptions (currently $4,050 per dependent) will be completely eliminated, and you'll be unable to fully deduct state and local taxes, so some households in high-tax states could end up paying more.

There are many more changes we broke down in our Guide to 2019 Tax Changes. We recommend using a tax calculator to estimate next year's changes.
The Best Online Tax Software: Summed Up
| | | | | |
| --- | --- | --- | --- | --- |
| | TurboTax | H&R Block | TaxAct | TaxSlayer |
| | Best Range of Tools | Best Customer Support | Cheapest Tax Software | Cheapest Audit Defense |
| Filing federal online | $0-$90 | $0-$80 | $0-$35 | $0-$57 |
| Filing state online | $0-$40 | $0-$37 | $0-$40 | $0-$29 |
| Audit support | ✔ | ✔ | ✔ | ✔ |
| 1040 free filing | ✔ | ✔ | ✔ | ✔ |
| Office locations | | ✔ | ✔ | |
| Automatic W-2 import | ✔ | ✔ | | |
| Mobile app | ✔ | ✔ | ✔ | ✔ |
Our Other Financial Service Reviews
Filing your taxes is only step one on the road to healthy finances. Check out some of our other financial service reviews here:
You might also like