Showing results for
Did you mean:
Sorry, something went wrong. Please refresh your browser and try again.
Last updated on
February 16, 2018
The Best Personal Finance Software
Forty-eight personal finance apps. One month tinkering. Four standout winners.
| | | | |
| --- | --- | --- | --- |
| | | | |
| | | | |
| Mint is the go-to for folks who want to understand their own finances a little better. It uses insightful categories, crystal-clear graphics, and approachable language to tell you exactly what's going on with your money. | For an adless experience, try Mint's fee-based counterpart Quicken. It's made by the same parent company, Intuit, and offers an equally effective platform. Depending on your OS, it'll cost $35 - $100 annually. | YNAB is budgeting for the non-budget inclined. Helpful online courses and step-by-step tutorials teach you how to breakdown income, successfully allocate funds, and even put some savings away. | Personal Capital is geared towards the already financially-savvy. Rather than reporting on your day-to-day money needs, it gives a great high-level view of your finances and the state of your current investments. |
| | | | |
| | | | |
The Best Personal Finance Software
Mint is the perfect (free!) choice for keeping track of your finances. Intuit, Mint's parent company, has pinned down the intricacies of financial tracking. It creates the most accurate categories and produces the most comprehensive trend charts of any software we considered. Then it lays all this information out in clear, understandable graphics. Mint makes financial literacy accessible, even if money isn't your forté. Just note that because it's free, Mint does interrupt your feed with ads for credit cards and loan offers.
You can enjoy a similar experience ad-free with Quicken, Intuit's upgrade option. Quicken feels a lot like Mint, with equally effective tracking and graphics. The main difference? This fee-based software uses a desktop app instead of a web-based one, so it offers a slightly wider range of functions. Its finance calendars and customizable reports are a great addition if you manage multiple accounts, or have lots of assets to keep track of. This upgrade will cost you between $35 - 100 per year depending on your OS, but there's a 30-day money-back guarantee, so you can give it a try risk-free.
If your first priority is building a solid budget, rather than just monitoring your finances, then we recommend You Need a Budget (YNAB). This software will help you "give every dollar a job," as its slogan promises. With live tutorial courses and step-by-step guidance, YNAB teaches you successful budgeting in a way that Mint and others just can't match. It's also really user-friendly, offering helpful customer service and down-to-earth financial guidance. This app can totally change the way you think about money. It'll charge you $85 per year to do so, but you can test it out first with a 34-day free trial.
Maybe you're already past Mint and YNAB's learning curve, and looking for a more advanced money management platform. In that case, we suggest using Personal Capital. Personal Capital does a good job tracking spending and trends — though admittedly, it's not as detail-oriented as Mint and Quicken. Where this software really stands out is its focus on investments. Personal Caiptal's home page monitors your 401(k), IRA, and any other trading accounts linked to it. It also displays current market trends, so you always have a macro-view of what's going on with your financial holdings.
How We Found the Best Personal Finance Software
If you have trouble keeping track of your money or setting a successful budget, you're absolutely not alone.
Over 60% of Americans get no financial advice of any kind, and of those who do, over half say that their advisor does not give them a complete picture of their situation. That's about 80% of people who are essentially operating in the dark about the current and future state of their finances.
Personal finance software, which serves like your own (cheap or free) personal accountant, can help bolster your financial literacy. It also tracks spending and savings, and lets you set short- and long-term goals. When you're standing in the grocery store, for example, wondering whether you can afford the fancy cheese, just check your software — it'll tell you how much you've budgeted for food, how much of that budget is left, and how much extra cash you have on hand (in case you decide to splurge on that brie anyways).
But which personal finance software does it best?
We spent a week compiling a list of every software we could find (a total of 48), and whittled it down based on security, convenience, tools, and customer support. Then, we spent a month actually using our final picks to get a feel for how they work, and who they're best for.
We required reliable security measures to keep your information safe.
If we're handing over bank accounts, credit card numbers, and the rest of our financial information to a company, we need to be sure it's taking strict security measures to keep that intel protected. So we scrutinized privacy policies and compared security claims.
First, we cut any company without an https domain name. That's the "secure" version of http — it uses encryption to prevent any third-party interception while you're accessing the web. This is especially important for keeping login credentials safe (and even more so when you're logging into your bank). Then, we dug into the fine print. All of our top picks use 128- or 256-bit encryption and TLS 1.2 for transmissions — the most up-to-date protections on the web. These ensure that your data can't be hacked or stolen while it's in transit.
We also gave preference to software that uses multi-factor authentication. That includes any step beyond just entering a username and password, like receiving a secret code through text or email. Confirming your identity through another device or channel ensures that you're really you, and not some hacker who got ahold of the account info. Our top picks all require text- or call-based verification both when you set up your account and start using it on a new device.
Account Xpress, AceMoney, Budget Express, Home Bookkeeping, Monefy, Moneydance, Moneyline, Pocket Expense, RichOrPoor, Spending Tracker, SplashMoney
Software had to work on desktop and mobile, for access anywhere.
The experts we spoke with agree: Personal finance software is most effective when you make using it a habit. That means checking in regularly to make sure you're staying on-track and on-budget. We made sure that all of our top picks offer mobile apps for both iPhone and Android, so you can check in and manage your finances on the fly — say goodbye to anxious mental math before picking that next round of drinks.
We also cut companies that only operate on mobile, without the option to use a desktop or web app. Mobile accounting is super convenient, sure, but a computer affords the space to see all your information laid out on one screen. This makes it easier to multitask — like keeping an eye on your debts and spending trends while you allocate funds to a budget
Banktivity, Buxfer, CashSync, Clarity Money (formerly Prosper Daily), Daily Cost, MoneyWell, My Budget Book, Pennies
We only considered software that syncs directly with your bank accounts and credit cards to make money management easy.
When personal finance software links up to a bank, it can automatically import and categorize transactions, balances, upcoming bills, and so on. This makes financial oversight infinitely easier: It takes all the tedious work out of recording your income and expenses.
If [your financial software] can't access the financial institutions you utilize, you won't get the maximum benefit, because you will need to manually input every entry.
In other words, without bank syncing you may as well balance your accounts in a paper checkbook. We cut any contenders that took this old-school approach to money management.
Dollarbird, Goodbudget, GnuCash, Handwallet, Fortora Fresh Finance, Money Lover
We also called, messaged, and emailed customer support to find the most reliably helpful software companies.
In the process of digging up security specs, pricing, availability, and other product information, we asked a lot of questions. It's likely that at some point down the road you'll have questions of your own: Why won't my retirement account sync to my software? How do I set a long-term savings goal? Something looks funny; what's going on with these numbers?
Many of these questions can be answered through tutorials and FAQs. (YNAB does a particularly good job with that). But finances are complex and really personal; sometimes there's no substitute for an actual human helping you out. Two providers had especially good customer service. Mint provides rapid responses: We received polite and thorough answers to our questions within five minutes of opening Mint's live chat feature. We also liked working with YNAB. It doesn't offer a live chat or phone number, but we received a personalized, friendly, and helpful email response within 24 hours.
There were two providers that didn't make the cut: Mobilis Personal Finance and Budget Bakers' Wallet. After combing their sites, we couldn't find an email, live chat box, or phone number listed anywhere. They did have FAQs, but still — the best software should offer personalized feedback in case you're struggling with an issue that's not covered.
Mobilis Personal Finances, Wallet (BudgetBakers)
We took our finalists for a spin — hooking up our bank accounts, tinkering with settings, tracking our finances, and building budgets.
The only thing left to do was to get up close and personal with our own finances. We set up accounts with our five front-runners, downloaded every app, and then got to work.
The Personal Finance Software We Tested
Mint
Quicken
You Need A Budget (YNAB)
Personal Capital
Mvelopes
We logged in every day for a month, checking to make sure transactions were imported properly, monitoring our spending trends, and seeing whether they helped us stick to our budgets with prompts and warnings. Overall, were pleased with our top contenders. We found that all of them — except one — were intuitive, well-laid out, and easy to get the hang of.
Mvelopes was the only finalist not to make Our Top Picks. Right off the bat, we were frustrated by how long it took to import our banking information. We got antsy staring at a little black box that said "Verifying Answer" during every step of the process. And once we were in, the experience didn't improve much. Although Mvelopes has a fairly sleek mobile app, its web-based product feels straight out of the Myspace era. It's woefully clunky and hard to navigate. It also lacks the intuitive charts and infographics offered by other software, which give you an at-a-glance overview of your balances, spending habits, and upcoming payments.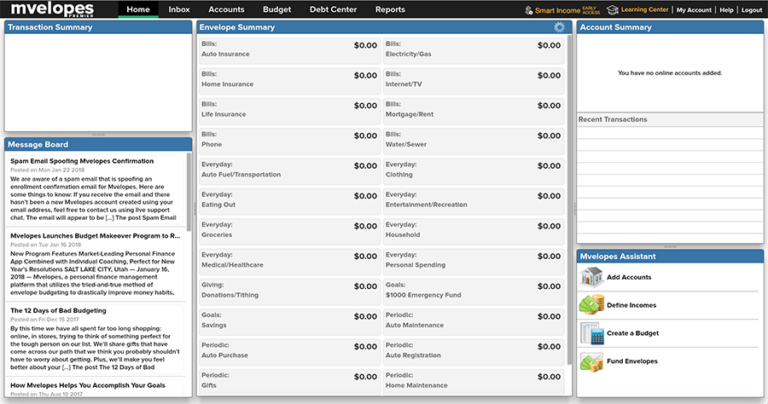 The rest of our finalists — Mint, Quicken, YNAB, and Personal Capital — all make money management a breeze. Ultimately, the best software for you will depend on your financial goals. Start with our first pick, Mint, for entry-level financial tracking and oversight. For an upgraded and ad-free version of that software, take a look at Quicken. In the market for more specialized tools? Skip down to our review of YNAB for an outstanding budgeting platform, or Personal Capital for investment and stock market tracking.
The Best Personal Finance Software at a Glance
| | Price per Year* | iOS / Android Apps | Budgeting Feature | Reliable Customer Support | Clearly Shows Spending Trends | Investment & Stock Trend Tracking** | Group Budgeting Feature |
| --- | --- | --- | --- | --- | --- | --- | --- |
| Mint | Free | ✔ | ✔ | ✔ | ✔ | | |
| Quicken | $35 to $100 | ✔ | ✔ | | ✔ | ✔ | |
| YNAB | $84 | ✔ | ✔ | ✔ | ✔ | | ✔ |
| Personal Capital | Free | ✔ | ✔ | | | ✔ | |
Our Picks for the Best Personal Finance Software
If you're totally new to money management, Mint is the way to go. This software keeps you up-to-date on your finances: how much is coming in, how much you've spent and where, and what you've saved. And it's all presented with clear graphics that you can read at a glance. Mint doesn't speak in budget terms, like YNAB, or layer on complicated investment trends like Personal Capital — It just explains your finances to you in simple, accessible language.
The simplicity starts with account setup. Mint links all your accounts with the same bank in one fell swoop, so it only takes a minute to get rolling. Then it pulls two months' worth of transaction history and begins categorizing. This is where we were really impressed: Intuit's products (the other being Quicken) nail down transactions better than any other software we looked at. They even break down subcategories (think: "Fast Food" instead of "Restaurants").
Understanding categories helps Mint make sense of your budget trends — which means that you can, too. It uses a unique pie chart system to show you how income and expenses break down: You can adjust these charts to show spending for specific categories, accounts, or time periods. This is a level of financial visibility we didn't see anywhere else. It gives you deep insight into your own habits so you can check in and make adjustments if need be.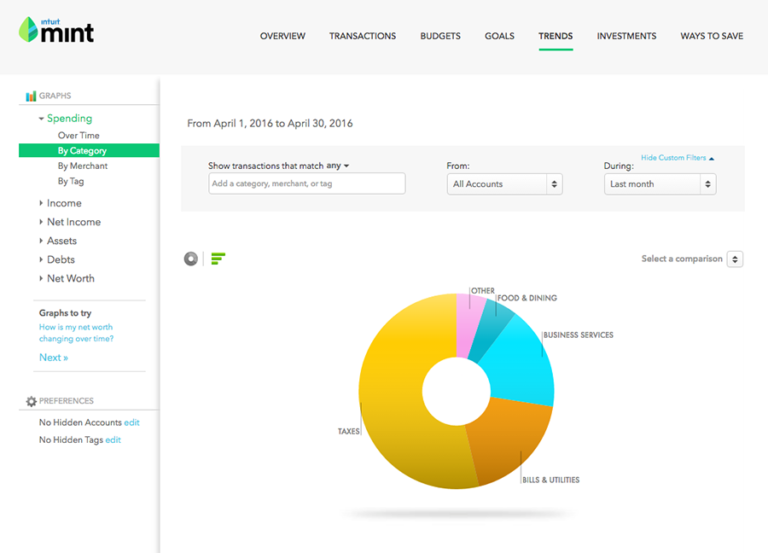 Mint also allows you to create budgets, although it takes a looser approach than YNAB, which has you plan out every dollar. With Mint, you just budget what you see fit in each category. Start with the preset budgets, like "Restaurants" and "Transportation," or create as many custom categories as you like. The software will automatically fill them in, but we noticed that it's not as smart about labeling budgets as it is with transactions. (It slotted a bus pass into "Education," for example). You may have to do a little tinkering to set it straight.
With your budgets and savings goals shown in bar graphs like the one above, its easy to log in and make on-the-spot financial decisions. For instance, you can pull out your phone at the grocery store, look at your grocery budget, and decide whether to buy the $25 or the $10 rosé (without doing any frantic mental math). This can help you meet spending goals, but keep in mind: Mint's budgets are hypothetical. You can assign any amount to any category, regardless of your current income and necessary expenses. This approach won't work for everyone. If you need help building a more concrete, income-based budget, we strongly recommend the budget-centric YNAB.
Beyond budgeting and tracking, Mint lets you connect your 401(k), 403(b), IRA, student loan, auto loan, home loan, and so on. If it's got money attached to it, you can probably connect it to Mint. While these options aren't exclusive — you can link external accounts to Quicken, YNAB, and Personal Capital, too — Mint made it the easiest to do so. It literally has a box on its home screen inviting you to import new accounts.
Overall, we love the simplicity that Mint brings to personal finance. Its intuitive interface makes it easy to keep track of your money and manage it on the fly. And we especially love that it's free — but that does mean putting up with banner ads. They're not overwhelming, but you will have to scroll through some full-screen credit card and loan offers. If you're looking for a more streamlined experience, then we recommend checking out Quicken.
Quicken is made by Intuit, the same parent company as Mint. It feels similar, with an equally user-friendly interface and tools, only minus the distracting credit card and loan ads.
Along with being ad-free, Quicken is a bit more robust than Mint. It uses a downloadable desktop app rather than a browser-based one, which has some perks. For instance you can build out a calendar to track budgets, bills, and savings over time. To stay up-to-date with this calendar, the app lets you create customizable pop-up alerts for your desktop. It also has extra Report and Summary options — like "Net Worth Over Time," "Spending Over Time," and "Tax Summary" — that might be helpful for people with more accounts and assets.
Where Quicken fell down in comparison to Mint was its customer support. With Mint, we logged onto live chat and had all our questions answered within minutes. Quicken wasn't so accommodating. All of its communication channels had lengthy wait times (30+ minutes) with no indication of where we were in the queue. Of course, they assured us that we could get shorter wait times — as long as we upgraded to 'Premium Support' for an extra $50. Quicken does have a really comprehensive Support section on its site to help you troubleshoot. And if you have any experience with money management, the software is intuitive enough that you may not have many questions. But we were still disappointed by its weak live support.
All in all, Quicken feels like a professional, grown-up version of Mint. We recommend this software for people who are familiar with managing their finances and won't need any hand-holding (like Mint's suggestion boxes). Quicken is also a good choice if you have multiple accounts or larger assets to keep track of: Its desktop app is well suited to managing a more built-out financial portfolio.
Quicken will cost you between $35 and $100 annually to upgrade, depending on your operating system. If you're on the fence about taking that leap, Quicken offers a 30-day money-back guarantee, so you can the software it for a spin and see if Intuit's tools work for you.
If you have trouble making a budget and sticking to it, then you need You Need A Budget (it's redundant, but true). This software takes a unique approach to budgeting. Instead of making a hypothetical plan for future money, YNAB works with the cash you have on hand. It asks you to allocate all of your income: First, cover your immediate expenses; then once those are take care of, money goes towards next month's expenses and savings goals. There's no discretionary cash left sitting around — which means you won't be tempted to spend it frivolously. Instead, every dollar is put toward a specific purpose, which is what YNAB means by its first rule: "Give every dollar a job."
If that sounds intimidating, don't worry. YNAB will help you give those dollars their jobs at every step.
It starts with account setup: YNAB had us import each account separately, as opposed to pulling everything at once like Mint did. This took a little longer, but it made us think critically about how we wanted to prioritize our finances. For example, when we imported a credit card, YNAB asked us how we'd like to pay it off and then helped us work that goal into our budget. This setup process lays the foundation for thoughtful money management from day one.
YNAB also walks you through budget planning with plainly-worded, helpful tutorials. To really succeed though, you need to take the Get Started Webinar before anything else. Trust us on this. We tried crafting a budget without it and were a little lost: What was Age of Money? What were Immediate Obligations and True Expenses and how were they different? Why was YNAB saying we'd overspent when we still had cash?
Then we took the webinar, and everything clicked. YNAB's budgeting system is complicated but elegant. It asks you to budget cash on hand for the usual stuff: Rent, groceries, utilities, etc. And, it lets you put your savings to work: Those extra dollars can be allocated for vacation, a big purchase like a house, even for unforeseen expenses (car repairs, anyone?).
One thing we really appreciate is YNAB's flexibility. The company's "roll with the punches" philosophy reflects the way we handle money in real life. Maybe you get a pricey Uber and overspend on your Transportation budget. No problem — you can log in, redirect some of your dining out budget to cover it, and you're home cooking (affordable) dinners in the black. Our other top picks didn't make it as easy to reset our goals and stay on track.
That said, we'll admit that YNAB isn't 100% flexible across the board. It only asks you to budget for non-immediate expenses like "dining out" after you've fulfilled all your "immediate obligations." This is a sterner approach, and may feel more prescriptive than our other top picks. But YNAB's honesty about priorities is part of what makes the software so successful.
The other place YNAB shines is its customer support. The company is only reachable through email, but it makes good on its promise to respond "really, really fast." We received personalized, clear, and friendly answers to our questions in less than 24 hours. Its webinars are also super helpful. Beyond the Get Started intro, it offers live courses on Breaking the Paycheck to Paycheck Cycle, Budgeting when Money's Tight, Paying for Big Expenses without Borrowing, and more. These awesome resources take YNAB from a budgeting platform to a one-stop-shop for becoming financially responsible.
Keep in mind that compared to our other top picks, YNAB is a bit of a one-trick pony. Everything relates back to your budget: Income, expenses, and goals are all presented in terms of dollars allocated and dollars to be allocated. This is great for keeping you on track. But it also means that YNAB lacks the trend graphics and other analytical lenses we loved from Mint, Quicken, and Personal Capital. Successful money management will hinge on whether YNAB's specific lens works for you.
Our recommendation: Start the 34-day free trial; take the webinar and read the tutorials; and see if YNAB is a good fit for you. After the trial is over you'll either pay $6.99 per month or $83 annually for the software — so make sure to assign those dollars right away if you like it!
Personal Capital takes a more wide-lens look at personal finance than our other top picks. Rather than zeroing in on every transaction and budget category, it gives you an overview of your net worth and holdings. It also compares income and expense trends month over month, so you can keep an eye out for any unusual spikes or dips.
This approach is well suited to people with irregular cash flow. Personal Capital lets you monitor your finances, without getting too entrenched in day-to-day balance changes. If you have unpredictable paychecks, for instance, it might not make sense to stick to a set monthly budget like YNAB's. Or maybe you have unusual spending habits, like frequent business travel. In that case, using a transaction-focused software like Mint may not be particularly useful. Personal Capital offers a little more flexibility. It won't send alarmist notifications if your accounts see a substantial change from one day to the next — as long as your net worth doesn't suddenly bottom out.
This outlook is represented beautifully on Personal Capital's interface. The first thing you see after logging in is net worth, represented in a calming blue graph. Your overall cash value is clear at a glance, and you'll know right away whether your worth is trending upwards or down.
You also have immediate access to income and spending trends: You can see, on a monthly basis, what categories the majority of your transactions fall into. This gives you a good idea of where your money is going, and if you need to make any high-level adjustments to your spending patterns. Cash Flow (otherwise known as 'cash on hand') is shown just above so you know how much money is available to you at any given time.
What's really unique to Personal Capital's homepage is its investment tracker. Your homepage tells you — both in real dollars and percentages — exactly how much your 401(k) or other investment holdings have gone up or down. Personal Capital also lets you know whether the Dow Jones, the S&P 500, and other major indices have earned or lost value, so you can keep track of the markets as you monitor your own investments.
There are a couple other differences worth noting about Personal Capital. This software made getting started really easy by importing four months' worth of transactions right off the bat — twice as many as Mint. That means we had immediate access to a history of spending and savings trends. We didn't have to use it for months to get a clear picture of our finances.
However, Personal Capital doesn't categorize those transactions as well as Intuit or YNAB. Expenses are slotted into general categories (e.g. "Transfers" instead of "Rent & Mortgage"), and the way they're listed doesn't show the transaction location at a glance. This makes sense with Personal Capital's macro-view outlook; just note that if you want to keep a close eye on transactions, this software will be frustrating.
Personal Capital's interface feels like it's saying, "Hey, here's what you have. Do with it what you will." By comparison, the first things you see with Intuit software and YNAB are account balances, upcoming bills, and budgets. They feel a little more rigid — like an advisor counseling you about what you should be doing with your finances.
Because it's less focused on individual transactions and budgeting, we recommend Personal Capital for people who are already pretty financially savvy. This software will keep you in the loop about your finances without being overly prescriptive.
Get the most out of your personal finance software.
Personal finance software can be a powerful tool, but remember: You only get as much out of it as you put in. Our financial experts all agreed on this point.
What makes a [personal finance software] successful isn't just the app's features; it's how dedicated you are to using the app in order to reach your financial goals.
It comes down to checking in often, paying attention to trends, sticking to your budgets, and making adjustments when things don't go quite right. You'll only be motivated to put in the work if you actually like using your software, so picking the right one is an important first step.
Let your strengths and weaknesses guide you towards the right software.
Before starting with a personal finance software, have an honest conversation with yourself about why you need it. Maybe you're starting your first salaried job, and you want to learn to use your paychecks wisely. Maybe you have a hard time staying within your grocery budget. Maybe you want to save for a car or a house, but don't know where to start.
The most important thing is to know where you are weak and strong in your finances and then look for an app that strengthens those weaknesses and augments those strengths.
Our top picks all offer their own unique set of features. They can bolster your financial weaknesses, or play to your strengths. If you're not sure what features you need, then we recommend trying a couple out before committing to one. All of our top picks are either free or offer a free trial, so you can take them for a test drive and see which tools work for you.
Set realistic expectations, and you'll develop good habits.
Don't have time to check in on your finances daily? That's ok. "Make a Money Date with yourself every week or every month," suggests Meka West, founder and CEO of Penny Smart Girl. Make sure your transactions are categorized appropriately; check your spending against your budget; and see if you want to change any of your spending or saving habits before the next Money Date. Whether daily or monthly, the most important thing is that you stick with it.
And remember: You don't have to use every single feature. For example, Mint will prompt you to set long-term savings goals — but if that doesn't inspire you, you can always just use its tracking charts to make sure you're staying on track with your day-to-day financial needs.
"With any new software, you have to dip your feet in and slowly immerse yourself in the features," says West, "It kind of starts to come together after a month." That may sound slow-going, but think of it like working out or healthy eating: You have to put in the effort and stick to your plan, but eventually you'll see big results.
Our Personal Finance Software Review: Summed Up