Showing results for
Did you mean:
Sorry, something went wrong. Please refresh your browser and try again.
Last updated on
June 27, 2018
The Best Pet GPS Tracker
We researched 32 trackers, tested 13 for function and convenience, and found 2 to help keep your pet safe.
Accurate Location Tracking
Long Battery Life
Monitors Activity Level
Uses AT&T Cellular Network
Similar Products
The Best Pet GPS Tracker
The best pet GPS tracker gives you a better shot at wrangling furry escape artists before they've gotten too far from home. All trackers on the market right now are somewhat bulky, making them more suited to medium and large dog breeds than to toy breeds, or cats. GPS trackers contain a GPS chip and SIM card and communicate your pet's position to your phone via cellular network, alerting you if they've left safety, letting you track your pet's routes, and sometimes even tracking physical activity levels. All those features come in handy for owners, but the tech has limitations: They're only useful if you're in an area with good GPS and cellular coverage, and you'll usually pay a monthly fee for cell service (to the tracker company, not your go-to cellular provider).
We found the Whistle 3 Pet Tracker & Activity Monitor to be far-and-away the best option on the market: It reliably sends timely alerts when it leaves a safe zone, operates via an intuitive app, and its battery holds a charge much longer than its competitors. It keeps track of your pet's activity, too — a useful extra if you want to hold yourself accountable for giving your pet the exercise they need. Plus, the hardware is low-profile, waterproof, and easy to secure on the collar of any pet who weighs eight pounds or more. The device costs $80, and you'll pay about $10 per month for cell service.
If you live in an area that gets better coverage from T-Mobile than AT&T (the Whistle's cell provider), if you want a tracker than can be accessed via desktop and not just a mobile app, or if you don't care about activity tracking, we also liked the Trax Play GPS Tracker. It has fewer features than the Whistle does, but it tracks accurately and its app is incredibly easy to use. It's not quite as durable as other trackers though, so we can't recommend it if your pet's a swimmer or is especially determined to get accessories off her collar. The Trax retails for $99, and cell service is about $9 per month. (You'll need to pay for at least six months upfront.)
How We Found the Best Pet GPS Trackers
We ordered every pet GPS tracker we could find.
We pulled every pet tracker we could find from Amazon, Chewy.com, PetCo, PetSmart, and Best Buy, plus several pet blogs. To be included, devices had to meet just three requirements:
They had to utilize GPS technology. Some "GPS trackers" actually rely on other methods of tracking. We take a look at other technologies later in this review, but GPS is generally the most practical for pet owners.
They had to be geared for pet tracking. You can get GPS devices that aren't pet-specific, but these aren't built to attach securely or comfortably to collars. So we didn't include "anything finders" like Tile.
They had to come from reputable manufacturers. In this case, "reputable" just meant that they had to have their own websites. Several trackers on Amazon had manufacturers we were unable to track down — this means there's no one to hold accountable if the device breaks a month after you buy it.
This left us with 13 trackers from 12 brands (the LINK AKC comes in two versions; we ordered both so we could compare them).
The 13 Pet GPS Trackers We Tested
Find My Pet Nano GPS Dog Tracker
Gibi Pet Locator
GoFindR Tracker
LINK AKC Smart Collar (Classic)
LINK AKC Smart Collar (Sport)
Paby 3G GPS Pet Tracker & Activity Monitor (America Edition)
Pod 3 GPS Tracker
The Nuzzle GPS Collar
The Paw Tracker
Trackimo Mini Dog GPS tracking device, Cat Tracker for Pets
Tractive GPS Tracker for Dogs and Cats
Trax Play GPS Tracker
Whistle 3 Pet Tracker & Activity Monitor
These devices are marketed as "pet trackers," but the term is misleading. If you've got a small dog or a cat, even the most diminutive devices (like the Paby or Trackimo) are bulkier than small animals are likely to tolerate. But all of the 13 GPS trackers we tested are appropriate for large- or medium-sized dogs.
A tracker's functionality can suffer if it gets too small, so we didn't consider the size of even larger-than-average devices like the GoFindR or Gibli a deal-breaker; We wanted to see if size correlated to a more reliable device.
"Longer battery life often means a heavier device."
We tested the devices to find ones that fit securely to a dog's collar.
The best GPS tracker should be secure enough to stay on in any environment, whether your dog loves exploring dense underbrush or digging under the fence. So we attached each GPS tracker to a collar, then checked how easy it was to dislodge.
The trackers took a variety of approaches. Some secure themselves via thick rubber bands that stretch around the collar. The Whistle 3 twists to lock and unlock from a base mounted to the collar. Two companies, AKC and Nuzzle, integrate their trackers into the collars themselves. These all felt solid. Trax Play's rubber case and Gibi's slide-on approach didn't feel quite as secure, but they were still serviceable. The only tracker we eliminated was the GoFindR. It's a heavy, blocky tracker that slides onto a flimsy plastic mount attached to your dog's collar — and then slides right back off again with little pressure. In this case, more bulk meant worse performance.
We set up the trackers and tested them for usefulness, reliability, and ease-of-use.
A pet GPS tracker should help you find your pet — quickly — when it's on the lam. Three features help that happen: safe zones, alerts, and live tracking.
A safe zone (or geofence) is an area where you allow your pet to spend time unsupervised, like your yard, your sitter's yard, or the edge of your neighborhood. When your dog enters or leaves this area, the tracker sends a signal to the mobile app, which sends an alert to your phone. From there, you can activate live tracking via the app, follow your pet's location in real time and intercept their route.
Customizable safe zones were more useful than automatic ones.
Some trackers come with pre-sized safe zones, and some let you create your own. But if a safe zone can't be customized, it's likely to be too big, too small, or simply the wrong shape: Maybe your yard is shaped like Nebraska to the safe zone's Colorado. A mismatch like this means your device can end up sending alerts when your dog is still safely in the yard — or well after they've escaped. We preferred trackers that offered as much safe-zone customization as possible.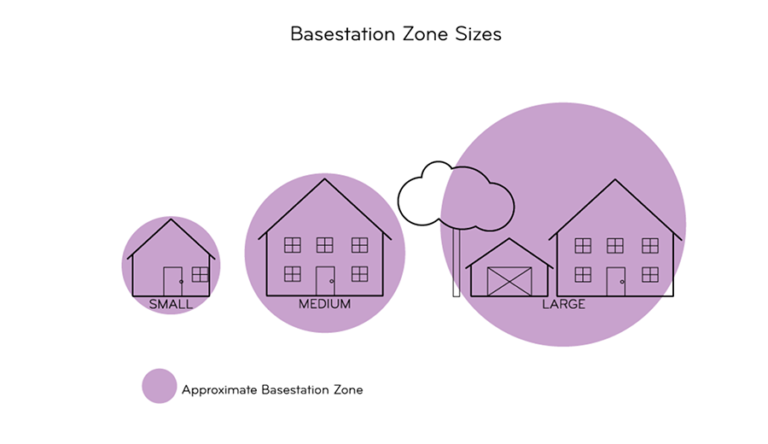 The least customizable were the collar-style trackers: the LINK AKC and The Nuzzle. Both use Bluetooth signals sent from their charging stations to create safe zones. But the charging stations need to be inside, connected to a USB port — and the AKC LINK's website states its base station bluetooth range (and, therefore, the edge of your pet's safe zone) is "120-150 feet, depending on signal strength obstructions like appliances or concrete." Depending on where you plug the station in, you could wind up with a safe zone that covers your living room and kitchen, but not your backyard. The company suggests buying more base stations if you want to cover a larger area. (In fairness, the LINK does provide a couple other options for creating safe zones, but we found them similarly limiting.)
Setting up safe zones on other devices usually involved dropping a circle or square onto a map and choosing its size. But Gibi Pet Locator, Tractive GPS Tracker, Trax Play GPS Tracker, and Whistle 3 went one step further, giving us free reign to form the irregular shapes that accurately reflected our neighborhoods.
Be familiar with local signal strength before you buy a pet tracker.
Tall buildings can interfere with a GPS signal (although we didn't have any issues testing in downtown Seattle); weak cell service can also impact reliability. We suggest testing any tracker you order in your own neighborhood before trusting it to keep your pet safe, and making sure your tracker uses a cell carrier with good coverage in your area. Our top picks use AT&T (Whistle 3) and T-Mobile (Trax Play) — you can find coverage maps here and here, respectively.
Prompt alerts and accurate tracking were a must.
If your pet leaves its safe zone, three things should happen:
You'll get a phone notification.
You'll open the map on your app and wait for your pet's current location to load.
You'll keep tabs on your pet's location by either manually refreshing the map or by toggling into "live-tracking" mode, which provides constant positioning updates.
To be effective, we expected our trackers to complete all of these steps quickly and accurately. Many didn't. Find My Pet and Trackimo didn't send alerts at all when we left our home boundaries; others were inconsistent about the amount of time that passed before we were alerted. The first time we tried the Tractive GPS Tracker, it sent alerts within two minutes of a safe zone breach; the second time we tried it, there was a 16-minute lag.
We traced inconsistent performance back to two factors: The quality of your tracker's cellular connection, and how often your tracker refreshes its GPS position. Cell signal is totally out of your control: If you live in an area that has decent service, it's not likely to be a problem. (We tested our trackers in the Seattle metro area, for example, with ample coverage.) But if you live in an extremely rural area or an urban canyon, you may want to look into TK: other tracking technologies.
Your tracker's refresh rate — how often it updates its GPS positioning — is something that the manufacturer gets to choose. It might seem like the best GPS tracker would update your pet's location as often as possible, but Alan Antin, Research Director at Gartner (where he focuses on wearable devices), warned us that if a tracker refreshes frequently, "the biggest concern is going to be battery life." For this reason, we liked products that let us control how often the GPS updated. If you know your pet is going to be at home and inside all day, you can set the device to update less often. But as soon as they're roaming around outside, you can temporarily use up more battery by setting higher-frequency updates.
| Tracker | Adjustable GPS Refresh Rate? | Refresh Rate Range |
| --- | --- | --- |
| Find My Pet Nano | Yes | 1 - 120 min |
| Gibi Pet Locator | Yes | 30 seconds - 2 hours |
| LINK AKC Smart Collar | No | From customer service: "It updates in the background throughout the day, and you can get your pup's GPS location … at any time." |
| Paby | No | N/A* |
| Pod 3 | Yes; In safe-zone only | 2 minutes - 3 hours |
| The Nuzzle | Yes; In safe-zone only | 2 - 4 minutes, 14 - 16 minutes; 20 minutes |
| The Paw Tracker | Yes | 1 minute - 12 hours |
| Trackimo Mini | Yes | 1 minute - 2 hours |
| Tractive | No | From website: "every 2-60 minutes in the default tracking mode (depending on the activity level of the pet)." |
| Trax Play | Yes | 10 seconds - 1 minute |
| Whistle 3 | Yes | 3 - 30 minutes |
The longer the battery life, the more useful the tracker.
Even the most accurate GPS is useless if it dies while your pet is still on the run. But if you read through user reviews of most pet trackers, a short battery life is one of the most common complaints. Companies try to mitigate the issue via several strategies. Some devices, like the Whistle 3 and Pod 3, utilize WiFi networks connections or Bluetooth connections when available in order to limit battery-sucking cellular communication. The Pod 3 and The Nuzzle provide an extra battery to switch out when one dies. (Thoughtful, but not always practical.)
Despite these efforts (and despite some trackers claiming days of battery life), most of the devices we tested needed charging after less than a full day of testing. But we were putting the trackers through the wringer with those tests (live tracking, several alerts, etc.) — to compare the trackers' batteries objectively, we fully charged them all, turned off Bluetooth and WiFi on the phone they were connected to (so they couldn't conserve battery) and left them stationary for a day. We checked in with them at six, 12, and 24 hours.
While it's not realistic that a tracker would be still for a full day on your pet, we walked away from the test with some telling observations:
Neither Trackimo nor Tractive would connect to a phone (the same phone we'd been using for prior testing, during which both connected just fine) for this test.
Paby and My Pet Tracker both connected at first, but wouldn't reconnect when we tried to check in with them later — and both died (you can tell by activating them via a physical button) before 24 hours.
Of the devices that stayed connected, the two collar-integrated devices (The Nuzzle and LINK) died first, and at the same rate.
Pod 3 (the pink, dotted line) showed a higher battery level at 24 hours than at 12 hours, which presented a red flag. We had read in Amazon user reviews that the device's displayed battery levels weren't an accurate reflection of its actual level — we're inclined to agree.
And finally, Whistle 3 outshone every other device.
Most pet trackers need to be treated like your smartphone: Plug them in to charge every night.
We looked for apps with simple set-up and intuitive design.
While we were primarily interested in trackers that tracked well, we preferred devices that were also easy to set up and interact with.
Most tracker apps open straight to a map showing your pet's location. You'll typically see a few minimalist icons that echo their functions, like Tractive's three buttons: "Live" (to activate live tracking), a fence visual (to adjust geofencing), and a calendar (to view your pet's history).
But Find My Pet Nano, The Paw Tracker, and Trackimo were exceptionally terrible. Find My Pet Nano continually opened to a zoomed-in map in the Gulf of Guinea — we're in Seattle. We had to locate our city manually by pinching, zooming out, locating North America, and zooming way in. The Paw Tracker app was littered with confusing data entry fields; when we tried to add a geofence, it took us to a page to enter longitude and latitude (we eventually figured out how to get to a map to place zones, but it took us a while).
The contenders with well-designed apps were generally easier to set up, too, taking just a few minutes to get connected. Find My Pet Nano, Paby, and Trackimo were the hardest, all with minimal or vague instructions. Paby came with a "guide to what's inside" rather than actual instructions — we downloaded the app and guided ourselves through set-up. The Paw Tracker, didn't come with any documentation at all. We used Google to find a quick-start guide online, but the set-up itself was still mind-bendingly tedious. One step required us to calculate the number of hours our time zone differed from China's time zone (where the device was manufactured).
Setting up your tracker app
Setting up your pet GPS tracker typically involves five steps:
Download your device's accompanying app
Set up your profile and cellular service plan (if needed)
Activate the device, usually by typing in a serial number or via Bluetooth connection.
Establish GPS connection, usually by standing outside "in an open area for 15 minutes.
Customize your settings, like safe zones and refresh rates.
Our Picks for the Best Pet GPS Tracker
Whistle 3
The perfect balance between long battery life, prompt updates, and well-designed app.
Return to top 
The pet tracker market is full devices that over-promise and under-deliver. The Whistle 3 Pet Tracker & Activity Monitor is the stark exception. It was a top performer across every category, consistently sending helpful, accurate notifications, with tech that's best-in-class.
The quality that most sets the Whistle 3 apart is its battery life. When we took the devices out of their safe zones for five hours to test live tracking, the LINK AKC was dead long before the end of our test, and most of the others were severely depleted. The Whistle 3 returned home boasting a comfortable 93-percent charge. If your pet runs away, this ensures that you've got more than a few hours to find him.
Extend battery life further by adding WiFi locations.If you set up your Whistle's places (the sitter's house, your workplace) with WiFi, you'll conserve battery life when your pet's in these areas.
In our more controlled, stationary battery life test, Whistle 3 came out on top again. There were just two devices with battery life that competed with the Whistle 3 — the Pod 3 and The Paw Tracker — but we found them to be less accurate at actually tracking. (Plus, we're not sure we trust the Pod 3's displayed battery percentage, which increased between 12 and 24 hours.) The Whistle doesn't make a trade-off for its battery longevity. When we left safe zones or re-entered them, Whistle 3 always sent notifications within two minutes, and usually sooner. Notifications from others (like Pod 3) lagged behind substantially, sometimes never showing up at all.
The Nuzzle was the Whistle 3's closest competition in terms of prompt notifications, but its safe zones were less customizable and its battery drains more quickly. By contrast, the Whistle 3's safe zones (Whistle calls them "places") are entirely in your control: Type in an address, then adjust four corner points into whatever arrangement works best; oddly shaped yards or specific off-limits areas are accommodated with ease. Plus, Whistle 3's notifications aren't just prompt, they're specific and informative.
Tracking the device when your pet is on the run is similarly practical: Touch the "Track" button, and it loads the tracker's current location quickly and updates continuously until you tell it to stop.
In addition to effortless activity tracking, Whistle includes a few extras, offering insight into your pet's activity, and letting you set daily goals based on measurements for a healthy pet of the same breed — helpful if you're watching your pet's weight. We appreciated these extras on top of the Whistle 3's already stellar performance.
The app is free, but buying the Whistle 3 is like buying a cheap cell phone: You'll pay $80 for the device itself, then choose a service plan. Whistle gives you three options: $10 for monthly payments (with a year's commitment), $95 upfront for a year of service; or $167 upfront for two years of service.
Another pet GPS tracker to consider
Trax Play
Not quite as impressive as the Whistle 3, but a solid runner-up that doesn't require a smartphone and uses T-Mobile rather than AT&T.
Return to top 
Lots of trackers, including the Whistle 3, require a smartphone to operate. Perhaps that shouldn't surprise us, given that a recent survey from Pew Research Center found that 77 percent of Americans own smartphones. But if you're one of the remaining 23 percent, Trax Play GPS Tracker can be accessed through a web application in addition to a smartphone app. It also gives the Whistle 3 a solid run for its money, with an easy-to-use design plus responsive live tracking.
The Trax doesn't offer extras like activity tracking, which means its apps is minimalist, but the features it does offer (geofencing and outdoor tracking) are thoughtfully customizable. In fact, Trax Play's geofences are even more customizable than Whistle 3's "places" — you can make them any polygon you please or draw them freehand and set them up to be active only on certain days of the week. Say your workplace allows pets in-office on Fridays or you drop your dog off at Grandma's every day before work — you can activate pre-set safe zones for each scenario.
The Trax also has a "sleep mode" to help preserve battery life: The devices goes to "sleep" after five minutes of inactivity, reactivating as soon as it senses motion. This meant that, even when we requested 15-second location updates, the battery lasted over a day (although it still didn't come close the Whistle 3). If you don't need quite such frequent location updates, you can also select from a range between 10 and 60 seconds.
One key difference between the Trax Play and the Whistle 3 is its cellular service provider. Rather than AT&T — the carrier Whistle 3 uses — Trax Play uses T-Mobile 2G. Generally, T-Mobile offers less comprehensive coverage than AT&T. But its coverage is better in some urban areas (a discovery we made when we reviewed cell phone plans). If you live in an area that has spotty cell reception, we'd suggest comparing T-Mobile and AT&T to see which is the best option. And we'd suggest using RootMetric's mobile coverage map to do this. This third-party survey operation provides an unbiased report of coverage at the neighborhood and even the backyard level.
Decode waterproof ratings.Trax Play's rating is IP65 (protected from water shooting out of a "nozzle"); Whistle 3's is IPX7 (protected from immersion in water up to three feet). You can learn more about waterproof rating systems here.
Trax Play has a couple of potential drawbacks, depending on your pet. The device itself is water-resistant, rather than waterproof, so it's not the right pick if your dog's a swimmer. And the tracker attaches to a pet's collar via a flexible silicon case. You thread the collar through that case, then stretch the case over the device — there's nothing directly connecting it to your pet's collar. We're confident it'll stay on through everyday wear, but if a branch were to catch it at precisely the right angle, it would be less likely to stay put than the Whistle 3.
If you go with Trax Play, you'll have a similar pricing scheme to Whistle 3. The device costs $99, and a plan costs $54 for six months of service, $72 for a year, or $96 for two years.
Pet Tracker Buying Guide
If you live in an area with poor reception, consider GPS alternatives.
If you live in a GPS or cellular deadzone, GPS may not be the tech you're looking for. Other options, like Radio Frequency or Bluetooth trackers, can bypass the need for your phone to connect with a cell tower or satellite.
Trackers that use Radio Frequency (RF) are often advertised as being more light-weight than GPS trackers — but they also have a shorter range. Scott Amyx, Managing Partner of Amyx Ventures and wearable tech pioneer, told us that RF trackers can pick up a signal within a 25- to 50-mile radius, depending on the vendor. If you're interested in going this route, the MARCOPOLO was one model we ran into quite a bit. Bluetooth trackers are another option, but have the shortest range of all (one, PawScout, advertises 300 feet as its limit). Depending on your location, one of these options may be practical than GPS, but for everyone else, it's hard to beat a GPS tracker's theoretically unlimited range.
Don't see anything you like? Keep an eye on the market.
The pet tracker market is new, and expanding quickly. If you're looking for additional options, we found a few products that haven't been released yet but which we're keeping our eye on:
For style & features: The Scollar is available for pre-order in four sizes. It advertises RF and cellular tech in a brushed-metal accented collar. It promises the ability to open RF-enabled pet doors and send you feeding reminders. Two others also caught our eye: the Wüftracker says it'll track location and activities and help train your dog through features like "gamified" training and two-way communication; and the Kyon collar would be the subtlest tracker we've seen yet (and looks straight out of the movie Up, to boot).
For cats: A couple companies are trying to corner the as-of-yet untapped marked for cat GPS trackers. Pawtrack is slated for release in late May 2018 and claims to be "designed for cats and cats only", is "splashproof" instead of waterproof, and unclasps if it gets caught on something. Similar features are planned for the cat-specific tracker Tractive is releasing "later this year."
No matter what tracker you get, you should also microchip your pet.
Getting your pet microchipped allows a shelter or vet to scan the chip in an emergency and find identifying and contact information. A GPS tracker may seem like it'll cover you in any scenario, but it should be viewed as a complement to microchipping, not a replacement.
"When you microchip a pet, you're able to capture other vital information about their pet, such as medical conditions or whether they were spayed or neutered. You record the owners' contact information, as well as the veterinarian's. That information is always available, and no battery is required!"
A GPS tracker can alert you before your pet gets too far away to find, but a microchip services a vital purpose if someone else finds your pet first, or if your GPS tracker dies before you can locate him. In Dr. Trimble's words, "if the pet has a tendency to run away," a GPS tracker "can be a helpful tool." But you should still get your pet microchipped.
Our Pet GPS Tracker Review: Summed-Up
Other Reviews for Pet Owners