The Best Robot Vacuum
These bots would leave all others in the dust... but there isn't any dust left.
Latest Update
August 31, 2017
The 30-Second Review
The best robot vacuums can take care of basic cleaning with minimal human intervention. We tracked down reliable bots for every home and budget, from simple robots that dust hardwood to mightier models capable of pulling pet hair out of thick rugs. Then we put them to the test to see which ones could pick up dirt while navigating an obstacle course of furniture.
Best Midrange Robot Vacuum
The golden medium of robot vacuums, the Roomba 690 offers impressive cleaning power for hundreds less than the competition. And it managed to clean our floors without getting completely stuck. It's a substantial upgrade from our budget pick, and holds up surprisingly well even against the higher-tech Roomba 960.
Best Budget Robot Vacuum
The Ecovacs Deebot offers advanced technology for just $200. Great for basic cleaning, not so great for big messes or lots of furniture.

Best High-End Robot Vacuum
iRobot Roomba 960
If you want maximum cleaning power and intelligent navigation, nothing beat the Roomba 960 in our testing.
The Best Robot Vacuums
Whether you're replacing an early generation robot vacuum or looking to purchase your first, it's easy to feel overwhelmed by the abundance of options and prices, ranging from fairly cheap to fairly steep. We found that well-functioning robovacs start around $200. And while deluxe models can climb all the way up to $1,000, a superbly powerful bot can be yours for $700. Our favorites represent the best functioning, most reliable bots between those price points.
In the market for a good deal? We suggest the Ecovacs Deebot N79. Coming in right at $200, this is one of the cheapest models you can find that will effectively clean your floors. While its navigation is almost wholly random, those loops and zigzags eventually cover an entire room. Even more impressively, this budget bot is WiFi-enabled and controllable by the Ecovacs app — the only under-$300 model in our entire lineup boasting smartphone connectivity.
If you're looking for a few more features, we recommend the iRobot Roomba 690. You get a fully equipped Roomba — with iRobot HOME app control, Amazon Alexa compatibility, intelligent navigation, and accelerated cleaning power — for a little less than $400. It easily outperformed other, more expensive options thanks to its cleaning power and learning abilities — gathering more debris than most high-end robovacs and managing to wiggle its way out of trouble whenever it got stuck.
If you want the best money can buy, the iRobot Roomba 960 is a truly superior bot and costs several hundred dollars less than other comparable models. Second-generation learning and navigation skills enable it to intelligently clean an entire level of your home, pausing to recharge as needed and then picking up where it left off. The Roomba 960 collected more debris than any robot vacuum we tested, and its refined sensors allowed it to tackle concentrated messes without requiring much maintenance afterward.
How We Found the Best Robot Vacuums
To find the best robot vacuum, we started with a list of 55 models made by top manufacturers: the robotics companies that innovate and impress, whose products consistently garner high satisfaction ratings in both consumer and specialist reviews.
Bissell
bObsweep
Dyson
Ecovacs
Eufy
iClebo
iLife
iRobot
LG
Neato
Samsung
While these bots claim many similar features, we discovered wide differences in quality between manufacturers as well as between different models from the same brand. Some bots can only be described as dinky, plastic discs that rely on suction alone for unimpressive cleaning power. Other models are regal, state-of-the-art machines. We looked at robovacs across a range of prices and divided them into three price brackets to find ones that were the most effective cleaners and most reliable roommates among their price peers.
We only looked at robot vacuums that use the combined strength of brushes and suction to clean floors — our research told us not to settle for anything less — as well as bots that run on high-energy lithium-ion batteries and can be programmed to start at specific times.
Criteria for each category
We considered what we wanted from robovacs at every price bracket, and came up with some quality guidelines to assist our selections.
$150 – $299: A basic robovac should be able to remove dust and pet hair from a simple floor plan. And even if the bot sticks to basic technology, it should offer some programming enabling it to clean while you're at work or asleep. It has to be trustworthy enough to go unchaperoned, capable of maneuvering typical obstacles, and smart enough to find its way back to the dock.
Best for: single-level homes, mostly hardwood floors, one or no pets.
$300 – $599: A great midrange robovac has all the essential features for reliable performance. Uniting superb ability with reasonable cost, bots in this bracket should work hard for your money. They should have longer battery life and be able to navigate around basic obstacles, even if they don't do either of those things quite as well as the high-end models.
Best for: multi-level homes, thin carpet and rugs, multiple pets.
$600-plus: The superior robovac dazzles with features, but remains user-friendly and efficient. Top-of-the-line models need to be WiFi-enabled, and boast deep cleaning modes and intelligent navigation skills. This includes the ability to learn your home's layout and modify cleaning patterns accordingly. They should also be powerful cleaners, picking up more hair, dust, and other debris than lower-end models.
Best for: multi-level homes, carpet and rugs, lots of flooring transitions, multiple pets.
We arrived at top models made by each of our preferred manufacturers.
We sifted through countless online reports of the best and worst bots in the industry, and leveraged the findings of robot vacuum tests run by Consumer Reports, The Sweethome, and CNET. We compared these ratings to customer feedback and came up with a list of nine total robot vacuums to test ourselves — three for each price category.
Budget
Bissell SmartClean 1974 ($299.00)
Ecovacs Deebot N79 ($199.98)
Eufy RoboVac 11 ($219.99)
Midrange
bObSweep Bob Pethair Plus ($499.00)
iClebo Arte ($323.39)
iRobot Roomba 690 ($324.99)
High-End
iRobot Roomba 960 ($699.99)
Neato BotVac 80 Connected ($699.99)
Samsung Powerbot ($999.00)
Then we hit the start button
We wanted to assess the robovacs in terms of cleaning ability and navigation skills, as well as general ease of use. So we first ran our favorites through an in-house obstacle course and then planted them in the homes of testers.
Controlled testing
To directly compare the bots' movements and cleaning abilities, we set up a room with plenty of tricky furniture and mounted a camera for observation. Then we sprinkled a pound of baking soda across the low-pile carpet and gave each vacuum 30 minutes to clean up. We measured cleaning success by weighing their dustbin contents.
Since 30 minutes is only a fraction of a bot's typical cleaning cycle, we didn't expect to get a total clean — particularly not from the ones that operate in random movements. Of the 16 ounces of baking soda deposited each round, the robovacs collected between 1 and 6 ounces. We learned that in terms of cleaning power, you get what you pay for: The amount of collected baking soda scaled up with each price bracket.
We also learned there's a reason robovac manufacturers don't recommend totally ditching your upright vacuum. Even the iRobot Roomba 960, which easily outperformed all the other bots by collecting 5.9 ounces of baking soda, paled in comparison to the efficacy of an upright vacuum. We ran the Oreck XL Classic, our favorite carpet vacuum, over its own pound of baking soda; it gathered twice as much baking soda in a fraction of the time.
Clearly, there are limitations to robovac efficacy, but it helps when they don't fritter away their battery life stuck behind a chair. In our test room, most of the bots managed to mount themselves on the base of a particularly awkward piece of midcentury modern furniture. How they dealt with that obstacle varied widely: The Roomba 960 further proved its mettle by powering over the small, metal bars; the Eufy Robovac 11 got stuck, but eventually (eventually) freed itself; the Ecovacs Deebot N79 beeped for human help. The Neato Botvac Connected couldn't handle the stress and returned to its dock instead.
Navigation and cleaning power weren't spectacular for any of them save the Roomba 960, but, to be fair, we deliberately made the course difficult. If a bot could pass our test, we'd feel comfortable recommending it for home use. The average living space, particularly one arranged for maximum robovac coverage, wouldn't pose as many problems and would consequentially receive a better clean.
We had clear winners in the midrange and high-end categories. The Roombas swept the competition in both areas, with superior suction, navigation, and learning abilities that bested all other models in their price buckets. They spent the most time actually cleaning up baking soda and the least time butting up against the furniture. As for the budget category, we already knew the Eufy 11 and the Ecovacs Deebot N79 were nearly identical in appearance and size, and then they picked up exactly the same amount of baking soda (down to the decimal — 2.29 ounces). However, only the Deebot was WiFi-enabled, giving you the option to micromanage.
Of course, robot vacuums won't be cleaning in controlled environments, so we threw them into the real world to find out which were the most intuitive to use and the most well-behaved. Would they be able to coexist peaceably alongside curious cats, unexpected spills, and stray socks? Could they clean up things other than baking soda?
We also reached out to customer service
In-home testing
We sent bots to different home styles according to their strengths: Cheaper models went to single-level apartments with little variation in terrain, while spendier bots that claim to climb rugs with ease found homes with lots of changes in topography. Since pet hair is a major concern for most, we wanted bots of all categories to face off against a flurry of fur.
In general, our testers found their bots to be tenacious cleaners. While cleaning patterns ranged from methodical to loopy, most floors were clean after enough passes. That said, we weren't surprised to hear the bots that lacked rational navigation ended up cleaning less thoroughly. One tester reported that her bot seemed to "love certain corners … and totally disregard others."
And that isn't the only outcome of poor navigation. Bots, particularly budget bots, clean via exploration, so they often land themselves in tight spots. Without effective sensors or learning abilities, getting out of those tight spots can be agonizing.
We didn't find fault with a robovac for spending a couple minutes trying to find its way out from under a bed — it's probably pretty dusty under there, anyway. But we were concerned that erratic movements and lots of dead ends made for an unequal clean. A poorly engineered bot can exhaust half its battery fighting impasses. If you aren't home to rescue a stuck bot, it's probably spending its cleaning cycle jailed between chair legs.
Some of our bots thoroughly underwhelmed us in this stage. The Bissell SmartClean (budget) and iClebo Arte (midrange) disappointed testers by refusing to pick up larger particles and by inflicting a fair amount of damage on themselves and on furniture. The bObSweep Bob Pethair Plus got stuck three times while transitioning to low pile carpet. And all three presented major difficulties when it came to cleaning their parts. Their roller brushes proved impossible to remove sans tool kit, meaning we spent a lot of time attempting to pry off tightly wound coils of Pekingese hair with an X-Acto knife.
Bots with Benefits
Some robovac features are game-changers when it comes to improving functionality. Here are a few we valued highly in our top picks.
Cliff avoidance: Stopping at the edge of the stairs instead of tumbling down.
Climbing: Transitioning between hardwood, carpet, and rugs.
Recharge and resume: Returning to home base when the battery is low to power up and continue where it left off.
Rubber brushes: To knead the floor and lift the debris without getting choked with hair.
Zoning ability: Allowing you to restrict your vacuum from entering certain areas.
Our Picks for the Best Robot Vacuum
Best Budget Robot Vacuum
Ecovacs Deebot N79 A featherweight robovac with heavyweight features like cliff avoidance, dual bristle/rubber brush, and a mobile app.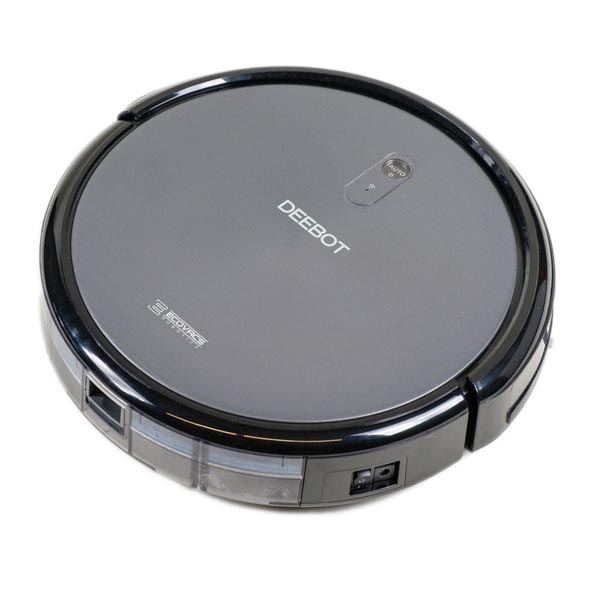 If you want a cheap-but-functional robovac that won't get stuck every 5 minutes, the Deebot N79 is for you. It's compact and light enough to work its way through tight spaces, and has adequate sensors to keep it out of too much trouble. And we were pretty blown away by the fact that it runs off an app just like the bots in upper price brackets. Reviews of the Ecovacs app aren't exactly glowing, but mostly feature the standard complaints of bugs and connection issues that are ubiquitous in this space. All bot apps could do with serious improvement.
Deebot offers another standout feature compared to other low-cost bots: While most use bristle brushes or, worse, just suction, the Deebot features a combo bristle / rubber brush. The inclusion of rubber panels does wonders for cutting down maintenance time, as they help minimize hair tangles. And the triangular formation of its bristles and extractors helps direct debris more efficiently toward the suction.
While this bot is more than capable of tackling hard flooring and low-pile carpet, it doesn't perform well against thick flooring or hefty, low-lying obstacles. In our controlled testing, the Deebot had a really hard time with the horizontal metal bar beneath a chair. As with all budget bots, you'll need to do a little room prep before running this model or lay down the somewhat clumsy magnetic strip that's included in the box to block off areas. But after clearing away any obvious traps, you will be impressed at how much hair and dust it gathers during its lengthy, 100-minute battery life.
Having a long run time is key for the Deebot, as its random cleaning pattern needs a lot of passes to accomplish a thorough clean. For this reason, one tester preferred the Edge and Spot Clean programs to Auto. She worried that the collision-course cleaning that characterized its automatic mode wouldn't cover her entire apartment. You can easily switch among four modes (Auto, Edge, Spot, Single Room) using either the Ecovacs app or the remote.
For a first foray into the wonders of robotic cleaning, or to keep up with light vacuuming in a simple apartment, the Ecovacs Deebot N79 has you covered. While this bot is a great deal and offers substantial power for its price, it won't last you as long as more expensive models. The Chinese-based company doesn't provide much in the way of domestic customer support (there's no American telephone number) or repairs (it doesn't currently sell replacement parts). Luckily, the Deebot design is so standard, you can easily find generic troubleshooting advice as well as compatible parts sold by third-party retailers. If you would prefer a company with American contacts and branded replacement parts (and don't mind sacrificing on WiFi connectivity), go with the nearly identical Eufy 11 Robovac.
Although the Ecovacs Deebot's results look disappointing, none of our other budget bots cleaned any better.
Best Midrange Robot Vacuum
iRobot Roomba 690 Smart navigation, app control, and powerful cleaning without breaking the bank.
iRobot is without doubt the robovac industry leader, and with its Roomba 690 model, you get the company's superior technology and reliable customer service, as well as WiFi connectivity, all at an accessible price. It came in a close third out of all robovacs in the baking soda tests, collecting just barely less than the Samsung Powerbot — a luxury bot that costs about three times as much.
Smart Home If you're worried about privacy, rest assured that the iRobot HOME app doesn't remember the map of your home from session to session. Furthermore, the company has confirmed that as smart home innovations continue, it will never use or share your information without permission.
The 690 may not fall into the luxury category in terms of price, but it's hard to pin down any other reason why it wouldn't qualify. In addition to its powerful and well-designed cleaning system, the tech features are second to none. Use the app to start a cleaning cycle while you're away from home and then monitor its progress — it draws a map of your home's layout as it cleans.
While Roombas are exceptionally capable of managing terrain changes, the 690 does have the tendency to bump into furniture at full speed. While this could be an issue for living spaces with lots of spindly furniture, during our in-house testing, we were just impressed with its tenacious forward motion. Rather than languish in tight spots, the 690 either powered through or powered back out. The result: Both the Roombas we tested spent a lot more time actually cleaning instead of dancing around dead ends.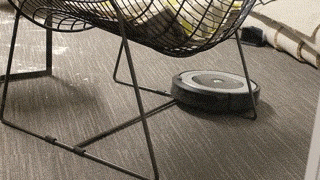 Robovacs in general take a lot of cleaning responsibility out of human hands, but sooner or later, you will have to clean your robovac. (It will probably be sooner — after two cycles max.) Fortunately, the Roomba 690's design makes cleaning a cinch: Access the bristle and beater (rubber) brushes by lifting a wire hatch and popping them out like two toilet paper holders. Since you'll find the majority of caught hair where the brush nestles into its slot, being able to easily remove them is a big plus. But be sure to put all its little pieces back together properly: We once ran the 690 mistakenly thinking the filter was fully in place; during that run it kept spitting the debris it gathered back out onto the carpet in a fine dust.
While the 690 topped its competition in terms of efficacy, our runner-up, the bObSweep Bob Pethair Plus, offers certain benefits for pet owners and allergy sufferers. Though more expensive than the Roomba 690, it contains a patented HEPA filter, which claims to be capable of trapping 99 percent of the fine particles that trigger allergies and asthma. The bObSweep also employs an ultraviolet light to disinfect floors — killing microorganisms and potentially doubling your vac's germ-busting efficacy.
It took a few retests (due to an improperly installed filter), but the Roomba 690 took third place in our controlled tests.
UV Sterilization — a bright idea?
Best High-End Robot Vacuum
iRobot Roomba 960 The most thorough cleaning we tested, plus app control, zoning ability, and recharge and resume technology.
This is it — the robovac that blew away the competition with powerful cleaning, smart scouting, and tech benefits galore. The $700 tag makes it an investment, but after witnessing the Roomba 960's robust abilities, we started to think it was a reasonable asking price. Especially given the higher price points of comparable models.
At-home testers loved that it went from fresh-out-of-the-box to up-and-running in a few simple steps. The iRobot HOME app is easy to download and master, and syncing Roomba with Alexa is a breeze. Testers also appreciated how it cleaned in a grid-like pattern ("Like a spreadsheet," one reported), leaving those coveted fresh vacuum tracks.
All Roombas from the 600 series upward boast iRobot's patented three-stage cleaning system (agitate, brush, suction) and dirt-detection sensors, enabling them to identify high-soil areas and target their cleaning efforts. But the 960 utilizes both optical and acoustic sensors to locate and tackle concentrated messes, and we saw this skill in action. While other bots wasted a lot of time wedged in corners and butting up against furniture, the 960 located the massive baking soda spill at the center of the floor and relentlessly pursued the mess. It naturally ended up gathering the largest amount of baking soda of all the contenders (5.9 ounces) — managing to get over a third of the powder in less than half its standard run time.
The Roomba 960 cleaned up in our test course, collecting 5.9 ounces of baking soda (left). The Neato Botvac Connected called it quits partway through and came away with just 1.3 ounces (right).
We loved how the Roomba 960 overcame obstacles during controlled testing, but that same relentlessness had unexpected consequences for at-home testers: In one scenario, the 960 got ahold of a lamp cord and ended up pulling the entire lamp off the table.
The 960 is both a deluxe robot vacuum and a comparative bargain. Our other finalist in that category, the Samsung Powerbot, came in a close second in every comparison but is advertised at $300 more. However, the Samsung does boast clear error messaging, longer battery life, and a semi-angular shape that helps it to get into corners. While protruding, whisker-like brushes solve some of the shortcomings of circular bots, models like the Powerbot that feature one or more straight edges have a better chance of getting dusty crevices.
The Roomba 960 spent less time struggling with obstacles and managed to collect the most baking soda in our test.
Did You Know?
The robots are taking over… household chores.
So you've already relinquished vacuuming to a robotic helpmate and are eager to hand over more jobs? While not quite the humanoid robots we once imagined would populate the 2000s, bots can tackle a growing number of tasks:
Mopping
Pool cleaning
iRobot Mirra
Aquabot Breeze IQ
Dolphin Nautilus
Zodiac Polaris
Hayward Sharkvac
Window washing
Lawn mowing
Husqvarna Automower
Worx Landroid
McCulloch ROB
Robomow
Greenworks
Grill cleaning
Don't throw out your manual vacuum just yet.
Robovacs are not intended to wholly replace manual vacuuming. The best they can do is elongate the time between human vacuuming sessions — especially helpful in households with pets and their endless shedding, or kids and their endless spilling. As we mentioned before, our top upright carpet vacuum picked up over 80 percent of the baking soda in just four minutes, while the Roomba 960 only managed to get 37 percent in half an hour.
What's in a name?
During our research, we found that Amazon reviewers talk about their bots "Rudy" or "Ding Dong" and then quickly explain, "Hey, you have to name him." We thought this was silly at first, but once we had our own bots scuttling about our office, we could see where the emotional attachment came from.
Dogs and robovacs: a crappy combination
There are plenty of spectacularly horrific stories about robot vacuums trailing through doggie doo-doo and then proceeding to "clean" the whole house. While the comic writing to be found on the subject in viral Facebook posts and Amazon reviews is worthy of Reader's Digest, we suggest keeping your experience of the subject purely literary: If you have dogs, only run your bot in a closed-off room or while under supervision.
What about the Dyson 360?
While most super-expensive robot vacuums have power equal to their price, some disappoint. The Dyson 360 — a stately robovac made by the knight of vacuums, Sir James Dyson — is as tall as a four-layer cake, and, despite its four-digit price, is reported to be an inept cleaner, a clumsy mover, and too darn tall to fit under areas that truly need vacuuming. This is a surprising failure, not only because Dyson is a leader in vacuum technology, but also because it was among the first companies to develop a robovac prototype back in the '90s.
The Best Robot Vacuums, Summed Up