Showing results for
Did you mean:
Sorry, something went wrong. Please refresh your browser and try again.
Last updated on
March 26, 2019
Reviews.com 2019 Safest Cities in the U.S.
We recommend products and services based on unbiased research from our editorial team. We may receive compensation if you click on a link. Read More.
For both young parents putting down roots and retirees preparing for the next chapter, it's helpful to know which cities are relatively low-crime when planning a move. It's also good to get a sense of how your city compares to others in the country in terms of safety. To help you better understand this information, we analyzed the FBI's most recent crime report and looked at 454 cities to find which are the safest. We didn't just stop at the top 10. Below is an interactive table of the top 100 safest cities in the US.
Top 10 Safest U.S. Cities
Carmel, IN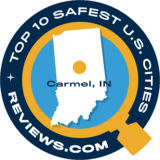 Carmel is a picturesque midwestern town and has ranked as the safest city in the U.S. for the past three years. A perfect place for those who want to put down roots in a booming community, the city continues to grow, with the population increasing by 5% to 93,000 between 2015 and 2017. Carmel is famous for having the largest farmer's market in Indiana and being home to the Museum of Miniature Houses.
Newton, MA
Second-safest for two years running, Newton is only seven miles away from Boston, making it an ideal location for commuters traveling into the city for work or school. Thanks to its lush parks and good schools, Newton is a great city for families. Check out Newtonville and West Newton for their kid-friendly communities and easy access to Boston via the commuter rail.
Arlington Heights, IL
Only 25 miles outside of Chicago, Arlington Heights has been in the top ten for three years. One of its major claims to fame is the Arlington Heights Memorial Library, one of Illinois' largest libraries. Renowned for its good school system, you really can't go wrong living in any of Arlington Heights' subdivisions. From the popular Stonegate to the HANA district, it has something for everyone.
Eden Prairie, MN
Eden Prairie has a population of 64,429 and has risen in the rankings since 2015, moving from seventh to fourth spot. Just 11 miles outside of Minneapolis, the city's citizens pride themselves on their diversity and strong sense of community. Because of this, Eden Prairie has a solid education system and plenty of parks to keep residents busy. It also has a great foodie scene. If you're in the area, stop by Lions Tap Family Restaurant for their award-winning hamburger.
Novi, MI
Novi remains solidly in the middle of our safest cities list. With close proximity to both Detroit and Ann Arbor, Novi is conveniently located for those needing easy access to either city. Novi has a very low violent crime rate, with no reported murders and 43 total violent crimes for 2017. Home prices in Novi range from more affordable options in Village Oaks to the more expensive Bellagio neighborhood.
State College, PA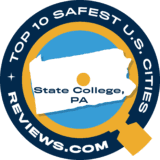 As its name would suggest, State College is a college town located in the center of Pennsylvania. It's home to the University Park campus of Pennsylvania State University and has a population of 58,169. Outside of being in the top ten for safety, living in State College has other perks: Thanks to the annual Central Pennsylvania Festival of the Arts and Penn State's Nittany Lions, the city offers entertainment for artists and sports fans alike.
Irvine, CA
Irvine has the largest population among the safest cities, with 276,115 people calling it home. Given its population density, Irvine's inclusion in the safest cities list is particularly noteworthy. Its thriving economy makes it an attractive option for those looking for new job opportunities, especially with companies like Samsung and Blizzard Entertainment setting up headquarters there.
Lakewood Township, NJ
Once a major resort town for those living in New York City and surrounding areas, Lakewood Township now has 102,759 residents. With its scenic setting along the lake and charming downtown, Lakewood Township is still a great place to visit. For those planning a trip or living nearby, Prime Ninety Five — a kosher steakhouse and sushi bar — is a must-visit.
San Ramon, CA
While it held third place for two years, San Ramon dropped to ninth in the latest data. In 2017, there were 974 property crimes reported in the city, a relatively high number when compared to a similarly-sized city like Arlington Heights. That said, it has a steady economy with headquarters for AT&T, Chevron, and General Electric in the area. San Ramon's mountain ranges make it a great spot for nature lovers, too.
Hoffman Estates, IL
After dropping off the list in 2016 (but not by much), Hoffman Estates was back in the top ten safest cities for 2017. Technically a village, Hoffman Estates meets our criteria for a "city" with a population of 51,704. If you're looking for an affordable Chicago suburb with an easy commute, it's a good option. With two-bedroom homes starting in the high 100Ks and various sports leagues — like the Legends Football League — Hoffman Estates is perfect for young families.
Top 100 Safest U.S. Cities
Methodology
When ranking the safest U.S. cities, we dug into the FBI's most current crime report (2017) and analyzed the collected data. We defined "city" according to the U.S. census bureau's classification of an "urbanized area" as one with a "population of 50,000 or more." This helped us narrow the scope to more densely populated areas as opposed to smaller "towns" of 10,000 people.
Once we established a population limit, we ranked cities by violent and property crimes per 10,000 people. We chose to rank crimes per 10,000 people because it's a fairer way of directly comparing scores between cities. Since we're primarily concerned with violent crimes like murder, rape, and robbery we weighed these offenses higher than property crimes and calculated unique scores for each category, as well as a city's overall crime score per 10,000.
We wanted to provide more context around a city's level of safety by estimating an individual's likelihood of being a victim of crime. To do this, we looked at the number of crimes committed between 2015 and 2017 for each city and added together the property and violent crimes for each year. We then took the average to create our estimated probability. Remember that these are just estimated predictions, however, and a variety of factors play a part in any city's safety.
You might also like