Showing results for
Did you mean:
Sorry, something went wrong. Please refresh your browser and try again.
Last updated on
August 17, 2017
The Best Sleep Aid
Where to turn when you've counted too many sheep
The 30-Second Review
A sleep aid should be fast-acting, helping you fall asleep and stay asleep on restless nights. But after talking with doctors and examining clinical studies, we learned that the research surrounding common remedies like melatonin and valerian is often contradictory. To find the best sleep aid, it's important to look for an active ingredient that suits your particular sleep problems — and to pay close attention to your dosage and timing.
Best for Falling Asleep
If you have trouble falling asleep, melatonin may help. Source Naturals' dissolvable melatonin tablets are absorbed quickly into the bloodstream and offer an expert-recommended dosage.

Best for Staying Asleep
Gaia Herbs Valerian Root Liquid Phyto-Caps
Studies have had mixed results, but there's some evidence that valerian promotes restful deep sleep. Gaia's capsules had a less pungent odor than our other valerian finalists.
Others to Consider
GoodSense is an antihistamine-based sleep aid. Antihistamines will knock you out — but are likely to leave you groggy and dehydrated well into the following day. That said, GoodSense has the lowest price point of all the antihistamines we considered.
The Best Sleep Aid
"If I fall asleep right now, I can get a full eight hours of sleep. Ok, now it's seven hours. That's still a respectable amount. Wait, now it's six and a half." On nights like these, over-the-counter sleep aids beckon, promising to help you drift effortlessly off. And there are an alphabet of active ingredients to choose from: Synthetic medications like antihistamines have been shown to induce drowsiness, while natural options like melatonin and valerian aren't quite as well studied but hold similar promise. Sleep specialists agree, however, that selecting the best sleep aid largely depends on understanding what's causing your sleeplessness — and even then, there's no guarantee it will work.
If you sometimes have nights when you can't seem to fall asleep, we'd suggest trying Source Naturals Melatonin 1 mg Unflavored. Some studies suggest that melatonin can help people suffering from insomnia or jet lag to fall asleep (although it can also lead to vivid dreams). Of the melatonin supplements we tried, Source Naturals was our favorite thanks to the moderate 1-mg dose of per pill — a level that was recommended by our experts. A 100-count bottle of Source Natural's dissolvable lozenges are about $9, and absorb quickly into the bloodstream.
For those who have no trouble drifting off but find their sleep shallow and easily interrupted, we'd suggest Gaia Herbs Valerian Root Liquid Phyto-Caps. Valerian is a pungent herb that may help improve the quality of your sleep, though research on its effects is still patchy and inconclusive. Some studies also suggest that you'll need to take the supplement daily for a couple of weeks before you start noticing effects. If you go this route, Gaia Herbs offers capsules that smell much less pungent than all the other valerian supplements we tried — 60 capsules for $28.
You can also try an antihistamine-based medication like GoodSense Nighttime Sleep Aid Tablets (32 tablets for about $2.00), but know that there are drawbacks. Synthetic medications will knock you out — but this effect tends to last well into the following day and can leave you feeling foggy headed and dehydrated. GoodSense is best for occasions when you need to sleep but can afford to stay asleep for at least twelve hours. That said, it's the cheapest of all the antihistamine-based options we looked at and offers tiny, easy-to-swallow pills.
How We Found the Best Sleep Aid
We started with a list of 200 products widely available at drugstores and supplement shops, from Walgreens and CVS to Vitacost and Amazon. We limited the list to products marketed for adults and available without a prescription.
We sorted products into two categories: synthetic and natural.
After scrutinizing ingredient labels, we identified four common active ingredients — two synthetic options and two naturally occurring compounds. If you're looking for a sleep aid, these are the main players. But each works a little differently.
Natural Ingredients:
Melatonin: A widely promoted supplement that mimics the hormone produced in the pineal gland and may help you fall asleep. The National Institutes of Health (NIH) report that melatonin "may help some people with certain sleep disorders," including jet lag and insomnia, though they caution that studies have had mixed results.
Valerian: An herb that has been used for hundreds of years as a remedy for ailments including headaches and nervousness and is now thought to improve the restfulness of your sleep. This option isn't as well studied as melatonin, with the NIH noting that "the evidence on whether valerian is helpful for sleep problems is inconsistent."
Diphenhydramine: An antihistamine that definitely causes drowsiness but comes with a "hangover effect" that can leave you sleepy well into the following day. It's often used in medications from brands like Advil and Tylenol, and it can also have an anticholinergic effect, which means you may feel dehydrated the next morning.
Doxylamine: Another antihistamine that works similarly to diphenhydramine, this option is commonly found in Unisom medications. Like diphenhydramine, it can leave you feeling dehydrated.
For synthetic medications, we avoided painkillers.
Products like Advil PM, which combine antihistamines with painkillers such as ibuprofen or acetaminophen, have a lot of name recognition in the sleep aid world. But Dr. Gary Zammit, the executive director of the Sleep Disorders Institute, suggested following this rule when it comes to medications: Treat the problem that you have. He doesn't recommend a sleep aid that also includes a painkiller unless you are actually experiencing pain.
Advil PM Caplets, Tylenol PM Extra Strength Capsules
For natural supplements, we had additional requirements.
Synthetic products like antihistamines are classified as drugs and fall under the regulation of the FDA. But natural supplements aren't as tightly regulated. To be sure we were only testing quality products, we added a couple of additional restrictions for this category.
First, we looked for third-party certification, only considering natural supplements that had been tested by LabDoor, ConsumerLab, or the US Pharmacopeia (USP). These independent organizations analyze off-the-shelf supplements, verifying that the claims on a product's label match what's actually in the bottle. This ensures accurate dosage and lets you be confident that there are no contaminants or unlisted ingredients in your supplement.
For melatonin, we also limited per-pill dosage to 1.5 miligrams. Pull a random bottle of melatonin off the shelf and you'll likely find up to five or even 10 miligrams. But Dr. Michael Breus, a clinical psychologist who runs the website thesleepdoctor.com, says that's far too much for the average person. "The data suggests that the average adult needs between .5 and 1.5 milligrams," he says. "Almost 90% of melatonin out there seems to be an overdosage."
21st Century Melatonin 3 mg, 21st Century Melatonin 5 mg, 21st Century Melatonin Quick Dissolve Tablets 10 mg, Advanced Orthomolecular Research Ortho-Sleep, Allergy Research Group Melatonin 20 mg, Allergy Research Group Melatonin 3 mg, Alteril All Natural Sleep Aid, Amazing Formulas Sleeping Formula, Amazing Nutrition Melatonin 10 mg, American Biosciences SLEEPSolve 24/7 Tablets, Bach Original Flower Remedies Rescue Sleep Liquid Melts, Bach Original Flower Remedies Rescue Sleep Spray, Bell Lifestyle Master Herbalist Series Sound Sleep #23, Berry Sleepy, Boiron Quietude Quick Dissolving Tablets, Botanic Choice Homeopathic Sleep Formula, Botanic Choice Melatonin Orange-Flavored Lozenges, Botanic Choice Restal, Buried Treasure Sleep Complete, California Gold Nutrition Targeted Support Sleep 101, California Xtracts G'Night Sleep Formula, Cenegenics Rest Assured Capsules, Christopher's Original Formulas Slumber, Country Life 5-HTP, Country Life Melatonin 1 mg, Country Life Melatonin 3 mg, CTD Labs Noxitropin PM Sleep Aid Fruit Punch, DaVinci Laboratories Liposomal Melatonin Spray, Doctor's Best 5-HTP, Doctor's Best L-Tryptophan 500 mg, Doctor's Best Melatonin 5 mg, Dragon Herbs Lights Out, Dream Water Zero Calorie Sleep & Relaxation Shot Snoozeberry, Earth's Bounty Sleep Perfect, Eclectic Institute Valerian Passion Flower, Emerald Laboratories Sleep Health, Emergen-C Emergen-zzzz Nighttime Sleep Aid with Melatonin Mellow Berry, Enzymatic Therapy Fatigued to Fantastic, Enzymatic Therapy Sleep Tonight Drops, Enzymatic Therapy Sleep Tonight Tablets, Flora Sleep Essence, FutureBiotics Relax & Sleep, Gaia Herbs RapidRelief Sound Sleep, Gaia Herbs Sleep & Relax Caffeine-Free Tea Bags, Gaia Herbs SleepThru Liquid Phyto-Caps, Health King Quality Sleep Herb Tea, Herb Pharm Relaxing Sleep, Herbs Etc. Deep Sleep Alcohol-Free Softgels, Hyland's Calms Forte Sleep Aid, Hyland's Calms Nerve Tension and Sleeplessness Relief Tablets, InstaSleep Sleep Aid, Irwin Naturals Power to Sleep PM, Irwin Naturals Power to Sleep PM Melatonin-Free, Jarrow Formulas 5-HTP Capsules, Jarrow Formulas L-Tryptophan 500 mg Capsules, Jarrow Formulas Melatonin Sustain, Jarrow Formulas Sleep Optimizer Capsules, Jarrow Formulas Theanine 200, Just Potent Melatonin, Kirkman Labs Restless Sleep Herbal Blend, L.A. Naturals Sleep Complex with Valerian & Melatonin, Liddell Homeopathic Insomnia Oral Spray, Life Enhancement Sleep Tight, Life Extension Enhanced Natural Sleep with Melatonin, Life Extension Melatonin 1 mg Tablets, Life Extension Melatonin 6-Hour Timed Release, Life Extension Natural Sleep Melatonin, Life Flo Health Melatonin Body Cream, Luminite Natural Sleep Support Capsules, Mason Natural L-Tryptophan Sleep Formula, Mason Natural Relax & Sleep Tablets, Maxi Health Mel-O-Drop Liquid, MD Products SleepMD, MegaFood Dream Release, Metabolic Maintenance 5-HTP, Midnite PM Drug-Free Sleep Aid, Midnite Sleep Aid Tablets, MRM Melatonin 3 mg, NatraBio Insomnia Relief, Natrol Advanced Melatonin Calm Sleep, Natrol Advanced Sleep Melatonin 10 mg Time-Released Tablets, Natrol Melatonin 1 mg, Natrol Melatonin 10 mg Fast Dissolve Tablets, Natrol Melatonin 2.5 mg Liquid, Natrol Melatonin TR 3 mg, Natrol Sleep'n Restore, Natural Balance Herbal Slumber Melatonin and Valerian Formula, Natural Care SleepFix, Natural Factors 5-HTP, Natural Factors Melatonin, Natural Factors Sleep Relax with Valerian & Hops, Natural Factors Stress Relax Tranquil Sleep Tablets, Natural Vitality Natural Calm Calmful Sleep Wildberry Flavor, Nature Made Max Strength Melatonin Tablets 5 mg, Nature Made Melatonin + 200 mg L-Theanine Softgels, Nature Made Melatonin Gummies, Nature Made Sleep Softgels, Nature Made VitaMelts Sleep Chocolate Mint, Nature's Answer Slumber, Nature's Bounty Dual Spectrum Bi-Layer Melatonin Tablets, Nature's Bounty Maximum Strength Melatonin 10 mg Capsules, Nature's Bounty Melatonin 1 mg, Nature's Bounty Melatonin 3 mg, Nature's Bounty Sleep Complex Gummies, Nature's Bounty Super Strength Melatonin 5 mg, Nature's Bounty Valerian Root 450 mg Plus Calming Blend Capsules, Nature's Lab L-Theanine 200 mg, Nature's Plus Sleep Assure, Nature's Trove L-Theanine 200 mg, Nature's Truth Valerian Root, Nested Naturals Luna Sleep Aid, NeuroScience Inc. Kavinace Ultra PM, New Chapter Zyflamend Nighttime Vegetarian Capsules, New Nordic Melissa Dream Sleep Formula, NoctuRest, NOW Foods 5-HTP, NOW Foods L-Theanine, NOW Foods L-Tryptophan, NOW Foods Melatonin 10 mg, NOW Foods Sleep, NOW Foods Valerian Root, NutraLife Melatonin 5 mg Tablets, Nutricology Melatonin 20 mg, Nutricology Slow Motion Melatonin, Nutriden Advanced Sleep Aid Supplement, Nutrition53 Sleep1, NutritionWorks Sleep Soundly Melatonin 10 mg, Olly Restful Sleep Vitamin, Oregon's Wild Harvest Sleep Better, ProSupps Crash PM Shredder, Pure Encapsulations 5-HTP, Pure Encapsulations L-Theanine, Pure Encapsulations L-Tryptophan, Pure Encapsulations Melatonin 3 mg, Pure Encapsulations Seditol, Pure Vegan SleepAway, Puritan's Pride Quick-Dissolving L-Theanine 200 mg, Puritan's Pride Super Snooze with Melatonin, Puritan's Pride Super Strength Rapid Release Melatonin, Puritan's Pride Valerian Root, Quality of Life Pure Balance Serotonin Capsules, Radiance Platinum Melatonin Tablets, Rainbow Light Sleep Z-z-zen, Ridge Crest Herbals DreamOn Natural Sleep Aid, Schiff Knock-Out Melatonin with Theanine and Valerian Tablets, Serenity Natural Sleep Aid and Stress Relief, Siddha Flower Essences Sleep Homeopathic Liquid, Similasan Sleeplessness Relief, Sleep-Max Nature's Night Time Sleep Aid, Solaray Sleep Blend SP-17, Solgar 5-HTP, Solgar Melatonin 3 mg, Solgar Melatonin 5 mg, Solgar Sweetest Dreams, Somnapure Natural Sleep Aid, Source Naturals Melatonin Serene Night, Source Naturals NightRest with Melatonin Tablets, Source Naturals NutraSleep, Source Naturals Seditol, Source Naturals Vegan True Melatonin, Sundown Naturals 5-HTP, Sundown Naturals Dissolvable Melatonin, Sundown Naturals Melatonin Gummies, Sundown Naturals Valerian Root Capsules, Superior Source Melatonin 5 mg Dissolve Tablets, Traditional Medicinals Organic Nighty Night Caffeine-Free Herbal Tea, Truly Dark Chocolate Melatonin Supplement, Twinlab Melatonin 3 mg Capsules, Vitafusion Beauty Sleep Gummies, Webber Naturals Timed Release Melatonin 5 mg Tablets, Youtheory Sleep, Zenwise Labs Sleep Support
Then we examined all of our finalists up close
Of our finalists, several brands offered multiple variants of the same product. In these cases, we opted to test the brand's "flagship" formula, ordering Unisom's standard-dose tablets rather than their Sleep Minis, for instance, and opting to test ZzzQuil's gel caps over its liquid options.
When each finalist arrived, we checked for any deal-breakers: Was the bottle impossible to open? Were the pills too big or too oddly shaped to swallow? Most of our finalists passed these tests with flying colors — all were easy to swallow and most were smaller than an aspirin.
But several natural options did come with a strong smell. Most of our valerian supplements had an earthy odor that reminded us of old socks, with Botanic Choice Valerian Root so pungent that it made our eyes water every time we opened the bottle. Botanic Choice also lost ground when we realized its safety seal had come unglued from the rim of the lid.
Our 22 finalists for best sleep aid
Botanic Choice Valerian Root 500 mg Herbal Supplement, Dalay Diphenhydramine Nighttime Sleep Aid, Gaia Herbs Valerian Root Liquid Phyto-Caps, Good Sense Nighttime Sleep Aid Tablets, Kirkland Signature Sleep Aid, Life Extension Melatonin 3 mg Tablets, Maxi Health Mel-O-Chew Melatonin Chewable Tablets, Nature Made Melatonin 3 mg, Nature's Way Valerian Root, NOW Foods Melatonin 3 mg, Nytol QuickCaps Caplets, Optimum Nutrition Melatonin Tablets, Schiff Melatonin Plus, Solgar Valerian Root, Sominex Nighttime Sleep Aid Tablets, Source Naturals Melatonin 1 mg, Tylenol Simply Sleep Nighttime Sleep Aid Capsules, Unisom SleepGels Nighttime Sleep Aid, Unisom SleepMelts Nighttime Sleep Aid, Unisom SleepTabs Nighttime Sleep Aid, Vitafusion Sleepwell Gummies, ZzzQuil Nighttime Sleep Aid LiquiCaps
Our Picks for the Best Sleep Aid
Best for Falling Asleep
If falling asleep is your problem, Dr. Serena Goldstein, a naturopathic doctor, told us that melatonin seems to have an edge over options like valerian. Research suggests that this supplement may be beneficial if, say, you're battling jet lag — or if you're sometimes up until 2:00 AM struggling to drift off. But it's important to note that experts are still calling for more thorough research. In other words, melatonin is likely to help you sleep, but the jury's still out on exactly how much it will help.
If you do opt for melatonin, it's important to take dosage into consideration: More isn't better. Dr. Goldstein stressed that melatonin is a hormone — and an imbalance could have far-reaching effects on your body. "In adults, melatonin can decrease body temperature and overproduce prolactin (a hormone that increases lactation), which can cause a variety of hormonal-related issues, from irregular periods to low libido," she told us. "Long-term use can also hinder our ability to produce melatonin." Our top pick, Source Naturals, was one of our only finalists not to exceed Dr. Breus's recommended 0.5 mg to 1.5 mg range. Most of the products we looked at offered 3 mg per pill — with some clocking in at a whopping 10 mg.
Who shouldn't take melatonin? If you take a daily medication of any kind, we'd suggest talking with your doctor before incorporating melatonin into your routine. The Mayo Clinic notes that melatonin can interact with a number of common medications, from blood thinners to birth control.
We also liked Source Naturals because these small time-release lozenges are meant to dissolve under your tongue, which means that your body will absorb them than faster. "Usually products that you put under your tongue are absorbed quicker because that area of your mouth is very viscous," explained Dr. Breus. "As opposed to pill that you swallow that has to be broken down in your stomach, where you stomach acid will eat up half of it." This gave it an edge over products like Maxi Health Mel-O-Chew Melatonin Chewable Tablets or Vitafusion Sleepwell Gummies, which both have to be chewed and swallowed.
LabDoor gave Source Naturals melatonin high marks for label accuracy, with a score of 82.3 out of 100. Note that this score is for Source Naturals Melatonin 1 mg Orange Flavor, which offers a very strong burst of citrus (though no medicinal taste at all). If you're not a fan of citrus, we'd suggest Source Natural's unflavored melatonin instead — or you can try their peppermint formula. At $0.26 per serving, any one of these flavors represents an affordable option.
Best for Staying Asleep
Valerian research is more contradictory than melatonin. One valerian study found no benefit to taking the herb at the 14-day mark, but "greatly improved sleep" after 28 days. Dr. Goldstein confirmed this, noting that while valerian will work for some "super sensitive" people the first time they take it, for others, it may need to build up in their system for weeks before they start to notice any changes (though she notes the same has been said about melatonin).
Who shouldn't take valerian? While valerian is generally considered safe, Dr. Goldstein warns that even herbs can still cause interactions with other drugs, especially SSRIs. As with any herb, it's best to talk with your doctor first.
But one point in favor of valerian is that, per Goldstein, it's less likely to result in side effects like next-day drowsiness and vivid dreams, which can sometimes occur with melatonin supplements. Those vivid dreams are one reason valerian root might be a better option if you're struggling to stay asleep. Some studies also suggest that valerian leads to increased slow wave sleep (or "deep sleep"), though these findings have been disputed.
If you opt for valerian, Drs. Breus and Goldstein both told us that it's best to pick a supplement with as few fillers as possible. Our top pick — Gaia Herbs Valerian Root — edged out our other finalists at this stage. Gaia's ingredient list includes just three items: valerian, plus vegetable glycerin and vegetable cellulose to form the pill capsules.
Gaia also had the mildest smell of all our valerian finalists. You'll catch a faintly earthy scent as you open the bottle, but we didn't notice this until we stuck our noses into the bottle. By contrast, we could smell Botanic Choice and Nature's Way as soon as we unscrewed the lids — they gave off a lingering aroma that put us in mind of dirty socks and sweaty feet.
According to Goldstein, the optimal dose of valerian is between 250 mg and 500 mg, and Gaia's recommended two-capsule serving delivers a solid 450 mg. Gaia is a premium option, at $0.93 per serving, but the valerian is sourced from the company's organic farm in North Carolina, and each bottle comes with an ID number that allows you to track the batch and learn more about the source of your supplement on the manufacturer's website.
For something a little cheaper, we'd suggest Solgar Valerian Root. It's got a few more fillers on its ingredient list, but it's just $0.18 per serving. Solgar's odor is more noticeable than Gaia's, but not quite as bad as our other valerian finalists — think "mildly sweaty feet" rather than "socks worn on a week-long camping trip."
Others to Consider
Doxylamine or diphenhydramine: Which is better? Both of these antihistamines show up frequently in sleep aids, but Dr. Breus says he's seen no research to suggest that one is more effective than the other in inducing drowsiness.
For desperate times, an antihistamine-based medication might be your best bet. Antihistamines work — no one disputes their ability to cause drowsiness. Just keep their tradeoffs in mind. The biggest, says Dr. Breus, is that they aren't built to last for six or eight hours — they're built to last for 12. That's too long for anyone who needs to be productive the following day, although it could be just right for someone looking to sleep through a long-haul flight or who's desperately in need of sleep after a long week.
In these cases, consider Good Sense Nighttime Sleep Aid tablets. This brand relies on a doxylamine-based antihistamine formula that comes in tiny, easy-to-swallow tablets. At $0.07 per serving, the price is also unbeatable: Other brands retail for up to forty or fifty cents per serving for the exact same active ingredient.
But Dr. Goldstein warned that the sleep you get isn't going to be as restorative as unmedicated sleep. "It's like alcohol," she told us. "You'll get sleep, but you're not going to wake up with mounds of energy." Dr. Zammit explains, "When you take a sedating antihistamine, REM sleep may be suppressed at the beginning of the night. But then it rebounds at the end of the night, and this can lead to vivid, intense, and sometimes disturbing dreams."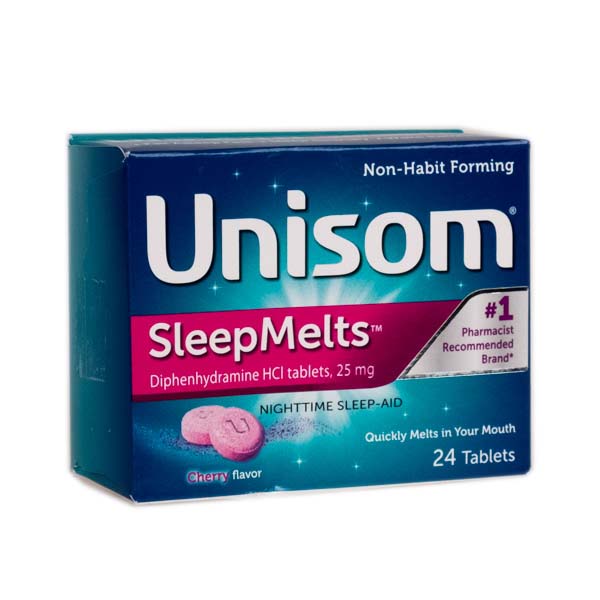 If you want an antihistamine medication that's as fast-acting as possible and don't mind paying a little extra, we'd suggest Unisom SleepMelts. These cherry tablets contain 25 mg (a standard dose) of diphenhydramine and dissolve in your mouth for a faster effect than a tablet or capsule. They're also lighter on the sugars and artificial sweeteners — and more portable — than the liquid options we looked at. One two-tablet serving runs $0.52.
Did You Know?
Magnesium might be just as helpful
Magnesium plays an important role in helping to balance blood sugar and hormones; an imbalance in either could be affecting your sleep. "Magnesium is my go-to recommendation for patients experiencing trouble sleeping," says Dr. Goldstein. "It's nature's relaxer." By supplementing magnesium, "you're replenishing a mineral that basically everyone needs, as well as helping to literally relax the body," Goldstein explains. "If you don't want to take a supplement, Epsom salt baths are also rich in magnesium and are great to use before sleep. I love lavender-scented bath salts, which add some additional mental relaxation."
The placebo effect is surprisingly powerful
The most common reason that testing of a new sleep aid fails, says Dr. Zammit, is because in experiments, the group of participants that take the placebo often respond well, making it difficult to show superiority of the drug over placebo.
Self-reported results can also be difficult to interpret. In one study, patients taking a supplement that included valerian and hops reported that they slept better and longer. But when doctors analyzed their brain activity, there was no evidence to suggest a better night's sleep. "People come to sleep aids with a cognitive impression of what to expect," says Dr. Zammit. "In this area, like in so many other areas of medicine, people may show a response to placebo."
Sleep problems often point to an underlying condition.
When we discussed sleep aids with Dr. Breus and asked what his first choice would be for one of his own patients, he told us, "It's never a pill. I would want to know the root cause. There could be an anxiety component where cognitive behavioral therapy could be helpful. You don't want to end up with a pill problem and a sleep problem." That was a sentiment echoed by all of our experts. If sleeplessness is a problem that you face regularly, it's well worth speaking to your doctor about underlying causes.
The Best Sleep Aid, Summed Up