Showing results for
Did you mean:
Sorry, something went wrong. Please refresh your browser and try again.
Last updated on
June 12, 2018
The Best Smart Doorbell
Spare yourself the corny punchline — see 'who's there' at the touch of a button.
| | | | |
| --- | --- | --- | --- |
| | | | |
| | | | |
| | | | |
| | | | |
| | | | |
How We Found the Best Smart Doorbell

19 Doorbells Evaluated
45000 User Reviews Considered

4 Top Picks
The Best Smart Doorbell
The best smart doorbell will quickly connect you to any guests or visitors approaching your home. Doing so requires accurate motion sensors to alert you to any guests and a powerful camera to capture important details. In addition, the best smart doorbell should be easy to install and customizable to fit any home.
The Ring Video Doorbell Pro ($250) impressed us at every turn. It has the highest resolution camera currently available for smart doorbells — 1920x1080 — and its motion sensor impresses with its accuracy, in part because of how adjustable it is. Through the Ring App, you can determine which specific zones of the yard from which you will receive alerts (allowing you to exclude the busy street from motion detection), as well as how much motion will trigger an alarm. Additionally, if you're building your own smart home, the Ring Pro can integrate with both Alexa and Google Home. The Ring Pro's small design also still looks cool and modern.
We also loved the Ring Video Doorbell 2 ($200). It has all of the advanced features and the same camera specs as the Ring Pro, plus the option to be battery-powered rather than hard-wired in. This makes the Ring 2 a better option for renters or those want to try out a smart doorbell before making a bigger commitment. The only downside is that the Ring 2 is significantly bulkier compared to the Ring Pro in order to make space for the battery; where the Ring Pro is roughly the size of a small remote, the Ring 2 is more like a hand-held radio.
The Nest Hello ($230) is the only one of our top picks that can integrate with a Nest home system, so if you're automating your home with Nest, this is your best option. It's small like the Ring Pro, and its sleek black and white design makes it look like it came out of an Apple store. Its primary downsides are a slightly less powerful camera resolution (1600x1200), and an inability to withstand extreme temperatures. Anything below 14ºF or higher than 104ºF is likely to damage the Nest.
The Zmodo Greet Pro is our budget pick at $180. In terms of size, it balances between the Ring Pro and the Ring 2. It has a similarly powerful camera (1920x1080), but otherwise lacks a few advanced features. The Zmodo doesn't integrate with any home system; it's a stand-alone device. It also doesn't fare well in cold temperatures. Its ideal temperature range is between 14ºF and 122ºF, slightly more limited than the Rings, which have a range of -5ºF to 120ºF.
How We Chose the Best Smart Doorbell
To find the best smart doorbell, we made a list of all models currently in production, excluding those that required a proprietary porchlight and lightbulb. This gave us 19 smart doorbells including models from smart doorbell pioneer Ring, as well as SkyBell, Zmodo, Doorbird, and newcomer Nest.
We looked at the latest smart doorbells from each brand.
Smart doorbells are a recent addition to the smart home concept. Most smart doorbell companies have only appeared in the last six years. As a result, you can still find some of the earliest models (like the original Ring) available for sale, but manufacturers have quickly developed and improved on their original models. To home in on the best, we only looked at the most recent releases from each brand. However, we made an exception for Ring. It was the first company in the smart doorbell space, and we were eager to see the progress they've made from their first smart doorbell, the Ring, compared to the Ring 2, Pro, and Elite.
The 13 Smart Doorbells We Considered
August Doorbell Cam Pro
Doorbird - DP 101
iseeBell Wi-Fi Enabled HD Video Doorbell
Nest Hello
RemoBell Wireless Wi-Fi Video Doorbell
Ring Video Doorbell
Ring Video Doorbell 2
Ring Video Doorbell Pro
SkyBell HD
VEIU Smart Video Doorbell
VueBell by Netvue
Yale Look Door Viewer
Zmodo Greet Pro Doorbell
Then we dug into customer reviews to see which smart doorbells people love.
With our contenders in place, we turned to user reviews on Amazon and BestBuy to see which smart doorbells were easily incorporated into people's lives and which ones were quickly returned. We dug into more than 45,000 reviews first by examining the proportion of high star reviews to low star reviews. While we didn't immediately cut the Veiu Smart Video Doorbell or the Yale Look Door Viewer for having high numbers of 1-star reviews (29% and 41% of all reviews were 1-stars), we kept an extra close eye on seemingly low performers as we read into each smart doorbell's user reviews.
We also looked into user reviews for each smart doorbell to see what criticisms (or praises) were popping up repeatedly. If only one or two reviewers complained about poor motion detection or difficulties with setup, we noted the flaw but didn't take points away from the doorbell. However, when a few dozen reviewers all talked about the same problem, we started to take away points. We found a few common complaints:
Wi-Fi Connectivity: To work properly, each smart doorbell needs to be within range of your router. That said, some smart doorbells struggled to stay connected to the network even when users moved their router (or placed an extender) just inside the entryway.
App Struggles: To view live footage, check out past events, and adjust sensitivity settings, you need access to the app. Users consistently criticized Yale's Look Door Viewer and Netvue's Vuebell for app issues, including frequent freezing, stuttering, and crashing.
Motion Sensitivity: A few smart doorbells had issues with motion detection – by the time the camera activated, the delivery person was already halfway back to the street. The SkyBell HD struggled here, as did the original Ring – but it looks like subsequent versions of the Ring improved on these early complaints.
Battery Life: Almost all of our battery-powered smart doorbells were called out for over-promising and under-delivering on battery life. Batteries lasted weeks rather than months and sometimes took as long as a day to recharge – making it more inconvenient to use them than to simply install a wired system.
Another interesting flaw users pointed out: Many of these smart doorbells don't look like doorbells. Post office employees and guests alike resorted to knocking on their doors because they couldn't find the smart doorbell. The SkyBell HD, Veiu, and Vuebell were three doorbells repeatedly called out for being confusing. Some lacked the expected shape of a doorbell by not being rectangular, while others used a pressure sensor rather than an actual button – the flat surface can look more appealing but makes it hard for guests to tell if they've actually rung the doorbell.
Based on the collective feedback from user reviews, we cut the nine which were the most confusing, frustrating to use, and hardest to set up. This left us with four smart doorbells that will be welcome additions to any home.
Our Picks for the Best Smart Doorbell
Ring
A small powerhouse of technology, the Ring Pro is customizable enough to fit the look and smart-house needs of any home.
We love the Ring Pro ($250) for its sleek, modern design; plus, its rectangular shape and raised button help it look close enough to a standard doorbell to not confuse guests. We also love that the Ring Pro comes with four different faceplates — silver, charcoal, black, and white — to help it blend in no matter the color of your house.
Every smart doorbell is larger than a standard house doorbell, since it has to fit in more technology, and as a result some smart doorbells come out bulky. The Ring Pro is the smallest doorbell of our top picks. Instead of looking like a small brick, it can rest in the palm of your hand while you (just about) close your fingers over it.
Technologically, the Ring Pro is one of the most advanced smart doorbells available. It has a high-resolution camera (1920x1080) and a wide field of vision (160º) to help capture a greater image of your front door and its surroundings. We love being able to customize the motion detection sensor both by range and by sensitivity. If you live near a busy street, or don't want to be alerted every time a squirrel darts across your yard, you can adjust what and how much motion will trip an alarm. And although it can be used as a standalone device, the Ring Pro is capable of integrating both with Alexa and Google Home.
The Ring Pro is also capable of withstanding a wide temperature range: from -5ºF to 120ºF. Even though this means the Ring Pro might not be suitable for Minnesotan winters, it is the widest temperature range of our top picks, making the Ring Pro (along with the Ring 2) the most versatile smart doorbell climate-wise.
Wedges help angle your smart doorbell.If your porch sits about street-level, or your doorbell needs to be tilted to have the best view of your front patio, you'll want to use a wedge to perfect your camera's positioning.
The Ring Pro's primary downside is that it doesn't come with any wedges for adjusting the angle of your doorbell camera. While you can purchase a three-pack from Ring ($19) or find a compatible set on Amazon, we were disappointed to find that none were included with our initial purchase — the Ring 2 came with two. If watching the video of your smart camera gives you a good look at the sky, the ground, or the wrong area of the lawn, you'll need to purchase a wedge to adjust the angle at which the Ring Pro sits on your wall or siding.
Ring
With the same specs as its sleeker cousin, the Ring 2 can also be battery-powered, making it great for apartments.
The Ring 2 has everything we love about the Ring Pro – except looks. With a high-quality camera, wide field of vision, and excellent motion detection system, both Rings earn their spots at the top of the list. The Ring 2 has the same wide camera range (160º), temperature range (-5ºF to 120ºF), and customizable motion sensor as the Ring Pro. The Ring 2 only comes with two faceplates (silver and matte black) to the Ring Pro's four, but the black plate can be painted to match your home exactly.
The primary edge the Ring 2 has over the Ring Pro – and all of our other picks — is that the Ring 2 can run on battery power. Like all of our other doorbells, you can also choose to hardwire the Ring 2 into your pre-existing system (a fairly simple process). However, if you don't have an existing doorbell, the Ring 2 lets you try out a smart doorbell without needing to hire an electrician to install brand new wiring.
You might need to consult an electrician.If your house wiring is old, it may not provide enough power for a smart doorbell. If that's the case, you'll need to upgrade your wiring or use a battery-powered smart doorbell.
The Ring 2 comes with two wedges already included, no additional purchase is necessary. If you have siding that would automatically tilt the Ring 2 upwards (giving you a great picture of your roof or the sky), you can use the vertical wedge to level the smart doorbell. If the wall where you'll install your smart doorbell doesn't give you the best angle to see inbound guests, you can use the horizontal wedge to adjust which angles of the yard are captured on-screen. Additionally, the two wedges stack, so you can use both at the same time, if necessary.
There are only two final points of consideration when comparing the Ring 2 with the Ring Pro: size and price. The Ring 2 is less expensive, at $200 to the Ring Pro's $250. That said, the most apparent trade-off is appearance: The Ring 2 is the bulkiest of our top picks. It still looks like a doorbell, with a rectangular shape and raised button, but it's about the size of a walky-talky.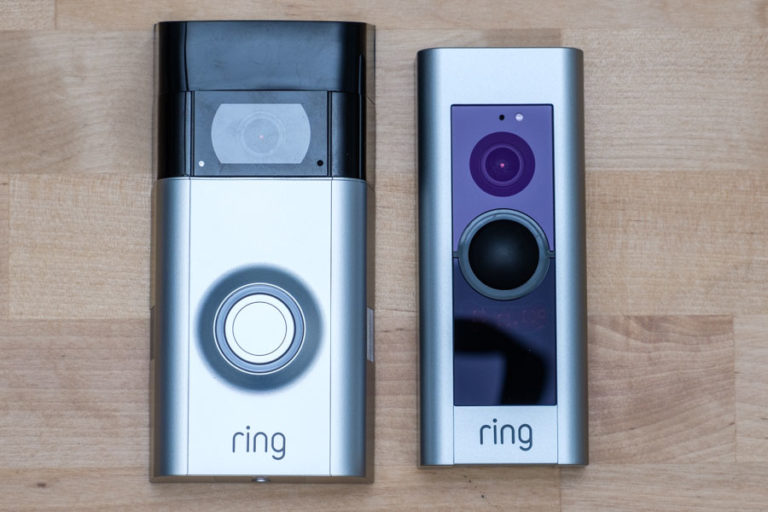 Nest
This beautiful, high-performance smart doorbell integrates with three major smart home services, making it one of the most versatile doorbells we tested.
We were immediately drawn in by the appearance of the Nest Hello. Like the Ring Pro, it simply looks cool. With a slim profile and a white-outlined button on the bottom, it's one of the most attractive smart doorbells on the market.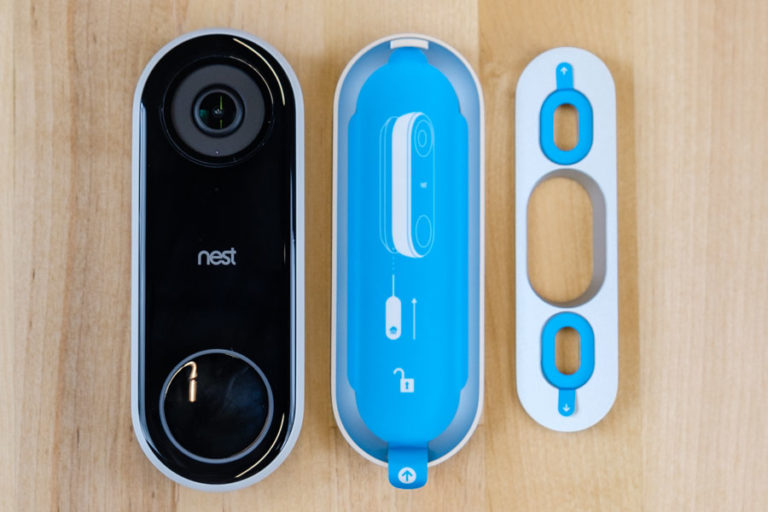 Photo resolution also depends on WiFi connection.All of our picks have great camera resolution, so if you see a grainy image, the WiFi connection might be weak. Placing your router or a WiFi extender closer to your smart doorbell can help ensure a strong connection.
The Nest also has an excellent camera resolution – 1600x1200 – and a wide camera range at 160 degrees. Even though this resolution is a slightly lower quality than either the Ring Pro or the Ring 2 (at 1920x1080), watching recordings or viewing the live feed through the Nest app still presents a clear picture of your porch. The Nest Hello is also the only one of our top picks to integrate with all three most-common home automation systems: Amazon's Alexa, Google Home, and Nest itself. This gives the Nest the most versatility to fit in, regardless of which service you choose to have or switch to.
One cool feature of the Nest Hello app is that it can learn familiar faces. So, in addition to letting you know that someone is at your door, Nest Aware can let you know who they are, allowing you to decide whether you want to interrupt work or dinner to answer the bell.
We only have two reservations with the Nest Hello. Most importantly, it has the most restrictive temperature range of our top picks: from 14ºF to 104ºF. As we mentioned for the Ring Pro, it's possible the Nest Hello would survive outside of those temperatures, but keeping it outside in the depth of Minnesotan winter or peak of Arizonan summer might freeze or fry your $230 device. Finally, the Nest Hello includes a horizontal wedge but not a vertical wedge. If you have angled siding that tilts upward, Nest doesn't offer a way to level out the Hello.
Zmodo
The Zmodo lacks a few of the nicer customization features of our other picks, but makes up for it with solid specs and a cheaper price.
The Zmodo Greet Pro impressed us by providing great quality for its price. It's the least expensive of our top picks at $180, but it still boasts a camera resolution as powerful as the Ring Pro (1920x1080). It also strikes the middle ground for size among our top picks. About the size of a flip phone, the Zmodo is larger than the Roku-remote size of the Ring Pro and Nest Hello but smaller than the walky-talky bulk of the Ring 2. Additionally, the Zmodo has the widest camera range of our picks at a full 180 degrees.
The Zmodo's cheaper price comes with a few drawbacks: In our user reviews evaluation, its app was often criticized for being clunky and not-customizable; users couldn't adjust how many notifications they received. The Zmodo also doesn't include any wedges. Since it does have a wide camera range, you might not need to tinker with positioning as much as with our other top picks. However, if you do find that your Zmodo aims too high, low, or sideways, you'll have to hunt for a third-party wedge or live with a camera blind spot.
Similarly, if you're searching for a smart doorbell to go along with your home automation system, you'll need to look elsewhere. The Zmodo is definitely a stand-alone device; it doesn't integrate with Alexa, Google Home, or Nest, so you won't be able to access your smart doorbell through your primary home system.
One final caveat: Like the Nest, the Zmodo has a somewhat limited temperature range (14ºF to 122ºF). If you have particularly cold winters, the Zmodo might need to go into hibernation from fall until spring. All that said, we do like the look, size, and functionality of the Zmodo – it's just a little rough around the edges technology-wise. If price is your largest concern, it's an excellent smart doorbell, even if you might need to spend some extra time figuring out the right spot for it.
How Our Top Picks Stack Up
Every doorbell on our list offers motion sensors and two-way audio, comes with an app, and can be installed DIY (though Nest recommends you bring in a professional).
| | Ring Pro | Ring 2 | Nest | Zmodo |
| --- | --- | --- | --- | --- |
| Price | $250 | $200 | $230 | $180 |
| Monthly Cloud Subscription | $3 / month | $3 / month | $5 / month | $5 / month |
| Field of Vision | 160º | 160º | 160º | 180º |
| Video Quality | 1920x1080 | 1920x1080 | 1600x1200 | 1920x1080 |
| Temperature Range | -5ºF to 120ºF | -5ºF to 120ºF | 14ºF to 104ºF | 14ºF to 122ºF |
| Wedge | Vertical 3-pack available for purchase | Horizontal and vertical wedges included | Horizontal wedge included | N/A |
| Works With | Alexa, Google Home | Alexa, Google Home | Alexa, Google Home, Nest | N/A |
Tips for Living with Your Smart Doorbell
We recommend subscribing to your smart doorbell's cloud service.
Each of our top smart doorbells works in the same way: When your smart doorbell's motion sensor is triggered or someone rings the bell, the smart doorbell starts to record the interaction and notifies you of any activity. When this happens, you can choose to interact with the visitor or ignore them. Additionally, you can open your smart doorbell's app on your phone to view a live feed at any time.
However, most of our top picks don't store any recorded events unless you subscribe to one of their cloud services. You'll still be able to view events as they happen and a snapshot of a visitor when the motion sensor is tripped, but you won't have a recording of someone stealing a package or vandalizing your porch.
Each company offers slightly different service tiers where they will store recordings for various amounts of time. Ring offers the best plan overall, keeping sixty days of recordings for just $3 per month or $30 per year.
Nest has a few service tiers, starting at $5 per month ($50 per year) for five days of video storage. While pricier than Ring, this includes Nest's unique facial-recognition programming as well. Nest also offers 10 and 30 days of storage for $10 and $30 per month, respectively. Additionally, you can choose to not have a service plan with Nest, and it will still keep recordings within the past three hours.This is a nice perk, but means that unless you check your phone every three hours, you might not see a recorded event.
Zmodo is the best option if you want to avoid paying a monthly subscription fee – it stores clips from the past 36 hours. This helps Zmodo keep its title as best budget smart doorbell. However, the Zmodo cloud subscription prices are slightly higher than Ring's and can quickly eat away any savings you experienced when purchasing the original device. Zmodo offers two plans, either seven days of recording for $5 per month ($50 per year) or 30 days of recording for $10 per month ($100 per year).
Our Smart Doorbell Review: Summed Up