Reviews.com is reader-supported. If you click on or buy something via a link on this page, we may earn a commission.
Showing results for
Did you mean:
Sorry, something went wrong. Please refresh your browser and try again.
Last updated on
September 28, 2018
The Best Smart Watches
Technology and fashion collide
| | | |
| --- | --- | --- |
| | | |
| | | |
| | | |
| | | |
| | | |
How We Found the Best Smart Watches
40 hours of research

19 smart watches tested
3 top picks
The Best Smart Watches
In order to find the best smart watch, we looked at text and call features and, of course, design. We dug into tech reviews to separate must-haves from perks. Then, we brought in 19 smart watches to test for call responsiveness, text-ability, app accessibility, and general ease of us. In the end, three watches stood out for their reliable connectivity, gorgeous interfaces, and easy navigation.
How We Chose the Best Smart Watches
Must-have and optional features
First, we looked at features — features we absolutely needed and the ones we could do without. For the must-haves, we looked at connectivity (WiFi and Bluetooth capabilities), apps suite, touchscreen, and battery life. Features like a microphone for speech-to-text and a removable band were a nice touch, but weren't necessary to make the cut.
We pulled together a list of currently available smart watches that met these criteria from Apple, Android Wear, and Samsung. Our list included watches from tech brands like Apple, Asus, and Samsung, as well as fashion labels like Fossil, Nixon, and Tag Heuer. Then, we cross-checked with respected review sites, such as Tech Radar and PCMag, as well as tech retailer Best Buy, to make sure we weren't leaving out any hidden gems.
The 19 smart watches we tested:
Apple's Watch Series 3 (GPS + Cellular)
Asus' Zenwatch 3
Casio's Pro Trek Smart
Diesel's On Full Guard
Emporio Armani's Touchscreen Smartwatch Art5002
Fossil's Q Venture
Huawei's Watch 2
LG's Watch Style
Michael Kors' Access Dylan Smartwatch
Mobvoi's TicWatch Active
Montblanc's Summit
Moto's 360
Movado's Connect
New Balance's RunIQ
Nixon's The Mission
Polar's M600
Samsung's Gear Sport
Samsung's Gear S3 Frontier
Tag Heuer's Connected Modular 45
Navigation
We actually got our hands on over a dozen of these smart watches just to get a feel for what it was like to use them. While all of them came with at least one main button (or a home button if you're an iPhone-user), the ones that stood out had scrolling down to a science. On such a small screen, swiping isn't always the most ideal form of navigation. Some of the best smart watches for navigation, we found, had twistable dials or bezels you could turn.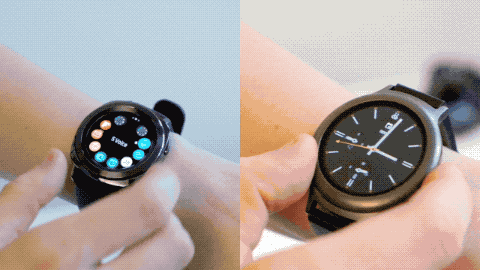 Texting
You'd be amazed how hard it is to text something as simple as "hi" on many smart watch interfaces. Still, most designs take this into consideration. We tested all kinds of watches from auto-scrolling screens where you drew the letters with your finger to pre-smartphone layouts more akin to the alphanumeric layout of a payphone keypad. While the drawing features were nice, we felt that the texting was a little more manageable on keyboards.
Notifications
Our 19 contenders all promised to give us some distance from our phones by notifying us of incoming calls and texts. But we found that some smart watches were much slower than others at letting us know we had a call. It turns out the quality of the bluetooth connection determines how quickly you'll be notified, with our worst performers only registering the call with two seconds to spare before diverting to voicemail (yes you, Montblanc) while others simply failed to display any calls at all.
Apple Watch Series 3
This slender smart watch looks high-tech with a performance to match.
Pros
Easy navigation
Customizable
Presentation
Cons
Only for Apple customers
Short battery life (LTE version)
Why we chose it
Easy navigation
The touchscreen, button, and dial (what Apple calls the "crown") help you zoom in and out and move between apps fairly effortlessly. With this easy navigation it's easy to forget we're typing on a screen slightly smaller than an Oreo. In particular, we loved Apple's app homepage, which displays all of the apps as icons in a honeycomb-like display. You can use the touchscreen to move around, and the dial to zoom in or pan out, to precisely tap on the one you want.
Customization
Being able to customize the watch faces and layouts, made the Series 3 a shoo-in for our list of best smart watches. Much like you can customize the homescreen on your iPhone, you can change the layout of apps and even display the weather. While you can't opt for third-party designs, you do have 12 different watch faces to play with. Tinker with color schemes, add or remove widgets (called "complications" on the app), and decide whether you want to have all twelve faces available on your watch (we always like having options), or cut back.
Presentation
Apple Watch is crisp, beautiful, high-resolution screen that's smaller than an Oreo cookie. No surprise, Apple knows what they're doing when they design a home product. Much like the other additions to the Apple suite, the Series 3 is sleek and stylish. Everything from the navigation to the screen layouts has been optimized to utilize the space given rather than be constricted by it.
Points to consider
Only for Apple customers
This watch won't work unless you have an iPhone. However, it is hands-down the best smart watch for an iPhone. Other watches (including the Fossil Q Venture) will work with an iPhone, but won't be able to answer calls or respond to texts, and if you want to customize the apps on your watch, you'll need to navigate the Google Play store through the watch screen.
Short battery life (LTE version)
The Series 3 offers an LTE version that's an additional $70, but it comes with added cellular capacity independent of your smartphone. That might sound great, but you may want to stick with a GPS-only model. The already limited battery life of 18 hours (Samsung has a smart watch offering 72 hours) is reduced to a mere 3 hours on the LTE version.
Samsung Gear Sport
This discreet watch emphasizes user-friendly features with easy navigational tools.
Pros
Bezel navigation
Greater customization
Superior LTE version
Cons
Fewer apps
Less storage
Why we chose it
Bezel navigation
We loved Samsung's characteristic bezel navigation. Instead of having to swipe your finger across the touchscreen repeatedly, all you have to do is gently twist the bezel. It's a much smoother way of scrolling through your list and it just feels more natural. The are other side buttons which lie almost flush with the side of the watch, making it difficult for them to catch on sleeves.
Greater customization
Unlike the Apple Series 3, you can get third-party watch faces along with the default options. Many of these third-party faces also come with customizable widgets so you can manage layout without cluttering up your watch. From the homepage (which displays the time and date), you can twist the bezel to access fitness tracking data, like steps taken and calories burned, check the weather, change the song you're listening to, or use any number of custom widgets.
Superior LTE version
If you want a smart watch that uses cellular data without using up the battery, consider upgrading to the Samsung Gear S3. A close cousin to the Gear Sport, the S3 has all the perks of an LTE smart device (downloading apps, texting, checking email) and, unlike the Apple Series 3, it won't quit after three hours. In fact, you could feasibly get 72 hours out of this LTE version of the Samsung Gear Sport.
Points to consider
Fewer apps
Right now, there are not as many apps for the Samsung Gear Sport as you might find with an iOS device like the Apple Series 3. If you prefer the expansive and ever-growing suite of apps like you'll find on the App Store, then you should steer clear of this smart watch.
Less storage
When we compared the storage space of the Samsung Gear Sport with the other contenders, it didn't have the most. With 4 GB — only a quarter of what you'll get with the Apple Watch Series 3 GPS — you will have to manage your apps so you don't run out of room. If you like to carry all of your music with you and you have an extensive library, you might run out of space with the Gear Sport.
Fossil Q Venture
The Q Venture series pairs technology with a variety of styles.
Pros
Ultra-responsive touchscreen
Solid response time
Sophisticated presentation
Cons
No GPS capability
No NFC connectivity
Why we chose it
Ultra-responsive touchscreen
Despite not having a dial or bezel to twist, or multiple buttons, we found this smart watch easy to navigate. This is due in part to its responsive touchscreen. With gentle pressure, you can drag the screen down to open settings, and with light flicks, you can skim through the app list to quickly find the one you want.
Solid response time
While testing the Q Venture, we found the response time to be pretty solid when it came to calls and notifications. The typical response time for a notification was somewhere around 10 seconds. We were, however, able to immediately ignore calls. This quick response time should give you plenty of time to retrieve your phone from your pocket or fish it out of your purse.
Sophisticated presentation
The Q Venture is easily one of the best looking smart watches we've had the pleasure of reviewing. It's also the most watch-like, since it comes from a brand usually aimed at fashion rather than the latest technology. While we were busy showing off the Luggage Leather version, there's a plethora of other styles and models you can choose from.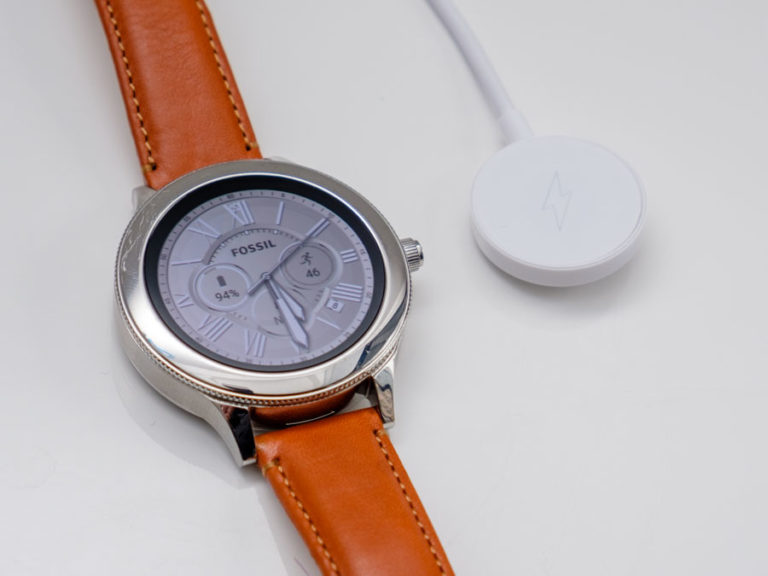 Points to consider
No GPS capability
Without GPS capability, this smart watch is a little limiting in what else it can do besides notify you and look pretty. As a result, you could miss out on some of the more immersive and elaborate app experiences you might find with the Samsung or Apple smart watch.
No NFC connectivity
NFC connectivity lets you add credit cards to the Apple, Android, or Samsung Pay app, to make payments electronically. That means you can leave your wallet at home. Unfortunately, this feature was not present with the Q Venture so you won't be able to link credit cards to your smart watch and pay by holding the watch close to an NFC reader.
How to Find the Right Smart Watch for You
Consider compatibility
You won't get much use out of an Apple Watch if you don't have an iPhone nor any other kind of iOS-enabled mobile device. The same thing goes for the Samsung Gear Sport. While the Q Venture does feature some compatibility with Android and iOS devices, it won't mix well if you're a Samsung customer. The smartphone you use will ultimately determine which smart watch you get the most value from.
Consider how you use your smartphone
Many of these smart watches work with your smartphone rather than just outright replacing it. Others, like the Samsung Gear Sports can work just as well solo. Do you stream music? Do you use your GPS for all your little excursions? While these are tasks easily handled by most modern smartphones, if you intend to use your smart watch in a similar fashion, you'll want to make sure you choose one that can keep up with your phone.
Test one out
Most stores that sell these smart watches feature display models that you can pick up and touch. We recommend getting a feel for how these watches operate before you invest in one of your own. Specifically, you'll want to know the form of navigation each of these use to go through the various screens, apps, and functionalities. We were partial to twistable bezels and dials, but you might be used to swiping your way through screens.
Smart Watch FAQ
Are smart watches worth it?
A smart watch is nice to have and it can be a neat buffer when deciding if you want to answer an incoming call or let it go to voicemail. Smart watches with apps for fitness and travel are also a lot more convenient in some cases than having your smartphone. However, if you prefer to use your iPhone for these and other activities, you probably won't get much more out of a smart watch.
Will any smart watch work with an iPhone?
No. Some smart watches will work better than others with certain smartphones. In the case of the iPhone, the best match would be Apple Watch. However, the Q Venture does have some compatibility with iOS devices. As a general rule of thumb, you should let your smartphone dictate the type of smart watch you buy.
Are smart watches waterproof?
None of these smart watches are necessarily waterproof but they are water-resistant. The Samsung Gear Sport is good to go so long as you don't go any deeper than 50 meters. Same for the Apple Watch. However, the Q Venture is a little more delicate and can only withstand some splashing and momentary submersion in a meter of water. In other words, the Q Venture will survive if you drop it in a sink full of water and you scoop it out almost instantly.
Which smart watch has the longest battery life?
The Samsung Gear Sport had the longest battery life out of all the smart watches that we tested. It clocked in at 72 hours, but that is not always guaranteed. In fact, the battery life of a smart watch will often fluctuate and vary depending on the apps you have running and any necessary activity (downloading firmware updates).
The Best Smart Watches: Summed Up