Showing results for
Did you mean:
Sorry, something went wrong. Please refresh your browser and try again.
Last updated on
February 26, 2018
The Best Smart Watch
Technology meets fashion
The 30-Second Review
The best smart watch lets us keep our phone at arm's distance, letting us know of texts and calls while remaining a sometimes incognito fashion accessory. We dug into tech reviews to separate must-haves from perks and then brought in 19 smart watches to test for ourselves call responsiveness, text-ability, app accessibility and general ease of use and comfort. While the right smart watch for you depends largely on the type of smartphone you have, three watches stood out for their reliable connectivity, gorgeous interfaces, and easy navigation.
Best Apple Smart Watch
With the largest screen and smallest profile of our top picks, the square face and sporty band mean the Apple Watch stands out as far more than an ordinary watch. We loved its high-tech appearance and features, and easy navigation.
The Apple Watch only works with iPhones, and while it comes with a cellular version, we prefer the GPS-only edition. The Apple Watch 3 (GPS+Cellular) means your watch can operate independently of your smartphone (by being connected directly to your cellular network), but this greatly shortens your battery life to a few hours, instead of a full day.
Best Android Smart Watch
The Samsung Gear Sport matches high-tech build quality with an intuitive layout and multiple navigational tools (including a rotating bezel). Its look is more tech than fashion (read: black on black), but remains indiscreet for most occasions.
Best Fashion Smart Watch
Fossil Q Venture Series
An immediate tester favorite for its sophisticated and versatile look, the Q Venture series has nine models with the same technology. While it only uses one button to the Samsung's two plus bezel, we loved its beautiful screen, quick response time, and intuitive navigation.
The Best Smart Watch
Our three top picks all have high-quality touchscreens that look beautiful and are responsive to taps, swipes, and scribbles. Additionally, they all scored well in our connectivity test, sending us notifications of calls and texts within a few seconds of our phones receiving them. Testers loved the look and feel of them, and it's easy to find new bands to swap out your style. To choose between them, you'll want to take into consideration the type of smartphone you have, and whether you prefer an emphasis on tech or fashion.
While Apple's proprietary software means this watch only works with iPhones (and vice-versa, iPhones work best with this watch), the Apple Watch ($330) stood out in testing for its versatile and easy navigation with its touchscreen, dial, and button. Small details, like being able to zoom in to look at apps, and dozens of customization options, ensured the Apple Watch was a tester favorite. Though its square touchscreen won't blend in as an "everyday" watch — it looks solidly tech — we loved visually crisp and beautifully clear images and icons.
The Samsung Gear Sport ($300) has a similarly gorgeous screen to the Apple and Fossil and can be used with any Android or Samsung phone. We loved the Samsung for being easy to navigate: the touchscreen responds to our every, well, touch, the Gear Sport has two buttons, one for waking the watch up, and the other for accessing the main app page. But it's the rotating bezel (the metal ring running on the outer edge of the watch's face), which scrolls through various options, that reduces finger fatigue and makes the Sport one of the easiest watches to use.
The Samsung Gear Sport is similar to the Apple Watch in that they are both slim, high-tech smart watches with a solid-black color scheme for the default band and casing. But if you're looking for a smart watch with more options and aesthetic appeal, we loved Fossil's Q Venture series ($255–$275, depending on band style). The Fossil Q Ventures' nine style options (compared to Apple's four and Samsung's two) make it easy to find your ideal look beyond simply "themes of gray." We also loved the Q Venture's highly responsive touchscreen— a good thing, since that's its primary source of navigation (its solitary button will only wake up the watch and open the main app page). We liked this watch out of the box for its immediate sense of style, and fell in love with how it matches its high-quality look with high-quality performance.
How We Found the Best Smart Watch
We wanted to look at every smart watch the industry had to offer, but given the many hybrid and off-brand options flooding the market, we created three initial criteria for our search: we wanted "true" smart watches (not hybrids, read on), well-supported operating systems, and no ties to specific cell providers.
True smart watches come with a touchscreen and cellular capabilities. They vibrate or ring for incoming phone calls, display received texts, and give you the option of writing new texts, or responding to recent ones. They also give you access to some apps directly from your wrist. Alternatives are more like traditional watches with a few additional notification lights or vibrations — granted, these hybrids are smarter than your average watch, but the best smart watch is much more than a blinking timepiece.
We wanted a reliable operating system (OS) that we could trust to keep up with our smartphone software, so we only considered smart watches with a well-known (read: supported and regularly updated) OS, which meant Android Wear, Apple's watchOS, and Samsung's Tizen. We excluded watches with an undisclosed or one-off proprietary OS as we simply couldn't speak to its reliability or long term viability.
Finally, we didn't think we should have to change our cell phone provider to enjoy the features of our new smart watch, so we didn't consider watches tied to specific providers (we're talking about you, LG Sport and ZTE Quartz).
We created a diverse list of smart watches from tech and fashion brands.
We pulled together a list of currently available smart watches that met these criteria from Apple, Android Wear, and Samsung. Our list included watches from tech brands like Apple, Asus, and Samsung, as well as fashion labels like Fossil, Nixon, and Tag Heuer. Then, we cross-checked with respected review sites, such as Tech Radar and PCMag, as well as tech retailer Best Buy, to make sure we weren't leaving out any hidden gems. This left us with a list of 46 smart watches.
Then we had to narrow this list down in order to bring in the best for hands-on testing. We began with the tech companies — we knew we wanted to test out the latest offerings from industry giants, Apple and Samsung. Then we moved onto the sport and fashion companies, several of which are just entering the smart watch category this year. We dug into reviews and best-of lists from tech sites, like Android Authority and CNET, to find frequently recommended models and highly anticipated releases. When a brand had multiple versions (looking at you, Fossil), we tried to find the watch that would appeal to the most people.
We tested 19 smart watches
Apple's Watch Series 3 (GPS + Cellular)
Asus' Zenwatch 3
Casio's Pro Trek Smart
Diesel's On Full Guard
Emporio Armani's Touchscreen Smartwatch Art5002
Fossil's Q Venture
Huawei's Watch 2
LG's Watch Style
Michael Kors' Access Dylan Smartwatch
Mobvoi's TicWatch Active
Montblanc's Summit
Moto's 360
Movado's Connect
New Balance's RunIQ
Nixon's The Mission
Polar's M600
Samsung's Gear Sport
Samsung's Gear S3 Frontier
Tag Heuer's Connected Modular 45
Some features are essential, others are optional perks.
When we started researching smart watches we were inundated with a barrage of specifications and features. But does the best smart watch necessarily have every possible feature or does it commit to doing the essentials really, really well? We found out which features are must-haves — your smart watch needs these to do its job — and which ones are nice to have, or simply back-burner considerations.
The best smart watch depends on your smartphone
Aesthetic considerations aside, there can't be one best smart watch for one simple reason: Apple. There are three major software types for smart watches: Android Wear, Apple, and Samsung. But where Android Wear watches can be used without limitation with Samsung phones, and Samsung smart watches can be used without limitation with other Android phones, Apple is not compatible with either brand. This means that if you have an Android smartphone (Samsung or otherwise), you won't be able to use the Apple Watch at all.
On the other hand, if you have an iPhone, you'll have limited functionality with any device other than an Apple Watch. While you can download the Android Wear or Samsung Gear app to your iPhone, and pair it to a smart watch, you won't be able to use the watch very easily, and some features won't cross over. For example, if your watch can make payments with an Android phone, it won't with an iPhone. Instead of adding apps to your watch through your phone, you'll need to navigate the much smaller watch screen to add any other apps to your iPhone. You still will be able to see incoming SMS texts and calls, but you won't be able to answer a phone call (only decline it, or find your phone to answer directly), and you won't be able to respond to or write new texts.
None of these are dealbreakers, exactly, but they will add an extra layer of inconvenience and should make an iPhone user think twice before investing in a non-Apple smart watch. For full smart watch functionality, you'll want an Apple Watch to go with your iPhone. If you really prefer a non-Apple Watch, just make sure to check Android's list of smart watches that offer (limited) functionality with an iPhone — all of our top picks are on this list.
Must-Have Features
These are the features that really define a smart watch and separate it from the slightly teched-up traditional watches.
Touchscreen — True smart watches have a touchscreen that you can interact with, whether that means opening up an app, typing in a text message, or flipping through notifications. "Hybrid smart watches," on the other hand, look like a traditional watch (no touchscreen), and simply vibrate or flash a small light when you have a notification.
Bluetooth — This is the primary method your smart watch and smartphone will use to communicate — you need this to receive notifications.
WiFi — This helps prevent your smart watch from draining your data plan. Additionally, some watches will be able to connect to your phone, no matter where your phone is, just so long as both devices are connected to a network.
Apps — Available apps largely depends on your OS. The Android Wear, Apple, and Samsung app stores have a wide variety of popular apps to choose from, although not all apps are available on every platform.
Battery Life— Since most people want a streamlined smart watch, they tend to have smaller and less powerful batteries. How long the battery lasts depends in part on how much you use your smart watch, but with average use it should last at least one day before needing to be recharged.
Nice-to-Have Features
Some features make a smart watch more versatile, even if they aren't necessary for it to function well. We didn't require smart watches to have any of these nice-to-haves, but we did give extra points to those that did.
NFC Connectivity — This technology means you can add credit cards to the Apple, Android, or Samsung Pay app, to make payments electronically and leave your wallet at home.
Speaker— Watches with a speaker typically sound a quick "ping" with new notifications, so you have an (optional) audible cue in addition to the standard vibration. You can also listen to driving directions or have a conversation without taking your phone from your pocket, although you can't listen to music through a smart watch's speakers.
Microphone — With a microphone, you can dictate texts to your watch and contribute to that phone conversation.
Water Resistance — All of our smart watches except one (the Emporio Armani) were rated for some level of water resistance. Most of them can be submerged up to 1 meter deep without damage (rating IP67), though it isn't clear if this means a quick dip into a full sink of dishes, or a brisk swim where it's submerged for a prolonged period.
GPS — This is useful if you want your smart watch to pull double duty as a fitness tracker. With GPS connectivity built into the watch, you can go for a run without your smartphone, and still have an accurate log of distance.
Heart Rate Monitor — A built-in heart rate monitor is also useful for tracking fitness, although wrist HR monitors don't always have the best accuracy.
Removable Band — Swapping out your watch band is a simple way to create a different look (or to prevent your nice leather band getting all sweaty during a workout). Some watches require specialized tools to remove bands, but most are held in place by a pair of small pins that are easy to access to switch out your style.
Additional Considerations
These additional considerations are not necessarily deal breakers or perks, but they are ways in which smart watches can slightly differ. Typically, they're a matter of personal preference, and don't have an immediate impact on functionality.
Screen Shape — There are three general screen shapes: square, circular, and flat tire. While most people have a preference, we didn't find any functional differences between these during testing.
Watch Faces — Each watch will arrive with a few default ones pre-downloaded to satisfy that initial urge to personalize, though you'll also be able to add more faces through the watch app. While each face differs in appearance, from professional to quirky to tech-heavy, they can also differ in how many widgets they can feature.
Navigation — In addition to a touchscreen, each watch has extra features to make navigating the watch and apps easier. All offer at least one button, but that can go up to three, and some have a moveable dial or bezel (the metal ring running on the outer edge of the watch's face).
Charging — No matter the charging method, almost all of our smart watches came with a cable that ends in a standard USB plug, although for most you'll need to get an additional USB wall charger plug. There are four charging methods for smart watches:
Wireless Button — Most of our watches charge wirelessly through a USB cord with a small magnetic button about the size of a really thick quarter that attaches to the back of your watch.
Dock — Several watches came with a dock that cradled or clipped onto the back of the watch. We liked the secure feeling of the metal pins on the charger matching up to pins on the back of the watch.
Wireless Stand — Similar to the docks but without actual attachments. Both Samsungs and the Moto 360 came with a small charge stand that holds the watch upright while wirelessly charging.
Proprietary Plug-in — These cords are slim, with a USB plug at one end and a watch-specific plug at the other, but we found them difficult to use. For example, the Nixon Mission was too bulky to lay flat, and its braided cable is more heavy than the magnet is powerful, so it kept disconnecting.
Storage — As long as you're looking at this year's model, most smart watches have similar storage and processor cache capacities. There are three notable exceptions: Apple stands out for having 16GB of storage compared to every other watch's 4GB storage capacity, and the Apple Watch 3, Huawei 2, and Samsung Gear S3 all have 768 MB caches instead of 512 MB. Apple's larger storage means it can hold more apps or music, but we didn't notice a functional difference when comparing cache size.
LTE (Long Term Evolution) — LTE connectivity means you can connect your watch directly to your cellular carrier and leave your phone at home (current LTE options are the Samsung Gear S3, which only connects to AT&T or T-Mobile, and the Apple Watch, which connects to those as well as Sprint and Verizon). LTE connectivity dramatically cuts into your smart watch's battery life by as much as 80% — meaning instead of a full day's charge you might get just a few hours of use before the battery needs a recharge.
Quick and reliable call notifications should come standard.
Our 19 contenders all promised to give us some distance from our phones by notifying us of incoming calls and texts. But we found that some smart watches were much slower than others at letting us know we had a call. It turns out the quality of the bluetooth connection determines how quickly you'll be notified, with our worst performers only registering the call with two seconds to spare before diverting to voicemail (yes you, Montblanc) while others simply failed to display any calls at all.
After an initial test call to confirm the connection, we made three phone calls to our synced test phone (a Samsung) and measured how long it took for the watch to notify us of each call. Disappointingly, six of our watches didn't reliably notify us of incoming phone calls. We were particularly frustrated that after receiving our test call just fine, the Tag Heuer Connected Modular 45 (with a substantial price tag of $1,550) didn't notify us of any subsequent phone calls. The Montblanc did similarly poorly, helpfully notifying us of two missed calls before notifying us of the third call after 33 seconds (our voicemail kicked in at 35 seconds).
By contrast, both Samsung smart watches notified us of incoming calls within 7 seconds (it took the receiving phone itself about 5 seconds to register the call). The Apple Watch, and LG Watch Style also did well, with average response times of 7 and 5 seconds, respectively. Most of the remaining watches hovered around 10 seconds. The Movado Connect took about 20 seconds to notify us, while the Diesel either took just 5 seconds (2 of 3 calls) or 23 seconds.
We cut 6 smart watches for unreliable call notification
Montblanc's Summit
Nixon's The Mission
Tag Heuer's Connected Modular 45
New Balance Run IQ
Asus Zenwatch 3
Michael Kors' Access Dylan Smartwatch
More navigation options = easier to use.
We gave the remaining 13 watches to our team of testers to find out which were the easiest to use. Since we were already looking at the best of the best, all of our watches' touchscreens were responsive and easy to use. What set some apart from the rest were those with other navigation options. We found four main mechanisms that created intuitive user experiences without bulking up a slim aesthetic:
We Didn't Love Motion-Activated Navigation Of our watches, only Michael Kors "featured" motion-based navigation in its tutorial. While flicking your wrists in different directions to flip through screens offers a change from swiping left or right with a finger, in practice it feels more like you're practicing martial arts than opening your Starbucks app.
Main button — All of our test watches had at least one button: to sleep/wake or access the main app page.
Ancillary buttons — Some also had one or two other specialized buttons, dedicated either to opening up the app page or activating Google Voice.
Bezel — Only the Samsung watches featured an adjustable bezel, which twisted side to side to scroll through apps — a nifty feature our testers loved.
Dial — Another favorite with testers, some buttons pulled double duty as twistable dials, similar to the bezel but not quite as easy to access (think: resetting the time on a traditional watch). The Apple Watch and LG Watch Style both have dial buttons to scroll through options.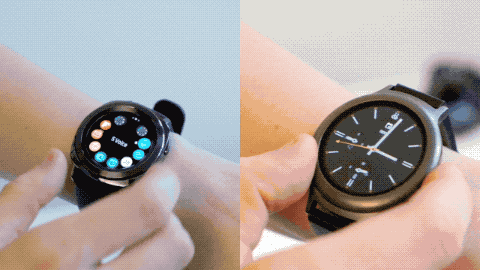 Keyboard layout depends on your OS, not your watch.
It turns out your smart watch's software determines your texting option, not your particular watch. While all three operating systems offer voice dictation and emoji or preset phrase responses, they start to differ when it comes to keyboards. Here there's an obvious struggle in two different areas of convenience: you can have all letters available on the screen so you don't have to click multiple times to find a letter, or you can have a limited number of letters available per screen so that each letter's button is larger and easier to click.
The Samsung keyboards brought us back to our pre-smartphone days, when to type "Hi" meant pressing the number 4 five times. Their smart watches all use the same old-school style numpad keyboard, with suggested words appearing at the top. In return for conserving screen space, the individual buttons are larger. Android Wear goes the opposite route and offers the whole QWERTY keyboard. Despite the smaller buttons, testers actually liked having the full-sized keyboard over the Samsung's numpad. It makes typing on your smart watch feel like using your smartphone. You can make tiny taps to pick out individual letters, select commonly used or predicted words, or drag your finger across the keyboard to build a word. It took testers a little practice to figure out how to tap on the tiny letter they wanted, and not the seven others all around it.
The Apple Watch resolves the question of how to fit a whole keyboard on a tiny screen by not offering one at all. Instead, it offers a drawing pad mode for custom responses (both Samsung and Android actually have a drawing option, too). In the Apple Watch's scribble mode, you draw out each letter one at a time on a small gray pad and then hit the spacebar to start a new word. It took us some practice to get this feature right, and although our first few texts were more like garbled word clouds than actual messages, it's an interesting solution to the keyboard dilemma.
Samsung and Android Wear have a similar mode available, but instead of a static gray pad to draw on, they use a scrolling display, which moves off the left of the screen as you write each letter. It uses a timing algorithm to figure out if you're in the middle of writing a word or if it needs to insert a space. The scrolling motion does move a little quickly though, so it'll keep you on your toes when texting.
While testers found the drawing pad feature fun, it wasn't as efficient as typing on either the numpad or QWERTY keyboards. For custom text responses, they preferred navigating the keyboard, tiny as it is, or simply grabbing their phone. For simpler texts, we'd trust Siri or Google to accurately transcribe our message, or use a simple emoji or preset "Thanks!" or "I'm busy right now" to respond instantly right from our watch.
The best smart watch should look and feel like your style.
One of the rites of passage for new smart watch owners is picking out the perfect watch face to decorate your smart watch. Depending on the style of face you choose, your smart watch can blend in with a traditional watch face or you can choose a style with customizable widgets, so your favorite apps are accessible right from the display. All of our contenders offer multiple custom faces and you can download others either online or from third-party apps.
We gave extra points to bands that were comfortable and easy to swap out for a new style. A few watches needed specialized tools to change out bands — the Movado Connect needs a tiny screwdriver, but we still preferred this to the Moto 360, with its non-removable band. Most of the watches have tiny pins that you pull back to unfasten the band, though the Apple Watch uses a button, which allows you to slide the band in or out of a narrow groove.
More so than bands, testers called out the watches themselves for being uncomfortable. Some simply had what felt like huge watch faces, like the Armani Emporio, which is definitely a large statement piece. Others, like the Movado Connect, have a thicker watch which perches uncomfortably, like you've tied a miniature smartphone to your wrist rather than put on a watch.
Our Top Picks for The Best Smart Watch
Best Apple Smart Watch
The Apple Watch was a tester favorite thanks to its high-tech appearance, easy navigation, and for being the most immediately customizable watch (no third-party apps required). In tests, Apple did well, with an average call response time of 9 seconds. We also loved that we could even answer phone calls through the watch, thanks to its tiny speaker. Some other watches have the option of "answering," but all this does is answer the call on your phone, subjecting the person on the other end to the sounds of you rustling through your purse or jacket pocket for it.
We liked how this watch balances its multiple navigation options without losing its streamlined feel and appearance. The touchscreen, button, and dial (what Apple calls the "crown") help you zoom in and out and move between apps fairly effortlessly. With this easy navigation it's easy to forget we're typing on a screen slightly smaller than an Oreo. In particular, we loved Apple's app homepage, which displays all of the apps as icons in a honeycomb-like display. You can use the touchscreen to move around, and the dial to zoom in or pan out, to precisely tap on the one you want.
We also loved its beautiful, high-resolution screen, and particularly appreciated how customizable the Apple Watch is. While you can't opt for third-party designs, you have 12 different watch faces to play with. You can tinker with color schemes, add or remove widgets (called "complications" on the app), and decide whether you want to have all twelve faces available on your watch (we always like having options), or cut back. Some of the faces are more customizable than others: the "Solar" isn't customizable, but shows the Sun's progress through the sky, while the "Modular" lets you choose your five most important apps, data, or notifications to list.
The Apple Watch's main limitation is that it is, well, Apple. This watch won't work unless you have an iPhone. However, that said, this is the best smart watch for an iPhone. Other watches (including the Fossil Q Venture, but not the Samsung) will work with an iPhone, but won't be able to answer calls or respond to texts, and if you want to customize the apps on your watch, you'll need to navigate the Google Play store through the watch screen. It's doable, but brings up some frustration to find and select the right app on the tiny screen.
While the Apple Watch 3 offers an LTE version (for $70 more) that adds cellular capacity independent of your smartphone, this technology is more novel than it is useful. It dramatically reduces the day-to-day practicality of this smart watch, sapping an already limited 18 hrs of battery life (the Samsung has up to 72 hrs) down to a meager 3 hrs. If you can see yourself needing a few hours here and there without your phone but with all your connectivity, consider the cellular version (you can always turn off the LTE function to conserve battery when not needed). But for most people we recommend saving the $70 by getting the GPS only version.
Best Android Smart Watch
Samsung Gear SportThis discreet watch emphasizes user-friendly features with easy navigational tools.
During our testing, none of our watches beat the Samsung's almost instantaneous notification times. In fact, sometimes the call showed up on our Sport before our phone. The Sport averaged six seconds for response time — well under the overall average ten seconds, and leagues away from the Movado Connect's 20-second average.
Samsung Also Offers A Cellular Capable Version of the Gear S3 The LTE version for the Samsung Gear S3 has better success because of the incredible 72-hour battery life of the base version. LTE still drastically cuts this battery life to ten hours, but that's enough to get us through the workday, not just our commute.
We loved Samsung's characteristic bezel navigation. Instead of having to swipe repeatedly to get through a list of options, gently twisting the bezel helps us to quickly scroll through a list. The two side buttons lie almost flush with the side of the watch, making it difficult for them to catch on sleeves. The top one wakes up the watch, while the bottom one opens the home page for apps.
Additionally, we loved using the Samsung's app page. While you can't beat Apple's app home page for how cool it looks (and the ability to zoom in and out is rather neat), we appreciated Samsung's dial-like presentation of apps. While you can tap on the small icons forming a ring on the screen of your Samsung, you can also use the bezel to scroll to the one you want, and then tap on the large empty space in the center of the ring to open the app. This small convenience is the difference between what can feel like pixel hunting, and actually opening the app you want with the first tap.
The Samsung also offers custom watch faces (both native and third party), some of which have customizable widgets. In addition, you can also get immediate access to apps without cluttering up the watch face. From the homepage (which displays the time and date), you can twist the bezel to access fitness tracking data, like steps taken and calories burned, check the weather, change the song you're listening to, or use any number of custom widgets.
Best Fashion Smart Watch
Out of the box, we were drawn to the Q Venture's sophisticated appearance. In the world of smart watches, it's one of the most watch-like, which we more or less expected, since it comes from a brand usually aimed at fashion rather than the latest technology. We tested the Luggage Leather version which has a narrow silver-tinted watch face casing and a light brown leather band, although Fossil has a whole Q Venture series with a variety of style options. Unlike Apple, which offers four band options (light gray, dark gray, black, and light pink) or Samsung's two options (black or blue), the Q Venture series has nine designs. We liked how Fossil's options seem to represent more thoughtful decisions on what someone likes in a watch, rather than dipping the same band into different paint buckets.
With a streamlined profile, the Q Venture only has one button, which turns the watch on/off or enters the app selection page with a light press. Despite not having a dial or bezel to twist, or multiple buttons, testers found this smart watch easy to navigate. This is due in part to its responsive touchscreen. With gentle pressure, you can drag the screen down to open settings, and with light flicks, you can skim through the app list to quickly find the one you want.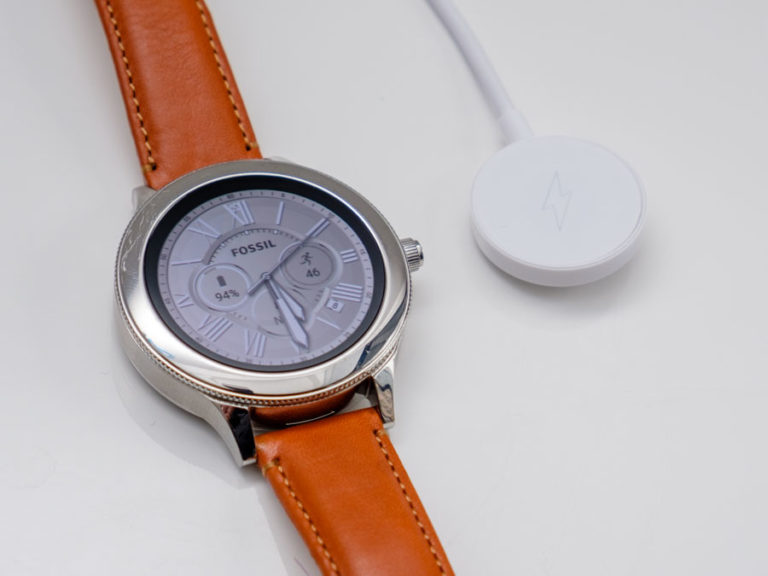 In tests, the Q Venture was solidly average, with a typical response time of 10 seconds to receive a notification. While we can immediately ignore a call if we choose, this quick response time gives us plenty of time to retrieve our phone from our pocket or fish it out of our purse.
The Q Venture does have a few limitations when compared to the Apple Watch 3 or the Samsung Gear Sport. It doesn't have NFC connectivity, so you won't be able to link credit cards to your smart watch and pay by holding the watch close to an NFC reader. While the Q Venture does have the fitness tracking software that comes standard with Android Wear watches, the device itself primarily counts steps and relies on your phone for distance. Unlike the Samsungs and the Apple Watch, it doesn't have a heart rate monitor or GPS capabilities. But if you're looking for a smart watch that looks more high fashion than high tech (while still being both), you won't regret Fossil's Q Venture.
What about Fossil's other smart watches?
The Q Explorist has identical specifications to the Q Venture, except it comes with two extra buttons. We expect it to perform similarly to the Q Venture series, though because the Fossil Group's other brands had varyingly bad and good test results, we need to test it before recommending it. Fossil also just released their new Q Control line, which has a different look and very different specifications to the Q Venture series. We're planning on testing these series soon, and updating with results.
Other Smart Watches to Consider
Our top picks are our favorites because they connect reliably and quickly, offer easy navigation, and are versatile enough to wear at the office or a backyard get-together. But two honorable mentions go to the LG Watch Style and the Casio Pro Trek Smart. Both did well in our response test — the LG Watch Style actually had a fast average response time (5 seconds), sometimes beating our phone to the punch on which device notified us first. While the Casio is the most expensive smart watch we recommend, it comes with some cool features. It's perfect for the rugged adventurers among us, and we just couldn't pass up the chance to talk about it.
LG Watch StyleThis smart watch impressed us with its speedy performance but needed help in the style department.
The LG Watch Style ($250) was almost a top pick. It has one of the fastest call notification times (within 6 seconds), sometimes beating out our smartphone in the race to notify us first. It's easy to use, and only has a single button, which also works as a dial. With a click, you can open up your apps and then simply twist to scroll through.
However, the band is its weakest link. Each band piece connects stiffly to the casing, so instead of molding to your wrist, the watch is lifted slightly away your arm. The material feels like cheap fake leather, which testers struggled to bend in order to put on the watch -- it also showed signs of wear almost immediately. While it's easy to find new bands for this watch, this quickly raises the overall cost of the LG Watch Style.
Casio Pro Trek SmartThis watch has unique features to keep you on track in the outdoors while hiking, skiing, or surfing.
The Casio Pro Trek Smart ($500) might just be the perfect smart watch for the adventurers among us. We loved how wholeheartedly Casio went in for customizing its smart watch for the outdoors. The watch has two buttons in addition to the main on/off/apps button. One takes you directly to a compass and altimeter, and the other to a real-time GPS map of your location. You can search around the map and annotate it with voice or star marks on interesting points. The Casio also has a good notification response time, right on average at 10 seconds. In addition to the standard Android Wear apps, the Casio also comes with the "Moment Setter" app, where you can customize your watch to track your activities or alert you about high or low tides, how far you've traveled, or what time the sun rises or sets.
This watch is also wholeheartedly large — even the largest wrists in our office found it a little overbearing. Another caveat is that it's the only watch whose charging cable came with a warning. If the USB end of the cable is plugged in and the adapter touches any other metal object but the designated spot on the watch, it can cause a short circuit. Since the adapter is magnetic, we expect that even with great care, we'll eventually have a short circuit happen to our computer or outlet.
Feature Comparison Chart
All of our top picks and runners-up meet our basic requirements: they have a touchscreen, have Bluetooth and WiFi connectivity, offer apps, and have a battery life long enough to get you through the day. While none of the following features are mission critical (your smart watch will work well without them), they are nice perks to make your smart watch more versatile.
| | | | | | |
| --- | --- | --- | --- | --- | --- |
| | Apple Watch 3 (GPS) | Samsung Gear Sport | Fossil Q Venture | LG Watch Style | Casio Pro Trek Smart |
| Price | $329 | $299 | $255-275 | $179 | $500 |
| Phone Compatibility | Apple only | Android, Samsung | Android, Samsung, and Apple (limited) | Android, Samsung, and Apple (limited) | Android, Samsung, and Apply (limited) |
| Battery Life | 18 hrs | 72 hrs | 24 hrs | unknown | 24 hrs |
| NFC Connectivity | Apple Pay | Samsung Pay | No | No | No |
| Speaker | Yes | Yes | No | No | No |
| Microphone | Yes | Yes | Yes | Yes | Yes |
| Water Resistance Rating | 5 ATM | 5 ATM | IP67 | IP67 | 5 ATM |
| GPS | Yes | Yes | No | No | Yes |
| Heart Rate Monitor | Yes | Yes | No | No | No |
| Removable Band | Yes | Yes | Yes (for leather versions) | Yes | No |
| Screen Shape | Square | Circular | Circular | Circular | Circular |
| Navigation Tools | Touch, dial button, button | Touch, bezel, two buttons | Touch, button | Touch, dial button | Touch, three buttons |
| Charging Style | Wireless (flat button) | Wireless stand | Wireless (flat button) | Wireless cradle | Proprietary plug |
| Storage | 16 GB | 4 GB | 4 GB | 4 GB | 4 GB |
| LTE Connectivity Versions Available | Yes | No (but the Samsung Gear S3 does) | No | No | No |
The Best Smart Watch: Summed Up