Showing results for
Did you mean:
Sorry, something went wrong. Please refresh your browser and try again.
Last updated on
July 27, 2017
The Best Standing Desk Mat
Engage your body while you work your brain
The 30-Second Review
After standing on mats for a week and talking to ergonomics experts, we discovered that the right mat for you mostly comes down to personal preference. Our favorites struck a balance between soft and supportive materials, were interesting enough that we didn't mind being on our feet, and — most importantly — encouraged a healthy rotation of sitting and standing.
Best Active Mats
Designed with gently raised edges that keep your feet making subtle movements, the Topo has a more cushioned base than the TerraMat, making it a more comfortable choice to stand on.

Terra Mat Standing Desk Mat
The TerraMat has more pronounced mounds and beveled edges than the Topo. While some testers found it to be too spread out, it's great for stretching and anyone who enjoys wide stances.
Best Flat Mat
The EcoLast is great if you're just looking for simple standing comfort. This unobtrusive mat provides springy support without being too soft.
The Best Standing Desk Mat
September 12, 2017: After realizing the importance of frequent movement in a work day, we updated this review by bringing in the new "active mat" category and testing those against our top picks. As a result, we found three new active mats we loved and removed a lackluster flat mat from our top picks.
Standing desk mats are designed to alleviate some of the discomfort associated with long periods of standing. But as standing desks become increasingly common, standing desk mats have undergone considerable evolution. In addition to flat mats made of polyurethane, you can also find mats with various hills and inclines, and others that wobble and pivot under your feet. The 3D topographical mats feature sloped ridges and other elements to facilitate movement. The wobbly type have the same goal — constant movement — but take a more radical approach. The best mat for you depends on how much experience you have standing and how much you want to move.
We liked the Terra Mat Standing Desk Mat and the Topo by Ergodriven for their innovative topographical designs that encouraged subtle movement and stretching. But our testers were pretty torn on which they preferred. The Terra mat features plenty of flat space, making it popular with our taller testers who enjoyed stretching their legs and interacting with the pronounced peaks and bars. If you like exploring with your feet or if you have a naturally wide stance, the Terra Mat is designed for you.
Many of our testers enjoyed the Topo's subtle inclines and softer base, designed to mimic natural terrain that bumps and slopes under your feet. However, the same taller testers who enjoyed the Terra Mat found the Topo's smaller base a bit restricting. But if you expect to spend more time standing on the flat features and you don't want to stretch out at your desk, you'll probably like the Topo.
If you're looking for an engaging mat that will encourage you to spend more time on your feet, the Fluidstance Level is sure to get you excited about raising that standing desk. All of our testers agreed, this board is fun — a slick skateboard without wheels. Sure, that might sound tacky, but with its natural maple and die-cast aluminum construction, the Level was the best-looking mat we tested. It's not as comfortable as the TerraMat or the Topo, but it encourages more overall movement. Some testers liked how engaging the Level was, but others did find it a bit exhausting.
We liked the iMovR EcoLast Dual Gripper Standing Mat better than the other flat mats thanks to its bouncy texture but supportive structure. While less exciting than the active mats, flat mats are the standard solution to standing fatigue, and must-have if your work environment is standing-only. If you want a simple, unobtrusive mat that works for all kinds of shoes and environments, this is a solid bet.
L-R: Topo, Terra Mat, Fluidstance Level, and iMovr EcoLast
How We Found The Best Standing Desk Mat
We sought out the most popular and best selling standing desk mats, looking at best sellers on Amazon and other mats that earned praise on workplace ergonomics blogs. These were flat mats from seasoned competitors like WellnessMats, Imprint, Sky Mat and EcoLast. But we also looked for mats that were disrupting the space and trying something new. That led us to the highly recommended Topo mat by Ergodriven and a whole new world of "active mats" designed to get people moving at their desks. We included similar products like the CubeFit TerraMat, the Wurf Board, and The Level from Fluidstance.
EcoLast Dual Gripper Standing Mat
Ergodriven Topo
Fluidstance Level
Imprint CumulusPRO
Sky Mat Standing Anti-Fatigue Mat
Terra Mat Standing Desk Mat
WellnessMats Maxum Mats
Wurf Board
We stood a lot, comparing comfort, activity, and ease-of-use.
All of the experts and research studies we consulted agreed: In an ideal world, no one would spend more than 45 minutes to an hour being completely stationary during the day, either sitting or standing. So we had 10 testers (of different body types and with varying standing preferences) stand on them in one-hour increments.
There is naturally some subjectivity involved in such a test, but we took detailed notes on our movement patterns, foot pain, and overall comfort while we worked. In flat mats, we looked for a balance between firmly supportive and comfortably soft. For active mats, we wanted an engaging design that invited testers to explore the features. Preference was given to comfortable mats that encouraged testers to periodically stand at their desks.
We also paid close to attention to how easy it would be to integrate these mats into our daily routines. Some were much easier to slide under our desks when we transitioned and some were even easy to roll our chairs over.
Most importantly, we looked for mats that encouraged standing and kept our blood pumping.
"The goal of a good anti-fatigue mat should be...to increase muscle activity in the lower leg just enough for the muscle pump needed to prevent pooling of blood and increase venous return to the heart."
Our Top Picks for Best Active Standing Desk Mat
During our testing, there were some shared opinions, but the "best" mat really boiled down to personal preference. One trend did bubble up, though: If you're just starting to experiment with standing desks, an active mat can help. Testers who regularly sat during the workday found these mats appealing because they encouraged movement and gave them more incentive to stand — the benefit of the flat mats wasn't as apparent to them. Seasoned standers, on the other hand, enjoyed the flat mats as much as the topographical mats because both were more comfortable and supportive than standing on the bare floor.
A tie for topographical. Pick your own terrain.
Topographical active mats are designed with raised ridges and engaging features so your feet make frequent and varied movements. All of our testers were quite confused when first seeing the mats; the designs aren't intuitive. But after a few minutes on them, it becomes quite natural to shift your feet and rest in different poses. We found our team split on which mat was best: Some loved the TerraMat for all the open flat space; some hated it for that same reason. After some back-and-forth debate, we realized both mats were worth recommending. The best active mats can't be defined by an extra raised mound or even the culmination of ridges. It's really all about how your feet interact and whether you feel comfortable while in standing.
The Best Active Mat
Topo by Ergodriven Gentle slopes and cushioned support make the Topo great for subtle foot adjustments while you stand.
The Topo by Ergodriven is great for active standers who prefer more cushioning and would enjoy the natural subtly of it's 3D elements. If you like padded insoles in your shoes or a memory foam mat at the kitchen sink, you'll love the Topo.
The Topo is based on the idea that humans aren't made to stand on flat ground. The designers even made a video demonstrating the natural, healthy habits of humans to show how they translated those ideas to their mat. The mat is meant to mimic ridges and terrain of natural environments. Some testers naturally found comfortable places to rest and adjust their feet, but others thought the design of the Topo was a bit too constraining — they were spending a lot of time resting their feet off the mat. The tear-drop mound right in the center of the mat was a source of disagreement: For some testers, it was a fun feature for their feet to explore; for others, it crowded their standing space. If you have large feet or a naturally wide stance, the Topo may not be right for you.
The Topo also features a ramp at the back of the mat and raised edges around the sides. The combination of details allowed for lots of calf stretching and simple foot engagement. One of our testers who typically sits throughout the day really loved the Topo. She said that "the support was great and paired with my Birkenstocks. I honestly was really comfortable and supported. The mat relieved the tension in my standing foot/hip and even let me relax my lower back."
The Topo, especially in its flat space, was softer than the CubeFit Terra Mat. We asked our testers to rate their mats firmness on a scale of 1-5 (1 being too soft, 3 being a balance of firm and soft, and 5 being too firm). The Topo was the only mat to frequently earn a score of 3. The TerraMat, by comparison, received 4s and 5s.
One potential drawback: The Topo won't win any awards for appearance. One of our testers said it looked like a "toddler's potty training seat" — and we can't exactly disagree. But the Topo is available in a few different colors, unlike the TerraMat, and some color might offset the strangeness of the shape.
The Best Active Mat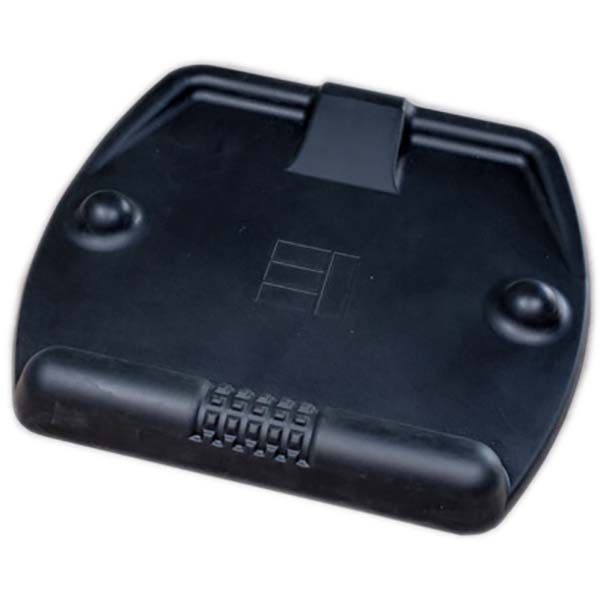 The TerraMat is great for taller users who prefer a wide stance and want a variety of interesting elements to keep them active. If you're looking for a physically engaging experience that will keep your feet constantly moving over the width of a mat, the TerraMat would suit you.
The CubeFit TerraMat is a topographical mat that has five different features to engage with. From "massage mounds" to a balance bar, there are plenty of ways to utilize the mat's terrain. The testers who preferred the TerraMat found themselves shifting position frequently, but not for a lack of comfort — the scattered features simply encouraged more movement. Overall it received positive responses for its raised slope (great for stretching out the ankles) and beveled bar (to massage the foot). However, the TerraMat doesn't fare much better than the Topo when it comes to appearance: "It looks like a cross between a medieval torture device and a dog bed."
There's quite a bit of flat mat space on the TerraMat. Some of our testers like that extra room, but others thought the wider range hindered them from using the active features on the edges of the mat. That flat space is quite firm too, especially in comparison to the Topo by Ergodriven. So if you're not using the 3D topographics and want to just stand, it's not the most comfortable option. About half of our testers were only using one or two of the many features anyway, so if you don't have particularly fidgety feet, the TerraMat probably isn't for you.
Though both active mats are similar in function, they have different approaches to their goals. If you make a lot of small, subtle movements while you stand, consider the Topo. If you like to move around more and really stretch out your legs, the TerraMat is a better option.
Runner-Up for Best Active Mat
Fluidstance Level The Level makes it impossible to stand still — great for users who want a more engaging standing experience.
The Level by Fluidstance balances a sleek look with innovative movements. It's made with natural finished maple and a die-cast military grade aluminum base — a real standout amidst a sea of dark black mats. The elegant design made the Level the only mat praised for its visual appeal. However, it's also our most expensive pick at around $289.
The Level looks like a skateboard without wheels. We found it very easy to get the hang of, and we liked that it encourages constant movement. In fact, it's pretty difficult to stop moving on the Level: Its unbalanced frame involves a lot of circular motion and rotation of the knees. One tester said, "I would be encouraged to stand more often on it, mainly because it's such a fun contraption. I find myself doing all kind of whacky twists and turns on it." This board is great for fidgeting, engaging the core, and pulling you out of an afternoon slump.
The Wurf Board We also tested the inflatable Wurf Board, whose surfboard design isn't quite as subtle as The Level. Despite its cushiony give, it had too many flaws (like a poorly positioned air plug) to compensate for the cheesy design. However, you can purchase resistance tubes to easily attach and transition into an at-home workout.
Some testers, however, found its design a bit limiting because you can't really adjust your feet while standing on it. "I can only flex my knees. This board would be great for someone looking to improve their balance, but I like to shift my weight from one foot to the other when I stand, and it's really hard to do that with the FluidStance." And if you're looking for a softer mat or plan on standing for long periods, the Level's wooden surface probably isn't for you. However, Fluidstance does offer a rubber version called The Plane. We didn't test that version, but its 100% recycled low-emitting rubber could offer more comfort, and it's priced about $100 cheaper.
Our Pick for the Best Flat Standing Desk Mat
The majority of standing desk mats on the market are flat. They're similar to kitchen and garage mats in design, and they're the preferred choice for workers who have to stand all day long. A good flat mat offers a bit of supportive cushioning for your feet, and our testers all agreed flat mats were better than the bare floor. Both of our top picks for flat mats had impressive grip tech: rubber strips for wood or laminate surfaces, and velcro circles for carpet. If you're a frequent stander and just want some extra support, flat mats will do the trick. They're also ideal for areas with high foot traffic, where raised mats could be a tripping hazard.
The Best Flat Mat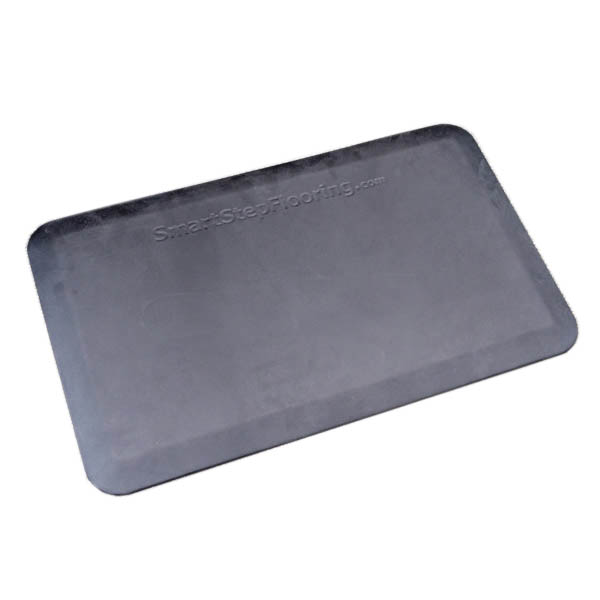 Out of all the mats we tested, the iMovR EcoLast Dual Gripper Standing Mat was the most effective at providing support and was inconspicuous enough to be used in professional environments — especially compared to competitors like the Butterfly Mat. EcoLast's sleek black appearance blends easily into any workspace, unlike the WellnessMats industrial grids. It's also durable enough to hold up against heels, and still provides a cushioned support. It feels a lot like walking from concrete onto the bouncy rubber mulch of a playground. Standing on the mat felt more energetic compared to the bare floor.
We wanted to love the more affordable flat mats we tested, like the Imprint CumulusPRO or the Sky Mat Standing Anti-Fatigue Mat, but our testers said the less expensive mats were too "squishy" to provide adequate support. If you want a large, well-built, high-grade sheet of polyurethane that's actually going to reduce your fatigue while standing at your desk, it's going to cost you more than $100.
The iMovR EcoLast Dual Gripper Standing Mat comes with rubber grips that keep it in place on hard flooring, as well as Velcro patches that keep it from sliding on carpet.
Did You Know?
Don't get too comfortable standing.
Using a standing desk and an anti-fatigue standing desk mat are great ways to avoid long, sedentary hours in a chair, but they can also lead to their own problems. As Dr. Neal Wiggermann, an ergonomics specialist, told us, "Just as sitting all day appears not to be good for you, standing all day is also unhealthy. It can increase the risk of plantar fasciitis, hip or knee problems, varicose veins, and cause fatigue. I'd rather have an employee sit all day than stand. But being able to intermittently transition between the sitting and standing posture does appear to be ideal." All of the experts we talked to agreed — it's best to do some sitting and some standing.
There's a right way to stand at your desk.
Even after you've converted to a sit/stand rotation, there are still a few ways to optimize your experience and prevent body fatigue. Your standing desk should be raised to the height of your elbows, at a 90-degree angle. This practice will prevent straining your joints and allow for longevity when typing. Your neck is also at risk when shifting to a standing position. Your screen should have a small upwards tilt so that your neck is never shifted too far up or down while working. And while we're at it, try keeping your screen about 20-28 inches away from your face. That's basically the distance between your elbow and the tip of your middle finger. This position might feel a little robotic at first, and it'll likely be difficult to maintain, but the long term effects on your body are worth it.
Polyurethane isn't vital.
Many standing desk mat reviews (including an older version of our own) cut mats that aren't made of polyurethane based on a 2015 research study from Texas A&M University. The study found that anti-fatigue standing desk mats made from 100 percent solid-form polyurethane helped to decrease spinal compression by as much as 40 percent. While the results are sound, they're not exactly pertinent to standing desk mats. The study had testers from an industrial furniture manufacturer and industrial pipe/valve reconditioner/manufacturer, stand all day everyday on the mats. In reality, the polyurethane standard is only a crucial consideration if you have to be standing all day long. And our experts agreed: if you don't have to stand all day, you shouldn't. The study showed some improvement in spine curvature/spinal compression, but those issues aren't concerns if you're alternating between standing and sitting positions.
Standing Desk Mats Summed Up