The Best Standing Desk
Stand and deliver
Latest Update
June 28, 2017
Both UpDesk and Uplift recently reduced the prices of their featured desks, the Ultra UpWrite Standing Desk and the Uplift Height Adjustable Sit Stand Desk. This article reflects current pricing and features.
The 30-Second Review
Standing desks either work or they don't. After meeting a baseline of quality construction and functionality (stability, smooth transitions, etc.), it's all about taste. We started by testing nine of the most popular standing desk models for function, and then focused on form. Our top picks nailed the basics, but our winner was by far the prettiest of the bunch.
Best Overall
A striking bamboo-topped desk with a solid frame; it's easy to put together, and just $500.
Runner Up
Wobblier than the Ergo Depot Jarvis, but more customizable and a bit quieter. Starts at $495.
Other than in bed, the place people spend most of their time is at their desks. It's worth it to invest in one you love.
Our top pick is Fully's Jarvis, an incredibly sturdy and surprisingly elegant adjustable desk that looks more like furniture than an office fixture. It has great range — suitable for people up to 6 feet 7 inches — and you can customize it to your exact specifications. We're partial to the bamboo top, but there are more than 12 other styles to choose from, along with add-on accessories like wheels, grommets, cable management, and more. Our only warning: those add-ons can add up quick, suddenly taking a $500 desk closer to the $1,000 range.
Our Top Pick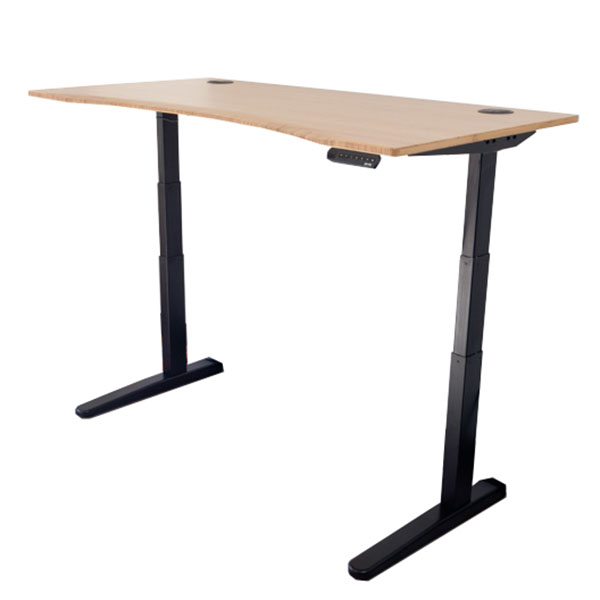 The Uplift Height Adjustable Sit Stand Desk was a close second (it's just so similar to the Jarvis, how could it not?). It's wobblier than the Jarvis at its max height, so if you're taller than average, we don't recommend it. That said, its motor is a bit quieter, and comes with an equally expansive range of desktop options, customizations, and add-ons. At the end you'll have a similar price tag to the Jarvis — but also get a free gel-foam standing mat as an added perk.
The UpDesk Ultra UpWrite was our biggest surprise. We wrote it off as too gimmicky at first — come on, a $889 white board for a desk? But in practice, we found it fun and inspiring to doodle, jot notes, and make lists right on the desktop. The fact that it was the absolute quietest desk out of all nine we tested didn't hurt either.
How We Found the Best Standing Desk
We started by looking at 67 adjustable-height desks — ones that we could adapt from sitting to standing and back again with either an electric motor, hydraulic lever, or manual crank. We didn't look at fixed-height desks, which are designed to set and forget in one standing position, or conversion desks, which you place on top of your existing workspace and raise to accommodate standing (a simple, economical solution, but not really a desk desk).
To start narrowing the pool, we checked out max height.
Our Tester Our tester is 5 feet 10 inches tall (close to 6 feet 3 inches in her highest pair of heels) and was able to work comfortably at all the desks we tested without reaching their highest standing settings.
We only wanted desks that could accommodate a wide variety of body types, so we made sure all our top picks could reach at least 48 inches, with a 20-inch sit-to-stand range, which is ergonomically okay for folks up to about 6 feet 7 inches.
And looked for great warranties.
A standing desk can be a major expense, especially for companies looking to furnish their offices — one desk is typically between $500 and $1,500, but a one-of-a-kind desk from Uplift's Artisan series is nearly $4,000. We nixed any that didn't offer a frame and electronics warranty of at least five years. (Our research showed an average frame warranty of 5.5 years, and an average electronics warranty of 4.5 years.)
More than half the brands we evaluated offer warranties of at least five years, with many extending up to 10. The Mayline VariTask, for instance, offers a lifetime warranty on the frame, and 10 years on its electronics. The Ikea Bekant warranty covers 10 years, for both the frame and electronics. Uplift and Jarvis offer the next best warranties, covering seven years for frame and electronics on a wide range of models.
Then we put them to the test.
From there we chose nine comparable desks: the Fully Jarvis Adjustable Height Desk, Evodesk, Ikea Bekant, Mayline VariTask, NewHeights Elegante, NextDesk Encore, Rebel Desk Rebel Up 2000 Standing Desk, UpDesk Ultra UpWrite, and Uplift Height Adjustable Desk. With our list set, we had them shipped to our office to try out. Picking the best was, surprisingly, pretty easy.
We made sure the desks were easy to assemble.
We factored in shipping: how quickly the desks arrived, and in how many boxes, as well as ease of assembly. The hands-down winner went to the UpDesk Ultra UpWrite, which took just 40 minutes to put together, beating even the Ikea Bekant by five minutes.
The NewHeights Elegante took by far the longest, mostly because we had to stop mid-assembly to go buy a power drill — the only desk that required one. After nearly two hours, the Elegante was assembled, but not exactly perfectly: some of the screws' grooves were filled with a mysterious glue, making them impossible to use. We ended up frustrated, with a wobblier desk than we should have. For a starting price of nearly $1,400, these inconveniences smarted more than they otherwise might have.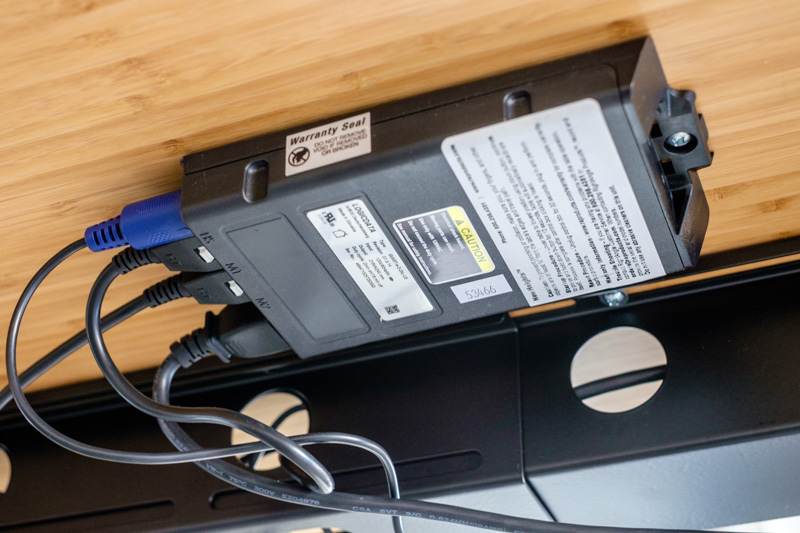 Assembling the motorized standing desks, including the NewHeights Elegante model shown above, involved a lot of wire management and control module installation.
And we took each desk for a test drive.
Once the desks were assembled, we filled cups of coffee and water to brimming, and set about testing wobble factor, along with mode and convenience of conversion — speed, noise, and smoothness.
At this stage, we immediately crossed off the NextDesk: Its motor was by far the noisiest, and the desk wobbled during conversion. Adjusting this one from sitting to standing several times per hour — as experts recommend — is definitely annoying. Colleagues in our office looked up from their work, distracted by the noise, even over the office's fan and background music.
The NextDesk's motor was the loudest among our contenders, out-whining our top pick by nearly 10 decibels.
Our Rebel Desk had to go, too. The hand crank — which doesn't make the desk any cheaper than the electric ones, and also made our tester's monitor and coffee shake as if it were in a 3.5 earthquake — would discourage a person from converting the desk often. A definite drawback, when that's the whole point of the desk.
The Rebel's conversion speed depends on how fast you can operate the hand crank, a fact that (naturally) lends itself to some in-office racing.
We should say now: aesthetics were hard to ignore (the Jarvis was just so beautiful), but pretty much every line of desks we tested comes with seemingly limitless options in style, size, shape, and accessories that you build into your dream desk. For most brands, you can even buy the frame and mechanical components alone, and pop on your own desktop. (Going this DIY route can save you anywhere from 50 to a couple hundred bucks, which is a great option if you have a desktop you love already.)
Finding the best standing desk is about stability and ease of use first, and we prioritized that. But looks are important — you want to love it! — so we definitely took them into account.
Our Picks for Best Standing Desk
Best Overall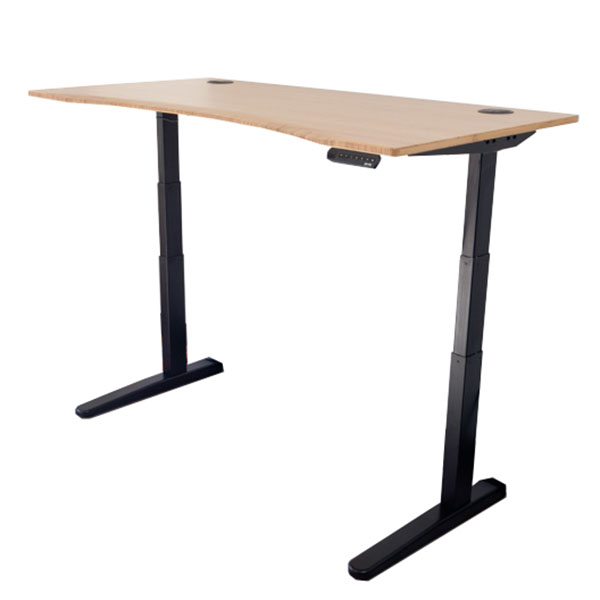 The Fully Jarvis Bamboo Adjustable Height Desk was a standout from the moment it arrived. Its contour shape and bamboo top immediately inspired sighs of, "Ooh, that one." And that was even before setting up the workstation to begin testing. We were happy to discover the Jarvis desk met our requirements for a great workspace: a desktop practical in shape and size, as well as solid, sturdy construction. Cruising at 1.5 inches per second, it also features one of the smoothest, quietest, and fastest conversions — although on the way down there is a quiet mechanical "thudding" sound that isn't there on the way up.
The contoured front edge features a bevel, which besides being attractive, makes working more comfortable. That contour follows the curve of your body and allows you to comfortably reach more of your desktop — it practically tucks you into your work space — and the bevel is an appealing resting spot for your forearms. Both of these are design nuances that makes the $20 increase from a plain rectangle version absolutely worth it. (It's worth noting: all our top picks offer a contour shape option with a similar price jump, and it's even a standard feature on one of our other top picks, the UpDesk Ultra UpWrite.)
Starting at $600, the bamboo contoured top is tied with the powdercoated finish for the most economical Jarvis option, and is available in three sizes, starting at four feet wide and leveling up to six feet. We tested the mid-size version, a five footer, that we thought was perfect: big enough for two widescreen monitors with room to spare. By contrast, its four-foot laminate top starts at $630 and its hardwood at $1,025. (Why anyone would want to pay more for laminate than bamboo bewildered us, too.) That price feels right. Its most comparable competitor, UpLift, prices its contoured top within a dollar of Jarvis, while another contender, Evodesk, comes in at a walloping $250 more — and it doesn't even offer a contour!
We were instant fans of the Jarvis' contour shape and beveled edge.
This bamboo is gorgeous: rich and lustrous, and glossier to the touch compared to some of the grainier bamboo options we tested from Uplift and Nextdesk. Its frame is solid steel, with three options (black, silver, and white), and it can support upwards of 350 pounds — go ahead and pile on some books! They aren't going anywhere.
Like we mentioned, standing desk companies offer a huge range of customizations — you essentially build your desk to your specifications online, and then it arrives on your doorstep, ready to be assembled. Jarvis is no different: it walks you through desk shape, frame color, and size, tallying up your price as you go. A power grommet that you can plug a computer into will add $70 to your total. The "programmable memory" handset that shows you a digital readout of your desk height and allows you to lock in four preferred height settings (sitting, standing in flats, standing in kitten heels, standing in stilettos, for example) will add another $35.
Other add-ons include locking casters, a pencil tray, monitor arm, wire management, and CPU holder. You can pick-and-choose what you like. Our Jarvis dream desk — a five-foot, contoured top with two cable pass-throughs and a programmable handset — would be about $725. It's certainly not cheap, but when you factor in the seven-year warranty and gracious customer service (we had a shipping issue with our order, which was handled immediately by Jarvis' Hayley and Jen), it feels like you're getting your money's worth. We also love that the environmentally conscious company, based out of Portland, Oregon, seems like they know how to have some fun.
A Close Runner-Up
Testing the Uplift's Sit Stand Desk after the Jarvis felt a little like deja vu. Bamboo top: check. Programmable handset with four presets: check. Pretty much the exact same add-ons, price, and variety of desk options: check, check, check.
We tested the Uplift's rectangular bamboo desk, as opposed to its contoured version, but at a glance, you would have thought it was the same desk.
Using it was where some of the differences came in. It was one of the sturdiest desks we tested in the sitting position, but at max height (50.5 inches), you'll feel some wobble, especially compared to the Jarvis, which is rock solid. This was especially disappointing for the Uplift considering it's a C-frame (as opposed to a T-frame), a design that is supposed to offer more stability. Its bamboo was also a little rougher to the touch. That said, the motor is a bit quieter than the Jarvis, and the desk does adjust smoothly.
Left: the Rebel hand-crank desk. Right: the much-smoother Uplift.
Another perk: Your desk comes with an 18-by-30-inch gel-foam mat to stand on, which we loved — almost as much as the coozie it also included. The mat made working while standing significantly more comfortable. We're certain most people who stand at their desks will eventually want one of these, and they can cost over $100. Getting it for free is not nothing, but if you already have one, you can select a free pair of under-desk hooks, or a four-port USB hub instead. We applaud your great gifts, Uplift, but ultimately our hearts are with Fully.
A Surprise Favorite
UpDesk UpWrite A near-silent adjustable desk that lets you write right on it.
The UpDesk Ultra UpWrite is, according to its site, "the first sit-to-stand desk with a whiteboard top." We thought it was gimmicky at first, and were surprised that we actually loved it.
Our desk came with a silver frame, although a black frame is available (as well as a Midnight version — a blacktop you can write on with neon pens), and a handful of UpDesk-branded dry erase markers. Those were a nice thought, but nearly impossible to erase without smearing into a black slime. We had more luck with some classic Expos.
The desk, with a 4.5-inch curved indent on the front and rounded edges, has a bright, modern, almost futuristic feel: It seems more Ikea than the Ikea desk we also tested. It comes in three sizes, though the smallest is still a substantial four feet.
While not as striking as the Jarvis, the Ultra UpWrite is inspiring. If you like to doodle, make lists, do math, or design without having to shuffle papers or stare at your screen, being able to make notes literally on your desktop is a great feature. The downsides: a whiteboard desk can get as grimy as a whiteboard hanging in a classroom. This guy will take more regular cleaning than the Jarvis or an Uplift.
UpDesk offers durable laminate desktops as well as the whiteboard top, but no bamboo — anyone who wants a natural aesthetic is out of luck. There's also less customization than some of its competitors: three colors of laminate to the Jarvis' 12, and fewer add-ons, like the option for wire pass-through cutouts on the top of the desk. UpDesk chooses to make many of those add-ons standard features on the Ultra UpWrite — it was one of the few desks we tested that includes a cable channel to keep cords organized. Its programmable handset is also included. In theory, we prefer this (it's like the way floor mats are sometimes offered as an "extra" for a car — we all know we need them!) but it also makes it tricky to trim down the heftier $899 price tag.
The Ultra UpWrite was the easiest of all nine desks we tested to assemble. Its site quotes a 20-minute out-of-the-box setup time. It took us twice as long, but it still felt like a breeze after other models that required some serious muscle. And, since our review, UpDesk has re-designed the assembly to be even more user-friendly!
It also has an incredibly smooth conversion, and is very sturdy both front to back and side to side, even in the tallest position (50 inches). It beat the Jarvis and the Uplift on this point: A cup of coffee won't move at all when the desk is going up and down, and the motor makes virtually no noise — we literally had to put our heads on the desk to hear anything. The Ultra UpWrite's motor control offers three preset heights to Jarvis' four, and you do have to hold the preset buttons while it converts among height settings — but we're not sure that'd be an issue for many users.
We had an excellent experience with customer service rep Kamron, who pointed out that there are only "a handful of companies around the world who manufacture height-adjustable lifting columns and we're working with Linak, the very best supplier. Unlike the majority of our competitors who get their height-adjustable lifting columns from China, ours are manufactured in Denmark/USA." He went on to say that "our height-adjustable lifting columns require no maintenance," though a call to Fully confirmed that its Jarvis desks didn't need maintenance either.
Kamron also said his UpDesk "has been a complete game-changer. Since I've used our products (for over four years now), I'm more attentive to my overall health and I'm more productive through the workday." We can attest to his speed and attentiveness to phone calls and emails, though who knows how much of that is due to the desk itself.
| | Contour | Frame | Grommets | Program Handset | Cable Manager | Standing Mat |
| --- | --- | --- | --- | --- | --- | --- |
| Fully Jarvis ($922) | $670 | Incl. | $79 | $35 | $39 | $99 |
| Uplift ($568) | $495 | Incl. | Incl. | $34 | $39 | Incl. |
| UpDesk Ultra UpWrite ($899) | $1,130 | Incl. | n/a | Incl. | Incl. | n/a |
| Evodesk ($1,092) | $737 | Incl. | Incl. | $49 | $99 | $89 |
Of the models compared above, only Evodesk charges for domestic shipping, which can add $100 or more to your bill.
Other Standing Desks to Consider
Ikea Bekant — Best on a Budget
For $489, the Bekant was a solid, if not particularly standout, contender. It's a five foot desk in classic Ikea style — minimalist, modern, beech wood laminate — with basic up and down buttons you can't program. There's no opportunity for customization with this desk: what you see is what you get. But, if you're trying to save money on a desk and don't want to give into the costs of tempting add-ons, it's a decent option.
The Bekant reaches a maximum of 48 inches, but unfortunately starts feeling wobbly even at medium heights. However, the conversion is smooth and quiet enough, and it comes with a clever mesh hammock under the desk to help organize cords. There's also an interesting safety pin feature that locks the controls when removed.
We should warn you: Our customer service experience with Ikea left much to be desired. "A nightmare," is the quote from one of our testers, who had to wait more than once for over 45 minutes to be connected to a representative, and had multi-day problems with delivery delays and mix-ups. Is that headache worth a few hundred bucks? You be the judge.
Fully Jarvis Junior — Best for Small Spaces
If you have a small workspace, or don't need a desk for much more than a laptop, a cup of coffee, and an 5-by-7 glossy of your doberman, there are several standing desks with tiny footprints. The smallest of all is the Jarvis Junior, which starts at just over two feet wide and $475. Just like its big brother Jarvis, you can choose from 13 different tops (one bamboo and 12 colors of laminate), three colors of frames, and a programmable or push-button handset to adjust from sitting to standing height.
Also like the bigger Jarvis, there are several ways to accessorize, including locking casters, a pencil tray, and a monitor arm, but the $475 basic model will likely fit the bill for its target audience: "the Manhattan apartment-dweller, the five students in the three-bedroom house, the baker-blogger with the combination office-kitchen." We should warn you, however, we didn't get this exact model to test, but considering it has the same quiet motor, sturdy frame, and stellar warranty as its counterpart, we feel confident in our recommendation.
Best Standing Desks: Summed Up
Did You Know?
Standing all day isn't necessarily better than sitting.
Office culture is subject to fads, just like any other culture. Take open-plan offices, the gamification of the workplace, and, of course, standing desks. They've taken offices by storm since 2013, likely in response to the influx of fear-mongering infographics, TEDx talks, and articles predicting every office worker's impending doom: "sitting is the new smoking," "sitting is the new cancer," and "sitting will kill you even if you exercise." Countless sources warned that too much sitting causes increased risk of high blood pressure, heart disease, obesity, premature death, and — according to Dr. Joan Vernikos, an expert in stress and healthy aging, and author of Sitting Kills, Moving Heals — reduced cognitive function. It's no wonder people never wanted to sit again. "I'll invest in a standing desk," they thought, and figured they were safe — or hoped they'd at least hold on to the years of their lives sitting seemed set on stealing.
Of course the opposition soon kicked in, citing the dangers of standing all day: varicose veins, back and foot problems, and horror of all horrors: cankles. We spoke with Dr. Lucas Carr, an expert in physical activity promotion and sedentary behaviors, who summed it up like this: "The research shows prolonged bouts of sitting and standing can result in negative health consequences. But I don't think we should demonize [either] based on this research." All the experts we spoke to recommended movement, a combination of sitting and standing throughout the day. Dr. Carr goes on to say that "a sit-to-stand desk is a solution for those who will use them."
There's a right way and a wrong way to use a standing desk.
Ergonomics are key. The top of your monitor should be at or just below eye level (make sure your head isn't angled down!), and your eyes should be 20 to 28 inches from the screen. Keep your upper arms close to your body, your wrists straight, and your hands at or below wrist level. The table height of a standing desk should be at or slightly below elbow height — basically make a 90-degree angle with your elbow. Your head, neck, and torso should be in line, and your keyboard and mouse should be at the same level. Got that? If not, here's a graphic that sums it all up, courtesy of CustomMade.
Take Action
Best Overall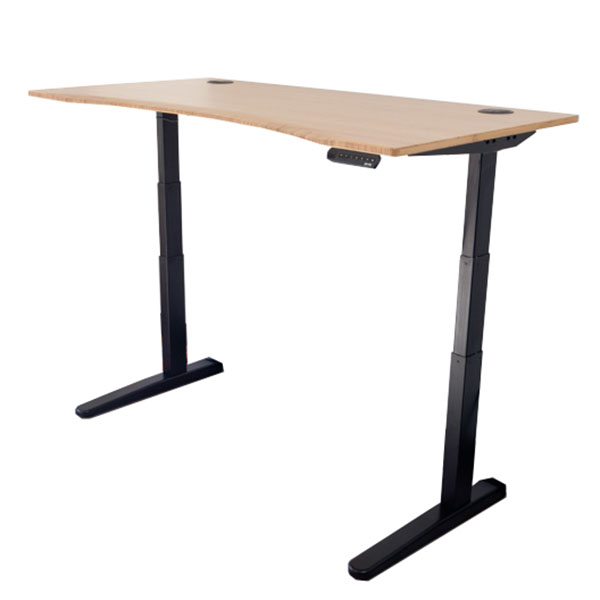 Test the theory. To see if you like standing while you work, use your kitchen counter, your washing machine, or any other surface that's ergonomically correct for your body. Chances are, you may even have a friend who uses a standing desk; see if you can use it for a couple hours before shelling out a few hundred to invest in your own.
Remember to move. There are downsides to sitting too long, and also to standing too long. Purchasing a standing desk won't solve these problems, unless you remember to change your posture. In Carr's words, "Our bodies were designed to move periodically throughout the day. I advise people to stand up, stretch, and take a short walk (if possible) if you feel you've been sitting for too long." Vernikos agrees: "It's the interrupting of the sitting that's the most important factor, rather than how long you stand."