Amazon Echo Show Review
The second generation of the Echo Show is Amazon's latest entry in the smart display game, and while it makes some significant upgrades to the 2017 version, we were still largely disappointed. It has a bigger screen, better smart home controls, and improved speakers, but it still feels like a juiced-up Echo Dot.
Again and again, it fails to justify its 10-inch touchscreen: The visuals on things like maps are maddeningly absent, it doesn't have apps for YouTube or Netflix, and without support for data powerhouses like Google and Apple, it's hard to even use it as a digital picture frame. That said, its sound quality is exceptional, so if you're looking for a smart display that can function as your primary speaker (or if you're just an Amazon junkie), the Echo Show is still worth a look.
Analysis paralysis? Subscribe to our newsletter.
Amazon Echo Show vs. Other Smart Displays
| | | | | | |
| --- | --- | --- | --- | --- | --- |
| | Amazon Echo Show | Google Home Hub | Facebook Portal | Amazon Echo Spot | JBL Link View |
| Price | $229.99 | $149 | $199 | $129.99 | $249.95 |
| Available colors | Charcoal, sandstone | Chalk, charcoal, aqua, sand | Black, white | Black, white | Black |
| Display size | 10.1′ | 7′ | 10.1′ | 2.5′ | 8′ |
| Screen resolution | 1280 x 800 pixels | 1024 x 600 pixels | 1200 x 800 pixels | 480 x 480 pixels | 1200 x 800 pixels |
| Voice control | Amazon Alexa | Google Assistant | Amazon Alexa | Amazon Alexa | Google Assistant |
| Camera | 5 MP | None | 12 MP | 0.3 MP | 5 MP |
Getting to Know the Amazon Echo Show
Our immediate impressions of the Echo Show were largely positive, but the more we played around, the more disappointed we became. The screen is large and clear, the sound quality is superb, and the nice minimalist design fits into any decor. After a while, though, the Show started to feel like a glorified Echo Dot; everything on the Show still runs through Alexa, and with limited video options, the screen serves mostly as a clock and picture frame.
Our First Impressions:
Impressive screen
Full, immersive sound
Difficult to navigate using only Alexa
Frustrating setup for apps like Spotify and Apple Music
Setting up the Echo Show is incredibly simple — just plug in the power cable and log in to your Amazon account – but getting it to do what you want is a little trickier. Most notably, you need to download the Amazon Alexa app to your phone to set up non-Amazon apps like Apple Music and Spotify. It felt disjointed to be constantly navigating between our phones and the Echo Show as we tried to connect our accounts, and the Amazon Alexa app was a frustrating experience on its own, as evidenced by its 2.5-star rating on the App Store and 3.4 on Google Play.
Everything (frustratingly) runs through Alexa
There's very little you can do with the Echo Show that doesn't involve using Alexa's voice commands. Just about the only app you can use without voice command is the internet browser — Amazon lets you choose between its Silk browser and Firefox — and the only way to get there is to ask Alexa to open it.
Unfortunately, Alexa was much less reliable than we would have liked. Alexa does a great job with simple tasks like telling you the weather, checking your calendar, or setting a timer, but it has confusing quirks on more complex commands. For example, when we asked Alexa to "Open Spotify," she told us to "go to the Alexa app to manage [our] skills and video devices." However, "Play Spotify" immediately played the last song we had open in our account.
Alexa works well for simple commands like checking your calendar or answering trivia questions but requires specific phrasing for tasks like playing music and videos.
We encountered the same issues in our review of voice assistants, where Alexa was more likely to answer questions incorrectly or misunderstand commands when compared to Google Assistant.
Easy-to-use smart home controls
Perhaps the biggest improvement Amazon made with the second generation of the Echo Show is its Zigbee integration, a smart home protocol that allows connected devices like light bulbs and doorbells to communicate with one another. This is a huge win for the Echo Show, as there are over 2,500 devices that use the protocol.
The new Echo Show comes with Zigbee integration, a welcome addition that opens up its smart home hub to 2,500 connected devices.
The smart home hub is simple to use, with all of the available devices listed on one page. It's also one of the few features accessible from the home page's pulldown menu, so you can access it without using Alexa. You'll still need to use the Alexa app to add each of your connected devices initially, but after that step, the smart home hub is a breeze to manage.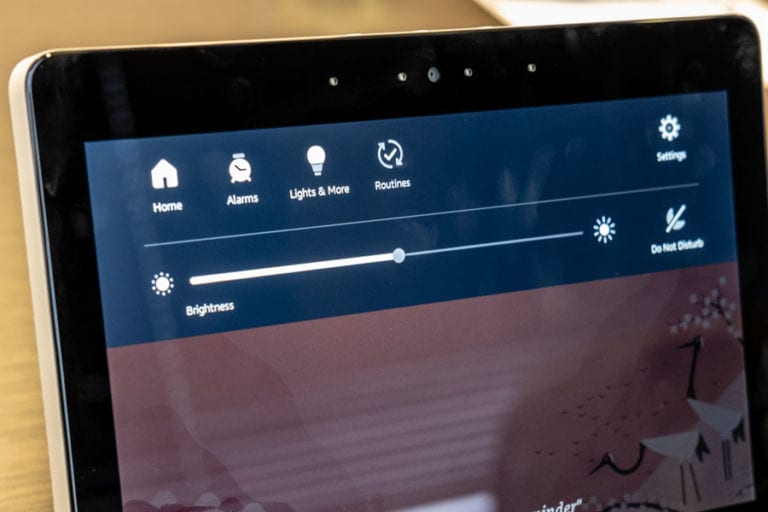 Powerful speaker
One of the Echo Show's biggest wins is its new and improved speakers, a pair of 2-inch neodymium drivers with a passive bass radiator. If that sounds impressive, that's because it is. Neodymium is considered the strongest natural magnet in the world, so speaker drivers made from the metal are able to produce huge sound with no distortion, even in a small package like the Echo Show. We're by no means audiophiles, but the Echo Show's speakers blew us away.
The Echo Show's dual neodymium drivers provide a heavily sculpted sound that easily fills up the room even at the highest volumes.
When we compared it to our Bose SoundLink, the Echo Show more than held its own. It completely filled up the room, with a significantly richer bass that literally vibrated our table at higher volumes. Even with that fullness, the vocals on songs like Queen's "Bohemian Rhapsody" still sounded delightfully crisp. We also found spoken word content like podcasts to be perfectly clear.
The bottom line? The Echo Show could easily replace most Bluetooth speakers and would be a significant upgrade in many cases. You won't be able to move it without unplugging it and finding a new outlet, but it hits such high volumes that you likely won't have to.
Large display, but not much to use it on
The Echo Show's 10-inch HD screen set our expectations high for its visual content, but Amazon largely disappointed when it came to utilizing this real estate. We would have loved a home screen with our apps displayed for those times when we're already within reach of the device and just want to navigate by hand. You can't see the songs in your Spotify playlists, for example, or find an older episode of a podcast from the Echo Show. It pushes you to stick with general commands like "Play my soul playlist" or "Play 'The Daily' podcast," a maddening experience for those of us who like to browse.
The streaming apps it offers are limited, too, restricted to just Prime Video, Hulu, and NBC so far. While the lack of Netflix was disappointing, we can't blame Amazon; the streaming giant currently doesn't allow its service on any smart displays. Still, we would have liked to see live streaming apps like DIRECTV Now and YouTube TV — if we want to keep watching the game while we're making dinner, say — something Google Home Hub lets you do with Chromecast.
The Echo Show's visuals are lackluster overall, and it's missing key video apps like Netflix, HBO, and YouTube.
It's no secret that Amazon and Google don't play nice together, but the lack of a YouTube app on the Echo Show was a letdown. You can access it by going to YouTube in the web browser, but this is one of the few places you won't be able to use voice commands. Ask the Echo Show to play videos and it defaults to showing selections from DailyMotion and Vimeo. This wasn't a dealbreaker, but it was another mark in Google's favor over the Echo Show.
The maps function is also bewildering. Ask the Echo Show for directions, and it simply tells you how long it will take to get there and what main streets you'll use. That's a huge step down from Google's Home Hub, which gives you a detailed illustration, step-by-step instructions, and live traffic updates.
The Bottom Line
The new Echo Show is a big improvement from the first generation, but it still has some glaring holes. The visuals largely disappoint, Alexa's voice controls are frustrating outside of basic commands, and it lacks integration for many essential video apps. That said, the sound is extremely impressive and may be worth the price of admission alone. With its new Zigbee integration, it's also a capable hub for all of your connected devices. But for most people, we don't think it's worth the extra $80 over the Google Home Hub unless you're already committed to Amazon's ecosystem.