The Best Sunrise Alarm Clocks
Sunrise alarm clocks are a great way to ease yourself into the day. They are designed to simulate the sunrise to make waking up a gentler and more refreshing experience. We tested 8 of the best clocks for their sunrise simulation, extra features, and usability. The best for you will depend on your lifestyle and how you prioritize cost, waking by light, and additional features.
Analysis paralysis? Subscribe to our newsletter.
The 4 Best Sunrise Alarm Clocks
The Best Sunrise Alarm Clock: Summed Up
Philips Somneo Sleep and Wake-Up Light
Philips
Philips Somneo Sleep and Wake-Up Light
Pros
Successful sunrise
Dynamic interface
Additional features
Cons
Steep cost
Snoozing leaves the light on
Takes up a lot of space
Why we chose it
Successful sunrise
In our testing, the Philips Somneo provided a consistently successful sunrise waking. Each time we used the clock we were woken just before the sound alarm kicked in. That gradual rise from the depths of our dreams makes the Philips Somneo a top pick. Even its design is dedicated to maximizing light surface, with every part of its space-like shape emitting light. And it's a bright light. If waking by light is a priority in your search for a sunrise alarm clock, rest assured the Somneo has mastered it.
A dynamic interface
The Philips Somneo skips trying to cram a bunch of physical buttons into its design. Instead, it uses a dynamic touch-screen with an interface that changes as you move through settings. There's no room for confusion with this method, and we found the Somneo to be the simplest to operate. It uses little icons to clearly present settings such as light, sound, and alarm — it's as easy as tapping through settings on your phone. You can even turn off that audible tapping sound if you prefer quieter interaction.
Part of that simple setup includes creating two "wake profiles" that will save your alarm preferences for quick, late-night setting. For turning the alarm off in the morning, the screen displays just one button that you can roll over and tap — no button mashing until the blaring stops. Alternatively, you can snooze the alarm for 9 minutes with a touch to the top of the alarm.
Tapping through the Philips Somneo interface was very intuitive.
Additional features
We found the Philips Somneo hosts just the right amount of additional features to increase its overall value, but without sacrificing its core function. You'll find two ports on the back of the clock: for USB and auxiliary cords. This makes it easy to maximize your wall plugs and charge your phone through the clock. You can also use the Somneo as a speaker with its auxiliary port and plug — though you can't use your own music as the alarm sound.
When it's time for bed, Somneo also offers a sunset simulation and a guided breathing wind-down. We found both options to be pretty calming and a nice way to ease into sleep.
There's also a night light function that offers a cozy orange light separate from the regular lamp, for late-night illumination. It's not too bright that it'll wake you up, but not so dim that there are still suspicious shadows in your room. And if you prefer pitch black, you can turn off or dim the clock display. It'll still wake if you tap the touchscreen for a quick peek at the time, and will dim away again as you roll over for another hour of shut-eye.
Points to consider
Steep cost
At $200, the Philips Somneo is the most expensive sunrise clock we tested. Another of our favorites, the hOmeLabs Sunrise Alarm Clock, costs $20 and hosts many of the same features. So what difference does $180 make? Probably not quite enough to warrant that large of a price gap. The Somneo offers a more elegant and effective execution of its features, and what seems like higher quality construction. Overall, it's a worthwhile investment for those serious about using a sunrise alarm clock. But if you're more casually curious about the idea, a cheaper model will satisfy.
A few flaws
There are a few small quirks we weren't in love with when testing the Somneo. First of all, it's the largest alarm clock we tested. It's 8"x8" profile is nearly double the size of other favorites. If you have limited space on your nightstand, the Somneo could be problematic.
The Philips Somneo takes up much more space on a nightstand than the Casper Glow Light.
We also weren't big fans of the snooze function. Though the tap function to initiate it is super seamless, it only snoozes the alarm sound. The light will remain on unless you turn it off through regular settings. Because the light is bright enough to wake you up, leaving it on for snooze seems counterintuitive. While it's possible that's appealing to some people, we would have appreciated the option to have it off too.
Though the clock does offer a fair range of sounds, you're limited as to when you'd like to use them. For example, the storm and ocean sounds are only available for the sunset sleep timer. While morning birds and yoga-style meditation melodies are reserved for the morning alarm. We didn't consider this a big dealbreaker, as the sounds tend to align with their designated purposes. But competitors offer more freedom for sound customization.
iHome Zenergy Bedside Sleep Therapy Machine
iHome
iHome Zenergy Bedside Sleep Therapy Machine
Pros
Feature-packed
Mobile app
Cons
Sunrise is secondary
Too many buttons
Why we chose it
Featured-packed
There is no feature the iHome Zenergy doesn't pack into its sturdy prism. It hosts 10 different sound options — you can wake to a rainy storm or ocean waves, white noise or zen chimes. Each one is naturalistic and soothing, with one exception — a creepy heartbeat sound that gave us some "Tell-Tale Heart" vibes. Accompanying its many sounds are a collection of color options. From the app, you can choose from 10 presets, such as "Aurora" — which features a soft changing rainbow resembling the northern lights. Or "Energy," which is full of swirling blue tones to inhibit melatonin.
The iHome Zenergy in its "Aurora" light mode.
You'll also find a sleep timer option, two separate alarm profiles you can set, and an FM radio. The iHome Zenergy also has USB and auxiliary ports, and Bluetooth connectivity. You can stream music from your phone, charge your phone, and use the iHome as a speaker for calls. When it comes to features, there isn't a box the iHome didn't check. If you're looking for an incredibly multi-functional alarm clock that also has a sunrise simulation, the iHome Zenergy is for you.
Mobile app
The iHome Zenergy offers an optional app for Android and iOS devices. It's a bit dated, but all the essential functionality is there. It makes setting every detail of your alarm seamless. Whether it's setting the clock, tuning the radio, setting the sleep timer, or creating a weekday alarm — you won't waste time trying to read a manual or learn a sequence of buttons. Because there are so many setting and customization options, we really valued being able to set them all in the app.
The Zenergy mobile app allows you to set alarms and sleep timers from your phone.
Points to consider
Sunrise is secondary
Because the iHome does so much, the sunrise function isn't as core to the product. When testing, we usually woke up with the sound alarm and not by light alone. The sunrise simulation should still get you closer to waking up than not using it, but overall it didn't execute this feature as well as the Philips Somneo.
So many buttons
So we counted, and there are 27 buttons on the iHome Zenergy. Meanwhile, the Casper is sporting one. While the iHome compensates with its mobile app, there's still a steeper learning curve for using all the buttons.
Some of the iHome's many buttons.
Casper Glow Light
Pros
Sleep centered
Simple and sophisticated functionality
Sync multiple units
Cons
No clock functionalities
No snooze or sounds
Why we chose it
Sleep centered
Everything about the Casper Glow Light is centered on creating a cozy sleep environment. Its shape is designed to blend into the sleep environment, with a soft roundness reminiscent of a cloud. Rather than a bulky clock sitting on your nightstand, the Glow Light's shape adds to the general sleep ambiance. You can even buy it in pairs and sync them — like a constellation of lights or candles.
The Casper offers a subtle and minimalist design, without sacrificing power.
It skips out on some alarm clock classics (more on that later) but makes up for it by truly delivering on its core function. If you're set on waking up each morning naturally, the Glow Light won't let you cut any corners. There's no safety net of a backup sound alarm; if you want to wake up by light Casper isn't giving you any other options. Kind of hardcore, in our opinion. And certainly confident.
Some of the cheaper products we tested (such as Utorch), were far too dim to ever wake up us by light alone. But in our testing, we did wake each morning to the Casper's sunrise simulation. The only catch is we typically woke up after the time we had set the alarm for, by about 30 minutes. If you're a deeper sleeper and have a necessary wake-up time, we advise budgeting about 40 minutes until your body becomes more accustomed to the light signal. The more we used it, the closer we woke to the time we set.
Simple and sophisticated functionality
There are only two buttons on the Glow Light, and every other option is done by twisting, flipping, or wiggling the light. The buttons on the top and bottom pause and resume its default-dimming mode for alternating between a sleep timer and a lamp. To turn it on, you pick the light up and wiggle it. To turn it off, you simply flip the light over. If you wish to adjust the brightness, you simply twist the Glow Light. The entry barrier for use is so low that it could be good to use with kids, too. The dimming sleep timer might be an effective way to signal bedtime. And the rising sun simulation could gently cue kids it's time to wake.
Controlling the Casper just takes a flip and a twist.
Wireless and portable
There are no plug-ins or batteries for the Casper Glow Light. It charges using a wireless platform and this means you can take it on the go. If you want to make a midnight snack or bathroom run without fumbling in the dark, simply pick up the Glow Light and give it a wiggle. The Casper will read the room, so to say, and adjust to a brightness level fitting for the room's brightness using its ambient light sensor.
Points to consider
It's not a clock
The Casper Glow Light is not an alarm clock. It's more like an alarm light. As a result, there are a few things missing that could hinder some morning routines. It has no clock display, so you'll still have to pick up your phone to check the time.
And while you're at it, might as well set a conventional alarm on your phone too. Without a backup sound alarm, there's a fair chance you could wake up later than intended with the Casper light alone. Snoozers will be disappointed to learn that the Glow Light has no snooze option. You could open the app and set another alarm time, but by the time you've put in such effort, you're probably wide awake anyway. Those with flexible schedules or who like to sleep in on the weekends might not mind the longer runway for wake-up time.
hOmeLabs Sunrise Alarm Clock
hOmeLabs
hOmeLabs Sunrise Alarm Clock
Pros
Sunrise simulation
Great value
Why we chose it
Sunrise simulation
The hOmeLabs' 30 min sunrise was bright enough to ease our testers awake, and just before the backup sound alarm kicked in. It was subtle and soft, but not too dim. Not every product we tested was bright enough to achieve this feat. We would trust the hOmeLabs with achieving a gentler start to the day. Its snooze button is the largest and most prominent, so you won't miss it. And you can customize the length of snooze to 5,10,15, or 20 minutes.
The hOmeLabs in its lamp setting.
Great value
For only $20, the hOmeLabs packs in just as many features as its $100+ competitors. It has 10 brightness levels and eight color options. It offers six sounds to choose from and has FM radio functionality. The clock has a backup alarm, backup battery, and a USB port for charging your phone. There's little you'd miss out on with the hOmeLabs Sunrise clock, especially for its price. If you aren't ready to invest in a more expensive sunrise clock, the hOmeLabs is a great place to start.
Points to consider
Quirky execution
We love that the hOmeLabs clock has so many features. However, the execution of them is a little wacky. The sounds for example: Some sound like funky text tones that come default on an old flip phone. There's also a sound option that sets screeching birds to the background of classical music.
The many color options are also far too vibrant. Though there is a setting that cycles through the colors in a softer way, they're generally kind of obnoxious. We'd call these quirks forgivable when faced with hOmeLabs' cheap cost, but you might opt for the iHome Zenergy if color customization and lulling sounds are a priority.
The hOmeLabs' bright colors aren't exactly soothing.
How We Chose the Best Sunrise Alarm Clocks
The latest innovation in sleep technology is the sunrise alarm clock. These clocks use light to replicate the sunrise and are meant to wake you more gently than a conventional alarm clock. So rather than jolting awake to a quirky alarm tone, a wake-up light alarm clock will slowly introduce light at increasing brightness levels. The design is meant to draw you out of sleep at a more natural pace with a dawn simulation.
"Waking up gradually by light will help you wake up with a better mood and more refreshed and energized feeling."


Dr. Roy Rayman Vice President of Sleep Science and Scientific Affairs at SleepScore Labs
If your morning routine involves dreading the moment your alarm goes off, this could be a pleasant alternative. We rounded up some of the most popular and well-reviewed devices, with a wide range of additional features.
The eight alarm clocks we tested.
Sunrise simulation
"A light alarm clock copies Mother Nature's wake up signal; the sunrise," said Dr. Roy Rayman, VP of Sleep Science at SleepScore Labs.
Our first, and most obvious, requirement was a satisfactory simulated sunrise. This feature should be core to the products' function.
Typically, the clock will begin introducing light 30 minutes before the alarm time you schedule. The light should start to signal to your body it's time to wake up. But that doesn't mean you have to wake up by the light alone. If there's a sound alarm that follows the sunrise, and you wake up to that, you're still not dragged awake from a deep sleep so abruptly as with a typical audio-only alarm.
For example, when testing the Electrohome Retro Alarm Clock, we found its light feature was simply too small in relation to the product. It couldn't emit enough light to have an effect on how we woke. An effective sunrise simulation was key in our hunt for the best wake-up light alarm clock.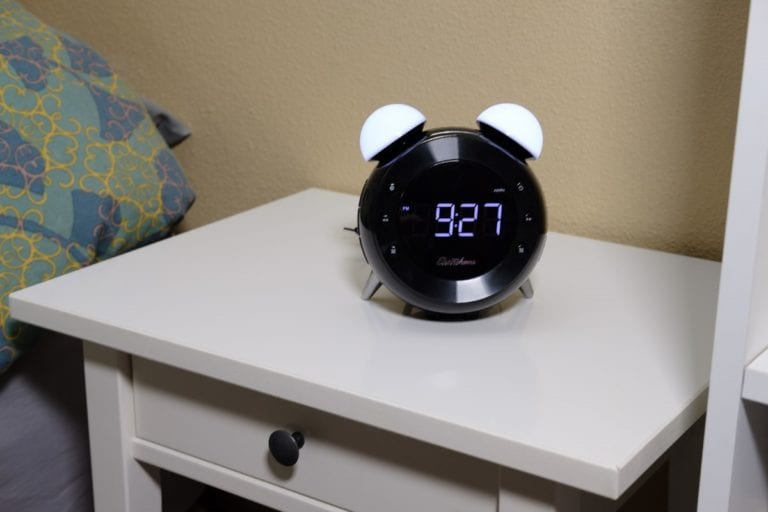 The Electrohome Retro Alarm Clock wasn't bright enough to wake us up.
Multi-functional
The best sunrise alarm clock will offer more than just a sunrise simulation. We wanted to find products that could offer multi-functional value. If a clock is going to be taking up some space on a typically small nightstand, it's best if it can provide more than one use. The extra features we looked at were: FM radio, ports, sunset simulation, color-changing, sound options, mobile app, and lamp functionality. We didn't require every clock to have all of these extra features, just enough or the right mix of them to stand out. The best would ace the sunrise waking and go above and beyond to offer more value and use from the product.
Usability
What's the point of having all these fancy features in an alarm clock if you don't know how to use them? You'll typically be using the clock at some of your sleepiest points in the day, right before bed and when fumbling for the snooze button. So we tested the clocks for the simplicity of their settings and general ease of use.
One clock that failed to impress here was the Lumie Bodyclock. Setting a sunrise alarm with sound was like mastering an ultimate combo on a video game — press X twice, then Y and B at the same time, shake to ignite. You would need some serious patience, and perhaps a good bit of trial and error, to be confident you've properly set the alarm.
Our favorite sunrise clocks were simple to set, offered additional features, and helped up wake up a little less groggy.
Guide to Better Sleep
Limit caffeine
We know, this one is hard to hear. But caffeine has a half-life of six hours and can prevent deep sleep if it's in your system when you go to bed. Studies have shown that having caffeine six hours before bed can reduce total sleep time by one hour or more. We're not telling you to avoid it entirely, just consider avoiding caffeine after about 2 p.m.
Shoot for seven hours and keep it consistent
Simply getting more sleep seems like an obvious goal, but it's not that easy to achieve. Experts advise targeting between seven and nine hours of sleep each night. But perhaps more important is achieving consistency. Bill Fish, the co-founder of Tuck, a website devoted to all things sleep, told us, "Just as it is natural to rise with the sun, our bodies also want to sleep and wake at the same time each day. If you keep your routine as consistent as possible it will produce positive results quickly."
Block out light
This advice might sound a bit counter-intuitive in a review of wake-up light alarm clocks, but blocking out as much light as possible will help you rest deeper. Introducing light when it's time to wake up isn't really what we're talking about here. Even the tiniest bit of light can disrupt sleep and prevent your pineal gland from producing melatonin, the hormone that regulates sleep and wakefulness. If the sun rises into your room, black-out curtains can work to keep out that light.
Invest in comfort
Your sleep environment should be as comfortable as possible for your best rest. This might mean upgrading your no-longer-fluffy pillow, or finally getting rid of your mattress from college. Comfort will mean something different to each person, but you'll want to make sure your body is supported and that you can maintain natural neck-spine alignment. The University of Rochester Medical Center recommends, "Regardless of your sleeping position, try to keep your ears, shoulders, and hips aligned." Different sleeping positions will warrant different pillow types to achieve that alignment. For example, side sleepers will want a higher pillow that can lift the head to align with the back. If you don't look forward to crawling into your bed at night, it's probably time to diagnose the reason why, and take steps to remedy it.
Sunrise Alarm Clock FAQ
Why is the snooze button 9 minutes?
Many alarm clocks default their snooze time to nine minutes. Even your iPhone's alarm function snoozes for nine minutes. The answer dates back to when the snooze feature was invented in the 1950s. The teeth on the snooze gear were aligned in such a way that they could only mesh with the existing gear configurations at either a little over nine minutes or a bit over 10 minutes. After some testing on the part of early clockmakers, they found nine minutes tended to land before sleepers entered a deeper cycle of sleep. Flash forward to today, and it's tradition and industry practice to maintain that nine-minute standard.
Do sunrise alarm clocks work?
The short answer — probably. There are a lot of personal factors such as how light of a sleeper you are, what time you wake up, and how consistent your sleep schedule is, that can all affect whether a wake-up light alarm clock would work for you. So far, studies have shown that dawn simulation has (modestly) improved quality of sleep and alertness upon waking. There are no obvious negative effects of using one, so it's certainly worth a try.
What is social jet lag?
Social jet lag can wreck your sleep schedule just as bad as a trip across the country. Staying up late on the weekends, "catching up" on sleep by sleeping in, or taking an extra long nap, can all seriously skew your sleep cycle. Consistently subjecting yourself to this form of jet lag can lead to irritated moods, irregular appetites, and overall a rough Monday. These cycle disruptions have even been linked to developing smoking habits.
Related Reviews
We've been working on curating your sleep space in every way possible. Check out our other reviews on products guaranteed to improve your sleep: