Showing results for
Did you mean:
Sorry, something went wrong. Please refresh your browser and try again.
Last updated on
October 20, 2017
The Best Toaster Oven
For when you want a little countertop cooking.
The 30-Second Review
Whether you're planning on roasting a whole chicken or you just want to reheat some of that pizza from last night, the best toaster oven should be able to cook food the way you want it without asking for too much of your time or energy. We baked cookies, toasted bread, made fresh pizza, and reheated leftovers on 11 of the best models on the market. We found three excellent cooking machines for different budgets and cooking needs.
Best Overall
If you're planning on cooking small meals in your toaster oven, the Breville Mini Smart Oven can do it better than most full-sized ovens, providing customized settings that adjust its heating elements based on what you're cooking. We loved its easy-to-navigate features, which produced near-perfect toast and cookies at a midrange price ($150). The only downside is its size — the Mini Smart Oven couldn't fit a full chicken, for example. But for a compact toaster that's adept at everything from toast to baked goods and frozen meals, this machine is unrivaled.
Best Budget
If you only imagine using a toaster oven for the basics — toast and leftovers — the Hamilton Beach produced some of our best results on these tests. And while it struggled on dishes that required longer cooking times like cookies and frozen mac and cheese, this is an excellent option for quick meals.
Best Oven Replacement
Cuisinart Chef's Convection Toaster Oven
The spacious Cuisinart Chef's Convection Toaster Oven ($260) can seemingly do everything a full-sized oven can: roast an entire chicken, cook a 13" pizza, and bake a fresh batch of cookies. But unlike other expensive all-purpose models, it didn't leave us reaching for the manual at every step.
The Best Toaster Oven
Our overall pick, the Breville Mini Smart Oven, will suit the needs of most people. It has eight customized settings including "Cookies," "Toast," and "Pizza," and it adjusts its four heating elements for whatever option you choose. We were unsure how well these presets would work, but the results spoke for themselves: The Mini Smart Oven made chocolate chip cookies with crunchy edges and a gooey interior, and it produced the best batch of toast of any model we tested. It's smaller than other toasters at its price ($150), but we found the Mini Smart Oven's size to be as much of an asset as a weakness: It took up less room on the counter than its peers without sacrificing any functionality.
If all those features sound like overkill, consider the Hamilton Beach Easy Reach Oven, our budget pick ($50). The Hamilton Beach is a sturdy, no-frills machine, and despite it's sing-songy name, it's designed to do the basics really well. It toasted bread and reheated leftovers better than other toasters in its price range, producing results that were even and consistent every time. We also loved its unique door design; instead of folding down like every other model we tested, the Easy Reach's door slides over the top of the oven, keeping the glass clean when you pull out your food.
If you're looking for something that can completely replace a conventional oven, we recommend the Cuisinart Chef's Convection Toaster Oven ($260). While our other toaster ovens only had room for six slices of toast, the Cuisinart managed to fit nine, meaning you've got plenty of space for more ambitious meals. It also has 12 pre-programmed cooking settings, three more than anything else we tested. More settings isn't necessarily a guarantee of better quality, but we liked knowing that whatever we could imagine cooking, it walked us through in an easy, intuitive way. Choose toast and the Cuisinart asks you how many slices, then targets its heating elements accordingly. And that functionality ultimately made for better meals — the Cuisinart produced the best fresh pizza we tested.
How We Found the Best Toaster Oven
The world of toaster ovens is remarkably diverse — there are popular models for $30 and some as high as $550. Some toasters had two settings (bake and toast) and a manual dial, while others boasted a dozen different presets and a fully digital display. Given that range, our goal was to find out what that money bought you and how well these toasters made food like toast, cookies, and fresh pizza. How did a $450 model toast bread differently than a $30 one? Could those same budget toaster ovens also bake cookies? What was their breaking point?
With that in mind, we divided our research into three tiers based on their prices and cooking capability: budget, midrange, and high-end. We didn't expect our budget picks to successfully roast an entire chicken; they had fewer heating elements, a smaller internal capacity, and timers that only went up to thirty minutes on average (and one with no timer at all). These machines clearly weren't designed for those kinds of dishes, and it wouldn't be fair to pit them against ones that did. In general, the size of the machine went up with the price: On average, high-end ovens could fit twice as much toast as the budget models.
From there, we only looked at toaster ovens that had received high scores from sites like Consumer Reports and America's Test Kitchen. Unfortunately, these sites focused almost exclusively the priciest toaster ovens available (as it turned out, a $550 toaster oven performs pretty well). Knowing that not everyone wants to spend half a grand on a toaster oven, we also included top sellers with great user reviews from retailers like Amazon and Bed Bath & Beyond, leaving us with 11 toaster ovens: four budget, four midrange, and three high-end models representing the best of the best in each tier.
The 11 Toaster Ovens We Tested
Budget Toasters
Black and Decker 6-Slice Toaster Oven
Hamilton Beach Toastation
Hamilton Beach Easy Reach Oven
Oster 4-Slice Toaster Oven
Midrange Toasters
Breville Mini Smart Oven
Krups Delux Toaster Oven with Convection Heating
Oster Large Digital Countertop Oven
Panasonic Flash Xpress
High-End Toasters
Breville Smart Oven
Cuisinart Chef's Convection Toaster Oven
Kitchen Aid 12″ Convection Digital Countertop Oven
First, we toasted bread to see how easily we could operate the toasters.

We wanted to get a general sense of what these toaster ovens were like to use, so our first test was our most basic: How well could we make toast with these machines? So we filled each oven to capacity with standard 4" x 4.5" slices of white bread and set them to medium shade. We were looking for an even color across all slices, no noticeably burnt or uncooked spots, and settings that were as accurate as they were easy to set.
Unsurprisingly, the cheaper models generally come with cheaper settings. Three of our budget picks used timers to get the right shade — not inherently a problem, but the distance between the light and dark shades on the dial was often miniscule. On the Hamilton Beach Easy Reach Oven, there's practically no space between the light and dark options, forcing us to keep an eye on our toast the entire time it was in the oven. The Hamilton Beach Toastation was top-loading, and used a shade dial like a conventional toaster. Unfortunately, the small heating coils were located near the top of the oven, so the bread came out dark on the top two thirds and hardly browned at all on the bottoms.
The toasters in our more expensive price categories turned out to be much easier to use. Their digital displays let us choose how dark we wanted our toast to be on a numerical scale (usually 1-7, with 1 being the lightest). Once that setting had been entered, the toasters automatically set the temperature and time. We found this setup to be simpler and more convenient than the budget options' dials.
Results were all over the board, but to our surprise, the cheaper models generally fared better on this test than the most expensive ones. That was because our cheapest models held 3.5 slices of toast on average, while the most expensive held seven. In general, the fewer slices a toaster held, the easier it was to get them all the same shade. For example, our cheapest oven, the Oster, toasted bread better than anything from our top tier (even if it only fit two pieces instead of the advertised four). One of the more surprising results was the varying shades of toast we got, despite aiming for a medium shade on every machine. Sometimes the bread came out a little overdone, sometimes it seemed almost untouched. Only the Breville Smart Mini Oven toasted every slice exactly to the warm golden brown we wanted.
Ovens that could fit more than four pieces of bread ended up with the same dark center and light outer edges, regardless of price or technology. The $280 Kitchen Aid was the worst offender, giving us a noticeable charred stripe down the middle. It wasn't a dealbreaker in most cases — the toast was always edible — but if you're looking for perfectly even toast, we recommend sticking to four slices at a time.
Then we reheated leftover pizza in our budget picks ovens to check for even heating.
Our budget toasters were smaller than the other models and were mostly limited to "bake" and "toast" settings, so we didn't expect as much out of them. But we wanted to make sure they passed a pretty basic toaster test — the ability to reheat leftover food better than a microwave. For this test, we warmed up some leftover pizza in our budget ovens, looking for melted cheese, crispy crusts, and even heating across the slices.
They all did an adequate job, but the Hamilton Beach Easy Reach Oven stood out. The cheese melted like it had been freshly baked, and the bottom got a nice crisp without drying out. We'd invest in one of these just so we never have to eat soggy microwaved leftovers again. In contrast, the Black and Decker melted the cheese quickly, but the bottom still felt a little limp and undercooked.
All of our budget picks were easy enough to operate in this test — we just set the temperature to 350 and put two pizza slices in each oven. None of them had a preheating indicator like the more expensive models; their manuals just recommended waiting five to ten minutes, which we found added an unwelcome element of mystery to this test. Was the toaster ready now? Did it need a few more minutes? The guessing game wasn't a huge inconvenience, but it's part of the tradeoff for budget toasters.
If you just want to do some basic toasting and reheating without turning on your full-sized oven, these budget picks will do just fine. But you should know there's a limit to what these cheaper toaster ovens can do. For one, the baking pans that were included were extremely thin and ill-suited for longer cooking times. We found this out the hard way when we tried to make frozen mac and cheese. The pans warped after about 10 minutes at 375 degrees, lifting one side of the plastic container closer to the heating coils and filling our kitchen with a sour plastic smell. If you're planning on using your oven for more time-consuming meals, you're better off investing a bit more money.
For our midrange toasters, we baked cookies to test temperature precision.
We expected a little more out of this tier of toasters, which ranged from $80 to $150. For that money, you get convection technology that promises more consistent heating throughout the oven. (The Panasonic Flash Xpress is the exception; instead of convection technology, it uses "double infrared heating," which causes it to glow brightly while it cooks.) We expected these convection ovens to give us more accurate temperatures, and we wanted setup to be pretty straightforward — if we're paying $100 or more for a toaster, it shouldn't be a hassle to use.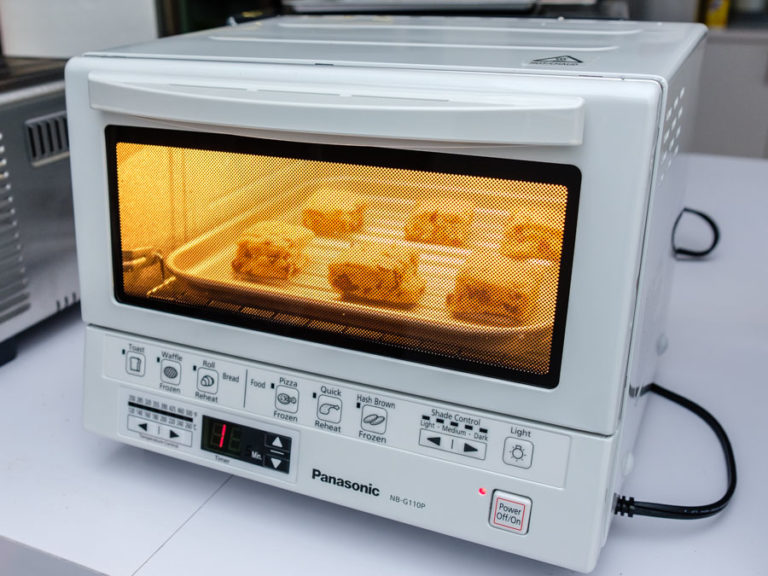 To give these toasters a challenge, we baked batches of six Toll House chocolate chip cookies in each. We chose cookies because they're a little more delicate and challenging for convection heating — we'd be able to tell immediately if it was just a glorified fan that would scorch our meals or if it actually helped food cook quicker and more evenly. After all, there's no hiding the disappointment of a hard, dried out cookie.
Essentially an oven with a series of fans inside, convection heating works by moving the hot air around to keep temperatures consistent around the oven. This does cook your food faster, so a good rule of thumb is to reduce the temperature by about 25 degrees, and start checking in with about a quarter of the time left. You also run the risk of your food drying your out, so be careful with desserts like cakes and souffles.
We loved the Breville Mini Smart Oven almost instantly. It has a dial that allows you to access preset cooking modes for things like toast, pizza, and — conveniently for us — cookies. Presets aren't a guarantee of quality, but the Breville's proved useful and intuitive at every step. If we wanted to make toast, for instance, it would then prompt us for the number of slices. That specificity allowed its heating coils to target specific areas of the oven, producing results that were consistently better than its competition. The Panasonic seemed more interested in its retro appearance than thoughtful features, forcing us to turn the machine off if we wanted to change some settings. And the Oster Large Digital Countertop looked more like a microwave, but was one of the least convenient machines we tested, forcing us to click down from thirty minutes to seven as its preheating method. So much for not being a hassle.
Of our four midrange picks, the Breville and Krups baked perfect batches of chocolate chip cookies. Each cookie was the same consistency and temperature regardless of where they were on the tray: Corners and center cookies were soft and gooey in the middle with a nice crisp on the outside. For a couple hours, our testers were the envy of the office.
Other models didn't fare as well. We ran into the same problems with the Panasonic Flash Xpress that we had in our toast test: The cookies were a little more cooked and dried out in the back where the heating elements were concentrated, and while the retro aesthetic was undeniably cool, it clearly sacrificed some functionality to get there. For example, it uses a temperature scale based on Celsius, increasing in intervals of 20 degrees Celsius. So it only has an option for 355 instead of the 350 our directions required. That wasn't a huge deal, but what if we had a recipe that needed 400 degrees? We'd be forced to choose between 390 and 425, a weird game to have to play with your toaster oven when most other toasters offered more precise settings.
Freshly made pizza helped us test the power of our high-end picks.
Before we even started cooking with our top tier toaster ovens, it was clear that they could do a lot more than just toast and leftovers. They had more internal capacity than any of the other models we looked at, and more cooking modes, like "Roast," "Broil," "Pizza," and "Cookies." While we'd be pleasantly surprised if one of our cheaper models could roast a whole chicken, we expected that out of this top tier.
Since all three of our most expensive toaster ovens came with specific pizza settings, we decided to cook fresh 12" pepperoni pizzas in them to test the effectiveness of their presets. We looked for the cheese to be melted evenly and the crust to have a nice crunch to it. And because we were paying $250-$450 for these machines, we expected usable preset functions with a quick, painless setup. At those prices, we wanted these machines to basically run themselves.
A few toasters impressed us before we even started cooking. The Cuisinart Chef's Convection Toaster Oven came with a 13" pizza stone that ultimately produced the best results of the group. The differences were pretty subtle — a puffier crust, more evenly melted cheese — but worth it for someone who's going to be making a lot of pizzas. The overall experience was just better, too — add-ons like the +30 second button and interior light seemed minor at first, but we missed them in other models. The Breville allows you to fine-tune your cooking time with a dial, which we appreciated, but it wasn't quite as convenient as the single button on the Cuisinart.
The Breville and Kitchen Aid both made fine pizzas, too, but it wasn't quite as simple to get there. We couldn't monitor how they were cooking as easily without the interior light, and were forced to open the door a couple times to check on them — a moderate inconvenience for the price we paid.
And while the Breville came with a standard metal pizza pan, the Kitchen Aid didn't come with any pizza accessory at all, a strange oversight considering its $450 price tag and specific pizza setting. Placing it directly on the rack wasn't a huge deal, but with only a 12" capacity, we could see it turn into a headache trying to find a smaller pan that would fit.
Our Top Picks for the Best Toaster Oven
Best Overall
The Breville Mini Smart Oven is elegant to look at, intuitive to use, and produced the most consistent results of any toaster oven we tested. And while it is a little smaller than most other models in its price range, we actually liked how little room it took up on the counter.
Before we started testing, we were skeptical of the Breville's Element IQ heating. But it's not just marketing: The Breville delivers amazing results by targeting its heating elements according to the preset and quantity you choose. And while the Oster and Panasonic produced perfectly nice batches, the Breville was the only oven that truly surprised us when we pulled out the rack. It was the best toast we made, an even gold all over that was true to its medium shade setting.
We saw the difference in our cookie test as well. Along with the Krups, the Breville's cookies had a perfect balance of crispy edges with a soft interior. And unlike the other models, each cookie was baked exactly the same. The Panasonic gave us cookies much darker in the back than the front, while the Oster's convection feature completely dried out the dough, even after adjusting the time and temperature.
Through all of our tests, the Breville was just the most enjoyable to use. We weren't constantly forced to consult the manual or second-guess what we were doing. It holds your hand through every step to help you get the best results. If you choose the toast setting, it prompts you to pick a shade from from a seven point scale and then how many slices you're making. It also tells you when it's preheating and when it's ready, a minor convenience in theory, but essential if you're going to be doing a lot of baking. That stood in stark contrast to the Oster, which has a bizarre preheating method of having you set the timer at seven minutes, but makes you count it down from 30 to get there, one cruel click at a time, every time you use it.
In truth, the only thing that separates the Breville Mini from toaster ovens costing $100 more is its size. It has all the cooking functions, the same 1800 watt power (300 more than anything else in its price tier, so it preheats almost immediately), and scored as well on our tests as anything. But unlike our upgrade pick, the Cuisinart, it'd be hard to replace your conventional oven with something this small. We actually appreciated how snugly the Breville fit on the counter — you won't have to rearrange your whole kitchen just to accommodate it — but if you imagine roasting a whole chicken in your toaster oven, you're better off opting for something roomier.
Best Budget Pick
For a simple, well-built toaster oven that's mastered the basics, the Hamilton Beach is an absolute workhorse. And while it lacks some of the functionality of its more expensive peers, you can't beat its reliability at $50.
As soon as we took the Easy Reach Oven out of the box, it felt more impressive than our other three budget options. It was by far the largest of the group, giving it an internal capacity usually reserved for models twice its price. It has settings for baking, broiling, toasting, and convection baking, more than any other budget option we looked at. The Black and Decker did have a convection option, but you also couldn't turn it off, a problem if you wanted to bake something more delicate like a souffle or cake.
What really won us over, though, was the door design. Unlike every other model we tested, the Hamilton Beach has a door that rolls up instead of folding down (hence its name). We get it — that seems like a pretty trivial detail to focus on. But it makes a huge difference in how often you have to clean. That's because when you pull the rack out on most toaster ovens, it sits directly above the glass door. So while they became a magnet for crumbs after just one batch of toast, the Hamilton Beach looked pristine throughout all of our tests. It also just felt safer: instead of reaching above a scorching piece of glass to pull out your food, the door was safely out of the way.
Granted, not everything cooked perfectly. In our toast test, the middle pieces were noticeably darker than the edges of the outer slices. But that was basically what we saw on every larger toaster oven, even the ones costing over $200. If you're going to be cooking four or fewer slices at a time, it would do the job just fine.
It's also not really suited for dishes with long cooking times. The timer only goes up to 30 minutes, a good measure of what you should expect out of a toaster oven for this price. If you're planning on using it for dishes that take longer than that, it's worth upgrading to the Breville Mini Smart Oven or the Cuisinart.
Best Upgrade
In all honesty, the toaster ovens in this price tier were all pretty great at cooking. For their high prices, they should be. Ultimately, it was the greater flexibility and customization that the Cuisinart provided that pushed it over the top for us. There was a thoughtfulness in features like the +30 second button and the interior light that the other models just didn't match. Cuisinart also offers a three year limited warranty, where the Breville and Kitchen Aid only went to one year.
If you want to completely replace your conventional oven, the Cuisinart is worth its hefty price tag. It holds nine pieces of bread — three more than any other model we tested — and fits a 13" pizza. And with its excellent convection feature and myriad accessories, we could easily see this outperforming most full-sized ovens.
Before we even started cooking, the Cuisinart began to separate itself from our other two high-end options. It came with a 13" pizza stone, as well as separate pans for baking and broiling. While the larger Breville did include two baking pans and a pizza pan, we were disappointed that the Kitchen Aid only came with one multipurpose pan. The Kitchen Aid only has a 12" capacity, so it's unlikely that any pans you'd already have on hand would fit. Granted, it's not a dealbreaker, but for $280, it'd be nice to not have to go out and immediately spend more money.
For as much functionality as the Cuisinart gave us, it was also one of the easiest to use. It has 12 preset cooking modes, three more than the Breville and Kitchen Aid. And while more isn't necessarily better, it was nice not having to think too much about getting the settings just right. Whatever we could imagine cooking in an oven, the Cuisinart had an option for, and it guided us through it in an intuitive way.
Similar to the Breville Mini Smart Oven, we couldn't really find much not to like with the Cuisinart's cooking. Granted, every slice of toast wasn't perfectly even, but we saw that problem with every bigger toaster oven, and it was still the best of our most expensive tier. Consumer Reports came to the same conclusion, declaring, "There were no discernible flaws in its performance." It all comes down to what you want out of a toaster oven. The Cuisinart will take up a ton of room on your counter, but you may never have to turn on your oven again.
Others to Consider
Breville Smart OvenThe bigger brother of the Mini Smart Oven, this toaster features a sleek design and nine preset cooking options.
We were also impressed with the Breville Smart Oven, essentially a larger version of our best mid-price oven. Like its little sibling, the Breville Smart Oven has a lot to like. The controls are just as simple to pick up, and magnets on the door of the bigger version draw the cooking rack out automatically, meaning we didn't have to stick our hands in a hot oven. It didn't do quite as well on our toast and pizza tests, but the margins were pretty slim. Ultimately it came down to space — they both had roughly the same external dimensions, but the Cuisinart held three more pieces of toast.
If you're looking for a big toaster oven without spending a fortune, the Krups is a solid choice. It was nearly twice the size of more expensive models in its price group, and could comfortably fit a large chicken or 12" pizza. It also had some nice convenience features like an internal light and memory function that saves your most recent times and temperatures for each preset. Its biggest flaw was its cooking time. While the other ovens we tested that were as big as the Krups all cost about $100 more, they also operate at 1800 watts. The Krups only has 1500 watts, so it takes a little longer to heat up. We also found the shade settings weren't entirely accurate — the medium setting barely gave our toast any color, and it was hard to find a consistent shade.
Did You Know?
Toaster ovens could save you money.
According to a study by Energy Star, toaster ovens use about half the amount of energy as a conventional electric oven when cooking small meals. That could mean as much as 30 cents saved for every hour you spend cooking in some states.
Don't use Pyrex or glass cookware in your toaster oven.
Pyrex specifically advises people not to use their products in toaster ovens. It's the same reason you should never use glass for broiling — the dish is just too close to the heating element to be completely safe. Over time, they run the risk of fracturing or shattering from repeated exposure.
Parchment paper isn't safe, either.
Just like glass cookware, parchment paper is not recommended for the tight confines of a toaster oven. Reynolds explicitly warns against it on their website, while other brands put it right on the packaging.
The Best Toaster Oven: Summed Up