Reviews.com is reader-supported. If you click on or buy something via a link on this page, we may earn a commission.
Showing results for
Did you mean:
Sorry, something went wrong. Please refresh your browser and try again.
Last updated on
February 28, 2018
The Best Airfare Sites
We assessed 29 travel sites, planned 120 cross-country trips, and found 3 airfare favorites
| | | |
| --- | --- | --- |
| | | |
| | | |
| This website impressed us by consistently finding the lowest prices, and has enough filters to connect you to your perfect flight. | If you're still in the pre-planning stages of your trip, we loved Kayak's flexible dates tool which makes it easy to find the best price for your vacation. | Hipmunk's layout makes it refreshingly easy to compare options like WiFi, seat upgrades, or layovers across multiple airlines. |
| | | |
| | | |
February 28, 2018 - Since this review was first published in 2016, multiple travel sites have been acquired by giants Expedia and Priceline. We re-tested more than two dozen travel websites to find out if anything has changed. Our new favorite, Booking.com, edges out former top pick Kayak.
The Best Airfare Sites
Whether you're flying cross-country or across oceans, the best airfare sites make it easy to find the right flight. Powerful search tools help you compare options across airlines, allowing you to nab the cheapest fare.
If you know dates of the flights you want, we recommend starting with Booking.com. This Priceline-owned website has a robust, customizable search tool and consistently returned some of the lowest flight prices that we saw.
Most travel websites are owned by two companies. In 2015, "95% of the online travel marketplace" was owned by just two companies: Expedia and Booking Holdings (best known for Priceline). If you're left with a sense of deja vu after exploring your many booking options, this is the reason.
Travelers with flexible plans will want to start with Kayak, a sister company of Booking.com. Kayak's flexible dates tool is unparalleled, comparing the widest range of timelines across multiple airlines. We're not talking "plus or minus three days." Kayak is the only travel website we found that offers a "flexible month" and "flexible weekend" search, where you can cross-compare several weeks of dates at the same time.
Finally, if you prioritize knowing the specific amenities your flight offers — whether WiFi or inflight entertainment — we recommend Hipmunk. It wasn't just the flying chipmunk mascot that won us over. This travel site is so well laid out that searching for flights was surprisingly pleasant. Each search returns a small description of the flight, next to a visual depiction of what time of day the flight (and any layovers) occur — making us a lot less paranoid about accidental one-in-the-morning bookings. The site also uses simple iconography for an easy comparison of features at a glance.
How We Found the Best Airfare Sites
We started with a list of 29 services, focusing on one-stop websites capable of finding hotels, plane tickets, and car rentals. (For a more in-depth look at how we reached these twenty-nine, check out our parent-page review of The Best Travel Sites.) Staying within budget is a priority for many travelers, so we had two priorities: we wanted the best airfare sites to offer the lowest prices — and we wanted them to have layouts that made it easy to search and compare flights.
Our contenders for best airfare sites: 29
AirTkt, Booking.com, Bookit.com, Cheap Air, Cheap Flights, Cheap Tickets, CheapFlightNow, CheapOAir, Expedia, FareBuzz, FlightHub, Hipmunk, Hotwire, JustFly, Kayak (owned by Priceline), LastMinuteTravel, Liligo, Momondo, OneTravel.com, Orbitz, Priceline, ShareTrips, SkyScanner, Smart Fares, StayDriveFly, Travelocity (owned by Expedia), TravelOPod, Travomint, WhichBudget.com
To compare prices, we tracked the same flight across each website for two weeks.
Over the course of a two-week period, we tracked roundtrip ticket pricing for a weeklong visit from New York City (JFK) to Los Angeles (LAX), recording the daily cost advertised by each travel website. We wanted to find the consistently cheapest option.
Interested in doing your own price tracking? We used an incognito window in our web browsers for all price-related searches. Otherwise, most travel sites use cookies to track your behavior and the routes you're interested in, which sometimes leads to price hikes.
Most sites returned results that were virtually identical. Sixty percent of our travel sites reported almost the same price, offering us tickets between $311 and $314, although daily fluctuations sometimes brought the group closer to the $310 mark, and sometimes closer to the $320 mark.
If a travel site wasn't in this cluster, it usually was more expensive — anywhere from $332 to $365 in total — upcharging us $20 to $45 dollars for the privilege of purchasing through their particular website. A website's parent company seemed to have little impact on this practice: Priceline's Kayak had pricing that was solidly average, while its sister company Momondo was an expensive outlier, consistently charging between $25 and $50 more.
The only website that truly impressed us was Booking.com. It won the prize for finding our flight at the lowest one-off cost — $297 — and over the course of two weeks, the site never exceeded the price point of the 60% group. Frequently, it charged between $9 and $18 less.
Cheap Air, Cheap Tickets, CheapOAir, Farebuzz, OneTravel.com, LastMinuteTravel, Liligo, Momondo, Priceline
We evaluated each website to make sure it was easy to compare flights.
While price is perhaps the most important factor for the best travel sites, don't discount the importance of being able to verify amenities, check for flexible dates, and compare flights. It's no good purchasing a cheap ticket if the airline's hidden baggage restrictions double the final cost. So we also assessed each travel website's usability — how easy it is to navigate the website — plus the site's design — how easy is it to find the right flight for you, not just the cheapest.
You'll need to search Southwest Airlines on your own. Southwest doesn't allow robots to search its site — which means its flights aren't typically listed by travel sites. You'll need to search their website directly if you want to compare their offers to those found through any of our top picks.
We kept our usability test simple. We wanted websites whose pages loaded quickly, gave us flights related to our search, and didn't leave us wondering whether we'd accidentally clicked on a spam email. This turned out to be a high bar. Most pages were able to find results, but a few websites flooded us with pop-up ads imploring us to call them for "better rates!" StayDriveFly and ShareTrips had so many pop-ups that their pages took an eternity to load. We were also ticked that ShareTrips' search tool didn't let us adjust our date until after we'd started the search. We also frowned upon travel sites that sprinkled alternative date options in amongst our requested results: Every time we saw a good price, we had to double-check that the dates were right.
AirTkt, Bookit.com, Cheap Flights, CheapFlightNow, Farebuzz, Hotwire, ShareTrips, StayDriveFly, Smart Fares, TravelOPod, Travomint, WhichBudget.com
Kayak, on the other hand, stood out for clearly displaying whether or not the cheapest tickets were for basic economy class — i.e., one carry-on bag and no seat choice. This made it easier to judge whether we wanted to save money by going with a basic ticket, or spend a little extra on comfort.
Caption: In exchange for an late night Frontier flight in basic economy class (indicated on Kayak by a slashed luggage bag icon), we would save almost half the price of the next cheapest ticket.
We were also delighted when websites clearly identified which amenities were available on each flight. We loved Hipmunk's clear presentation: Small icons indicate some of the most common features available, like WiFi, food service, and availability of seat upgrades. Flight plus layover length are also clearly marked.
Our Picks for the Best Airfare Sites
Booking.com
The best at finding low prices, combined with an easy-to-navigate website. What's not to love?
If you're looking to find the best price for your flight, Booking.com should be the first stop in your travel search. Over the course of our testing, it was the site that consistently found the lowest prices.
While it's not as visually impressive as Hipmunk, Booking.com also makes it easy to find, filter, and compare flights, so that you can find the one that best fits your needs: Search for your flight by selecting trip type (round trip, one way, or multi-city), and entering your departure and arrival cities, dates, number of travelers, and what class you'd like (economy, premium economy, business, first class). We were also impressed by how many options and customizations Booking.com offers. You can filter your search by airline, by number of stops, by airport choice, and by departure or arrival time.
Baggage fees can raise final ticket cost. A cheap fare covering nothing but a personal item is sometimes a worse deal than a ticket that costs an extra $20 but comes with a generous luggage allowance. Make sure to check before you book.
Booking.com does default to sorting your results by "recommended," so you'll have to resort them if you want to prioritize the cheapest flights first. You can also sort results by quickest or slowest flight plan, earliest or latest take-off, or even highest price, if you're into that. The search results also make it easy to tell whether you'll be charged for a carry-on bag at the displayed cabin class.
Booking.com's primary weakness is that it doesn't have a flexible dates tool. It's a useful first stop if you've already nailed down the days you want to travel. But if you're interested in exploring flight costs on multiple days, weeks, or even months, the easiest option is to go through runner-up Kayak.
Runners-Up for Best Airfare Sites
Kayak
If you don't have a set travel date, Kayak offers the best tools for comparing weekly and monthly pricing.
If you're left with a sense of deja vu when searching Kayak verus Booking.com, there's a reason: they're both part of the Priceline Group. Despite being a sister company, we feel Kayak is worth mentioning on its own, thanks to its powerhouse of a planning tool.
When searching flexible dates on other websites, you'll be lucky if you can see prices for your dates +/- 3 days. This does give you some flexibility, but if your dates are really flexible, you won't know if it's cheaper to fly to Las Vegas the week of August 1st, or August 10th. Kayak kicks up the flexible search game by offering three different search options: flexible dates, flexible weekend, and flexible month.
Flexible dates let you specify when you'd ideally like to be traveling, and then compare what it would cost (or what flights are available) on the days leading up to and following each date. The result is a chart displaying which days are cheapest to travel. If your dates are flexible, but not three days flexible, Kayak also lets you adjust your search to only be +/- 1 day, or +/- 2 days.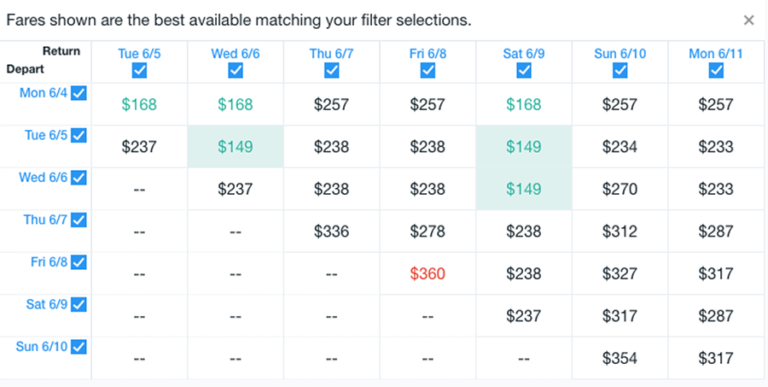 Flexible month lets you mark the length of your trip, whether a three-day weekend getaway or a month-long expedition — and then asks for the earliest date you'd be willing to leave. You'll be given a 30-day chart of flights and prices, letting you pick and choose from several weeks of options. Flexible weekend works similarly, except it will only call out weekend dates (and you can specify whether your weekend starts Thursday evening, or Friday morning). If you're trying to find the lowest price — and you don't mind staying an extra day or cutting your trip short to get it — Kayak's tool is unparalleled for simultaneously comparing the most dates across multiple airlines.
Kayak didn't earn outstanding marks for finding bargain-priced tickets, like Booking.com, but neither were its prices exorbitant. In the case of our hypothetical NYC-LAX vacation, choosing Kayak only meant spending between $7 and $15 more than Booking.com.
Unlike Booking.com, Kayak isn't a booking engine. It's an aggregator. This means you don't purchase your ticket directly through Kayak.com. Instead, when it's time to purchase, you'll be redirected to the website of the airline you're traveling with. If you're tired of handing out your credit card information (and setting up another username and password) to new websites, the upshot is that Kayak doesn't require you to sign up to use their services. Just be aware that if you end up booking one of their "hacker fares" (which combine a departure flight on one airline with an return flight through a different one) you'll need to go to two separate websites to complete the booking.
Hipmunk
The best way to compare extras across multiple airlines, whether WiFi or layover length.
We won't lie: we were drawn in by the flying chipmunk mascot of this lesser known travel site. Like Kayak, Hipmunk scored solidly average in terms of price. It never found the bargain deal that Booking.com managed to turn up, but it was never the most expensive (or second-most expensive, or even sixth). It hovered close to Kayak and Booking.com for the most part. But if you're amenity-minded, paying a few extra dollars is likely to be worth it.
After you enter your basic search info, Hipmunk will give you a chart displaying flights that meet your needs. At a glance, you'll be able to see at what time of day each flight departs and arrives, how long the flight is, how long any layovers are, and certain amenities. Five small icons to the right of each flight let you know if you'll have WiFi, power outlets, food available, in-flight entertainment, and advanced (read: more comfy) seat options. This makes it easy to quickly sort out which flights will fly by, and which will drag on after your laptop battery has died.
Hipmunk also does well in otherwise helping to filter through your results. You can sort by "Agony" — their calculation as to how painful a flight will be by looking at price, and the number and length of layovers included in the flight plan — in addition to price, duration, and takeoff and landing times. Additionally, we liked how we could choose to either hunt for or sort out the "no frills" flights, which can save us money in exchange for charging fees if we bring a carry-on bag, or want a specific seat assignment.
Our Best Airfare Sites Review: Summed Up