Reviews.com is reader-supported. If you click on or buy something via a link on this page, we may earn a commission.
Showing results for
Did you mean:
Sorry, something went wrong. Please refresh your browser and try again.
Last updated on
April 9, 2018
The Best Vacuum Cleaner
Dust bunnies and dirt don't stand a chance
The 30-Second Review
Finding the best vacuum cleaners came down to just two things: which ones sucked up the most, and which ones were easiest to haul around. If they can't hack that, why even bother? We got our hands on 19 flagship vacuums ranging from $80 to $600, dumped a bunch of junk on the floor, and compared the results.
Best Overall
Battery power means this vacuum should lack power. Not so. Nimble yet mighty, it devoured everything in its path — and only weighs 12 pounds. The swiveling head got wiggly in wide-open spaces, but we were blown away with how well it handled corners.
Other Top Picks
Best for Carpet

Best for Bare Floors (and Allergies!)

Best Budget Pick
Vacuuming. It's on all of our to-do lists — a lot. In fact, you'll spend an average of 30 minutes to an hour each week vacuuming for the rest of your life, according to Craig Amick, director of commercial development at Electrolux Small Appliances. That's more than a full day every year just spent on dust, dirt, and debris.
The wrong vacuum (heavy, loud, flat-out doesn't work) turns a simple task into a serious chore, but after testing 19 models, we're happy to say that it doesn't have to be so bad. We looked at the top upright vacuums from the leading brands to find which ones had powerful suction (100 percent pickup within two passes) and effortless maneuverability (so agile you could take it salsa dancing). Our pick for the best vacuum, the Hoover Air Cordless Lift, is easy to grab and go — it's lightweight and zippy, with no cord to slow you down — and has seriously impressive cleaning power.
One thing that was shocking in our search (but not shocking to anyone who's ever shopped for a vacuum): The price range on these guys is ridiculous. You can find a vacuum for $50 or for $1,000, even though basic performance and quality don't vary much between mid-range and top-tier models. With those guys, you're paying more for a lot of bells and whistles — from floor tools that light up to automatic suction control. With budget models, it's a total mixed bag. Some truly suck (in the bad way) and others work better than their four-figure counterparts. Case in point: While you sacrifice some oomph and get lower-quality plastic construction, the Bissell CleanView 9595A ($80) outperformed much more expensive models like the SEBO 9807AM Felix 1 ($600) in both cleaning power and ease of use in our hands-on testing.
How We Found the Best Vacuums
Do a quick Amazon search, and suddenly you have over 13,000 vacuums to choose from. With no clear hierarchy of models or brands (coupled with the bewildering task of deciphering what's a marketing gimmick and what's a legitimate feature), shopping for a vacuum ends up as much a chore as vacuuming itself.
We knew finding the best was going to be a down-and-dirty mission. We wanted to get our hands on lots of vacuums and see how they stacked up doing their most fundamental task: sucking up gunk. Before we did that, though, we had to whittle down the list of thousands of machines to 19 of the highest-rated models from the best-known brands in the industry.
Which style works best? Stick vacuums work great for small spaces and above-the-floor cleaning, while canister vacuums are good for hard-to-reach spots and furniture. For those with too many to-dos, robot vacuums do the job for you.
We only looked at uprights.
Vacuums come in all shapes and sizes — canister, stick, robotic, hand-held, upright — and comparing all of them would be like comparing an SUV with a coupe with a scooter to find the best car. To narrow the field, we looked at the most popular: uprights.
Compared to other models that are designed for specific purposes, upright vacuums are great at quickly removing dust and dirt from large areas of carpet, while also working well on hardwoods and area rugs. They are the most things to most people.
We looked at vacuums in two price categories: cheap and mid-range.
Our two benchmarks were under $250 and $250-$600. Any model over $600 we nixed. Why? Determining what bells and whistles were a priority really comes down to a matter of preference. Like shopping for a car, we wouldn't presume that heated leather seats and satellite radio are must-have features for you.
And we picked the flagship models of top vacuum brands per price point.
Within each of the price points, we then dug deeper to see which models stood out. Some vacuums, like the Oreck XL Classic, have an avid fan base. (Really! Check out its reviews and you'll find tons of loyal customers touting this lightweight model as the only vacuum they'll ever own.) If a model was hands-down the most talked about, it made our list; if a brand didn't have such a following, we defaulted to its highest-priced model within our two pricing categories — we wanted to put each brand's top vacuums to the test.
Bissell CleanView Vacuum with OnePass Technology, Dyson Ball Animal Upright Vacuum, Electrolux Precision Brushroll Clean EL 8807A, Eureka Airspeed Unlimited Rewind Bagless Upright Vacuum, Hoover Air Cordless Lift Bagless Upright Vacuum, Hoover WindTunnel T-Series Rewind Plus Bagless Upright, Kenmore 31069 Progressive Upright Vacuum, Kenmore Elite 31150 Bagged Upright Vacuum Cleaner , Miele Dynamic U1 Twist, Oreck Graphite Bagged Upright Vacuum, Oreck XL Classic Upright Vacuum Cleaner, Panasonic MC-UL429, ProForce® 1500XP HEPA, Samsung VU3000 Lift and Clean Bagless Vacuum Cleaner, Samsung VU7000 Motion Sync Bagless Upright Vacuum , SEBO 9807AM Felix 1, Shark Navigator Lift-Away Bagless Upright Vacuum, Shark NV501 Rotator Professional Lift-Away Vacuum Cleaner, Vibrance Deluxe R20D with Surface Selector
Then we started vacuuming.
On medium-pile carpet, then on hardwood, we measured how many passes each vacuum took to thoroughly suck up the mess we made. To test each model's ability with large particles, we evenly spread sand (a few cups) and Cheerios (generous handfuls), and then, sprinkled cinnamon and talcum powder to test fine-grain mayhem. The best vacuums sucked everything up in two passes — one forward, one back. The worst could never quite get the floor clean.
Riccar, which regularly garners ecstatic comments, had the least cleaning power of all 19 vacuums we tested. It took so many tries to pick up any sand and Cheerios, we took it apart to make sure we'd assembled it correctly. (We had.)
It may have a loyal following, but the Riccar's performance didn't impress us during testing. Note the large trail of debris left behind after the Riccar's initial pass on hardwood.
The Kenmore Elite, by comparison, had great cleaning power, which at first we thought was the result of its "dirt sensor" — it sounded fancy, but turns out it's just another way to raise or lower the brush depending on carpet height. Gimmicky marketing, but overall a great vacuum.
Wet Mess We also tried damp potting soil for those muddy moments you may have to clean up, but we discovered upright vacuums aren't really designed to handle wet materials. Surprisingly, our budget pick, the Bissell CleanView 9595A, was an overachiever and blasted right through it. But, vacuuming mud tends to clog the brush roll, which reduces its cleaning power — avoid doing it!
We also put each model through an obstacle course: multiple tables and chairs that mimicked the layout of a small room. We took each vacuum for a spin, requiring them to make at least two sharp, 90-degree turns in both directions, and to squeeze through the narrow slots between furniture. If it cornered like it was on rails and wasn't too heavy to turn on a dime before bumping into something, we were impressed.
One of the key features for increased maneuverability is some form of swiveling joint between the body and the cleaning head; some vacuums do this better than others. Looks were deceiving with the Miele Dynamic U1 Twist: It seemed much bulkier than some of the more slender swivelers, but its patented SwivelNeck was something to behold — it handled each corner like a dream. The Shark Professional Rotator, on the other hand, looked sleek, but lacked control. (It also came with dangling accessories — so many that there is a special rolling caddy! — that dropped tools all over.)
Compared to the Miele Dynamic U1 Twist (top), the Shark Professional Rotator (bottom) felt wobbly and out of control.
Our Picks for Best Vacuum Cleaner
Best Overall
Hoover Air Cordless Lift We didn't expect a battery-powered vacuum to stack up to its corded competition, but this Hoover truly impressed.
Our unanimous top pick was Hoover's Air Cordless Lift for its excellent cleaning power and maneuverability. We were stunned that our only cordless model went straight to the top of the list. Most agree that cordless models aren't quite there yet in terms of power (Sir James Dyson bought a battery company in 2015, but even he said not to expect battery-operated Dysons "for a few years"), yet this little Hoover defies the trend. It's everything you want in an upright, and there's no cord to trip you up.
It offers only two settings: carpet or no carpet, plus a "boost" button for more cleaning power, though both settings worked well without boosting. On carpeted floor, the Air Cordless Lift picked up both large and small particles, and never needed more than two passes. On hardwoods, it took another pass or two, but still sucked up every Cheerio and plowed through every pile of sand we put in its path. Then we turned on the boost and bingo: hardwood performance was just as good as carpet.
The Hoover Air Cordless Lift made quick work of our messes on both carpet and hardwood, and its maneuverability made navigating around furniture a breeze.
It maneuvered around our test furniture without a single collision in a way that can only be described as "zippy." Granted, this pep did cause some weird handling in large expanses of carpet — it kept trying to maneuver even when we wanted it to keep pointing straight ahead. If you need it to run circles around Grandma's curio cabinet or your 12-piece dining set, this vacuum's maneuverability has you covered. Wide-open rooms might be frustrating — if that sounds like your home, we recommend the Oreck XL Classic, our best carpet pick, or the Samsung VU7000 Motion Sync, our pick for hardwood.
The Air Cordless Lift converts to a small canister vacuum with an easily detachable lift-away wand and canister. The parts fit in so seamlessly, we didn't even notice them at first. It wasn't much of a noisemaker, either: Coming in at 81.1 decibels, it was on the quieter side of the models we tested (the Orecks, by comparison, were LOUD, rocketing into the high 80s). And, at only 12 pounds, it was among the lightest.
While the power of these batteries was rock solid, they can't vacuum all day. Consumer Reports says that each battery (it comes with two, so one charges while the other is in use) lasts only 25 minutes.
Also, lithium-ion batteries generally only last between two to three years, which would be more of a concern if each Hoover battery didn't come with a five-year warranty. Ultimately though, the convenience of going cord-free might not be worth it for larger homes or if you think swapping in new battery packs is a pain. But if you tend to do your cleaning in short bursts rather than marathon sessions, the Hoover Cordless Air Lift's cleaning power and maneuverability are really impressive.
Best for Carpet
Oreck XL Classic It looks plain. It looks simple. But in this case, minimalism works: the Oreck XL Classic does its thing really well.
For a carpet-heavy home, the Oreck is a winner. It has massive cleaning power no matter how big or small the mess. That power comes with the sound to back it up: It roars at well past 85 decibels, the loudest of any vacuum we tested. Other than the Hoover, it's the only vacuum we evaluated with edge-cleaning bristles, which are supposed to help pick up debris close to the wall. But we're not convinced these little whiskers do too much — the fact that two of our top picks have them is just a coincidence. (When we tested them out by sprinkling talcum along the perimeter of the room, the bristle-free Bissell performed just as well.)
When compared to another popular vacuum, the Miele Dynamic U1 Twist, the Oreck pushed our sound-level meter far higher.
On hardwoods, the Oreck cleaned well enough, sucking everything in its path in two passes, and many longtime users say they use it with good results. But neither of the Oreck models we tested has a bare-floor option, which means its brushroll is always rolling; over time, that wear and tear can be damaging to your floors and finishes.
Design-wise, it's pretty commercial, like something you would see in a hotel, and definitely minimalist — we're talking zero attachments. It has only one setting: on. And its back wheels are located on the underside of the vacuum, rather than on the rear edge, so you can't tip it back to transport it from one room to the next. It scrapes along the floor and bumps awkwardly over carpet. Picking it up and just carrying it is your best option — at a featherweight nine pounds, this isn't a big deal (especially compared to the heaviest vacuum we tested, the Kenmore Progressive, which weighs a burly 23 pounds), but it also isn't the most convenient. That said, if you're a sucker for simplicity, the Oreck XL Classic is zero-fuss and truly powerful.
Best for Bare Floors
Samsung VU7000 Motion Sync Heavy and stiff, this vacuum isn't the most comfortable to move from room to room, but it's pure power on bare floors.
When it came to pure hardwood floor performance, the Samsung VU7000 Motion Sync wowed us more than any other vacuum, including our top pick, the Hoover Air Cordless Lift. In just one easy motion, it sucked up everything we put in its path. (On carpet, it did a good enough job with finer debris, like sand, but its low-slung carpet setting pushed chunks and Cheerios around in front of it.)
One of the Motion Sync's shiniest features is its advanced anti-allergy and hygienic filtration system (HEPA filter), which captures airborne allergens while removing dust and dirt. "If you or someone in your household suffers from allergies, a HEPA filter is ideal," says Dr. Felix Rivera-Mariani, an aerobiology consultant and adjunct professor of biology and immunology. This type of filter collects and — most importantly — retains more than 99 percent of respiratory irritants. It's the most complete and effective type of allergen filter on the market and this model is our only top pick to offer it.
Like the Hoover Air Cordless Lift, the Samsung VU7000 Motion Sync features a small canister with detachable wand for off-the-floor cleaning. Unlike the Hoover, this one was more difficult to use: The button stuck, and we really had to yank pretty hard to get the wand out. If we hadn't read how to do it in the manual, we would have thought we were going to break it. We had a similar response to reclining the vacuum too. We had to stomp down on the cleaning head and wrench the handle back. Is this this stiffness because our model was brand new? Maybe — but still not great.
Its black and chrome finish gives it a sleek appearance — a little more refined than some of the flashy purple and electric orange models we tested. But don't let its streamlined color scheme fool you. This model is a tank. At 18 pounds, it's heavy, and it doesn't glide along either carpet or hardwoods; moving it from room to room isn't an effortless task. For multi-surface use, we prefer the Hoover, but if you have mostly bare floors, this model's cleaning power blew away the competition.
Best Budget Pick
Bissell CleanView 9595A We were stunned: The least expensive vacuum in our lineup ended up having some of the best cleaning power of all.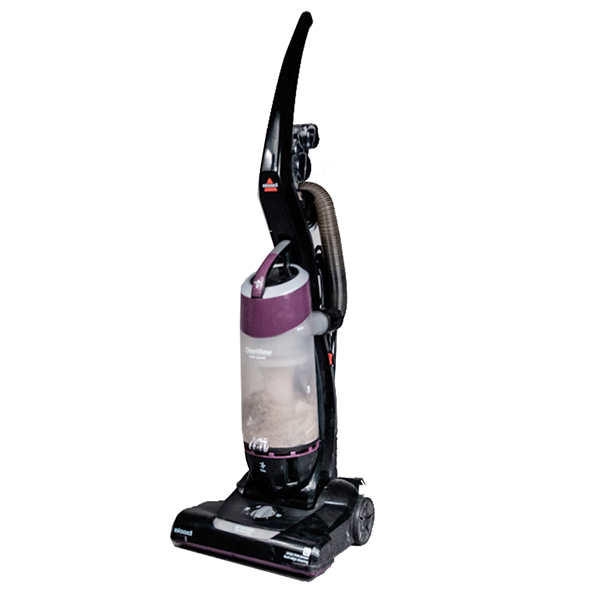 "One Pass Technology" is one of Bissell's flagship technologies, and it's designed to do just what it sounds like: Eat up everything on its initial pass. We don't know whether Bissell considers "one pass" as just the forward motion, or forward and then backward, but we can tell you how it really works. On the forward pass, it suctions about half of all debris we strewed before it while throwing the rest out behind it. On the backward pass, it picks up everything it tossed, and your floor is 100 percent clean. Is that "One & A Half Pass Technology"? We're not sure, but bottom line: This best-selling model is a best-seller for a reason. It cleaned way better than we thought it would, and it's really cheap.
The Bissell won't win any awards in the design department — it's a basic and bulky 15 pounds of purple and black plastic. It lacks a molded handle with a grippy texture, so it's not particularly ergonomic or comfortable; if you get distracted, the handle could slip right out of your hand. But, its bagless dirt chamber is easy to empty and it has a washable filter, which saves you the added cost of having to buy replacements. (The Hoover and Samsung have washable filters too). So while it may resemble the vacuum you'd buy for your first studio apartment, it's got the cleaning power and convenience you need for your first home.
Other Vacuums to Consider
From left to right, our runners-up: Miele, Electrolux, Kenmore, and Dyson.
Miele Dynamic U1 Twist. This was the most luxurious vacuum we tested, with graceful maneuverability, a quiet purr — even it's cord seems "designed." We barely heard it when we flipped it on, and once powered up, it remained nice and quiet: If you're living in an apartment, you definitely won't disturb your neighbors with this one. It doesn't look particularly maneuverable, but this high-end model handles like a dream — we already mentioned the SwivelNeck, but even its heft felt well-designed and intentional. For all of this ease, you do lose a little cleaning power: Dense sand, especially on hardwood, took multiple passes to fully clean.
Dyson Ball Animal. This popular vacuum has great maneuverability on carpet, and only a little less so on bare floor. It's on the heavier side (around 18 pounds), but quite the cleaner, devouring all of the Cheerio piles we placed before it. The design isn't for everyone — lots of industrial-looking molding and all its moving parts seem like possible breakage points — but if you like it, you love it, and lots of people do. Plus, we can't argue with the name: It's the coolest of the lot.
Kenmore Elite. We tested two Kenmore models (one in each price category), and you definitely pay for what you get. The vastly superior Elite cleans both carpets and hardwoods in just a few fast passes (unlike the Progressive, which didn't even come close). It's the standard big-and-bulky type, and some of its settings are confusing — remember that fancy-sounding dirt sensor? But overall, the Elite is a solid performer with a HEPA filtration certified by the Asthma and Allergy Foundation of America (like the Samsung VU7000 Motion Sync) and easy-to-use features. (The Progressive's selectors, in comparison, were so sticky it took two of us together to switch the setting from carpet to bare floor.)
Electrolux Precision Brushroll Clean. This Electrolux has the most bells and whistles of any of our picks, including a self-cleaning brushroll, a liftaway wand with super-long stretch hose, and several attachments for above-floor cleaning. This makes it extremely customizable, but also a little fiddly, and there's an extra learning moment while you figure out which pedal does what: If you get it wrong and adjust the carpet setting too low, the vacuum is really hard to push. Once you get the hang of it, though, we loved its cleaning power and it slalomed through our obstacle course like a champ.
Best Vacuum Cleaners: Summed Up
Did You Know?
Cleaning power is more complicated than your vacuum manufacturer tells you.
Historically, manufacturers and their marketers say a vacuum's cleaning power is the amperage of its motor. Not so, according to Energy Star. It found a minimal correlation between power and cleaning performance — cleaning head design, brush mechanisms, and other design elements are more important; filtration and dust removal are independent of power, too. While a vacuum might tout 12 amps of cleaning power, that doesn't really tell you much.
Amp Wars In the 1990s, an "amp" marketing war ensued among vacuum manufacturers. At the time, most had 8 amp ratings — now, the majority of uprights in the US have 12 amps (the max allowed for UL approval).
It really comes down to suction and airflow (measured in cubic feet per minute, or CFMs). In vacuums, strong suction is created by air passing quickly and unrestricted through an intake port. Now, for a bit of physics: Since the speed of the fan is constant, so is the amount of air passing through the vacuum. No matter the size of the intake port, the same number of air particles need to pass through — the smaller the port, the more quickly air particles will move. This increase in airspeed decreases pressure, which results in greater suction. (This is why narrow vacuum attachments can pick up heavier dirt particles than wider ones.)
The tricky thing with airflow ratings is that most upright makers don't actually list them — they only list amps — so you have to look at how the vacuums are made. There are two basic designs of upright vacuums: direct air and bypass.
Direct air (or "dirty air"): These models are designed with large fans located on the vacuum nozzle, which draw air and dirt through the motor prior to any filtration on its way to the dust bag. The advantage to this design is higher airflow (CFMs) and excellent cleaning power: The Orecks we tested are direct air models and they really did wow.
That said, the lack of filtration means these vacuums aren't so great for those with asthma and allergies. Also, accessories aren't as effective or convenient as with bypass models (the Orecks don't even have any), and since debris passes directly through the motor, sucking up a hard object could damage the fan.
Bypass (or "clean air"): With this type of vacuum, unfiltered air is designed to bypass the motor, instead collecting in the bag or chamber; only clean, filtered air is then passed through the motor to cool it, meaning it's the better choice for allergy sufferers. It's also the most common type of vacuum found on the market today — all of our top picks save the Orecks are bypass models.
While there is a decrease in airflow (CFMs) and these models therefore have to work harder to suck up the same amount of stuff, "bypass models" are optimized for suction, so the attachments tend to work much better. And, because dirt and debris do not pass through the motor, you don't have to worry that vacuuming up an errant Lego brick will result in repairs.
We didn't weigh in on the bagged vs. bagless debate.
Both designs have been proven to clean well, so one isn't necessarily better than the other. It's a matter of preference. Bagless vacuums offer less waste (and save you money since you aren't buying replacements), but some say you have to empty them more than bagged vacuums. Folks with severe allergies will want to go for a bagged model though: The bags seal, trapping dust and allergens.
But if you have asthma or allergies, you'll want to take more precaution.
The best thing to do if you have asthma or allergies is to live without carpet — carpets are notorious for capturing dust, pollen, and other irritating particles. If that's not a possibility, regular vacuuming becomes even more important.
Second, while everything we found pointed to bagged vacuums as being the better option for allergies, Dr. Rivera-Mariani warns that standard bags easily get tiny tears that allow leakage. If you have a model with bags, replacements with electrostatic properties (these are available for most major vacuums) help keep pesky particles contained. (The electrostatic causes the dust particles to stick together, so they're less likely to escape.)
And last, Dr. Rivera-Mariani strongly recommends a sealed HEPA filter. There are less stringent forms of filtration, like the basic sort all vacuums have (including our Hoover top pick), which absorb dust, but don't capture pollen or pet dander. These are generally fine for most people, but if you're sensitive to irritants, HEPA is the way to go. Dr. Rivera-Mariana goes as far to recommend HEPA filtration even if you have no respiratory issues. Allergies can build up over time, and symptoms may show up suddenly in previously non-allergic individuals.
Broken vacuum? Fix it.
Craig Amick from Electrolux told us that retailers across all brands report tons of vacuum returns, mostly due to broken or ailing parts. Don't return it: Your vacuum is absolutely worth repairing, and most fixes are easy and inexpensive.
While you can still locate the owner's manual (we know it'll end up getting tossed), figure out the basic stuff: where the belt goes, how to remove the filter, and where a clog could happen. These are the most common vacuum issues, and Amick estimates that first-timers can do simple repairs and replacements in under half an hour. When in doubt: Turn to YouTube for some helpful DIY tutorials or call the customer service phone number usually located on the back or underside of your vacuum.
The Bottom Line
Vacuuming is something we do all the time and, for most of us, it's a serious chore. But a great vacuum — one with powerful suction and effortless maneuverability — makes the whole process easy (if not a little fun).
Take Action
Hoover Air Cordless Lift We simply weren't expecting a battery-powered vacuum to do well, but the Hoover Air Cordless Lift exceeded expectations.
Vacuum often. According to The Carpet and Rug Institute, most households should vacuum once a week, though if you have high foot traffic or pets, up that to a few times per week. Regular vacuuming ensures that you aren't breathing in all of the accumulated dust and debris that gets kicked up as you move through your home.
Change those filters. Vacuum maintenance is pretty easy. The most important part is regular filter changes — dirty or clogged filters can result in a reduction of in cleaning power. If you have washable filters, make sure to rinse them out two to three times a year. For replacement filters, we got mixed feedback — some say to replace every three months, while Amick suggested every six for typical consumer households. It's a good thing replacement filters are so easy to come by. They're readily available on every manufacturer's website, stores like Target, or the ever-prolific Amazon.