The Best Weight Loss Program
When losing is the only way to win
Latest Update
April 21, 2017
The 30-Second Review
The best weight loss program for you is the one you'll stick with for the long haul. We cut through the diet fads, consulted with top nutritional experts to find out what really matters, and taste-tested the best plans to determine which program offers the most sustainable, achievable pathway to healthy food habits.
Best Overall
A fun, accessible points system incentivizes healthy food choices, and plans starting at $20/month can accommodate almost any budget.

Best for People Who Hate to Cook
Nutrisystem
If you want to lose weight on autopilot, $295 of hit-or-miss meals delivered to your door will (almost) get you through the month.
Best for Self-Starters
Disciplined dieters who can handle an intense two-week kickstart can get great results from this plan's $11 book and website support.

Best Free Option
SparkPeople
SparkPeople's free website offers a lot of weight loss tools, but its one-size-fits-all plan may not work for everyone.
Nutritionists agree that if you're looking to permanently reduce pounds, your weight loss program has to be sustainable, offer realistic goals, and (gasp!) be enjoyable enough to incorporate into your lifestyle for good. That's right: Weight loss programs are most successful when they help you break unhealthy patterns to become your new way of life — not just help you lose weight.
All our top picks prize these values, but we dug into plan details, read books, toyed with apps, taste tested both recipes and prepackaged food, and followed exercise plans to find the best. Time-tested Weight Watchers came out ahead. A revamped, nutritionist-approved points system helps participants measure and adjust food habits while focusing on healthy eating instead of just losing weight, and a suite of useful support options from apps to meal plans to meetup groups let consumers tweak an approach that works best for their lifestyle and budget. Our tester found making healthy changes to her diet easy and fun even on the first day.
But ranking diets is a highly personalized affair. Self-starting dieters who just want to be pointed in the right direction might prefer the DIY approach of the Mayo Clinic Diet, which pairs a book of instructions with website support to guide your efforts in the kitchen. Its two-part strategy kickstarts with 14 days of calorie restrictions followed by gentler guidelines; some might be inspired by the "instant" results, but others could be put off by its initial intensity and subsequent free-reign approach.
If you dislike cooking, abhor making food choices, or simply want low-calorie options shipped to your door, Nutrisystem might slot into your life as-is with minimal fuss. But it can get expensive, and food selection and flavor were both hit-or-miss.
If you're on a budget, the SparkPeople's Spark Solution Diet offers a book, recipes, a robust website with tracking, and a vibrant online community for free. But even though there are seemingly endless tools and support options, it really only has one 1,500-calorie plan that is supposed to fit everyone — and that's just not realistic.
How We Found the Best Weight Loss Program
To find the right diet for most people, we looked into the research, ranked them based on universal best principles, and talked to experts from leading national health organizations. Then, our tester lived each of these diets for a day to see how feasible it was to stay on them.
Only one day of testing, you say? It might not sound like much, but remember, we weren't on the hunt for which plan was most effective — that is to say, we weren't interested in how much or how quickly our tester lost weight. Our focus was on which plans were the easiest to stick with long term, so our tester ate prepackaged meals, followed recipes, logged calories, and explored exercise plans to assess each diet's sustainability. And that you can do in a day.
Our first challenge was figuring out which to explore. There are endless diets targeting gender, vilifying certain foods, and requiring extreme lifestyle (sweat lodges, anyone?).
To cut through the noise, we turned to the 16 available diets included in the U.S. News & World Report Best Commercial Diet Plans rankings — diets marketed to the public, for profit. Its annual survey involves a months-long study with a panel of respected doctors and nutritionists (all the experts we spoke with have served on this panel) and we used those diets as our starting place.
The most successful diet is the one you won't quit, so we asked our experts how they determine that quality in a diet plan. Registered Dietitian Andrea N. Giancoli, who was the spokesperson for the Academy of Nutrition and Dietetics for nine years, advised U.S. News & World Report diet rankings for three years, and served as nutrition policy specialist for Los Angeles schools, helped us narrow the pack.
"If you really want to lose weight and be healthy and good to your body, you have to pick something that you're going to be able to do over the long term," she said. "A lot of these fad diets, you get carbohydrate cravings or you just aren't eating enough and you get hungry. And then you feel like you've blown the diet, but the diet failed you."
So when it came time to thin the herd, we prized one thing above all else: sustainability.
We cut diets that expected you to skip eating out.
According to our experts, a good diet requires a life change — a long-term commitment by definition. Factors such as getting your family involved, keeping your house stocked with healthy food, and feeling satiated contribute to sustainable success.
But Giancoli also recommends finding a diet that fits in with how you really live. She notes that if you enjoy going out to eat but try to commit to a diet that forbids you from ever going to a restaurant, you're just going to cheat.
"It's not sustainable, unless you're a hermit," she says. "You're most likely going to have a healthier meal if you're going to cook yourself, but you're depriving yourself of that social interaction if you never go out."
It's much harder to eat healthy at a restaurant, so you should avoid it. But cutting it out completely? That's a recipe for failure.
We cut diets that didn't incorporate exercise.
Different diets treat exercise differently; some don't mention it at all. But losing weight is all about monitoring and managing intake and expenditure of calories. Our experts all agreed that exercise is a critical component to any successful diet plan — if a weight loss program leaves it out, that's a red flag.
"Diet and exercise are a marriage that should never divorce," said Giancoli. "Not just to lose weight — there are so many other benefits of exercise. If a plan doesn't include some form of exercise in it, then don't do that one."
Our experts concur that any diet that helps you plan for both your eating and fitness is more likely to lead to the results you want. The Mayo Clinic adds some science to the argument, noting that "since muscle tissue burns more calories than fat tissue does, muscle mass is a key factor in weight loss."
"We know a healthy lifestyle requires exercise," says Elisabetta Politi, nutrition director at the Duke Diet & Fitness Center. "Consider food and exercise medicine, because they are."
Simple and straightforward: Any diet that either didn't mention exercise or didn't help you create a plan for it got cut.
We cut it if they eliminated certain food groups.
The last key to diet sustainability, Giancoli told us, is understanding that all food groups have a place in a balanced diet. Blaming weight gain on carbs, fats, or fruits and sugars alone is too narrow to be sustainable in the long term, she said.
"If a diet is cutting out major food groups, carbohydrates, not eating certain kinds of foods, that's not good," she adds. "Any food can fit in a healthy diet if you're eating in a healthy way, based on whole foods, plants, and lean proteins."
Additionally, a balanced diet provides a balanced supply of nutrients. Cutting carbs completely means you're also cutting the fiber and B vitamins like folic acid you'd get from sensible servings of whole-grain bread, oatmeal, and brown rice.
Giancoli notes that should your favorite foods fall into the list of forbidden fruits to leave out completely, you're even more likely to fall off the wagon. She criticizes diets that cut out coffee. "It's ridiculous," she said. "There's a lot of research that coffee is fine. Coffee's been redeemed." Some diets even allow for the occasional caloric splurge on special occasions — a carrot to keep you focused on healthy foods (that aren't actually carrots).
Many popular diets lean hard on demonizing a certain food group, but in our estimation they had to go. We cut the Flat Belly Diet, which makes you go four days without salt, excess carbs, raw bulky foods, gassy foods, chewing gum, sugar alcohols, fried foods, spicy foods, and carbonated drinks – as well as alcohol, coffee, tea, hot cocoa, and acidic fruit juices. (We also balked because it's been criticized widely for being a misleading, repackaged Mediterranean Diet). Medifast puts alcohol off-limits and forbids anything that's not on its "approved food" list. The Dukan Diet is a mess of random, confusing rules: Its strict entry phase bans lamb and goose, and even as it loosens up in subsequent phases, staples like potatoes and corn are banned. None of this is scientifically proven to help with weight loss, so we cut it.
Five programs remained. We chose to eliminate The Biggest Loser diet because it's similar to the Mayo Clinic Diet, leaving us with four promising plans: Weight Watchers, the Mayo Clinic Diet, Nutrisystem, and the SparkPeople Spark Solution Diet.
We signed up for plans, ordered pre-packaged food, meal planned, and prepped mentally to see what it would take to stick to the plans long term. One rose above the rest, but each offered redeeming qualities, depending on your dieting style and needs.
Like the Mayo Clinic Diet, the Biggest Loser Diet's book focuses on increasing exercise and improving the quality of the food you consume to build a healthier lifestyle. If you're intimidated by Mayo Clinic's initial two-week "Lose It!" period but like its DIY approach, the Biggest Loser Diet's six-week system may be the one for you.
Our Picks for the Best Weight Loss Program
Weight Watchers is a name you most definitely know, and we found it to be the best in the field. Part of it is history — Since 1963, Weight Watchers has helped more than a million people lose weight, and that success has helped the company fund its own studies and tweak its program based on its scientists' discoveries. The company is constantly evolving: Weight Watchers changed in December 2015 with its Beyond the Scale program, including more of a focus on overall health instead of just weight, and nudging members toward an eating pattern filled with lean protein, fruits, and vegetables, while reducing sugar and saturated fat.
"They've really evolved and changed their program to fit how people are eating and what helps people to stay on a healthful eating plan while not overeating. I like that they give food a value based on the nutrition that it provides to you. It not only helps people be flexible, but it also educates them about what are better choices."
Our tester agrees. Weight Watchers is the best because it adapts to your lifestyle, features the easiest-to-use food tracking, and cultivates the skills you'll need to be healthier throughout your life.
Weight Watchers makes healthy eating patterns stick by introducing users to a currency called Smartpoints, which take the mix of calories, saturated fat, sugar, and protein in a given food and then spits out a number: the food's point value. Within its app, you can search for a specific food, such as chicken, and find the nutritional info. Caloric choices are then made clear in granular detail, right down to differences in preparation: A fried chicken wing is 7 points, while 3 oz. of chicken breast without the skin is 2 points. A sugar-laden Coca-Cola is 9 points, but so is a dinner-sized serving of Moroccan chicken rice and potatoes. Points are like dollars: You'll get a budget every day plus a weekly bonus to "spend" on calorie-heavy events like a party, buffet, or binge of your choice.
"Food that is not very nutritious has more points than food that is really nutritious," said Politi. "Weight Watchers has a system in place that really encourages you to eat more nutritious choices."
A Day of Meals from Each Weight Loss Program
Day 1:
Weight Watchers

Day 2:
Mayo Clinic

Day 3:
Nutrisystem

Day 4:
SparkPeople

Breakfast

1 Packet Cane Sugar, Starbucks Grande Americano, Starbucks Spinach and Feta Breakfast Wrap

1 Cup Fat-free Yogurt w/ 1 Serving Fruit

Morning Muffin, Soft-Boiled Egg, Blueberries

Peanut Butter Toast, Apple, Glass of Milk

Lunch

Hummus with crackers, vegetable tikka masala, white rice

Tuna and Pasta Salad and an Orange

Powdered Potato

Ham Sandwich with Cottage Cheese Salad

Snack

Peach

Carrot and Celery Sticks

Dark Chocolate and Sea Salt Nut Bar

Peanut Butter and Celery

Dinner

Stir-Fried Asparagus and Sugar Snap Peas, Ginger Dressing, Flank Steak with Pineapple-Pepper Salsa

⅓ of a 12-Inch Cheese Pizza with a Green Salad and Fat-Free Dressing

Penne Bolognese Paired with Half a Delicata Squash w/ olive oil

3-oz. Pork Tenderloin Dinner Roll, Sweet Potato

Points/Calories

30 points

1,200

1,200

1,500
Here's how it works in real life: Our tester was allowed 30 points a day, based on her height and weight, plus a weekly bonus of 28 points. The app helps you keep track, of everything you eat — it's relatively easy to search by food, restaurant, recipe, or even barcodes scanned off of packaged foods. App users ran into some technical glitches last holiday season, but we experienced no problems.
You can find meal suggestions in recipe databases online, in Weight Watchers message boards, through associated books — the list goes on. But our tester's favorite way to find meal ideas was by scanning the app's Instagram-like connect feature, where users upload glamor shots of their favorites. You can follow people, browse hashtags, or look for trending topics within.
#smoothie reveals a bevy of options supplied by the Weight Watchers community.
A sample breakfast might include a smoothie with unsweetened almond milk, protein powder, and a points-free banana. For lunch, our tester could choose between a salad with some tuna fish or an open-faced avocado and balsamic sandwich (both great). Snack fruits like peaches, apples, or pears get you through the long stretches of the day. Dinner consists of a lean protein, a hot vegetable, and a side salad. (Precise measurement is key to sticking to your plan: 2 tablespoons of dressing is one point; eyeballing it with a glug from the bottle might mean you're pouring twice as much.)
Eating out to restaurants is A-OK on Weight Watchers (our tester started her day at Starbucks, where she got a spinach and egg white wrap: 8 points). Eating at chain restaurants is actually easy, because most dishes are already logged into the app.
One downside: It's harder to track your meals at fancy or neighborhood restaurants. You aren't likely to find in-app points for the locally sourced boar fettuccine, potato-crusted petrale salad, or spicy grilled octopus salad that appeared at our tester's favorite restaurant. But you can search to see if anyone from the Weight Watchers Community has added a similar meal, or you can estimate how much of each item is in a dish and track it individually, with the option to save the group as a meal for later (3 oz. of boar, for example, is 2 points, which we were amazed to find in the app). As a last resort, you can guess and manually enter your meal into the app.
Our tester's grocery cart on a Weight Watchers day included lean meats, vegetables, and packaged Weight Watchers dark chocolate mint ice cream bars.
This ability to monitor, measure, and modify with easily understandable points is really what puts the program over the top. Weight Watchers emphasizes that no food is off-limits. But when you see you could spend 30 points on one Chili's Classic Bacon Burger or have chicken with rice and beans and three beers for the same amount of points, you start to realize the cost certain foods have on your body. A recommended focus on fruits and vegetables (mostly 0 points), lean proteins, and whole grains — which mirrors the advice of our experts — becomes second nature. And, most importantly, our tester didn't feel too hungry at the end of the day, and learned that small choices throughout the day add up over months of sustained effort.
The Weight Watchers app incorporates exercise and its corresponding points.
Weight Watchers similarly tracks and incentivizes exercise by assigning users a weekly goal of FitPoints, which can be synced with tracking devices via the app. Our tester was assigned 27 points a week: An hour of low-intensity walking would earn her 7 points, while an hour in a high-intensity spinning class would earn 19. She aced her goals by doing yoga four times a week, and the point tracking kept her motivated to move. Logging food and exercise points might seem annoying: You have to pause your exercise or take time before or after you eat to make sure it gets done. But as business experts often say, what doesn't get measured doesn't get managed. You'll have to measure quite a bit while on Weight Watchers — but the same can be said on any other program where you're not eating prepackaged food.
Speaking of, Weight Watchers has an empire built on prepackaged food — especially in the in-person meetings it offers. The meeting we attended was stocked with water enhancers, snack bars, chips, and food in a pouch for purchase. We tried some and really liked it: The chips with hummus were puffed —a great way to add bulk without calories. And the tikka masala we paired with a cup of rice was shockingly delicious. Plus, we learned something about managing points: After we calculated the points for the rice (6), in retrospect we would've eaten just half of a serving size and spent those 3 points elsewhere. That's a key idea we heard in the Weight Watchers meeting: learning which foods are "worth it" for the points.
Weight Watchers' vegetable tikka masala, one of the standout meals we tasted/tested.
At all levels of membership, you weigh yourself once a week to track your progress. Weight Watchers online is $20 a month, which gives you access to the app. You can also shell out $45 for the weekly meetings, where someone with a voice between a preacher and an infomercial host will lead people to share successes, offer lessons, and remind you about tips for upcoming holidays or other diet dangers. Our tester found the meetings genuinely nice, if a little cheesy.
Choices, Choices... Because Weight Watchers is such a behemoth, you'll also find that third parties provide SmartPoints values for their recipes. Healthy cooking bloggers like Skinnytaste and LaaLoosh can help you branch out on your diet while still following the plan.
The space feels safe and friendly, but the host and the attendees will make or break it for most people. (If you're a social person and you find a meeting you like, it could actually help you lose weight: In a 2005 study in the Annals of Internal Medicine, Weight Watchers members who were the most religious about attending meetings over a two-year period lost the most weight and kept it off.) If you need extra help, there's even a coaching option for $55. At every level of membership, you have access, via the app's Expert Chat, to a live coach who has lost weight on Weight Watchers.
US News & World Report echoes our findings. Weight Watchers has been ranked #1 for "Best Weight Loss Diet" and "Best Commercial Diet Plan" for the last five years, and #1 for "Easiest Diet to Follow" every year since the category was added four years ago. Consumer Reports also gave Weight Watchers its highest score of any commercial diet.
Whatever level of support you need to meet your goals, Weight Watchers provides to help you lose weight while still maintaining a social life and it offers a menu everyone can eat at home. More than any other competitor, Weight Watchers feels like a company that you could trust to escape the insanity of most of the diet industry and make some long-lasting changes.
Best for Self-Starters
Mayo Clinic Diet Mayo Clinic's book and web support are yours for around $11. Adding on the app is an extra $6-$16 a month.
Where Weight Watchers goes hands-on, the Mayo Clinic Diet goes streamlined, featuring only a book-based diet with website support. It doesn't assign dieting goals out in easy-to-digest points, so it requires a little more self-guided knowledge about the ingredients and amounts of oil and salt going into your food. But if you don't need a fancy app or a group hug to get yourself moving, this simple and solid solution might work for you.
The Mayo Clinic weight loss program is based on reducing calorie consumption and adding healthy habits to your life that promote weight loss, but it takes place in two distinct parts. The first part, Lose It! (exclamation mark theirs), is a two-week sprint where you restrict your calories to 1,200-1,800 a day (depending on your sex and weight). Beginners are encouraged to cut restaurant dining out along with four more unhealthy habits: eating while watching TV, eating added sugar, snacking on anything other than fruits and veggies, and eating too much meat and dairy. You'll also add four healthy habits that include eating a healthy breakfast, getting in four or more servings of fruits and veggies a day, incorporating whole grains, and consuming healthy fats. The Lose It! phase is designed to shock your body and get a head start on weight loss before introducing a more moderate phase of calorie reduction.
Become the Chef Since there's no prepackaged food available from the Mayo Clinic, plan on cooking. The diet book, which will cost you between $11-$16 depending on the format, offers some recipes, and for more you can look to its Fix-It and Enjoy-It Healthy Cookbook.
That sounds intimidating, and for some it might be enough to derail your efforts. Here's a sample daily menu that fits into the Lose It! phase: Breakfast might include a cup of fat-free yogurt mixed with a serving of fruit; lunch can be tuna and pasta salad and an orange; and dinner can consist of a third of a 12-inch cheese pizza with a green salad and fat-free dressing; a snack can be an apple. The Mayo Clinic diet claims you'll lose 6 to 10 pounds in two weeks eating this way. It's not a lot of food, but our tester survived — even with a gym class on her testing day. But two weeks can feel like forever if all you think about is food. (Our tester felt empowered enough by acing the test day to stick with it, but your mileage may vary.)
The American College of Sports Medicine warns that women who eat less than 1,300 calories a day and men who eat less than 1,800 risk slowing down their metabolism over time. But a rev-up stage that only lasts two weeks is approved by doctors, with some caveats.
"There is a certain motivating power in initial success. And so I think it can work, as long as there is a thoughtful approach to it. We get a little bit of momentum built up. The critical issue becomes: How do you transition from that to something that's sustainable?"
The Mayo Clinic Diet's plan attempts this by transferring you to the Live It! stage, which introduces healthy eating habits that have no timeline and should last the rest of your life. You aim to eat about 500 calories less a day than you normally might — an agreed-upon sustainable figure by almost all experts. Exercise is encouraged right away: During both phases, you're supposed to add a minimum of 30 minutes of exercise a day to your life, but it encourages you to do more.
In the Mayo Clinic Food Pyramid, no food group is off the table (spoiler alert: Jelly beans are at the top). The Mayo Clinic's food guides rely on visual clues like baseball or a deck of cards instead of weights for food measurements — and while we appreciate the simplicity of this system, our tester found it very easy to swell a baseball of macaroni and cheese to a softball.
You can get bonuses by performing extra credit activities like keeping a food record in either the Mayo Clinic Diet Journal or a notebook, but here bonuses function as little more than a pat on the back. Totaling calories or fats isn't important; you're just encouraged to write down what you eat, including the main ingredients of mixed meals and the method of preparation. The theory here is that you shouldn't rely on math to calculate your success. Instead, you're connecting emotions to what you ate. Making it tangible on paper is supposed to make you think before you eat. Our tester found it useful, but not as effective as the hard math of Weight Watchers' points. Other bonuses include keeping an activity record, exercising 60 minutes a day, eating "only food that's in its natural state or is lightly processed," and designing your own daily caloric goal.
The Mayo Clinic book provides a printed habit tracker, which is like a kid's chore chart where one checks off habits each day. It's a nice visual to see how you're doing overall, but it's entirely self-managed — you'll get out precisely what you put into it, and nothing is automated.
The plan provides a lot of solid information, but at its core, it's an unflashy book. It lacks both the pizzazz and practical tools we experienced with Weight Watchers and its points system. Those patient enough to read it will find lots of solid health information. You'll find a chapter on changing behavior, one on how to recover if you slip up on a diet, and how to make meals that mesh with your schedule.
An associated iOS app scores a meager rating of 2.5 stars (there's currently no Android version available). The free app includes a tracker and there are reminder options to ping you throughout the day to keep up your habits. But the baffling thing is that you check off that you've kept food and activity records on your own without logging the data in the app. It's basically just a place to say you did it.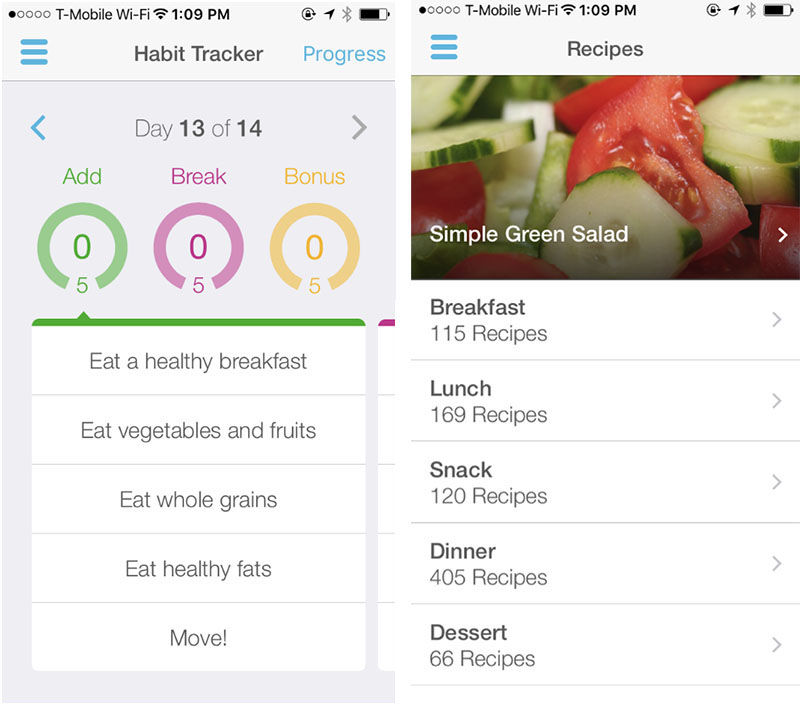 We recommend upgrading to the premium app, which is much more useful than its free version.
Premium access to the app costs roughly $2 a week when you buy an entire year or $4 if you pay weekly, and while it's a slim upgrade (it includes a weight tracker, more than 800 recipes, and a meal planner) it is at least useful.
Our tester knew she's the kind of person who would buy a diet book and then lose it under the couch only to find it months later while looking for a dropped M&M. But if you trust yourself to independently absorb written information and act accordingly, the Mayo Clinic is a trusted source that won't steer you wrong.
Best for People Who Hate to Cook
Nutrisystem Healthy eating made easy for a pricey $295/month.
Most people — even good cooks — can't transform into healthy chef guru Jamie Oliver overnight. The experts we spoke with said it's better to go with an imperfect plan that fits your life than a perfect plan that doesn't fit in your schedule.
"There's a real trigger effect of making one change that's sustainable and that really works. Simply making the one change instead of 'let me change my whole life' sort of thing ends up being what really works," said Dr. Brian Wansink, author of Slim by Design. "The more a diet requires of you that's outside of your pattern or comfort zone, the less sustainable it's going to be."
If you hate to cook and like it that way, Nutrisystem might just be the diet for you.
With Nutrisystem, you order prepackaged food in bulk that shows up at your door — all you have to do is open the food and eat (or microwave, if necessary). The plan gets pricier as you add on options: A four-week plan ($10 a day) offers a preselected kit of meals for each day. The Core Plan ($11 a day) allows you to choose from more than 100 foods. The top-end Uniquely Yours plan ($12 a day) gives you a choice of more than 150 meals with unlimited frozen meals. People who prefer to be extremely hands-off can even get Nutrisystem to auto-refill for you (like toilet paper on Amazon).
The Nutrisystem plan offers a Nutrisystem-brand breakfast, lunch, dinner, and snack/dessert for every day. Once you're signed up, it sends instructions and help materials in PDF or printed form. But you also have to supply some of your own add-ons and fresh food, which is understandable but annoying for a weight loss program aimed at people who are trying to avoid going to the grocery store.
In the literature, Nutrisystem gives these add-ons nicknames like PowerFuel or SmartCarbs, and meals often aren't complete without them. For breakfast, a PowerFuel add-on should add 80-120 calories and more than 5 grams of protein; examples include a cup of low-fat or skim milk, a tablespoon of peanut butter, or a half-cup of tuna (we chose a soft-boiled egg). Nutrisystem recommends adding a PowerFuel to breakfast and one in the afternoon. SmartCarbs are add-ons with 80-120 calories and 1 or more grams of fiber, such as a banana, a cup of beans, or a quarter of a cup of hummus. We chose a cup of blueberries, and it was nice to spice up the packaged meals with fresh food. You can also have up to three extras a day, like coffee creamer, a teaspoon of mayo, or six olives.
A prepackaged plan lives or dies by its offerings, and chances are you'll be able to find something to like among the 150 options, and the website offers star ratings on the foods, so you don't have to test everything to know what's good. (You'll also want to look closely for questionable ingredients, if it matters to you. The bacon bits, for instance, had three different kinds of sugar in them.) That said, our results were up and down.
Breakfast (left): The morning muffin our tester tried was surprisingly moist and flavorful (although the picture on the wrapper was literally larger than the muffin inside). Lunch (Right): A box of powdered potatoes turned into a milky, bubbling substance. It tasted OK, but we could've eaten the gooey mess without teeth.

Dinner was the best of the bunch: a homemade-tasting penne bolognese paired with half a delicata squash as our SmartCarb.
Nutrisystem's exercise options are standard and without frills. You're encouraged to do 30 minutes a day, and you can use Nutrisystem's NuMi app (available on Android and iOS) to help you log food, track calories, and sync with fitness wearables. NuMi is nicely designed with a cleaner interface than most free exercise apps, and it helps you keep track of SmartCarbs and PowerFuels, but other than that it doesn't distinguish itself.
The one major drawback? It's the priciest plan by far. You'll cut back on your grocery bill, but you won't be able to skip groceries entirely. You'll spend, on average, between $250-$300 at the grocery store per month to buy the SmartCarbs and PowerFuels, additional fruits, veggies, protein, and any dairy products that round out a diet that costs $295 per month at the basic level. But if you prefer to use the brain space that counting points and meal planning take up on other plans, this could be a successful option for you.
Best Free Option
SparkPeople Useful free tools and recipes, but its one-size-fits-all approach may not work for everyone.
For dieters with no money to spare, SparkPeople's free online platform is a decent option. The SparkPeople brand covers a lot: Sparkpeople.com is a website that features an online community, articles, a food tracker, and Sparkrecipes. The Spark Solution book includes detailed meal plans and exercises. If you get the book at your library (we found it at ours), you can do this diet entirely for free. If you can't find the book, you can use the online tools at no charge.
The plan is standardized to a fault: It recommends a diet of 1,500 calories a day for anyone, and it further divides those calories into 45-65 percent carbohydrates, 20-35 percent fats, and 16-35 percent proteins. We used one of Spark Solution's pre-designed daily meal plans, which was simple to follow once we had ingredients in hand. Breakfast was peanut butter toast with apples and a glass of milk; lunch was a ham sandwich with a cottage cheese salad; and dinner was a 3 oz. pork tenderloin. It looked tiny next to the normal-sized pork tenderloins our dinner companions ate, but a dinner roll and sweet potato helped us fill up without breaking our diet. Snacks of peanut butter and celery helped round out our testing day. We found the pre-arranged meal plans essential to determine percentages of carbs, fats, and proteins. Luckily, it provides dozens of meal plans with plenty of substitution options.
Like Weight Watchers, SparkPeople gamifies calorie monitoring, awarding you points and trophies when you complete tasks of varying utility, like drinking 8 cups of water, trying a new recipe, or commenting on a SparkPeople blog. But it functions differently: Whereas in Weight Watchers you spend points from food and try not to blow your budget, SparkPeople points accrue, which didn't do much for our tester. Point accrual disconnected from food also seemed like an unhelpful distraction: When you start, you'll get 500 SparkPoints just for going through the welcome guide. Outside of tracking yourself against your goals, the points don't do much for motivation or encouragement.
The Spark Solution diet is among the most robust when it comes to exercise recommendations: About 40 pages of the book are dedicated to workouts. Typical workout plans cover six days of alternating cardio and strength workouts, and it provides a full-on fitness plan for the first 14 days to get you started.
SparkPeople has been around for 10 years and boasts 16 million people have signed up for its site. The online tracking is fairly useful, and provides data such as a Daily Food Breakdown Report, a pie chart of the most- and least-caloric foods you've eaten on a given day. What makes the company special, it says, is combining expertise in physical areas, such as nutrition, fitness, and sleep with expertise in the mental realms of motivation, goal setting, stress management, and leadership.
We liked the interface on the nutrition tracker, but when we looked up a Starbucks spinach and egg wrap, it warned us that some results are uploaded by users, which can result in incorrect or inconsistent points or calories. The company seems to be crowdsourcing its information; without the reliability, corporate connections, and comprehensive calorie listings of Weight Watchers, you might have to cross-check in-app nutritional information with the package. But the app remembers your favorites and recently added items, and it even groups foods you often eat together so they can be tracked with one click. The tracker also features an intuitive search function for SparkRecipes and meal plans. The meal plans map out a day's worth of food, including recipes, and enable you to easily switch out the foods you're not interested in. It also includes a water-intake tracker.
The site is huge, and it includes some neat features: You can link the weight tracker to a WiFi-enabled scale to monitor your progress. Its resources include thousands of articles, recipes, and tips, written by experts in nutrition, motivation, and exercise. Topics include everything from "Lunch Strategies for Work" to "14 Ways to Add Variety to Your Walks" to "All About Artificial Sweeteners." You can also use SparkPeople Mobile to track your food and fitness, which includes a barcode scanner and integration with your SparkPeople.com account.
One big drawback: The site is pretty crowded with ads, making it a drag to read. You can opt for a premium membership for an ad-free experience and other perks for $5 a month or a one-time payment of $30. Despite the price, even Spark's premium membership is cheaper than most other options. If you're tightening budgets along with waistlines, SparkPeople's program could work for you or become a powerful complement to the Mayo Clinic Diet.
The Best Weight Loss Programs: Summed Up
Did You Know?
Reframe how you think about exercise.
Some people who try to get healthy with exercise undermine their efforts by an unconscious process called "calorie compensation."
"We found that when we have people who walk two miles before lunch, they eat a lot more dessert," said Dr. Wansink. "You know, you work out; maybe you burn 200 calories. But in your mind, you think you burned a whole lot more, so you end up compensating and eating a whole lot more ice cream."
But Dr. Wansink said that by reframing how people think about exercise, either as personal "me" time or as a well-earned break, that doesn't happen. "Even framing that activity as an indulgence enables you to supplement your diet in a useful way instead of canceling out your diet," he said.
Real food, not processed food, made at home is best.
Food writer Michael Pollan summarized years of his research in one simple phrase: "Eat real food, not too much, mostly plants." Politi, a fan of Pollan, agrees with this basic sentiment.
"If it's on your table very different from the way it is in nature, it's something to be cautious about," she said.
Politi is also influenced by her upbringing in Italy, and notes that plenty of cultural traditions reinforce Pollan's recommendations.
"In Italy there's a culture of food that is fresh and not processed, and there's also a willingness to spend time shopping and preparing meals," said Politi. "I do think that sometimes satisfaction from a meal comes from cooking it. You just feel fulfilled by preparing a deliciously tasty meal."
Don't go it alone.
For most diets, there's a major success factor completely external to you, said Dr. Katz: your family or those you live with.
"We diet alone, but we live together," said Dr. Katz. "I think it's shocking in this day and age that we continue to talk about dieting, but ignore the fact that most people live with family. One key element in this whole dialogue is family."
Dr. Katz notes that overweight adults often have children with a high likelihood of struggling with weight. Changing the family lifestyle together can prevent those issues by giving you the chance to teach your children what you're learning about health and cooking, or starting family traditions like a walk after dinner instead of TV.
Secondly, in unity there is strength. In the same way you can all enjoy a healthy meal together in the park, your family can also sabotage you — if they continue to eat things around you that aren't on your plan, Dr. Katz added.
"It's going to call your name, and in a moment of weakness, you're going to eat the brownies or the cheese doodles," he said. "You just are; everybody does. So unless it's a household-wide commitment, you're going to be weak and you're going to fail."
The Bottom Line
If you trust yourself to follow a plan and make it happen without the frills, go for The Mayo Clinic Diet book. Alternatively, Spark Solution offers a solid free option. But our research, experts, history, and testing show that Weight Watchers is your best bet for losing weight sustainably, building skills you'll use to keep it off, and gaining a foundation for a healthy life even after you've hit your goal weight. For over half a century, it's evolved with the times to bring its members their best chance at a healthy life.
Take Action
Skip the fad diets. Since a pound of fat equals 3,500 calories, nutritionists generally advise that cutting 500 calories from your diet a day will help you sustainably lose that pound week. Anything more than that and you risk cheating, weight-gain rebounds, and even adverse health effects. "The reason we say that is there are various fad diets that tout the ability to lose great amounts of weight in a short time, but we know from good science and evidence that those are not ideally healthy weight loss plans," said Dr. Laurence Sperling, founder and director of preventive cardiology at the Emory Clinic.
Reframe exercise as a treat. Buy a membership to a yoga studio; take extra time to drive out to a mountain or water view while exercising so it feels like you're enjoying nature instead of doing a chore; ride bikes with the whole family. Adding activities that feel good and also happen to include exercise is the best way to make exercise stick.
Cook as often as you can. When you cook at home, you know and can control precisely what you're eating. Studies have shown that eating at restaurants introduces an average of 200 more calories, 10 grams more fat, and 58 additional milligrams of cholesterol to every meal.