Showing results for
Did you mean:
Sorry, something went wrong. Please refresh your browser and try again.
Last updated on
January 25, 2018
The Best Cell Phone Plan
Make the right call
The 30-Second Review
The best cell phone plans combine optimal speed, coverage, and reliability. But the details are personal: where you live, how you use your phone, how many lines you need, and how much you're willing to spend. We analyzed plans, talked to experts, and crunched data and coverage to help guide you to the best carrier for you.
Best Overall
First place for it all: overall performance, network reliability, network speed, data, and call and text performance. Even better are the competitive prices.
Best Family and Unlimited Data Plans
Unlimited plans that don't require you to share your data with the rest of the family. But after 26GB/month, you may see reduced speeds.
January 25, 2018 - We've made some light changes to our review to reflect average data consumption in 2017, per the most recent Ericsson Mobility Report. Data usage has almost doubled since 2016, from 3.7GB up to 6.9 GB. We continue to recommend Verizon for its superior network speeds, reliability, and competitive pricing.
The Best Cell Phone Plan
It used to be that choosing a cell phone plan was like choosing your own personal ball and chain. Signing on that dotted line immediately locked you into a multi-year contract designed to make switching phones or carriers prohibitively expensive. These days, the carriers with the best cell phone plans have ditched contracts in favor of a month-to-month model that allows more freedom to switch than ever before.
Carriers are also offering more incentives to make that switch, so you shouldn't feel stuck with Sprint, AT&T, or T-Mobile if they don't offer the best coverage and data speeds in your area. Verizon is our top overall pick thanks to its impressive breadth of coverage, competitive prices, and renewed focus on speed with the rollout of its LTE Advanced network. But others may have better service in the places you live and work, and that's what matters most: if you can't get a reliable signal, then enhanced speed and unlimited data don't matter a bit. So, the best cell phone plan for you comes from the carrier with the best coverage where you are. (Don't worry — we'll show you how to find that out.) For instance, in a metro area like New York or San Francisco, T-Mobile edges out Verizon with its superior coverage and unlimited data for families.
At this point you might be wondering: What's the deal with those lesser-known phone companies on the fringes? Services such as Cricket and Republic Wireless are known as prepaid or mobile virtual network operators (MVNOs), and consumers who prioritize budget and are willing to adopt a WiFi-first approach to mobile internet surfing can save some money breaking away from the Big Four altogether and signing up with them.
In many cases, prepaid/MVNO services use the same networks as the major carriers and some are even direct subsidiaries of them, meaning you'll get the same coverage and reliability. What you won't get is data speed. The flagship brands prioritize their customers first, so when there's traffic on the network, MVNO subscribers will feel it the most.
If the budget is your priority or if you're going to use your phone primarily for phone calls, we recommend checking out MNVO Republic Wireless which operates on a combination of WiFi, T-Mobile's network and Sprint's network. Cricket is another to consider: it's tied to AT&T's nationwide network and has inexpensive multi-line plans.
How We Found the Best Cell Phone Carriers
Not sure if a provider covers your area? We're stoked about RootMetrics, a site that lets you check network coverage in your neighborhood. Search the site's map by area code, city, or neighborhood, and zoom in as much as you want — the site analyzes coverage almost to the backyard level. You can apply filters from the drop-down menu to look at specific providers or at specific types of coverage, like voice versus data. Pretty nifty.
The best cell phone plan comes from a carrier with fast speeds, wide coverage, and a reliable network. Since most carriers won't check all three of these boxes perfectly, you'll want to find a provider that offers a balance that you're happy with — a process we'll guide you through. After that, you can select the specific plan that works best for you.
The wireless business is an insanely competitive one, and each of the Big Four carriers — Verizon, AT&T, T-Mobile, and Sprint — is constantly changing up its plans and incentives to lure customers away from their existing subscriptions. Verizon and AT&T are the traditional powerhouses, with each accounting for about a third of the mobile market, but T-Mobile has attracted the most new subscribers of any carrier over the past two years and Sprint has targeted the budget market with aggressive promotions such as half-off pricing for subscribers who switch. (Sprint even stole Verizon's pitchman, proving that all's fair in love and wireless.)
Healthy competition is never a bad thing, but what consumers really care about often boils down to one question: Which carrier has the best network?
To answer that, we turned to RootMetrics, a survey operation that tests the major mobile networks and provides an accurate, unbiased account of which networks perform best from a consumer's point of view. RootMetrics strives to be as comprehensive as possible in its methodology, which includes testing of reliability and speed during file uploads and downloads, while downloading email, and while downloading files similar to typical webpages. Testers also measure how reliably each network places and maintains calls, and how reliably and quickly subscribers can send and receive text messages. Looking at RootMetrics' overall CoverageMap, it's clear that Verizon features the most extensive network with the best speeds and call performance across the nation.
But that's not the end of the story. The quality of a provider's network can vary drastically within the same city or metro area, and if you zoom into your particular neighborhood, you might find coverage that's suddenly spotty. Needless to say, it doesn't matter if Verizon is theoretically the best if their network doesn't cover your house.
To illustrate this difference, here's what Verizon looks like next to T-Mobile in terms of nationwide speeds (the blue means faster data speeds detected; the orange indicates slower):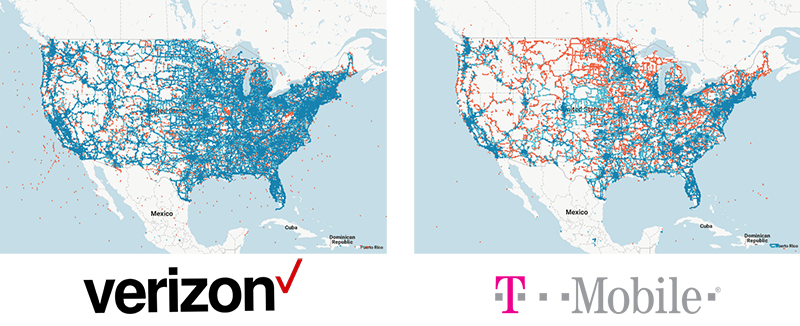 But if you happen to live and work in the Bay Area, you're probably better off with T-Mobile. Here's what those same maps look like when we zoom in on San Francisco:
The takeaway here is that "best" is relative when it comes to cell phone carriers, and the experts we consulted with agree. "The first point to consider is which carrier has the best service where you live and work or spend much of your time," confirm Jamie Huff and Tammy Parker, wireless analysts at Current Analysis. Assuming all carriers offer comparable coverage in your area, Huff and Parker recommend that you focus on the following questions:
How much high-speed data do you need each month?
The average smartphone subscriber uses about 6.9GB data per month, according to a June 2017 report from information and communications technology group Ericsson (up from 3.7GB in 2016). This number serves as a good guidepost when you choose a plan: It's roughly the amount of data you'll need if you check directions and browse the web daily. But if you're looking to cover multiple family members, or if you spend hours a day on your phone, you'll need a higher-tier plan, like Verizon XL's 16GB, or T-Mobile One's unlimited data. (And if you don't use your phone even for directions or web browsing? You're a prime candidate for a much cheaper plan through an MVNO.)
Usage Chart for Best Cell Phone Plans
How much data do you really need?
| Number of Lines | WiFi-First or Infrequent Data Users | Typical Data Users | Heavy Data Users |
| --- | --- | --- | --- |
| 1 | 1–3GB | 4–7GB | 7GB+ |
| 2 | 2–6GB | 8–14GB | 14GB+ |
| 3 | 3–6GB | 12–21GB | 21GB+ |
| 4 | 4–12GB | 16–28GB | 28GB+ |
What's the cheapest option based on the number of lines needed?
Most carriers offer "family" plans that let you add extra lines at a discounted price. Sprint, Verizon, and AT&T use a similar model for their family plans: All members pull data from a shared pool, and if all the data is used up, everyone on the plan will be affected equally. T-Mobile One is the only one of the big four whose family plan functions differently, instead allotting a set amount of data to each person. T-Mobile's set-up is a good compromise if you've got, say, a couple of Netflix enthusiasts in the family who might otherwise hog all of the data.
Which carrier's network best matches your lifestyle and professional needs?
After running the numbers, we think most users will be happiest with one of the Big Four: Verizon, Sprint, AT&T, or T-Mobile. These carriers offer network coverage that smaller players can't truly compete against. If you're truly committed to saving money and you use your phone very rarely, an MVNO is a viable option (and one we look at in more detail below), but for most people the tradeoff simply isn't worth it.
A lot of this boils down to two typical culprits: money and resources. "I think the MVNOs are all sort of struggling a little bit," says David Witkowski, an industry expert and the head of the nonprofit Wireless Communications Initiative at Joint Venture Silicon Valley. "It feels like Chihuahuas fighting over a bowl of food while the big dog is off eating out of the bag."
We kept our initial search simple and focused on the big dogs, each of which offers an LTE network with nationwide reach, a wide roster of compatible Apple and Android smartphones, and a number of plans to suit every demographic of subscriber.
"Each carrier has something that stands out from the others," Huff and Parker note. After comparing the options, we think that Verizon is the best bet if you're based out of the US, thanks to its widespread network. But T-Mobile is typically a better option if you travel internationally.
Our Picks for the Best Cell Phone Carrier
Best Overall
VerizonThe nation's best coverage paired with competitive prices and the new LTE Advanced network.
Of the Big Four, Verizon was our clear victor. The clearest snapshot of their performance comes from RootMetrics, which gives out regional awards to carriers that are top performers in categories like network speed and reliability, call quality, and data performance. Verizon swept the table in 2016, earning 107 of RootMetric's 125 possible awards.
Perhaps most impressive are Verizon's data speeds, which have outperformed the other networks in the past and may soon lap the competition thanks to the rollout of a new LTE Advanced network that promises "50 percent faster peak speeds" in the 200–300Mbps range. While this figure has yet to be corroborated by long-term experience in the real world, it's safe to say it will mark a considerable step up from the 4G LTE network's peak download speeds of 50Mbps. Verizon claims this technology works by combining multiple wireless connections together to create what amounts to a bigger, stronger channel piping data straight to your phone. It's currently only compatible with next-gen devices and the rollout has been limited to about 450 cities thus far, but Verizon is prepping to be a step ahead of the competition in terms of network technology. (Sprint has deployed similar technology in 100-plus markets, while T-Mobile recently went live in the San Francisco Bay Area and AT&T is similarly sticking to major urban markets for the time being.)
Verizon has also managed to stay competitive in terms of pricing. Sure, it's annoying that it doesn't offer an unlimited data plan, but the company rightly points out that such plans aren't really "unlimited" after all (T-Mobile's One plan, for example, reduces speeds for those using over 26GB per billing cycle). These plans offer more bang for the buck than AT&T's, and on a more reliable network. And while nobody's beating T-Mobile's unlimited international travel plan, Verizon offers a good second-place option with its flexible TravelPass, which allows $2/day use in Canada and Mexico and $10/day use in over 100 countries.
But again, it bears repeating: The best provider is one with full coverage in your area. So check out your neighborhood coverage map before making a final decision.
Verizon Plans at a Glance
| Data | Talk/Text | Price Per Month |
| --- | --- | --- |
| 2 GB | Unlimited | $35 (+$20 per line) |
| 4 GB | Unlimited | $50 (+$20 per line) |
| 8 GB + 2 GB/line | Unlimited | $70 (+$20 per line) |
| 12 GB + 2 GB/line | Unlimited | $80 (+$20 per line) |
| 16 GB + 2GB/line | Unlimited | $90 (+$20 per line) |
Best Family and Unlimited Data Plans
T-MobileThe "Uncarrier" outperforms all other carriers in metro areas and now offers unlimited data plans across the board.
Some of T-Mobile's innovations have really shaken up the industry. After prodding Verizon to end overage fees with a nifty bit of skywriting in 2015, the "Uncarrier" played its trump card by switching all subscribers over to a single unlimited plan known as T-Mobile One. As of September 2016, all new subscribers receive unlimited talk, text, and 4G LTE data.
If all that sounds too good to be true — well, it sort of is. "Unlimited" has a few caveats, including video streamed at non-HD quality (480p) and possible reduced speeds for users who go past 26GB/month. If you want HD video, you'll have to pay extra every month per line, and if you want 4G LTE tethering (the ability to share your smartphone's 4G connection with another device via WiFi, USB, or Bluetooth) that'll run you up even more.
We also think T-Mobile One is a standout choice for families. Every person that you add to your sharing plan gets their own allotment of data, which means that you won't have to worry about your own speed slowing to a crawl because your kid spends most of her waking hours on Snapchat. T-Mobile is the only one of the Big Four to offer this arrangement. Sprint, Verizon, and AT&T all require the members of a family plan to share from one big data pool. And sure, in a perfect world, four family members sharing 16GB of data would each use precisely 4GB. But if you've got kids or teens for whom the concept of a data cap is still hazy, T-Mobile's distribution is much more likely to result in an equitable distribution without requiring you to keep a personal eye on everyone's data usage.
When we got in touch with a T-Mobile specialist over the phone, he verified that the carrier's family plans offer unique chunks of data to each member: "Here at T-Mobile, we don't share data on any plan. Everyone gets their own data plan." And for users who only use data while streaming, T-Mobile's Simple Choice plan offers a slightly more affordable option that still allows for unlimited streaming on 100-plus video and music services.
That's not to say T-Mobile is perfect. While the company has made impressive strides to increase network coverage, they still aren't on par with AT&T and Verizon, particularly in remote areas. But if you live in a major metro area, like New York or San Francisco, T-Mobile generally offers service comparable to the other major players. It also receives similar rankings on customer satisfaction from J.D. Power.
T-Mobile Plans at a Glance
| Data | Talk/Text | Price Per Month |
| --- | --- | --- |
| Unlimited (Speeds Reduced at >26 GB) | Unlimited | $35–$70 per line* |
*Prices shown for T-Mobile One plan. For premium connectivity (4G LTE mobile hotspot service, unlimited data in 140+ countries at 2x speed, and unlimited HD video) add $25/line/mo)
A note on T-Mobile's prepaid plans
They're the cheapest among the major carriers, and they're especially attractive if you use a lot of data, but don't talk on the phone all that much. For $30/month, you get unlimited web and text with 100 minutes talk, but as with all of T-Mobile's plans "unlimited" isn't so unlimited. After you've eaten through 5GB, speeds are reduced to 3G and lower — not too bad for email or surfing, but streaming video will slow to a crawl.
Best TV and Wireless Bundles
AT&TIt's no Verizon, but AT&T's merger with DirecTV offers a unique way for satellite subscribers to save.
AT&T's network doesn't quite stand up to Verizon's, ranking second behind Big Red in five out of six categories at the national level according to RootMetrics' 2016 Mobile Network Performance Special Report. It's also the most expensive.
The one place where AT&T holds a competitive advantage is in its TV and wireless bundles. In mid-2015, AT&T merged with satellite TV provider DirecTV, making bundling discounts available for the first time. You won't dramatically slash your bill, but the deals make AT&T worth considering if you're a heavy data user (in the 10–15GB range) and you also need a paid TV service.
AT&T Plans at a Glance
| Data | Talk/Text | Price Per Month |
| --- | --- | --- |
| 3 GB | Unlimited | $40 (+$20 per line) |
| 6 GB | Unlimited | $60 (+$20 per line) |
| 10 GB | Unlimited | $80 (+$20 per line) |
| 16 GB | Unlimited | $90(+$20 per line) |
| Unlimited* | Unlimited | $60 (+$20 per line) |
*Unlimited option only available with TV bundle.
Lowest Costs (of the Big Four)
SprintSprint's network lags behind the others, but the price is right — especially if you're a light data user.
Knowing that it can't compete with the other carriers in terms of coverage, Sprint has tried to position itself as the budget brand with reliability that beats T-Mobile and performs within 1 percent of Verizon and AT&T. That's a bit misleading, because reliability only measures "accessibility and retainability of voice calls and data sessions" and doesn't account for network speed or overall coverage. RootMetrics' scores and map confirm that Sprint's network is notably less extensive than Verizon's and it ranks dead last in terms of overall data speeds.
Still, if you're in search of a budget option but don't want to give up the reliability of Big Four service, Sprint has a range of plans that hit their target. In particular, the carrier stands out for reasonably priced plans with low data caps. Its 1GB and 3GB plans are likely to be substantially cheaper than comparable plans from, say Verizon. Sprint also tends to run numerous half-off promos that can provide an extra nudge if you've been thinking about switching over for awhile.
Sprint Plans at a Glance
| Data | Talk/Text | Price Per Month |
| --- | --- | --- |
| 1 GB | Unlimited | $20 (+$20–$45 per line)* |
| 3 GB | Unlimited | $30 (+$20–$45 per line)* |
| 6 GB | Unlimited | $45 (+$20–$45 per line)* |
| 12 GB | Unlimited | $60 (+$20–$45 per line)* |
| Unlimited (Speeds Reduced at >23 GB) | Unlimited | $30–60 per line |
*$25 added to monthly access charge ($20) for discounted phones.
If you're really looking to save, a prepaid or MVNO service is the way to go.
If you have both eyes on your budget and all other considerations come second, we'd suggest avoiding the Big Four entirely. MVNO providers like Cricket and Republic Wireless represent some of the cheapest options on the market. As Huff and Parker note, "MVNOs and secondary brands can offer cost savings over large carriers' flagship brands and are worth a consideration."
Make sure you understand the tradeoffs, however. Data plans for prepaid and MVNO are typically limited to 3GB; the highest cap we were able to find was 10GB. In other words, these plans are only going to work if you use very little data — whether because you simply don't use your phone that much, or because you spend most of your time within range of a WiFi network. You also won't have access to lightning-fast load times or recently released smartphones. You'll need to stick with a major carrier for either of these perks.
MVNOs do not operate their own networks and instead offer access to one or several of the major carriers' networks at a reduced cost. Just like choosing among the big four, a huge part of choosing the right MVNO is knowing which network it uses and whether that network works well where you live. A good MVNO should be tied to a reliable network or even two networks. No matter what kind of plans Boost Mobile and Virgin Mobile may offer, they're still tied to Sprint's so-so network and are thus inherently limited in terms of coverage.
A Breakdown of MVNOs and their Host Networks
| Host Network | Available MVNOs |
| --- | --- |
| Verizon | Credo Mobile, GreatCall, Page Plus, Rok Mobile, Total Wireless |
| AT&T | Cricket Wireless, H2O Wireless, Pure Talk USA |
| T-Mobile | Krew Mobile, MetroPCS, SIMPLE Mobile, Ultra Mobile, US Mobile |
| Sprint | Boost Mobile, FreedomPop, RingPlus, Tello, Text Now, Virgin Mobile |
| Combination | StraightTalk Wireless, Net10 Wireless, Red Pocket Mobile, Consumer Cellular, TracFone, Republic Wireless, Ting, The People's Operator, Google Project Fi |
Although MVNOs share the same networks as the major carriers, they may not offer the same data speeds. "Various brands may have data speed guarantees that differ from the mobile network operator's flagship brands," warn Huff and Parker. "For example, AT&T caps Cricket users' data download speeds to 8Mbps on LTE, while T-Mobile-branded services get precedence over data of customers who choose non-T-Mobile-branded services [including MetroPCS] when the network is presented with competing demands." Huff and Parker note that data experience from a prepaid or MVNO provider can be comparable to what's included in postpaid service from a network operator. They suggest customers look at the fine print to ensure the data service they get from a prepaid provider or MVNO will be what they are expecting.
Is a prepaid/MVNO plan right for you?
That depends. "I think everybody's case is a little different, so it has to be a personal decision," says Witkowski. "I can't afford to be out of coverage for the work that I do, so I wouldn't sacrifice the quality of my network. My wife, on the other hand, spends most of her time pretty much covered by WiFi and uses very little data when she's away from the house. And my daughter gets WiFi at school and at home, so she doesn't need any data. So just within my own household, I can see three usage profiles. So when you ask the question of, 'What's the right plan?' you've really got to ask, 'Well, what do I want to do with it?'" To help you answer that question, we've compiled a few common user profiles and our recommendations for each:
Hardcore Streamer
Verdict: Verizon
Prepaid and MVNO plans rarely offer more than 10GB of data, making them a poor choice if you're constantly streaming music and videos.
On-the-Go Professional
Verdict: Verizon
Like Witkowski, you'll probably want to stick with one of the major carriers. "It really boils down to whether you need large amounts of data when you're out of WiFi coverage," he says. "If you do, then I think you're looking at traditionals."
International Traveler
Verdict: T-Mobile
Most prepaid or MVNO plans don't offer international roaming, so you'd have to buy a prepaid SIM during most international trips. This can obviously be a hassle, and T-Mobile's outstanding international travel benefits (unlimited data and texting in 140-plus countries) make it the obvious choice here.
Talk and Text Only
Verdict: Prepaid/MVNO
A WiFi-first service like Republic Wireless offers great savings with talk, text, and WiFi data at $15/month.
College Student on a Budget
Verdict: Prepaid/MVNO
If you're on campus all the time and constantly hooked up to your university's WiFi, opt for a WiFi-first or low-data plan from Republic.
Shopping for Your Child
Verdict: Prepaid/MVNO
If you don't want your kid eating through a ton of data without you knowing, you'll probably want to keep them on a WiFi-first prepaid plan. "For a kid, you're going to want to keep them constrained," warns Witkowski. A great way to do that is by forcing them to take advantage of the WiFi at home and school while still giving them the option to talk and text.
Best MVNO for WiFi-First or Low-Data Users
Republic WirelessAn innovative carrier that can save you serious money if you spend most or all of your time connected to WiFi.
Republic Wireless combines cellular service with cheap, abundant WiFi coverage to offer plans that are considerably cheaper than the big-name competition. If you want unlimited talk and text and can commit to using only WiFi for your surfing and streaming needs, you're looking at a $15 monthly bill with no strings attached.
If WiFi-only data seems scary, take comfort: Ericsson's 2016 Mobility report notes that over 85 percent of data traffic generated by the use of smartphone video apps goes over WiFi. "That's a metric the industry accepts as the truth," says Witkowski.
Carriers have responded by deploying more WiFi calling, but none as adamantly as Republic, which allows customers to make calls in their homes over their own WiFi access points. When most other MVNOs are competing over fractions of dollars to see who can offer the "best worst" plan, Republic Wireless is opting to play a different game, a WiFi-dominant one.
Republic's WiFi calling isn't just useful — it's oftentimes clearer and more reliable than what you'd get using a carrier like Sprint. The company uses what it calls "Adaptive Coverage" technology that actively senses the quality of your phone's connectivity over WiFi. If it starts to get a little shaky because you're moving farther away from WiFi, it pulls from available cellular data to fill in any gaps and prevent dropped calls. Republic is also one of the only MVNOs that uses a combination of major host networks — in this case, T-Mobile and Sprint — to fill in the gaps around WiFi calling. MVNOs like Boost Mobile and MetroPCS are tied to a single host network (Sprint and T-Mobile, respectively), meaning they're limited to that network's coverage area.
"If you've got a tween or a middle schooler who's just using a phone at home and when she's walking around, I think Republic's model is really good," says Witkowski. "Because that's pretty much what they need, and they can do everything else on WiFi. Plus, WiFi calling has reached a point where it's stable enough that it's useful."
We looked into Freedompop, a company that offers similarly innovative and inexpensive plans, but it has been accused of shadiness in the past and is stuck on Sprint's so-so network. For that reason, we recommend WiFi-focused users turn toward Republic Wireless first, especially given the fact that it added T-Mobile as a network partner in 2016 and introduced seven new phones to its lineup, including high-quality Android models like the Samsung Galaxy S7.
Republic Wireless Plans at a Glance
| Data | Talk/Text | Price Per Month |
| --- | --- | --- |
| WiFi Only | Unlimited | $15 |
| 1 GB* | Unlimited | $20 |
| 2 GB* | Unlimited | $30 |
| 4 GB* | Unlimited | $45 |
| 6 GB* | Unlimited | $60 |
*Republic Wireless plans are designed primarily for users with ample WiFi data access.
Best MVNO for Families
CricketA five-line plan using AT&T's network (with throttled data speeds) for $100 less/month? Yes, please.
Cricket Wireless is the best MVNO option for families looking for inexpensive multiline plans. Cricket, a subsidiary of AT&T, uses AT&T's extensive nationwide network, but data speeds are throttled to 8Mbps. That might worth it: with the Group Save discount, families of five can save up to $100 each month off a standard AT&T plan and still have access to up to 10GB of data — about enough for a family of four that consumes a typical amount of data. Cricket also offers some international perks that are pretty much unheard of in the world of MVNOs, including unlimited international texting and free roaming in Canada and Mexico on plans of 5GB or more.
Cricket Plans at a Glance
| Data | Talk/Text | Price Per Month |
| --- | --- | --- |
| 1 GB* | Unlimited | $30** |
| 2.5 GB* | Unlimited | $40** |
| 5 GB* | Unlimited | $50** |
| 10 GB* | Unlimited | $60** |
| Unlimited* | Unlimited | $70** |
*Download speeds max of 8Mbps (LTE) / 4Mbps (4G).
**Group Save discount offers $10 off 2nd line, $20 off 3rd line, $30 off 4th line, and $40 off 5th line.
Another Option: Project Fi
You might have heard of Google's Project Fi, an interesting WiFi-first MVNO that charges only for the data you use. It works across three different networks (T-Mobile, Sprint, and U.S. Cellular), automatically connecting to the one with the best service where you are. Plans start at $20 for unlimited talk and text, plus an additional $10 per GB of data used.

But while there's a lot to like about Project Fi, hardware is severely limited; the plan only works on a small selection of Google Nexus phones and the company's recently announced Pixel handsets. It's a limited selection, especially if you're a budget shopper looking for cheap alternatives.
Did You Know?
Not every phone works on every network.
There are two basic technologies behind mobile phones: GSM (Global System for Mobiles) and CDMA (Code Division Multiple Access). AT&T and T-Mobile use GSM, while Verizon and Sprint use CDMA. There's no real quality difference between these two technologies, and it shouldn't be a huge factor in choosing which carrier to go with, but GSM and CDMA devices are not cross-compatible. That's why a smartphone purchased through T-Mobile won't work on Verizon's network.
But GSM is more common than CDMA outside the US. If international travel is a regular part of your life and you want a phone that will allow you to pop in a SIM cards for local rates abroad, T-Mobile and AT&T might be the best place to start. And while Verizon uses the competing CDMA standard, it does phones that pair CDMA with GSM and other technologies for globetrotters.
Taxes on wireless consumers are on the rise.
Though industry competition has led to lower monthly bills, the benefits of lower wireless prices have been partially offset by increases in government taxes and fees. According to a study by the Tax Foundation, wireless plans in 2014 were down 7 percent, but taxes on those plans increased 3 percent (from 15.5 percent to nearly 18 percent). In some states — ahem, Washington, Nebraska, and New York — combined state and federal taxes on wireless plans are around 25 percent.
Take advantage of deals and incentives to switch.
"We've reached a point where the smartphone market is pretty much saturated and we're swapping from carrier to carrier instead of creating new subscriptions," says Witkowski. "There's not a vast untapped market of people that don't have phones or plans." This means that carriers have to offer big incentives to get people to make the switch, and that's exactly what they're doing. Sprint's 50 percent off promotion is perhaps the most impressive, but T-Mobile, AT&T, and Verizon all offer similar incentives that pay off existing contracts and devices to help you make the switch.
The Best Cell Phone Plans: Summed Up