The Best Car Insurance Companies
The best auto insurance companies will provide you with ample coverage and a fair, timely claims process backed by solid financials. It also helps if they're pleasant to deal with over the phone and have responsive customer support, all for a great price.
With this in mind, we took a long hard look at the auto insurance market and compared everything including complaint data from the National Association of Insurance Commissioners (NAIC), financial strength ratings from A.M. Best, claims satisfaction scores from J.D. Power, and even each provider's coverage, pricing, and discounts. For more on our process, check out our methodology.
Auto Insurance Reviews
Five companies — USAA, Geico, State Farm, Progressive, and Nationwide — stood out in our evaluation as top picks for industry-leading performance in key categories.
Whether you're searching for your first policy, or looking to switch companies, we recommend comparing car insurance quotes at least three to five of these top-rated insurers to find the best value on the coverage you need.
The Best Car Insurance Companies In 2020
| | | | | |
| --- | --- | --- | --- | --- |
| | Reviews.com Score /5 | Customer Experience Score /5 | Coverage Score /5 | Pricing Score /5 |
| USAA | 4.3 | 4.3 | 3.5 | 5.0 |
| Geico | 4.0 | 3.5 | 3.5 | 5.0 |
| State Farm | 3.8 | 3.8 | 3.0 | 4.5 |
| Progressive | 3.7 | 3.1 | 4.0 | 4.0 |
| Nationwide | 3.5 | 3.5 | 4.0 | 3.0 |
| Safeco | 2.8 | 2.5 | 4.5 | N/A |
| Travelers | 3.5 | 2.5 | 4.0 | 4.0 |
| Farmers | 3.4 | 3.2 | 4.5 | 2.5 |
| Liberty Mutual | 3.0 | 2.1 | 4.5 | N/A |
| Allstate | 3.0 | 3.0 | 3.5 | 2.5 |
Choosing the Car Insurance Company That's Right for You
We used quantitative data to find our top picks, but car insurance is a very personal buying decision. Along with that hard data, we also noted our top picks for certain drivers based on qualitative factors, including unique coverages offered and differentiating customer experience.
When it comes to finding the best insurance for you, you'll want to spend some time deciding what is most important to you when it comes to your insurance policy. Some key factors to consider would be the company's reputation for customer service, value, and coverage options, but many experts recommend focusing on one measure over the others:
"The main thing to look for is satisfaction as far as claims handling. We all can buy cheap insurance anywhere, but if you find out after that the claims handling ability isn't there, you might be disappointed in the settlement if and when you need to use your insurance."


John Espenschied
Agency Principal and Owner, Insurance Brokers Group
You may be happy to pay more for the best customer service, or willing to have more basic coverage to get the most reliable claims processing, and that will affect which insurer would be the best fit for you.
Next, put together a list of insurance providers to compare. You can start your list with our top picks, but look beyond those as well. Since availability varies by state, you can also check out our top car insurer picks for each state.
Factors That Affect Insurance Costs
Credit score
Driving habits
Age
We used general pricing data, but there are lots of factors that affect the cost of your car insurance, so in order to truly compare you'll need to request personalized quotes.
The more providers and quotes you gather, the more options and prices you'll have to consider. And you don't have to go through that decision alone. Although many insurers offer a fully online experience, if you're looking for a real person to talk to, you can work with an agent.
Reviews.com Recommended Car Insurance Companies
USAA – Best for Military Members and Veterans
Best for
Military Members and Veterans
USAA
USAA
Availability can vary, and our quote tool may not include all providers in your area.
Pros
Top-rated customer service
Efficient claims process
Affordable rates for service members
Effective online and mobile tools
Cons
Membership limits availability
While USAA is available across the United States, it's available only to those who qualify through military service. With that said, if this insurer is an option for you and your family, we highly recommend requesting a quote. Not only does USAA offer robust standard coverage and discounts — including military-specific options, like up to 15% off for storing your vehicle on base — and outperform the other insurers we tested on customer experience, it also offers one of the lowest average price points.
Geico – Best Digital Experience
Best for
Digital Experience
Geico
Geico
Availability can vary, and our quote tool may not include all providers in your area.
Pros
Top-rated online and mobile tools
Plenty of discount opportunities
Cons
Claims and service ratings are average
Geico is a great option for those looking for DIY insurance policy management. The company took first place in J.D. Power's 2019 Digital Experience study, and its mobile app earns strong user ratings. The company also has a wealth of online resources to ease the shopping process for auto insurance first-timers (or anyone who needs a quick refresher) and it all comes without a giant price tag. Geico maintains a reputation for affordability, offering a wide array of discounts to help customers save on premiums.
State Farm – Best for Rideshare Drivers
Best for
Rideshare Drivers
State Farm
State Farm
Availability can vary, and our quote tool may not include all providers in your area.
Pros
Top-rated customer service
Widely available rideshare coverage
Cons
Claims ratings are average
State Farm offers a notable on-the-ground presence, with more than 19,000 local contractor agents nationwide, and earns positive customer service scores from J.D. Power respondents. It even took home second place in the Southwest region in 2019.
In terms of coverage, State Farm's offerings are pretty standard — though it stands out for having the widest-reaching ride-share insurance program of any company we've researched, with coverage available in 42 states and Washington D.C. This makes it a good first stop for Uber and Lyft drivers looking to supplement their employer's insurance (which only applies in select scenarios).
Progressive – Best for Discounts
Progressive
Availability can vary, and our quote tool may not include all providers in your area.
Pros
Gap coverage
Discount for drivers under 18
Cons
Low claims satisfaction score
We ran a survey with YouGov to better understand car insurance shopping behavior, and found that, after price, discounts are the top driver when people shop for car insurance. Out of our top picks, Progressive stood out in this category with 19 advertised discounts.
Despite its ample opportunities to save, however, its average price was middle-of-the-pack so we recommend requesting a quote to find out if Progressive can offer you the best value. When making your decision, keep in mind that Progressive did fall below the industry average in both J.D. Power's 2019 Claims Satisfaction study and Regional Customer Satisfaction Survey.
Nationwide – Best for Coverage Options
Best for
Coverage Options
Nationwide
Nationwide
Availability can vary, and our quote tool may not include all providers in your area.
Pros
Vanishing deductible
Gap coverage
Cons
Average customer satisfaction
Although Nationwide doesn't offer the largest number of optional coverage add-ons, it does offer some of the most unique and attractive options to customize your coverage. For example, Nationwide's Vanishing Deductible provides an incentive for drivers by decreasing their deductible each year of safe driving. Although it has average scores on J.D.Power's customer satisfaction studies, it does have the second lowest NAIC Customer Complaint Index of our best car insurance contenders, which is a positive indicator of customer experience.
Best Car Insurance in Your State
Ready to choose your car insurance company? A good place to start is by comparing top insurers available in your area. We reviewed the top companies in each state to help you narrow down your search.
Reviews.com Best Car Insurance Methodology
To make sure we found the best car insurance companies available, we looked for companies that met a high bar. Starting with the largest companies in the auto insurance field, we knocked out any insurers that didn't meet strict criteria on availability, financial strength, and market share. This helped us narrow down our list of contenders to 10 of the best companies.
Reviews.com Best Car Insurance Top Contenders
| | States Available | AM Best Financial Strength Rating | Market Share |
| --- | --- | --- | --- |
| USAA | 50 | A++ | 5.9% |
| Geico | 50 | A++ | 13.4% |
| State Farm | 50 | A++ | 17.0% |
| Progressive | 50 | A+ | 11.0% |
| Nationwide | 50 | A+ | 2.7% |
| Safeco | 50 | A | 0.9% |
| Travelers | 50 | A++ | 1.9% |
| Farmers | 50 | A- | 4.3% |
| Liberty Mutual | 50 | A | 4.8% |
| Allstate | 50 | A+ | 9.2% |
Data accurate as of December 2019.
With our group of select insurers, we were able to score each company. Here's how we did it:
We researched all of the top insurers, collecting data for each in three key categories:
Customer Experience: We looked for indicators of customer satisfaction, focusing on two J.D. Power auto insurance studies and the NAIC Customer Complaint Index to help us determine the typical consumer experience with the insurer.
Coverage: We looked for optional add-on coverage available because these choices can help you customize your policy to best fit your needs. Keep in mind, this count of add-ons is based on advertised optional coverages and does not necessarily reflect the company that will be able to provide the most robust coverage for your needs. We also included the financial strength rating of the insurer from AM Best, because an insurer's ability to pay claims is a vital measure of the coverage they provide.
Price: Insights from our YouGov Car Insurance Buying Behavior survey showed that discounts (after price) were the leading factor driving consumers to shop for car insurance, so we made sure we included advertised discounts as a factor in our scoring system. Using data we worked with Quadrant Information Services to gather, we found an average price for each insurer, but your quote will depend on your unique circumstances.
Once we had all of the data we needed to make a decision on the top insurers in the market, we converted that data into a 5-point scale to be able to compare.With our converted scores, we found the average score for each of our categories.Finally, we calculated our overall Reviews.com score, taking the average of each insurer's performance in all three categories.
Car Insurance Survey Findings
To dive a little deeper into what influences purchasing decisions, we worked with YouGov, a leading survey provider with a panel of 8 million individuals whose data spans 40 markets. 1,292 individuals who own a vehicle were surveyed to understand the frequency of buying decisions and any misconceptions around the buying process.
We found that of the people surveyed, 36% don't shop around for their auto insurance options. Additionally, the top three factors that impact the decision are the reputation of the company (62%), any discounts offered (59.4%), and the availability of customer service (52.8%). During the survey, we also decided to explore some auto insurance myths that people often believe. The common myths revolving around rate negotiation and car color were believed by nearly half of respondents.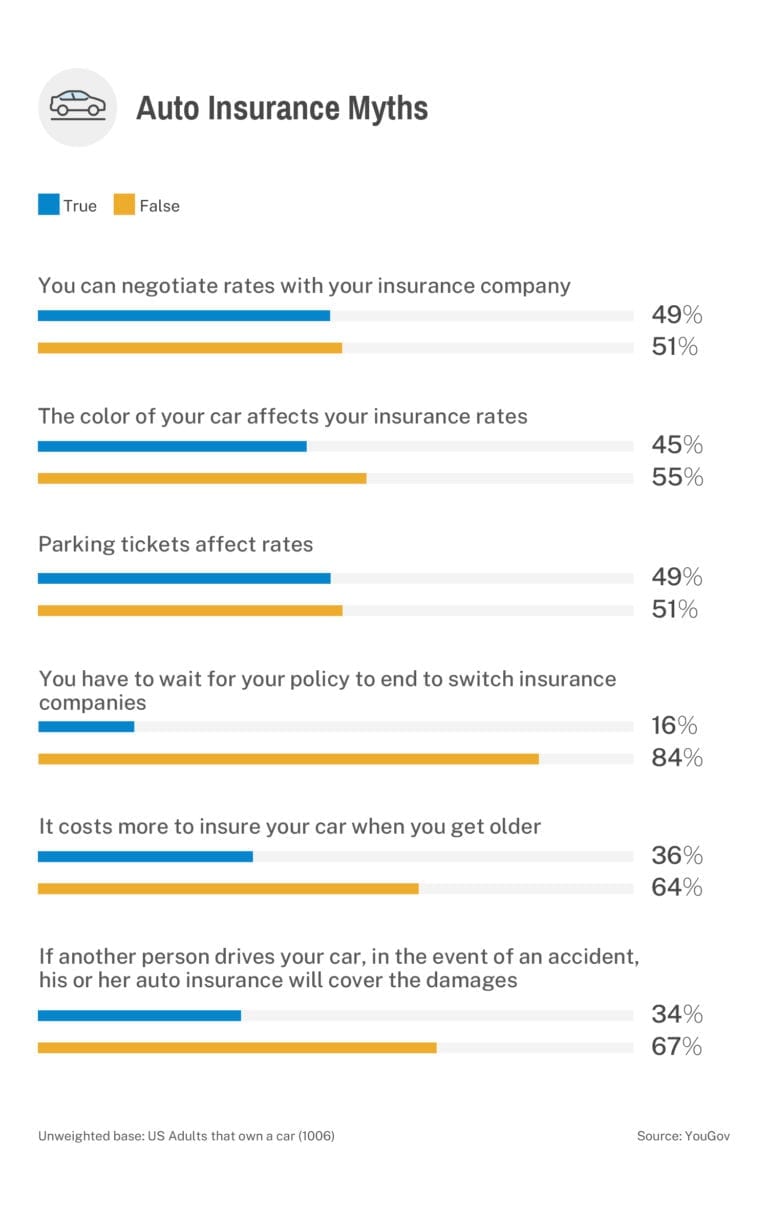 In the effort to paint the clearest picture, we spoke with numerous experts in the field to answer some questions you may have.