The Best Fitness Trackers
We looked for the fitness trackers that were the easiest to use, the most comfortable to wear, and that offered the most useful data. After testing ten of the top models, we discovered that even the best fitness trackers aren't very accurate — but a few are at least consistent.
Analysis paralysis? Subscribe to our newsletter.
The 4 Best Fitness Trackers
The Best Fitness Trackers: Summed Up
Garmin vívofit 4 – Best Under $100
Pros
Feature-packed for its price
Replaceable battery
Cons
Manual sync for instant results
Why we chose it
Feature-packed for its price
The Garmin vívofit 4 offers the most features of any fitness tracker we could find under $100. It's smaller than most wristwatches and about as low-profile as a device with a built-in display can get. It's comfortable and customizable, with several different band options and an attractive color display, although the screen is quite small.
Our testers appreciated Garmin's intuitive physical interface, clean and user-friendly app, and integration capabilities with MyFitnessPal for nutrition tracking. Also unique in a fitness tracker under $100, the vívofit 4 can track a range of different movements automatically with its MoveIQ algorithm and can sync with an ANT+ chest strap heart rate monitor for zone training and more detailed information during workouts.
Replaceable battery
Unlike any of our other contenders, the Garmin vívofit 4 uses a replaceable battery that's good for about one year, rather than rechargeables that have to be plugged in once a week. Our testers all agreed that this was more convenient for round-the-clock, long-term tracking. You won't have to worry about plugging in or missing out on some data while you charge the device.
Points to consider
Manual sync for instant results
Unlike many fitness trackers, the vívofit 4 doesn't sync automatically, at least not in real-time — it sends "periodic" updates throughout the day, but for instant syncing, you have to open the Garmin Connect™ Mobile App and push the "sync" button. Although annoying, it's pretty simple and not necessarily a dealbreaker.
Fitbit Charge 3 – Best for Heart Rate Monitoring
Pros
User-friendly app
Relaxation mode
Why we chose it
User-friendly app
Our testers clamored over the FitBit Charge 3's straightforward usability and intuitive interface. Everything about it, from setup, to syncing, to tracking our first exercise was just easy. It just worked, too, unlike the comparably priced iFit Axis HR, which failed over and over to sync our exercises and only had one workout mode (distance). In contrast, Fitbit has a seemingly limitless catalog of trackable exercises.
The Fitbit app is also the most aesthetically pleasing option our testers found, as well as the most user-friendly. The level of information isn't as detailed as the Garmin Connect app, but we just liked using the Fitbit app more. Unlike the Garmin app, it comes with its own nutrition tracking, and you can set goals and movement alerts, or connect with friends to keep you motivated.
Relaxation mode
The Charge 3 is the only tracker we tested with a relaxation mode, which guides you through two or five minutes of deep breathing to slow your heart rate and help reduce stress, which we thought was a really creative and potentially beneficial use of the heart rate monitoring function. Yogi's may also be interested in this meditative feature to calm breathing before practice.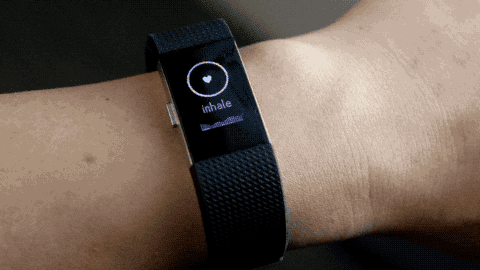 Points to consider
Average accuracy
The Charge 3 was off on just about everything it tracks except for the "distance from steps" measurement (which it aced). It deviated by about 14 steps during our step-counting testing, and both the maximum and the average heart rates recorded by the Charge 3 during exercise were off by by about 15 bpm on average.
The TomTom Touch and Garmin vívosmart 4 both score better; although, not by much. Even the Touch, which was the top performer in our heart rate monitoring test, was off by an average of 7 bpm. This makes the Charge 3 (and actually any of the trackers that we tested) less than ideal for zone training, but still useable for tracking relative intensity during workouts and all-day heart rate trends.
Garmin vívosport – Best for Heart Monitoring + GPS
Pros
Small device, large catalogue
Accuracy
Why we chose it
Small device, large catalogue
The Garmin vívosport has just about every feature you could cram into such a small device: heart rate monitoring, onboard GPS, exercise tracking, fitness monitoring tools such as VO2 max and fitness age estimates, stress tracking, and even a color display.
The vívosport can also display texts, social media notifications, and emails when paired with your phone. You can even use it to locate a lost phone, as long as it's within Bluetooth range and paired at the time. It's also completely waterproof and can be used to track swimming.
Accuracy
The vívosport was the only device we tested that accurately counted our steps every single time. It was a bit too generous during our two-round calorie-tracking exercise, but extremely consistent compared to some of the other trackers we tested.
Points to consider
Screen size
At 0.38″ x 0.76″, the vívosport's display screen was one of the smallest we tested. But if you want a super-light, minimalist fitness tracker, you probably aren't too concerned about a giant display. If you are, check out the Samsung Gear Fit2 Pro.
Samsung Gear Fit2 Pro – Best Display Screen
Pros
Gorgeous display with an intuitive interface
Great swimming integration
Why we chose it
Gorgeous display with an intuitive interface
The Samsung Gear Fit2 Pro has a beautiful color display screen that rivals some smartwatches in terms of functionality and user experience. Unlike most fitness trackers, there isn't a huge learning curve to figure out how to access different functions, move through menus, or understand exactly what it's showing you. Plus, it ships with more than 3,000 available apps that will let you customize the watch face, listen to Spotify, and more.
Great swimming integration
The Gear Fit2 Pro is water resistant up to 50 meters, which is par for the course with fitness trackers in 2019, but Samsung also worked with Speedo to develop a free companion swimming app, Speedo On. The Gear Fit2 Pro will still track your heart rate, distance, speed, and calorie burn during a swim session like normal, but integrating it with the Speedo On app will help you follow a specific training plan, track your progress, and capture data points like stroke count and pace. You can even join group challenges and share your progress with friends.
Points to consider
Bulky
Even the name is bulky! Compared to a fully fledged smartwatch, the Samsung Gear Fit2 Pro is still quite slim. But compared to a minimalist fitness tracker like the Garmin vívosport, it feels more like wearing a watch. Think of it as a midpoint between the two extremes.
How We Chose the Best Fitness Trackers
Three kinds of trackers
The market is full of feature-packed bands and watches — many of which we tested in our review of the Best Smartwatches — but for this review, we focused on health and fitness devices. We looked at three main kinds of fitness trackers:
Basic fitness trackers can count the approximate number of steps you take and calculate the distance you've traveled using that data. They're best for those who want to log primarily distance-based workouts like walking and running. These are typically the only devices you can find under $100.
Heart rate monitoring trackers do everything a basic fitness tracker can, but they also have sensors that can monitor changes in your heart rate. These are typically marketed to people looking to log the calories they've burned throughout the day. Since the sensors are fairly inaccurate, however, we don't actually recommend relying on them outside of monitoring approximate long-range trends.
Heart rate monitoring trackers with GPS can do all of the above, plus communicate with satellites to triangulate your position anywhere on the globe (provided you're not inside). This makes them a smart option for cyclists, trail runners, or anyone else looking to log distances outside.
Key features
Feature-loaded fitness trackers aren't the best option for everyone. The more sensors and tracking capabilities you cram into a device the size of a wristwatch, the more it's going to cost. We focused on five must-have features for the best fitness tracker.
Wireless syncing lets your device update its companion mobile app in real time, as you're exercising
Activity notifications alert you when it's time to move, and when you've accomplished your goals
Water resistance is mandatory for something you'll be sweating in
Minimum one-year warranties demonstrate that the manufacturer is willing to back its product
Unisex designs so the device feels comfortable on any wrist
Fitness Trackers FAQ
Do you need a fitness tracker with heart rate monitoring?
It depends. The optical heart rate sensors used in even the best fitness trackers aren't very accurate. Even our top heart rate monitoring pick was off by an average of about 15 beats per minute. If you're just interested in watching your all-day heart rate trends, or getting slightly better data on your caloric output during training, then yes. However, if you're looking for more precision for zone training, you're better off with an EKG heart monitor, or a device that can pair to one, like the Garmin vívofit 4.
Who has the best fitness sensor?
Every fitness tracker uses the same base-level sensor technology to do its job (Fitbit, Jawbone, and Nike all get their sensors from the same company, for example). The main difference between any two fitness trackers, besides how they look and feel on your wrist, lies in the proprietary algorithms each tracker's software uses to interpret information from the sensors. Sensors produce raw data; accelerometers, for instance, detect changes in movement over time. Algorithms process that data into usable information. This means that even though fitness trackers are marketed specifically to different niche user groups, such as swimmers, runners, and dieters, they all do pretty much the same thing: track your movement.
More Fitness Reviews
We've been researching, testing, and sweating our way through all avenues of fitness. Whether you're looking for an in-home treadmill, or a yoga mat — we have you covered.