The Best Natural Deodorant
The best natural deodorant fends off odor without toxic or irritating ingredients. After talking with a dermatologist, a chemist, and two natural deodorant creators, we tested 19 in-house to find our top picks: aluminum-free formulas with pleasant scents, goop-free application, and minimal residue.
The 6 Best Natural Deodorants
The Best Natural Deodorant: Summed Up
Sam's Natural Deodorant
Sam's
Sam's Natural Deodorant
Pros
Ideal ingredients
Effective design
15 scents
Cons
More expensive than typical deodorants
Why we chose it
Ideal ingredients
Sam's Natural Deodorant, hand-crafted in New Hampshire and vegan and cruelty-free, checked every box on our list. The product is free of aluminum, free of common irritants, and its first two ingredients (coconut oil and baking soda) are verified odor-blockers. As a bonus, Sam's also includes shea butter as a moisturizer and tea tree oil for its antimicrobial qualities. (More clinical research is needed to confirm tea tree's efficacy, but our experts agreed that it certainly doesn't hurt to have it included.)
Effective design
We found the circular stick easy to maneuver across our underarms, and it left only a faint sheen on skin and minimal goop on clothes — one subject noted "almost nothing, no flaking or clumps" when he checked. Our testers generally preferred circular sticks over ovals — the shape seems to fit better.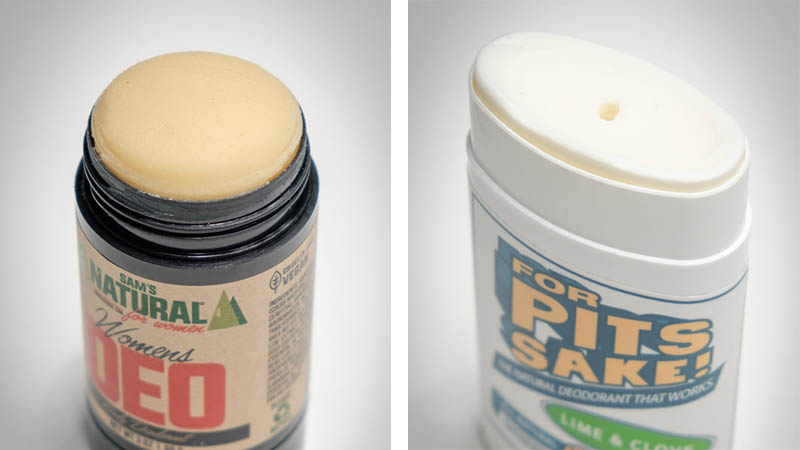 15 scents
We tested both its "Women's" and Cedar options, but a quick look at ingredient labels confirmed the only difference is the essential oil used for scent. Of the two we tested, Cedar was slightly fainter, and Women's had an herby lavender smell (although some of our testers described it as "citrusy"). Both scents were fairly unisex, pleasant upon first application, and held up well when we checked in two hours later. And if neither of these options appeals to you, Sam's offers 13 more scents for you to explore.
Points to consider
More expensive than typical deodorants
Natural deodorant tends to cost more for a smaller portion than the typical drugstore variety. Sam's will cost you about $10 for a 3-ounce stick. That said, it's in a reasonable range for natural options and therefore makes an easy gateway for anyone interested in transitioning to a natural product.
Schmidt's Natural Deodorant
Schmidt's
Schmidt's Natural Deodorant
Pros
Great formula
Crowd-pleasing scents
Why we chose it
Great formula
We nearly missed Schmidt's Natural Deodorant altogether since some of its other product lines, including its jar formulas and sensitive skin sticks, only feature one of our targeted ingredients. But Schmidt's sticks for regular skin boast the same odor-busting coconut oil and baking soda as Sam's (plus shea butter and arrowroot powder to help it glide), in a similarly flake- and residue-free formula.
Crowd-pleasing scents
If you like to shop around between different scents, Sam's wins for sheer number — 15 to Schmidt's seven. But you don't really need a glut of scent options to choose from if you get it right with fewer. Schmidt's newest addition, Charcoal+Magnesium, proved the ultimate favorite of everything we tested. The cool "freshly fallen rain" aroma is invigorating and clean. And if you like a pop of floral, Rose+Vanilla delivers.
Points to consider
Application hang-ups
The formula in Schmidt's Natural Deodorant Sticks isn't quite as creamy as Sam's — we had to press it into our underarms to warm it up for a few moments when putting it on. Schmidt's comes in a traditional oval applicator as opposed to our preferred round.
For Pit's Sake! Natural Deodorant
For Pit's Sake!
For Pit's Sake! Natural Deodorant
Pros
Exceptional odor protection
Zero residue
Cons
Polarizing scents
Dry formula
Why we chose it
Exceptional odor protection
For Pit's Sake was one of only two natural deodorants we tested that contained baking soda, coconut oil, and zinc oxide — not just two of our wishlist ingredients like most of our other top picks. This combination is definitely a winning formula: Testers were unable to detect any body odor at the two-hour mark.
Zero residue
For Pit's Sake did an outstanding job on our residue test. "Did I even put it on? I know I did because I can smell it, but wow there's no residue at all," noted one of our testers.

Points to consider
Polarizing scents
For Pit's Sake features scents that proved more polarizing than other brands: One tester likened For Pit's Sake's Lime & Clove to "the musty scent of someone who had been out working in the woods," similar to citronella. If you agree with their diagnosis, know that the product line up also includes Unscented, Lavender, and Citrus.
Dry formula
Some testers also found For Pit's Sake a little too dry, with one of our hairy-pitted testers complaining that it "wasn't very giving" and that he had to do "repeated passes" to achieve full coverage. The stick also had a flat top, with edges that contributed to our discomfort.
Green Tidings All-Natural Deodorant
Green Tidings
Green Tidings All-Natural Deodorant
Pros
Certified organic
Mild scent
Textured but tidy application
Why we chose it
Certified organic
If you're looking for an organic deodorant, look no further than Green Tidings Natural Deodorant, which is our favorite of the six we tested that use ingredients certified organic by the USDA. It's also advertised as vegan, cruelty-free, and is made in a solar-powered facility.
The ingredient list is similar to Sam's: Baking soda and coconut oil are at the top of the list, and shea butter is included as a moisturizer. One thing to note: There is a difference between a deodorant that has been USDA-certified organic and one that uses ingredients that are USDA-certified. We confirmed with Green Tidings that its ingredients are USDA-certified, but the company is still in the process of getting its actual deodorant certified (the process can be lengthy).
Mild scent
We tested Green Tidings' lavender formula, although an unscented option is also available. Our testers thought the scent was fairly unisex, with a very mild herbal aroma that omits the citrus notes of similar to Sam's. While the smell didn't last long, neither was it replaced by body odor. When we checked in at the two-hour mark, the smell was neutral.
Textured but tidy application
Green Tidings, which comes in our preferred circular tube, did feel a little gritty going on. One tester actually liked this, saying the grit made it so she could "really feel it in my pits" and know the product had applied. Application left no goopy clumps on our skin or hanging off the tube.
Points to consider
Small and pricey
Sustainable manufacturing practices aren't always the most cost-effective, which may explain why a 1-ounce tube ran us about $8. Still, if buying organic is your top priority, we'd suggest Green Tidings.
Fatco Women's Stank Stop Deodorant
Fatco Stank Stop
Fatco Women's Stank Stop Deodorant
Pros
Intriguing paleo formula
Pleasant scents
Why we chose it
Intriguing paleo formula
Fatco Stank Stop Deodorant was the only other natural deodorant we tested that included all three of our wish-list odor-blockers. It's also Certified Paleo: the formula includes beef tallow (a.k.a. fat) from organic grass-fed cow as a moisturizer. Odd perhaps, but Fatco promotes "looking to the past for fundamentals of healthy living."
Pleasant scents
Fatco Stank Stop Deodorant comes in two scents: a Men's Cypress + Coriander and a Women's Lavender + Clary Sage. As with other gender-specific deodorants, the ingredients differed only by the scent of the essential oil. We really liked both and suggest Cypress + Coriander for something a bit more woodsy, and Lavender + Clary Sage if you want a gentle aroma reminiscent of a spa treatment.
Points to consider
Cream application
Fatco is a cream, which means you'll need to dip your fingers into a (very small) jar to apply the product — a process our testers weren't wild about. Fatco's small jars forced some of us to dip our fingers in several times to get enough product, which seemed impractical for anyone with big hands. One tester noted that the scent also lingered on his fingers even after washing. But among the seven cream natural deodorant brands we tested, Fatco Stank Stop stood out.
The deodorant itself was very effective, with a pleasant smell and minimal residue. And the accepted rationale for using a cream deodorant is that this application method gives you more control — you can ensure you've got an even coating across your entire underarm.
Agent Natuer & Shiva Rose Holi Rose Deodorant
Agent Natuer
Agent Natuer & Shiva Rose Holi Rose Deodorant
Pros
Perfume meets natural deo
Beautiful inside and out
Why we chose it
Perfume meets natural deo
Agent Nateur & Shiva Rose Holi (Rose) Deodorant seems almost like a combination of deodorant and women's perfume and received a positive reception from our testers, who dubbed it "extremely feminine" thanks to its blend of rose and sandalwood. Like our top picks, this product uses baking soda and coconut oil.
Beautiful inside and out
It's obviously geared toward women, with a white, pink, and gold package that feels reminiscent of department store cosmetics. But the appeal is more than superficial — Agent Nateur tied with For Pit's Sake as a top performer in our fabric residue test.
The company behind this product has a manifesto to "bring beauty and luminosity to women in a way that is nourishing and nurturing," aka synthetic-, GMO-, and pesticide-free (although the deodorant does contain castor oil, which is on Whole Foods' list of ingredients to avoid).
Points to consider
Expensive
At $25 for 1.7 ounces, Agent Nateur was our most expensive finalist. If you're dressing for a special occasion or have a wardrobe dominated by dark colors or expensive, delicate fabrics, it could be a worthwhile investment.
How We Chose the Best Natural Deodorant
All all-natural deodorants
We started with 155 products marketed as natural deodorants. Our picks included recommendations from "best of" lists in magazines like Allure, Good Housekeeping, and Men's Journal, as well as best-sellers from mainstream retailers (think Walgreens) and natural- and organic-oriented e-commerce sites, like Thrive Market and Swanson Health Products. In the world of deodorant, "natural" is often code for "aluminum-free" or "deodorant without antiperspirant." However, we also wanted a deodorant that works: both easy to apply and effective at stopping odors.
Aluminum-free
According to the experts we consulted, many natural deodorants were specifically developed because of concerns about aluminum. Cutting aluminum was an obvious choice, but it also meant we had to avoid potassium alum. This ingredient is a mineral salt often used in products marketed as natural deodorants (including products from both Tom's of Maine and Crystal).
"The marketing is misleading," explains Nathan Morin. The creator and CEO of North Coast Organics, a maker of certified organic natural deodorants — and the self-proclaimed Deodorant King of Chicago — said that brands sidestep the issue by labeling the product "'Aluminum Chlorohydrate-Free' instead of 'Aluminum-Free.'" Because potassium alum is mined from the ground, you can argue that it's "natural." But it's still a type of aluminum. "In our industry, we call that greenwashing."
No potential irritants
Most of us apply deodorant every day, on an area of skin that's already thin and delicate — especially if you shave regularly. We wanted to ditch anything that increased the chance of itchy, bumpy pits.
Powerful natural ingredients
Companies tout a slew of naturally derived ingredients for their ability to mask smells and fight bacteria. We found the strongest evidence in support of coconut oil, zinc oxide, and baking soda — and these three options were also mentioned again and again by our experts.
To capture the most deodorizing power, we looked for formulas with at least two of these three ingredients. That left us with 19 natural deodorant formulas in a variety of scents to try out. Putting them to the test on our skin and clothing exposed our favorite six.
How to Find the Right Natural Deodorant for You
Decide if you're okay with non-antiperspirant deodorant
While an antiperspirant stops sweat (typically via aluminum), a deodorant's primary aim is to neutralize or mask body odor. Sweat is actually odorless when secreted from your body; the smell is a byproduct released by the bacteria that feast on sweat. You will still sweat with natural deodorant, but you can expect less pit staining on shirts. The aluminum found in most antiperspirants can coat fabric, giving sebum (an oil secreted by hair follicles) a place to stick.
Decide if you're looking for "natural" or "organic"
If a deodorant is made with agricultural products that can meet USDA standards for organic production, handling, processing, and labeling, it may be eligible for certification under the USDA's National Organic Program.
There are three possible tiers of certification:
"100% Organic" is limited to products comprised entirely (save for water and salt) of organic ingredients.
"Organic" refers to products comprised of 95 to 99 percent organic ingredients.
"Made with Organic Ingredients" can be applied to products made with 70 to 94 percent organic ingredients.
According to one expert, organic is better. "A cold-pressed certified organic unrefined coconut oil-based deodorant is going to be more effective," said Morin, explaining that the refining process (which includes high levels of heat, bleaching, and deodorizing) can degrade the integrity of a plant-based ingredient, impacting its efficacy.
Experiment
The world of natural deodorants can be hard to navigate, largely because "natural" means different things to different people. We'd suggest choosing a product that omits aluminum (if nothing else, you'll avoid yellow stains), and steering clear of fragrance, simple alcohols, propanediol, and propylene glycol.
We looked for baking soda, coconut oil, and zinc oxide in our top picks because we found ample research to back up their bacteria-busting properties, but those are far from the only ingredients that get touted. You might also see:
Natural Deodorant FAQ
What is "natural" deodorant?
When it comes to beauty and body care products, it turns out that neither the Food and Drug Administration (FDA) nor the USDA regulates the term "natural." "Natural means nothing," Morin asserts. "People misuse the term; people misunderstand it." Case in point: "Hemlock is natural, but hemlock can kill you." When it comes to deodorant when most people say "natural" they simply mean "no aluminum."
Why is aluminum in deodorant bad for you?
Research stretching back more than 50 years has suggested that aluminum exposure might increase your risk of developing Alzheimer's disease, and separate studies have also linked aluminum exposure to breast cancer. However, the National Cancer Institute, American Cancer Society, and FDA all believe there's not enough evidence to support either claim.
The FDA does require aluminum-based antiperspirants to come with a label advising anyone with severe kidney issues to consult with their doctor before using it (aluminum is eliminated from the body by the kidneys), but even here, the National Kidney Foundation indicates that risk is low.
Still, concern over the safety of aluminum-based antiperspirants persists, both from venerated news sources (including Scientific American and Time) and newer, "green"-centric blogs, like mindbodygreen and TreeHugger. For more, read our review on antiperspirant.
What's the difference between men's and women's deodorant?
Not much. Research published in Experimental Physiology confirms that there are differences in how men and women sweat: Men sweat more and begin sweating at a lower body temperature than women. But sweat is sweat, and the same research found that the salt and water content, regardless of sex, is pretty much the same.
So why are so many deodorants marketed toward a specific gender? When we reviewed antiperspirants, we spoke with Dr. David Pariser, senior physician at Pariser Dermatology, who told us: "In terms of active ingredients, there's no difference between men's and women's products. The main difference is scent."
After scrutinizing 155 deodorants, it became very obvious that lavender tends to be the go-to scent for natural deodorants marketed toward women. Other common "womanly" scents include jasmine, rose, and honeysuckle. But for natural deodorants, this distinction seemed a bit pointless. Our testers thought most of the scents we tried were pretty unisex.
Related Reviews
We've spent the past several years examining ingredient lists, calling in pros, and testing on our own skin and hair. In the process, we've surfaced truly great products from trustworthy brands. Check out some of our favorites: