That Retired Smartphone Still has Work to Do
The way we treat old smartphones is akin to how we treat old jewelry. Once we've moved on to newer, shinier options, we tend to hang on to the old. They gather dust in drawers and boxes marked "save." We will probably never use them again, yet we have a sense that they're too valuable to junk. There are precious metals in both, right?

You could recoup some fraction of your old smartphone's cost by trading it in. Or you could repurpose it — deploying its still-functional microphone and camera as a baby monitor, home speaker, or security camera.

The regular release of new generations of smartphone with slightly improved features tricks us into thinking a phone a couple years old is practically defunct. But in fact, so long as your old smartphone still turns on, it remains a powerful minicomputer that can perform the same functions as pricey smart home equipment.

All it takes is a security camera app, a method of mounting your upcycled phone, an extension cord (video streaming takes a lot of juice), and a new smartphone to monitor the video feed.
Download a Security Camera App
There's a slew of security camera apps that help upcycle retired smartphones. The rationale: Smartphones, even the dinosaurs, have a more powerful camera than plenty of brand-new home security cameras.

James West, the CEO of one such security cam app, Manything, told TechRadar that, beginning in 2012, "the smartphone was already higher resolution, packed with more sensors than your standard video monitoring camera." What to do with those "billion spare old generation smartphones," shuffled in with socks? Let them outperform the CCTV security cameras that the market has been snapping up as powerful old phones sleep.
The Best Security Camera Apps
| | | | | | | |
| --- | --- | --- | --- | --- | --- | --- |
| | Platform | Minimum system requirements | App rating | Two-way audio | Compatibility | Free storage |
| Alfred | iOS, Android | iOS 8.0 Android 2.3 | 4.7 iTunes 4.8 Google Play | ✓ | ✗ | 7 days |
| Manything | iOS, Android | iOS 6.0 Android 4.2 | 3.1 iTunes 3.1 Google Play | ✓ | IFTTT | 1-2 days |
| Salient Eye | iOS, Android | iOS 9.0 Android 4.0 | 4.1 iTunes 4.4 Google Play | ✗ | ✗ | Up to 6 months |
| Presence | iOS, Android | iOS 8.0 Android 4.3 | 4.6 iTunes 3.4 Google Play | ✓ | IFTTT, Amazon Alexa | Up to 50MB |
To get motion detection alerts, download your chosen app on both your old and new devices.
The majority of security camera apps operate on a freemium model — you can get basic functionality for free, or upgrade for a small fee (typically less than $5 per month) to ditch ads, expand storage space, or get extra camera features, like zoom.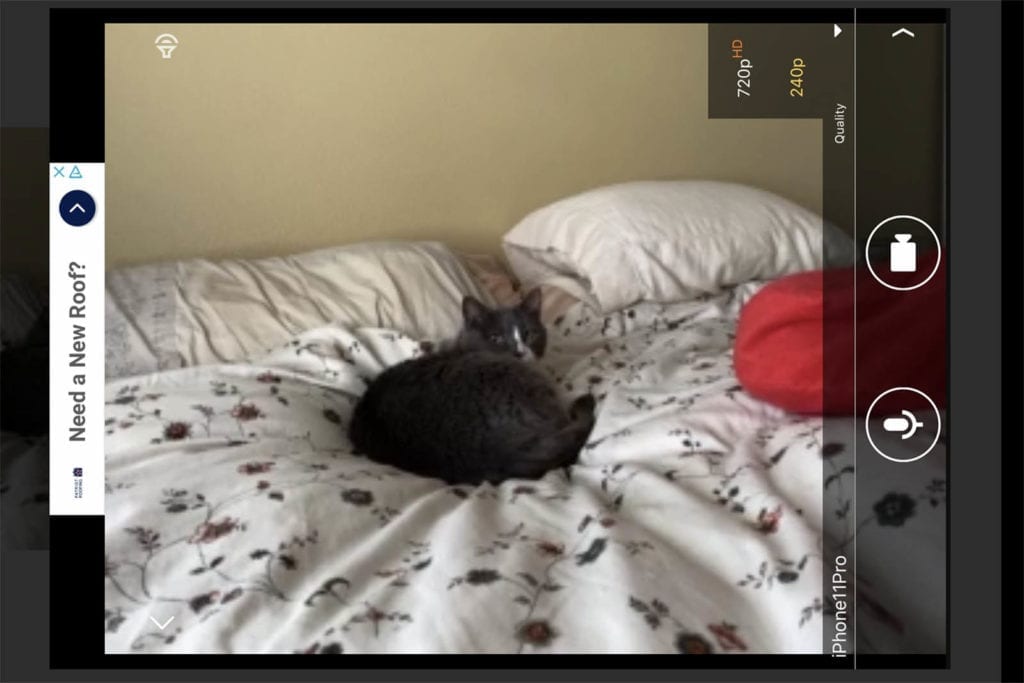 Mount the Phone
Place your old phone / new security camera somewhere that offers an unobstructed line of sight to your foyer, main living space, nursery, or wherever else you want to keep an eye on.
A couple positioning tips to keep in mind:
The rear-facing camera typically has higher resolution than the front-facing camera. Some security camera apps can employ both, but you should point the back of the phone in the direction you most care to monitor. 
If you have a high bookcase or shelf, use a smartphone tripod to set the phone at the right angle.
For positioning on a blank wall, use a smartphone wall mount. 
In either case, make sure the phone is positioned on its side for the wider field of view of landscape orientation.
The phone will need to be permanently plugged in for reliable function — video streaming drains the battery. Consider proximity to outlets before making any holes in the wall. You will probably need an extension cord. 
When Would You Want a Traditional Security Camera Instead?
A home security camera, whether indoor or outdoor, is a vital part of any home security system. Upcycling an old phone does the trick for most indoor uses. But if you want to send a message that your home is protected, a jerry-rigged phone won't transmit it quite as effectively as the vaguely menacing, unblinking eye of a mounted security camera. The same principle is behind home security lawn signs. A universally recognized sign of protection wards off potential threats.
If you are looking for an outdoor security camera, or just want a sophisticated, intentional-looking device, go with a dedicated CCTV camera. If you just need an extra pair of eyes on a room in your home, give the smartphone hack a try.