Finding the best DSL internet probably won't involve any shopping around. The vast majority of people only have one provider that covers their area, and the speeds available to you will depend on your specific address. We leveraged data from BroadbandNow and the Federal Communications Commission to find out what it's like to be a customer with the biggest DSL providers in the U.S., so you'll know what to expect from yours.
The 5 Best DSL Internet Providers
| | | | | | |
| --- | --- | --- | --- | --- | --- |
| | AT&T | Verizon | CenturyLink | Frontier | Windstream |
| The Best | Overall Customer Experience | Customer Service Record | Plan Options | No Data Caps | Flexible Service |
| States Serviced | 21 | 11 | 39 | 38 | 39 |
| Average Actual Speeds | 108% of advertised | 113% of advertised | 94% of advertised | 90% of advertised | 96% of advertised |
| Contract Length | 1 year | none | 1 month | 2 years | None |
| Data Cap | 1 TB | 1.5 TB | 300–600GB | None | None |
| J.D. Power Customer Service Rating | 4/5 | 5/5 | 2/5 | 2/5 | 2/5 |
| Requires Phone Plan | | ✔ | ✔ | | |
AT&T Internet
AT&T Internet
Pros
Fast enough for most
Exceptional transparency
Cons
Not fast enough for an active family
Data limit
Why we chose it
Fast enough for most
A customer service rep told us that AT&T's DSL plans can reach download speeds between 1–10 Mbps, but FCC data tells us that most customers are topping out at 6-Mbps downloads. That max speed is enough for two users to be surfing the web at once, but both popular upload speeds are well below the threshold recommended by BroadbandNow if you'll be doing a lot of video chatting.
Exceptional transparency
AT&T is the biggest DSL provider out there, offering coverage in 21 states to about 120 million people. And it's customers can count themselves lucky because unlike every other provider, AT&T offers clear language about fees, including the actual dollar amounts that you can expect to pay for activation, installation, service repair dispatch, and late payments.
Points to consider
Not fast enough for an active family
AT&T's most popular plans are great for an individual user that plans on streaming Netflix and shooting off emails, but not ideal for anyone who plans on lots of upload-heavy activity (cloud interaction, video chat) or a big family of users with multiple devices.
Data limit
If AT&T's your DSL option, keep in mind it's one of three big providers that enforce a data limit. If the words "data limit" bring back sad memories of cell phone overage fees, take heart. According to AT&T's data usage calculator, one terabyte is enough to send and receive 40,000 emails, stream Kendrick Lamar's new album for 8,500 hours, surf the web for 2,000 hours, post 5,600 selfies on social media, stream every single episode of Seinfeld's nine seasons in high definition, spend 1,650 hours online gaming … and still have plenty of room left over.
Pros
Contract-free
Sky-high data limit
Stellar customer service
Cons
Must commit to a phone plan
Slowest speeds
Why we chose it
Contract-free
Verizon doesn't require signing a contract, leaving users free to move homes and/or providers without penalty. No contracts equals no commitment: Test drive Verizon's DSL internet, and if it's speeds and rates work for you, continue doing business with them at will.
Sky-high data limit
If you think of data limits as a ceiling lowered down on your internet use, Verizon's is vaulted and lofty. Enough room for the best Christmas tree on the block. With a 1.5 terabyte data limit, even the most dedicated Netflix bingers won't be able to brush the top.
Stellar customer service
Verizon received the highest J.D. Power score for customer service possible: five out of five stars. While Verizon FiOS — its rarely available fiber option that dominates its website — is included in that rating, our experiences proved Verizon's DSL customer service is just as helpful and warm as AT&T's.
Points to consider
Must commit to a phone plan
For the Northeasterners for whom Verizon is most likely an option, keep in mind that you'll have to order your internet with a side of phone service. CenturyLink only sells its DSL in packs of two, as well.
Slowest speeds
The tortoise of big DSL providers, Verizon offers the slowest download speeds of the bunch. That makes it an unlikely choice for anyone prone to Netflix binges, but no contracts mean no commitment if you want to give it a try. It's plenty of bandwidth for one or two light users sending emails and checking Facebook, but it's stingy compared to other providers' popular plans.
That said, the FCC found that Verizon's DSL median download speeds average 113% of what's advertised — the highest percentage of any of the five biggest providers. And its upload speeds are more impressive than its download speeds, too, with an unheard-of 5 Mbps option that will be particularly attractive to YouTuber contributors.
Pros
Plan options hitting tip-top speeds
Lock in your price
Cons
Comes bundled with phone
Low data cap
Why we chose it
Plan options hitting tip-top speeds
The second-biggest DSL provider in terms of population (providing coverage to about 48 million people across 39 states), CenturyLink has far and away the biggest variety of DSL plans at the highest potential speeds. It outpaces all four of the other top providers on both counts. CenturyLink's most popular plans have upload speeds that are high enough for frequent Facetiming and download speeds that are nearly unheard of in the ADSL world.
Lock in your price
CenturyLink's Price For Life guarantee, ensured by short, one-month contracts, makes it a good option both for people looking to plant roots and apartment-renters on the move.
Points to consider
Comes bundled with phone
CenturyLink only offers DSL as part of a bundle with a phone plan. But the other benefits of CenturyLink's DSL service (lots of plan variety, high max speeds) might still make it worth signing up for, even if you're not in the market for phone service.
Low data cap
While 600 gigs of data probably won't cause problems for an individual user — or even two users — who stream Netflix and Skype regularly, households of heavy downloaders might come up on some overage fees. And if you're subscribing to a plan with download speeds of less than 7 Mbps, you'll need to keep extra close tabs on that 300GB limit. What's more, the actual dollar amount of those overage fees is unclear. CenturyLink offers a tariff library, but your best bet is turning to the online chat service, open 24/7 for technical support.
Frontier
Frontier Communications
Pros
No data caps
Fast enough for most
Straightforward billing
Cons
Underwhelming customer service
Lengthy contract
Why we chose it
No data caps
Frontier's unlimited data means you can stream HD video to your heart's content. Your data usage will be curtailed somewhat by the average speeds, but you'll never have to worry about overage fees.
Fast enough for most
Frontier's popular speeds are average, but provide enough bandwidth for the sort of activities you can expect on DSL internet (basic internet use for a few users, streaming video for one or two).
Straightforward billing
We were impressed to find that Frontier offers a resource for understanding a bill on its site. It didn't get specific about possible fees in its terms and conditions for DSL users, but this sample bill for residential services did give us an idea of what's typical:
Points to consider
Underwhelming customer service
Frontier scores reliably poor for customer service, with some regional exceptions for "cost of service" and "billing." However, when we took advantage of the chat feature online, we found the conversation easy enough and the representative helpful.
Lengthy contract
We like that you don't have to commit to a phone plan to take advantage of Frontier DSL. But there's a catch: You're looking at a two-year contract regardless of the plan you choose, the longest commitment of any of the big providers.
For that reason, we can only recommend Frontier if you're established in your residence and don't foresee another (possibly faster or cheaper) provider coming to your area in the near future. The issue of early termination fees is unclear with Frontier, like the fees with almost every other provider. The information we found says it should stay under $200 but "depends on the plan you have."
Pros
Flexibility for customers
The speed you need
Cons
Loses points for transparency
Slower upload speeds
Why we chose it
Flexibility for customers
Windstream doesn't have contracts, phone plan requirements, or data caps, which means you're free to use your internet however often and for however long you choose. Out of all the top providers, this arrangement left us feeling most "no strings attached."
The speed you need
Windstream's plans have download speeds that vary enough to make most users happy, and its most popular plans include one of the fastest DSL download speeds we encountered. That 12-Mbps option is good news if you like to stream "Orange is the New Black" while your roommate watches Ken Burns' latest doc series.
Points to consider
Loses points for transparency
One place we ran into trouble with Windstream was transparency surrounding speeds and fees. The only information we could find on the latter was buried in its terms and conditions, featuring sentences like "As a convenience to you, Company may include charges for third-party services on your monthly bill." That vagueness proved typical of Windstream. But as with other providers, we didn't run into any issues getting quick help via online chat though J.D. Power gives it a low score overall for customer service.
Slower upload speeds
Windstream's upload speeds leave a lot to be desired: They're generally below the threshold of recommended video call bandwidth, and we could only find reports of one popular upload speed, which made us skeptical that there are any other options at all.
How We Chose the Best DSL Internet
Available where you live
The best DSL provider for you may very well be the only DSL provider that services your address. We dug into the companies people are most likely to encounter: AT&T, Verizon (not to be confused with FiOS, its fast fiber cousin), CenturyLink, Frontier Communications, and Windstream. Each of these providers offers service to more than 10 million people and at least 3 percent of the country.
Speed offerings
A typical main page for any internet provider will show a wide range of speeds, many of which are outside the capabilities of DSL internet. To help you set your speed expectations, here are the speeds customers of all five providers received in 2017, according to the FCC: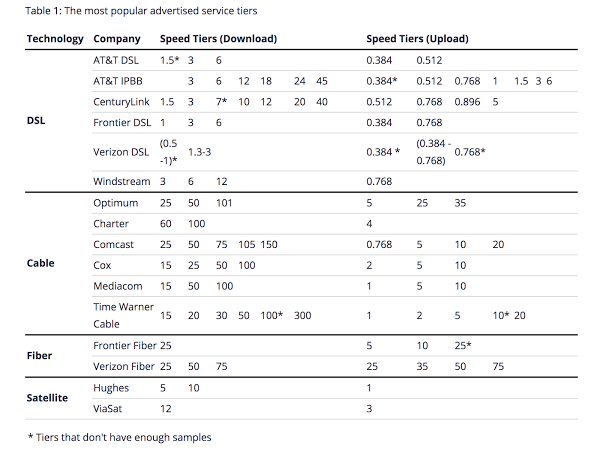 But whenever you dig into internet functionality, you tend to find things are more complicated than they look. When it comes to DSL speed, the rule applies. The speed you actually experience will depend on how close you are to your provider and the technology available in your area. Only about two-thirds of DSL customers enjoy advertised speeds. (By comparison, 90 percent of cable customers get advertised cable speeds.)
Contracts
Verizon and Windstream are the only two providers we looked at that don't require a contract; the others advertise contracts that range from one month to two years. Our research taught us to be wary of contracts, since they frequently harbor data caps and early termination fees, and won't necessarily protect you from price hikes. Other than CenturyLink (which offers "Price for Life") providers reserve the right to raise your rates without notice.
But if you're concerned about a ballooning bill, Jameson Zimmer, Director of Content for BroadbandNow, gave us an internet pro's perspective: "DSL providers are usually more transparent in their pricing [than other types of providers]. CenturyLink, for example, has been charging my parents the same price for DSL for 10 years. My cable provider at home ups the rate every 6 months just to see if I notice."
Fees
Another thing to look out for in contract language: fees. Here are some of the most common.
Activation fee: AT&T, the only specific source we found, waives this fee if a technician installs your hardware.
Installation fee: Can be either a customer installation fee or a technician installation fee, depending on what you decide works best for you.
Repair-related fees: For example, AT&T charges a fee for sending a truck to your home for repairs, and charges extra if you "refuse to troubleshoot" the problem yourself.
Late payment fee: Most ISPs charge on a monthly basis.
Equipment fees: You may be able to rent or buy a DSL modem and DSL filters from a provider.
Early termination fees: Charged for ending service before your contract is up.
Customer service
To gauge all five providers' customer service, we spent a lot of time on the phone with representatives and tallied ratings from two sources: J.D. Power and BroadbandNow. Overall, we experienced prompt and helpful service, but phone is actually our least favorite method of communication. Avoid phone trees and fuzzy elevator music and make online chat your first recourse to problem-solve.
When we looked into J.D. Power ratings, we found Frontier, CenturyLink, and Windstream had dismal scores across the board, but AT&T and Verizon boast relatively high scores — 4 out of 5 and 5 out of 5, respectively.
How to Choose Your Provider
Evaluate your speed options
DSL is one of the most widely available types of internet in the U.S., covering 90 percent of the country. While you don't have much choice between providers (the FCC reports that only four percent of people with access to DSL have a choice between two providers, and a miniscule 0.2 percent had access to three), you do have choice when it comes to speeds.
Once you have your search narrowed down to the provider or providers in your zip code, you can go to individual provider websites and type in your specific address to see available speed tiers. How much speed does your household need?
Prep your home for DSL
At minimum, a DSL customer needs a DSL modem. If you want internet to be accessible throughout the house wirelessly, a router is also necessary. Sometimes, the router and modem can be one device.
If you plan on connecting anything besides your DSL modem to your phone jacks, you'll need to know about filters and splitters:
Filters: Filter DSL signals out from your phone jack. Plug a filter into your phone jack, then your phone into the filter and you won't have any problems with DSL signal interference. You won't need a filter for the phone jack where you plug in your DSL modem.
Splitters: Split one phone jack into two jacks, one for DSL and one for phone. This way, you can still use both out of one jack.
There's another type of splitter that a technician might install for you, which will split the DSL signal for your phone line apart from the signal for your DSL at a sort of "origin point" (network interface device, or NID) leaving you with no work to do on your end.
If a technician hasn't installed a splitter at your NID or you aren't going to use a landline alongside your DSL, you won't need to worry about filters or splitters. Your phone jacks will already work for your DSL.
Test your speeds
If you feel like your internet is running slow, a low measurement of your actual speed is a good piece of evidence to present to your provider. Google "[your provider's name] speed test" and you'll likely be pointed to a test that's specific to your ISP. But you can test the connection speed of any provider on sites like measurementlab.net and speedtest.net.
Consider switching to cable or fiber if you can
DSL isn't going to win any awards for speed. The most popular plans average max download speeds of 13 Mbps, and maximum upload speeds of 2.5 Mbps. Those speeds are less than what other technologies (like cable) can offer, and available DSL speeds are increasing at a slower rate than cable, too. Here's how the different technologies typically stack up:
DSL's slow upload speeds may become an issue for users who plan on uploading videos to the internet, video chatting, storing files in the cloud, hardcore gaming — any upload-heavy online activity. Zimmer, Director of Content for BroadbandNow, told us that users who need high upload speeds would be happiest with cable or fiber, but most people can get plenty of bandwidth from DSL.
The average download speeds of 13 Mbps are enough for streaming HD video and even online gaming, as long as you don't have a whole house full of people trying to do everything at the same time.
FAQ