Advertiser Disclosure:
We recommend products and services based on unbiased research from our editorial team. We make money via affiliate links, which means if you click a link on our site, we may earn a commission. Any commissions we receive do not affect our recommendations; if you want to know more about how that works, read more.
The Best Wi-Fi Extenders
A good Wi-Fi extender adds more Internet coverage to your home, but the best ones also bring reliability to the table. We researched the latest technology advancements and sifted through more than 60,000 customer reviews to find the top two Wi-Fi extenders.
Analysis paralysis? Subscribe to our newsletter.
The Best Wi-Fi Extenders: Summed Up
How We Chose the Best Wi-Fi Extender
Dual-band
Dual-band Wi-Fi extenders are able to catch the signal from the router and broadcast it with minimal interference. This is because they use one band to intercept the signal from the router and a separate one to permeate it throughout the house. Single-band extenders attempt to do all this on one band, which can result in weak signal strength and interference from other devices operating and transmitting on a similar frequency.
AC devices
Extenders are categorized by alphanumeric labels called protocols which help signify the device's capabilities. For example, an extender with a protocol of "802.11ac" is an AC device. As it stands, AC is one of the best protocols for routers and extenders according to the Institute of Electrical and Electronics Engineers (IEEE) Standards Association. We narrowed our focus to WiFi extenders using this protocol since your everyday devices – smartphones, computers, gaming consoles – all use AC protocols.
MU-MIMO
MU-MIMO is short for Multiple User, Multiple-Input, Multiple-Output. Believe it or not, routers and extenders don't necessarily stream to multiple devices simultaneously. Rather, they switch among various devices in use, so fast you usually don't notice. However, if you are using four or five Wi-Fi-enabled devices simultaneously, an extender will make them share the same stream which can slow the internet down. This is not the case with MU-MIMO extenders, which can separate bandwidths into up to four streams, transmitting to multiple devices simultaneously.
The customers
There are so many factors that can affect how well a Wi-Fi extender performs, there was just no way we were going to be able to account for all possible living situations. In addition to our own testing, we scoured Amazon for products with the highest success rate. In order to ensure that these devices were likely to have been used in a number of different home environments, we only considered products with at least 100 reviews. By the end of it all, we had looked at more than 60,00 reviews, but that wasn't all. We employed a website called ReviewMeta, which analyzes Amazon reviews, in order to help find genuine reviews from the fakes.
The 2 Best Wi-Fi Extenders
Netgear
Netgear – AC2200-Nighthawk X4 WiFi Range Extender
Pros
Speed
MU-MIMO
Simple and self-contained
Return to top
Why we chose it
Speed
The Netgear Nighthawk X4 has one of the fastest link rates we could find among all the extenders we reviewed, reaching a combined speed of 2,200 Mbps for both 2.4 GHz and 5.0 GHz. That's more than enough for most people when it comes to home use and especially great for homes with many devices. If you rely on your internet for competitive gaming or streaming lots of video, that speed makes the Nighthawk X4 the best Wi-Fi extender for the money.
MU-MIMO
Bolstered by MU-MIMO technology, the X4 is capable of handling more Wi-Fi-enabled devices than any other extender lacking this technology. This is especially important for larger households where everyone is using the internet simultaneously. With the X4, it doesn't matter if everyone is watching Netflix, streaming music on Spotify, downloading files for work, or all of the above. The X4 can communicate with all of these devices without bringing your internet speed to a crawl.
Simple and self-contained
The X4 is one of the easiest Wi-Fi extenders to operate. It's a plug-in device that's about as wide as the U.S. dollar bill, and a little bit taller. There are no external antennas to configure in order to get the most optimal signal and broadcast. It's very easy to determine if you've positioned the device in the best spot with a user-friendly, color-coded display. The X4's glowing green, amber, or red light is a clear indicator of the connection quality — just set it up somewhere with a green light to get the best connection. Additionally, the X4 has lights to indicate whether the extender needs to be moved closer to the router to improve performance.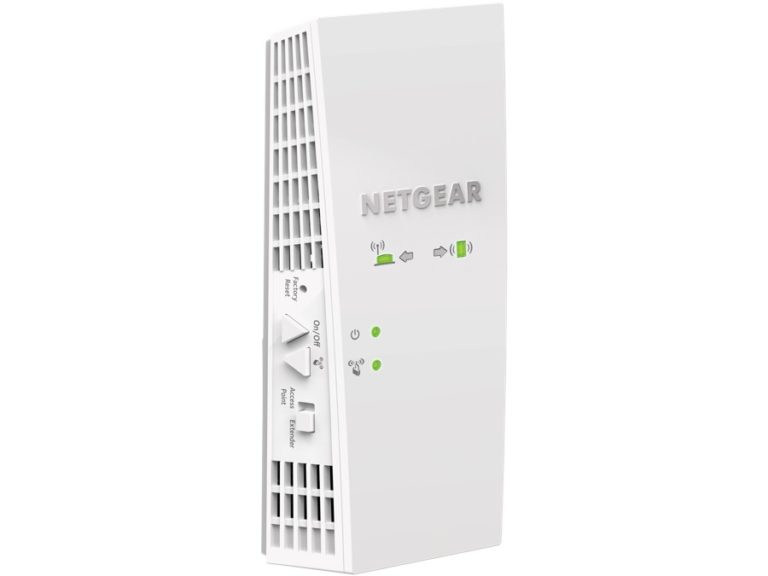 Points to consider
Price
The X4 has features such as MU-MIMO and beamforming, which improve performance in device-heavy locations but add to the cost of the extender. Users who live alone or usually only have one or two devices connected might not get enough value out of the X4 to justify the extra cost.
No adjustable antennas
While the lack of external antennas makes the X4 one of the easiest Wi-Fi extenders to set up, it also limits the adjustability. Without the external antennas to configure your signal strength, you may find yourself constricted to fewer places where the X4 can be placed to truly give you the best service.
Best Budget WiFi Extender
Netgear AC750 WiFi Range Extender – Essentials Edition
Pros
Affordable
Easy to install
User-friendly
Cons
No MU-MIMO
No beamforming
Return to top
Why we chose it
Affordable
For most people with Internet Plans that trend toward 100 Mbps, the Netgear Essentials is more than enough. And, without all of those extra features, it is easily the best inexpensive WiFi extender when compared to the X4. Just bear in mind that the Essentials is more affordable because it lacks the beamforming and MU-MIMO features that come standard with the X4. However, if you want to save $100 and don't think you'll need these features, then the Essentials might be a good fit.
Easy to install
With the Essentials, it's as easy as plug-and-play. It plugs into your power outlet so there's no need to clear a place on the shelf for it. In fact, the Essentials is only a little bit larger than a credit card, so you shouldn't have any trouble finding a place for it. The external antennas are a nice touch allowing for a little extra configuration when you're trying to get the most out of your signal.
User-friendly
Like the X4, the Essentials sports an intuitive and easy-to-read display. One light changes color to demonstrate the connection strength to the router, and another symbolizes the strength going to your computer or Wi-Fi device. You'll be able to tell at a glance if you're in a good signal area, or if your Wi-Fi troubles have to do with the router or the extender.
Points to consider
No MU-MIMO
The absence of MU-MIMO technology means that you'll have a difficult time if there are multiple internet users in your home all using devices at the same time. Of course, if you live alone or have a smaller family, you might not need to worry about multiple users. However, if you have a larger family of avid Netflix-watchers and gamers, you might need something capable of handling multiple devices simultaneously.
No beamforming
While it's one of the cheaper extenders we could get our hands on, part of the reason is the lack of features such as beamforming. Beamforming is the ability for two devices (e.g. your computer and your router) to focus the data transmitted into directed beams, instead of simply broadcasting signal in every direction. It can improve your network range, and streaming quality by optimizing the signal on a case-by-case basis.
How to Find the Right Wi-Fi Extender for You
Evaluate your living situation
Do you live alone? Are there more people in your home using the internet than just you? Are there any brick or stone impediments between the floors and rooms? The answers to each of these questions will affect your Wi-Fi signal. Even the strongest Wi-Fi extender can have trouble sending signal through a thick wall. And, if you know there will be a lot of people streaming and browsing simultaneously, look for a Wi-Fi extender using MU-MIMO technology.
Shop by features, not price
The best Wi-Fi extender for the money will be the one that fits the needs of your home: If you have a plethora of internet-connected devices, bargain shopping for Wi-Fi extenders might not result in noticeably higher speeds. However, for users who live alone or without a lot of simultaneous internet usage, the Netgear Essentials Edition is easily the best inexpensive Wi-Fi extender, at less than $50.
Scour reviews
If you're reading this, then you're well on your way to finding the strongest Wi-Fi extender for your needs. Just like us, you've probably discovered that there are over a hundred different kinds. Only by scouring the reviews were we able to get such a wide variety of feedback from an even more varied audience. We can't stress enough just how important it is to read the reviews when looking for the best WiFi extender for your home.
WiFi Extender FAQ
What is the best Wi-Fi extender for gaming?
If you're looking for the best Wi-Fi extender for gaming, you'll need an extender that can handle a great deal of online activity without slowing down, like the Nighthawk X4. You don't want your gaming activities to monopolize the internet service, especially if you aren't the only person living in your home.
Is a Wi-Fi extender right for me?
Wi-Fi extenders are best for people who already have a high-quality router, but have a small area in their home where the reception is weak, inconsistent, or nonexistent. Powerline adapters are another option. Both the receiving adapter plugs and the broadcasting adapter plugs work together in order to transmit the Wi-Fi signal from the router, through the electrical cabling already in your home.
What is the best spot for the Wi-Fi extender?
You'll want to find an area with strong signal coming from the router. This is usually about halfway between the router and the area of the house you're having trouble getting Wi-Fi in. Our top picks are two of the easiest Wi-Fi extenders to set up, coming equipped with easy-to-read displays indicating the signal strength.
What is the best Wi-Fi extender for a home business?
If you are working out of the home, you will need to take into account any other Internet-users you might be living with. The aforementioned X4 is the best Wi-Fi extender for the money you'll pay and it comes with a bunch of features to help make your internet service more reliable. After all, the last thing you need is a network crash during an important Skype call.
Will a Wi-Fi extender increase my internet speed?
No. A Wi-Fi extender is used to extend your Wi-Fi's coverage area. Typically, Wi-Fi extenders will drop your speed some because of the extra step of communication (with the router over Wi-Fi), but when there are multiple users/devices using the same band/signal, a big drop in speed can occur. If your internet is feeling sluggish, check out some of our tips on how to increase your internet speed.
Our Other Internet Reviews