Advertiser Disclosure:
We recommend products and services based on unbiased research from our editorial team. We make money via affiliate links, which means if you click a link on our site, we may earn a commission. Any commissions we receive do not affect our recommendations; if you want to know more about how that works, read more.
YouTube TV Review
YouTube TV grabbed headlines recently by raising its prices from $40 to $50 — the latest in what seems to be a monthly tradition for streaming services. Even with the new channels it's added, we still rank it slightly behind Hulu and PlayStation Vue. That said, with YouTube's exceptional interface and navigation, unlimited cloud DVR storage, and three simultaneous streams, those few missing channels might not matter so much.
YouTube TV vs. Other Live TV Streaming Services
| | | | | | | |
| --- | --- | --- | --- | --- | --- | --- |
| | YouTube TV | PlayStation Vue | DIRECTV NOW | Hulu + Live TV | Sling Orange + Blue | fubo |
| | | Our Review | Our Review | Our Review | | |
| Starting at | $50/month | $45/month | $50/month | $45/month | $40/month | $55/month |
| Total number of channels* | 77 | 51 | 54 | 67 | 56 | 96 |
| DVR storage | Unlimited | Unlimited (stores for 28 days) | 20 hours (stores for 30 days) | 50 hours | 50 hours (for $5 a month) | 30 hours |
| Simultaneous streams | 3 | 5 | 2 | 2 | 1 for Orange, 3 for Blue | 2 |
*Varies by location

How we evaluated YouTube TV
Live TV streaming services are starting to look a lot alike. There are five competitors — Hulu, YouTube TV, PlayStation Vue, DIRECTV NOW, and fubo — that all cost between $45 and $55 and provide a lot of the same channels.
Which one is right for you comes down to a few personal preferences. Would you rather have AMC or A&E? Do you need to catch every NFL game? How important is a good channel-surfing experience?
[sc_minimodule feature='shareable_image' anchor=" url='//assets.reviews.com/uploads/2019/04/17094541/YouTube-TV-Logo1.png' alt=" title='YouTube-TV-Logo1′ wrap='full'][/sc_minimodule]
Our First Impressions:

Only one package
Elegant interface
Missing some key channels
Great for live sports
That said, we tried to evaluate YouTube TV as objectively as possible. To do that, we used the same methodology as our live TV streaming services review. We relied heavily on data from TiVo's Q4 2017 Video Trends Report, which asked more than 3,000 respondents, "Which channels would you be interested in including in your TV package?" The more people wanted a channel included, the higher we scored it.
Strong offering overall, but missing key channels
YouTube TV had a solid selection of channels before its most recent price hike; now, it's right up there with the best. According to TiVo's survey, YouTube TV has eight of the top 10 most desired channels in a TV package, 14 of the top 20, and 32 of the top 50. That includes the "big four" local networks, Discovery Channel, and FX.
But despite now including Discovery's networks in its lineup, YouTube TV still trails PlayStation Vue, fubo, and Hulu + Live TV when it comes to the quality of its offerings. A lot of this comes down to preference — you might not care about the channels YouTube TV's missing — but for most people, we think you'll find better value elsewhere. Here are the 10 channels respondents to TiVo's 2019 survey said they wanted the most, and how each service stacks up:
It's missing some legitimate heavy-hitters, but so is every service. We just think Hulu + Live TV has the fewest weak spots no matter which way you look at it. (Plus it's $5 less a month and comes with Hulu's on-demand service.) Still, the gaps between these services has narrowed significantly in the past few months, and the best for you comes down to how you feel about a handful of channels. If you'd rather watch AMC than A&E, for example, the entire calculus changes.
Great for live sports, but missing the NFL Network
For $50 a month, YouTube TV gives you access to nearly every channel that broadcasts live sports in the U.S. It has all of the "big four" local networks, four ESPNs, and regional sports networks for nearly every market in the country.
YouTube TV comes with every channel that broadcasts live sports for the MLB, NBA, car racing, and PGA — more than any streaming service aside from PlayStation Vue. Along with PlayStation, YouTube TV is the only service with league-operated channels like the MLB Network and NBA TV, as well as NCAA conference networks like the SEC and Big Ten networks.
You probably don't just want to watch the national games, though. YouTube TV also has an extensive collection of regional sports networks (RSNs), which are the channels that show your local MLB, NBA, and NHL team's games. YouTube TV includes all of the local RSNs from Fox Sports and NBC Sports, plus NESN for Boston fans. The only teams it doesn't cover are the Los Angeles Lakers (not offered by any streaming service) and the New York Knicks, New York Rangers, New York Islanders, New Jersey Devils and New York Red Bulls (all covered by MSG Network). You should still plug in your ZIP code with YouTube TV to check your market specifically, but chances are good you'll be covered.
YouTube TV has a lot of what most sports fans might ask for, with one fairly big exception. Just not the NFL Network. And that's a bigger deal than it might seem. Thirty-seven percent of Americans call football their favorite sport, according to a 2018 Gallup poll; the next closest is basketball at 11 percent. That shows up in what we watch, too. According to Nielsen, of the top 10 most watched telecasts in 2018, NFL football accounted for half of them — and all of the top four.
The NFL Network had exclusive rights to seven games in 2018. (You can stream some NFL Network games on Amazon Prime Video, too, but only the ones that are simulcast on Fox.) They're generally primetime, marquee matchups, and are typically the only games on at the time. If you're a football junkie, it hurts to miss those games. PlayStation Vue's Core package offers the exact same sports channels for the same price as YouTube TV, but it also includes the NFL Network.
Best-in-class interface and navigation
To evaluate what it felt like to channel-surf on YouTube TV, we tested it on a MacBook Pro and Roku Streaming Stick. It was by far the best-looking live streaming service we've tested, with a refreshingly clean, white interface and bold, easy-to-read black lettering.
YouTube TV's clean interface was much easier to browse than PlayStation Vue's.
It's incredibly simple to see YouTube TV's programming at a glance, including what's coming up in the next time slot and a picture of what's currently playing. Contrasted with PlayStation Vue's tiny light gray text on black background, YouTube TV was a lot easier on the eyes.
We also loved how when you stop on a title for a second, YouTube TV opens the description and a small video of what's currently playing (mercifully without sound, sparing us the game of hot potato Netflix's autoplay compels). If commercials drive you crazy, you can use this preview feature to check if a program's in the middle of a break before committing to changing the channel.
YouTube TV shows what's currently playing when you stop on a channel.
The search function also works exceptionally well — no surprise since this is the company that's synonymous with video on the internet. You can search for topics like "nature" or "late night shows" and YouTube TV will bring up a curated selection of on-demand and live programs. When we tried the same thing with DIRECTV NOW and PlayStation Vue, we only got results that actually had "nature" in the title. (We're certainly interested, but Ben Affleck's 1999 romantic comedy "Forces of Nature" was not what we had in mind.)
YouTube TV allows you to search for broad topics in addition to specific titles.
Finally, YouTube TV's home page was surprisingly intuitive. Before you switch over to the guide for a cable channel-surfing experience, YouTube TV highlights a handful of programs and channels you might be interested in based on your regular viewing habits. This ended up being a huge time-saver as we watched TV. We learned that we really only end up watching five or six channels, and we were almost always able to find something without leaving the home screen. The full list of 75 channels is only a click away, but the home screen almost always gave us something to watch.
You can also create up to six profiles on YouTube TV, so your recommendations won't be skewed by what the rest of your family is watching.
Generous extras
YouTube TV has some of the best perks in the business. It has unlimited cloud DVR storage that never expires. That means you can record as many shows and movies as you want without worrying about running out of space or time. The only other service that matches that is Philo, and it has 40+ fewer channels.
YouTube TV also lets you stream on three accounts at the same time, a lifesaver for families with diverse viewing habits. The only service to beat that number was PlayStation Vue with five simultaneous streams.
Compatible with most devices
YouTube TV is compatible with nearly every major streaming device but one: Amazon's Fire TV. Google (YouTube's parent company) and Amazon have a bitter history of pulling their products from each other's services. Since 2017, Google has blocked YouTube from Amazon devices like the Fire TV and Echo Show. Fortunately, Google and Amazon recently buried the hatchet. YouTube TV will be available of Fire TV devices "later this year."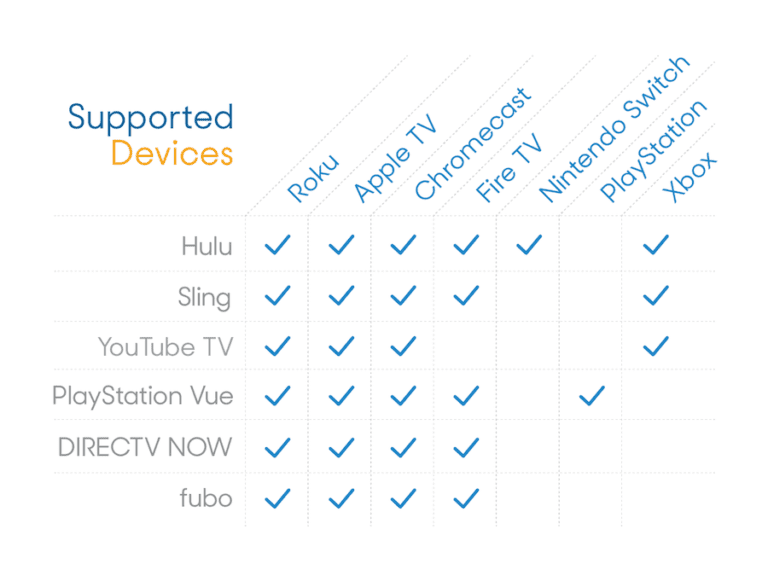 Aside from Fire TV, YouTube TV plays nice with most other devices, particularly smart TVs: It supports everything with Android TV built in, Samsung and LG models 2016 or newer, and select models from Vizio, HiSense, and Sharp. It also works on all versions of Xbox One — something only Hulu and Sling can also claim.
The Bottom Line
While it doesn't have the best channel selection — we'd give both Hulu + Live TV and PlayStation Vue the slight edge in that category — YouTube TV closes the gap with a delightful viewing experience, unlimited DVR storage that never deletes, and three simultaneous streams. If not having channels like A&E, History, and Comedy Central isn't a big deal to you, YouTube TV is a fine option.
If you don't care about sports, your best option is to go with a skinny bundle like Sling, Philo, or AT&T's WatchTV. They don't carry any channels that air live sports, so they only cost around $15 to $25. You'll miss out on ABC, CBS, Fox, and NBC — must-haves for most TV watchers — but you can pick these up with a TV antenna or through Locast.org, a nonprofit that streams local broadcast stations for free in nine U.S. markets.