Advertiser Disclosure:
We recommend products and services based on unbiased research from our editorial team. We make money via affiliate links, which means if you click a link on our site, we may earn a commission. Any commissions we receive do not affect our recommendations; if you want to know more about how that works, read more.
For most people, streaming is now the best way to watch TV.
There are more than 200 streaming services available in the U.S. right now — a number that keeps rising as behemoths like Disney and Apple launch their own services — and we watch 8 billion hours of TV on them every month.
But all that choice also breeds confusion. Amid routine price raises, constantly fluctuating libraries and channel lineups, and new options sprouting up daily, streaming TV has never felt more mainstream or more overwhelming.
Our goal was to simplify that process and help you build your perfect replacement for (or supplement to) cable. We focused on two main categories for this review: live TV streaming services that stream cable channels through your internet connection and on-demand services like Netflix and Hulu that let you watch programs when you want them. After 130 hours of research (and more TV-watching than we ever dreamed we'd get paid for), we found the best TV streaming services for every situation.
The 9 Best TV Streaming Services
How We Chose the Best Live TV Streaming Services
Overall channel selection
Companies that stream live TV often promote the raw number of channels in their lineups, but more isn't necessarily better. A lineup of 98 channels might sound impressive until you realize that you're paying for eccentricities like the Law & Crime Trial Network ("live court video, high-profile criminal trials, crazy crime, celebrity justice, and smart legal analysis") and BabyTV ("the first 24/7 channel for kids, babies and toddlers").
Cable subscribers know this dilemma well: According to research from Nielsen, Americans pay for 205.9 channels on average, but only watch 20.9 of them. Some "filler" options are inevitable — since Turner owns TNT and TBS, you'll never be able to get one without the other, for example — but we wanted to give the most weight to the channels that people actually want.
To gauge a channel's desirability, we turned to TiVo's 2017 Q4 Trends Report, which asked over 3,000 American and Canadian adults, "Which channels would you be interested in including in your TV package?" (Sadly, TiVo's more recent reports hasn't released an updated version of that survey.) We used those responses to assign a score to each channel: The higher the percentage of viewers who wanted the channel, the higher its score. Then we added up the number of points each package received for the channels it offered.
Availability by location
Big networks like ABC, CBS, Fox, and NBC are essential channels for most people who want to stream live TV, but each service's exact offerings may change depending on where you live. The same goes for regional sports networks, which broadcast your local team's MLB, NBA, and NHL games. We ran ZIP codes for Seattle, Cleveland, New York, Los Angeles, and Boston and found that Hulu + Live TV, DIRECTV NOW, and YouTube TV all had the big four networks in these regions, while our other finalists offered patchier coverage.
Using that information, we gave extra points to the services that had the widest coverage for these local networks. Still, companies are engaged in a streaming arms race right now, each one constantly bidding on the rights to stream local feeds, so coverage is improving every day.
Quality of sports channels
To find the best deal for sports fans, we turned to the Harris Poll's survey of 2,252 American adults to find out which sports were most beloved. First, we assigned scores to each league — the NFL, MLB, NCAA football, car racing, NBA, NHL, men's soccer, NCAA basketball, and PGA Golf — based on how many people watched it. The larger the viewership, the higher the score. Then we gave a corresponding amount of points to channels that aired live games for those leagues. Finally, we tallied up the total number of in-demand channels offered by each provider.
Device compatibility
While price and channel selection are the most important considerations when choosing a live TV streaming service, it's also important that you actually be able to play your service. Fortunately, at this point, most of the services we tested work with pretty much any streaming device. The most glaring exception is YouTube TV's incompatibility with Amazon Fire TV. While a YouTube TV app is scheduled to be released on Fire TV sometime in 2019, it's currently still unavailable.
DVR storage and simultaneous streams
Finally, we evaluated the supplemental perks that each live TV streaming service offers. Cloud DVR storage allows you to record any programs on TV and watch them at your own leisure. YouTube TV and Philo both offer unlimited cloud DVR storage, each places a different limit on how long you can store videos. Simultaneous streams refers to how many devices you can use to watch the service at the same time, a nice perk for anyone living in a house with diverse TV preferences.
The Best Live TV Streaming Services
Pros
Best channel lineup
Comes with Hulu on-demand
Carries most live sports
50 hours of DVR storage
Cons
Frustrating interface
Only two simultaneous streams
Why we chose it
Best channel lineup
Hulu + Live TV is the best live TV streaming service for a simple reason: It has more of the channels that people actually want to watch. In TiVo's survey of the most desired channels in a TV package, Hulu was the only one to include every channel in the top 10. In fact, no other service offered more than eight. You'll get all the local channels — ABC, CBS, NBC, and Fox — plus popular cable networks like Discovery Channel, History, and A&E. No other live TV streaming service can say the same.
Comes with Hulu on-demand
Included in Hulu + Live TV is Hulu's on-demand library, which we named the best on-demand services for network shows, a $5.99 per month value (more on that below). That's almost 3,000 shows and movies available anytime you want, including Hulu's critically acclaimed originals like "The Marvelous Mrs. Maisel" and shows from ABC, Fox, and NBC the day after they air on TV. You can also upgrade to the $12 plan if you want Hulu on-demand without ads.
Carries most live sports
For most sports fans, Hulu + Live TV carries every channel you need. With every local network, plus ESPN, FS1, TBS, and TNT, you'll get every major sporting event in the U.S. With Fox Sports and NBC Sports, it also has solid coverage for regional sports networks for your local MLB, NBA, NHL, and MLS teams. The only area hardcore sports fans might find Hulu lacking? It doesn't have any of the league-run channels from the NFL, MLB, NBA, or NHL.
50 hours of DVR storage
Hulu's DVR plan is one of the more generous around. You'll get 50 hours of space, and it never expires as long as you subscribe. While Philo offers unlimited space, they'll only keep your programs for about a month. The only service that tops Hulu is YouTube TV, which provides unlimited space and keeps recordings for nine months. Hulu also offers an upgrade to 200 hours of storage for an extra $10 a month.
Points to consider
Frustrating interface
If you've used Hulu's on-demand service before, you know that it can be a bit of a headache to navigate. The same goes for Hulu + Live TV. The channel guide was especially disappointing. If you're watching on a streaming device and want to see what else is on: The guide takes up the entire screen, so you can't channel-surf and watch at the same time. Every other service we tested — and every cable TV guide we've used in the past decade — keeps part of the screen on the channel you're watching. The guide itself only showed about four programs at a time, too, so you often have to do a lot of clicking to find something to watch.
For its part, Hulu knows it needs to fix some things. On a recent podcast, CEO Randy Freer admitted, "We built a consumer experience that probably was where things may end up, or where we get to, but it wasn't as intuitive as we probably should have built." We'd expect positive changes to happen in the near future.
Only two simultaneous streams
Hulu + Live TV only lets you stream on two devices at once, one of the stingier numbers around. You can upgrade to unlimited screens for an extra $10 a month, but we would have liked to see more streams allowed in its base package.
Pros
Great for live sports
Intuitive interface and navigation
Unlimited DVR storage
Cons
Average channel selection overall
Not compatible with Fire TV or PlayStation
Why we chose it
Great for live sports
YouTube TV is the best option for sports fans. It carries all the same local channels and regional sports networks, so you'll get the same combination of national sports and your local teams' games. The base package has every channel you'd need to watch live sports from the NFL, MLB, NBA, PGA Golf, and NASCAR. And while it didn't include every possible channel for NCAA basketball and football (the Pac-12 and ACC networks are missing), no other provider offers more comprehensive coverage. It's only missing one major sports channel: the NFL Network, which does mean you'll miss about seven national NFL games per year.
Intuitive interface and navigation
YouTube TV is an absolute pleasure to use. Most live TV streaming services stick to a fairly similar gamplan: dark backgrounds, cable TV-style channel scrolling, and a smattering of on-demand recommendations. With its clean white interface and bold bold, easy-to-read black lettering, YouTube TV explodes that playbook.
Its guide also did something we didn't see anywhere else. When you stop on a channel while you're scrolling, you can see a preview of what's currently playing without actually opening it up. Still halftime on the game you want to watch? Your show in the middle of a commercial? YouTube TV lets you check in on each program's status at a glance without fully committing.
Unlimited DVR storage
YouTube TV has the best cloud DVR plan of any streaming service. You'll get unlimited space and it will keep your recordings for a full nine months. Save as much as you like, and never worry about it deleting that show you're definitely getting around to soon.
Points to consider
Average channel selection overall
While we loved YouTube TV's user experience, its overall channel lineup is fairly mediocre. It graded out in the middle of the pack in our evaluation, ahead of Sling Orange + Blue (but $10 more a month) and DIRECTV NOW, but behind Hulu + Live TV and fubo TV ($5 more a month). YouTube TV is missing big names like History, A&E, Comedy Central, Lifetime, Hallmark Channel, and Nick, but its exceptional interface and navigation could be more important for some people.
Not compatible with Fire TV or PlayStation
As of right now, YouTube TV is compatible with the fewest number of streaming devices of any service, including Amazon's Fire TV and PlayStation game consoles. YouTube has said that it would be sometime in 2019, but there's currently no word on when exactly that will happen.
Pros
Inexpensive
Includes five of the 10 most popular channels
Cons
No local channels or sports
No DVR or simultaneous streams
Why we chose it
Inexpensive
AT&T Watch's greatest appeal is its price tag: $15 a month, the cheapest live TV streaming service around. That price is more akin to a Netflix or Spotify subscription than a cable bill. That's not to say it doesn't carry any substance — its 43 channels are mostly recognizable names — but WatchTV is clearly designed for channel-surfing on a budget.
Includes five of the 10 most popular channels
We were surprised how many popular channels WatchTV fit into its $15 a month budget. You'll get five of the 10 channels consumers said they wanted the most — Discovery Channel, History, A&E, TNT, and TBS — a combination it shares with only Hulu and Sling. For comparison, DIRECTV NOW has seven of the top 10 channels, and it costs $40 more per month.
Points to consider
No local channels or sports
WatchTV is able to keep prices so low because it skips the TV that's most expensive to carry, namely local and sports channels. Because they air things like awards shows, news, and sporting events that must be viewed live, networks can charge the most for them. If you go with WatchTV, you can still access ABC, CBS, Fox, and NBC through a TV antenna or Locast.org.
No DVR or simultaneous streams
Unsurprisingly given its cheap price point, WatchTV doesn't offer any cloud DVR storage or simultaneous streams. If these are a must for you, Philo offers a slightly worse channel selection, but unlimited DVR storage and three simultaneous streams for $20 a month.
Pros
13 news channels
Old shows from MTV, Nick, and BET
Several popular sports channels
Cons
Few recognizable cable channels
Inopportune commercial breaks
Why we chose it
13 news channels
If you love politics but hate your cable bill, check out Pluto TV. It has 13 channels devoted to covering current events, including versions of name brands like CNN, CBS, and NBC. While it doesn't always carry the same programming as their pay-TV versions, it does overlap a surprising amount. If you just want to catch major press conferences or breaking stories, Pluto TV has several good options for live news.
Old shows from MTV, Nick, and BET
Because of Pluto's partnership with Viacom, it has a wealth of shows from the company's cable channels: five versions of MTV, two Comedy Centrals, two Nicks, one CMT, and one BET. Most of the programming is from the late 90s/early 2000s era (including an entire channel devoted to MTV's "The Hills"), but that might be a plus for certain nostalgia-minded millennials.
Several popular sports channels
We were surprised to find several sports channels in Pluto TV's lineup that you usually have to pay for. Sports news channels like Fox Sports 1 and Stadium are included, and you can even catch live games from the MLS and NCAA's Big Sky Conference. If you don't want to pay the estimated $9 a month it costs to add ESPN to your cable package, Pluto TV is a worthy alternative.
Points to consider
Few recognizable cable channels
While it has plenty of names you'll recognize, don't expect Pluto to deliver the same shows and movies you get out of a paid service. Networks generally use it as a place to house older shows and movies that aren't as in demand as their core programming.
Inopportune commercial breaks
Unlike paid TV, Pluto hasn't quite figured out how to insert its ads into the flow of the program. When we were watching its news channels, the anchors would often be cut off mid-sentence as Pluto went to commercial. This was annoying, to be sure, but it's hard to complain about a service you're not paying for.
How We Chose the Best On-Demand TV Streaming Service
Large content budget
One of the appeals of on-demand streaming services is their reputation for high-quality content — both original and licensed. Shows like "Stranger Things" and "Orange Is the New Black" have turned into such massive successes that they've drawn bigger audiences than traditional cable network programming like "The Bachelor". To evaluate our three contenders, we first wanted to find out how committed they were to continuing this trend.
Unfortunately, each streaming service is incredibly cagey about its data. They don't willingly share ratings, exact library volume (and when it changes), or subscriber numbers. But we do have some idea of how much money they're investing. And while spending the most money obviously isn't a guarantee of the best shows and movies, if you're only going to subscribe to one service, it's reasonable to pick the one that will reinvest more of your monthly fee back into content.
High-quality original programming
As behemoths like Disney begin to pull their catalogues from streaming services in order to promote their own platforms (essentially going the HBO route), original content will become more and more important for TV streaming providers as a way to attract and keep customers. But we wanted to make sure we weren't recommending junk. For every "Stranger Things", there's a "Girlboss" or "The Get Down," both cancelled after just one season. So, for every piece of original content that Amazon, Netflix, and Hulu produced, we evaluated the response. We aggregated critic ratings from Rotten Tomatoes, audience ratings from IMDb, and nominations and wins in Golden Globes, Oscars, and Emmys to figure out what kind of quality, on average, each on-demand TV streaming service offered.
Licensed TV shows and movies
While original content is important — and will only continue to grow in importance as ore companies launch their own services — we also wanted to evaluate each service's library as a whole. After all, while Netflix touts its originals, data from Nielsen shows that 72% of viewing minutes on the service is spent on licensed shows and movies. With that in mind, we used IMDb's list of the top 250 shows and movies and scored how many titles each service offers.
The Best On-Demand TV Streaming Services
Pros
Best selection of popular shows and movies
Original content
Investment in content
Family programming
Cons
Fewer network shows
Expensive
Why we chose it
Best selection of popular shows and movies
By every metric we looked at, Netflix came out on top as the TV streaming service with the most shows and movies that people want to watch. Of IMDb's top 250 TV series, Netflix has 73 in its library, nine more than next-best Hulu. What's more, the names at the top, like "The Office" and "Friends" aren't available on any other service.
It was the same story when we looked at movies. Netflix had the most in IMDb's top 250 with 38, while The Criterion Channel came in a distant second with 30. If you want to watch the most popular titles out there, Netflix is clearly the best option.
Original content
Since each service keeps its ratings extremely close to the vest, it's impossible to tell which shows are being watched the most. But it's safe to say that Netflix has dominated the streaming conversation with its original series. Shows like "Stranger Things," "Narcos," and "Orange Is the New Black" have all been enormous hits, while Hulu and Amazon have struggled to produce anything that's resonated on the same level.
In Emmys for original series, Netflix has racked up 135 nominations and 24 wins since 2015, while Amazon has only received 21 nominations and 12 wins, and Hulu just 19 nominations and five wins over the same period. 2018 marked a changing of the guard at the Emmys, with Netflix receiving more nominations than HBO for the first time ever.
Investment in content
In the fierce competition for your entertainment budget, Netflix consistently spends more on original and licensed TV shows and movies than Amazon, Hulu, and HBO. In 2019, Netflix spent $15 billion on content, with $17 billion projected for 2019. By comparison, Amazon's 2019 content budget was $6.5 billion and HBO's was $3.5 billion. Spending the most money obviously isn't a guarantee of the best shows and movies, but if you're only going to subscribe to one service, it's a safe bet that Netflix is going to reinvest more of your monthly fee back into content than Amazon, Hulu, and HBO.
Family programming
If you're a parent with younger kids, Netflix is by far the best choice for content the whole family can enjoy. It has 81 original shows and movies for kids, compared to only 22 for Amazon, 13 for HBO Now, and two for Hulu. It also has a bunch of 90s classics like "Goosebumps" and "The Magic School Bus" that parents might enjoy, too.
Points to consider
Fewer network shows
If keeping up with your favorite cable shows is your top priority, you might find Netflix lacking. It doesn't have much in the way of network shows, and when it does, it doesn't put them up until a few months after the season ends. Hulu On Demand has more content from the major networks than either Netflix or Amazon, and it puts them up the day after they're aired on cable. As it's owned by Disney (and by extension ABC and Fox), and NBC, Hulu is essentially the platform of choice for streaming content from major networks. It's the only on-demand service where you can find hit shows like "Empire", "Modern Family", and "This Is Us." In fact, of the 10 highest-rated TV shows of 2018, the only one Netflix has is "NCIS," and the most recent episode aired on TV more than a year ago.
More expensive than competitors
While we thought it was the best on-demand streaming service by far, you'll pay a little more for Netflix than Amazon Prime Video or Hulu. It costs $9 per month for standard-definition streaming, but high-definition is a necessity for most viewers these days. (For reference, TV shows stopped airing in SD in 2014.) Netflix in HD runs $13 per month for HD streaming and two simultaneous streams and $16 for 4K streaming and four simultaneous streams. For comparison, Hulu and Amazon start at about $6 and $9 per month for HD, respectively.
Pros
Network shows
Shows available the day after they air
Ad-supported plan
Cons
Less original content
Weak movie library
Why we chose it
Network shows
Hulu has more shows from cable and network TV than any other TV streaming service. Because it's owned by the duo of Disney (which owns ABC and Fox) and NBC, it covers the vast majority of TV's most popular shows. Of the top nine most-watched series of 2018, Hulu has four of them in its library, compared to only one for Netflix and zero for Amazon.
Shows available the day after they air
Hulu typically puts up episodes of shows up the morning after they air on prime time TV, while Netflix waits until the entire season is finished, and then adds an extra few months. If you want to keep up with network shows without a cable subscription, Hulu is the only on-demand streaming service that gives you this option.
Ad-supported plan
We appreciated that Hulu gives you some options with its pricing. Its HD ad-supported plan costs $6 per month, less than half the price of Netflix's HD plan. We didn't find the commercials to be too much of an annoyance, either — about three 90-second blocks of ads for every half hour TV show. If you'd rather bypass commercials altogether, you can upgrade to the ad-free plan at $12 a month.
Points to consider
Less original content
While Hulu leads the pack when it comes to shows that originally air on TV, it's had less success with its original content. It's only produced 51 of its own shows and movies, compared to 161 for Amazon, and 832 for Netflix. It has had one major success with "The Handmaid's Tale," but outside of that, its original library is fairly thin.
Weak movie library
Hulu currently only has 1,469 movies in its library, compared to 3,922 for Netflix and 19,382 for Amazon Prime Video. That smaller selection doesn't translate to better quality, either. Of IMDb's Top 250 movies, Hulu only had nine overall, and only one in the top 30. Hulu's library clearly favors TV shows instead of movies. If movies are more your thing, Netflix and The Criterion Channel are much better options.
Amazon
Amazon Prime Video
Pros
Amazon Prime benefits
Enormous library
HBO back catalogue
Cons
No new network shows
Weak original content
Why we chose it
Amazon Prime benefits
You can subscribe to Prime Video on its own for $9 a month, but most people get it as a part of their Amazon Prime membership ($119 a year), where it's just one of the many perks. If you subscribe to Prime, you'll also get free two-day shipping on Amazon orders, unlimited photo storage, membership to Prime Music, and one free e-book a month.
Enormous library
Prime Video dwarfs the competition when it comes to the sheer number of titles in its library: 19,382 movies and 1,646 TV shows, more than Netflix, Amazon, Hulu, and The Criterion Channel combined. However, even with all those titles, Prime Video still doesn't have as many of the most popular movies and shows. Out of IMDb's top 250 TV shows, it only has 53, fewer than both Netflix and Hulu. Of the top 250 movies, it also came in third behind Netflix and The Criterion Channel, with 28.
HBO back catalogue
Aside from HBO Now, Prime Video is the only way you can stream titles from HBO's back catalogue. It includes a number of classic TV shows like "The Sopranos," "The Wire," and "Sex and the City." Unfortunately, you won't get any newer shows like "Game of Thrones," but it's still a nice bonus.
Points to consider
No new network shows
Prime Video doesn't carry many shows that are currently airing on network TV. If you want to watch ABC, CBS, Fox, or NBC shows without a cable subscription, Hulu carries three out of the big four networks, and usually puts episodes up the day after they air on TV.
Weak original content
Amazon has failed to make much of a splash when it comes to original content, even though it's spending an estimated $6.5 billion this year to make its own shows and movies. It has only 21 Emmy nominations and 12 wins over the past four years — half of what Netflix has received. While it's had a handful of critical darlings like "The Marvelous Mrs. Maisel," Prime Video's 77% average Rotten Tomatoes critic score for originals was lower than HBO's, Netflix's, and Hulu's.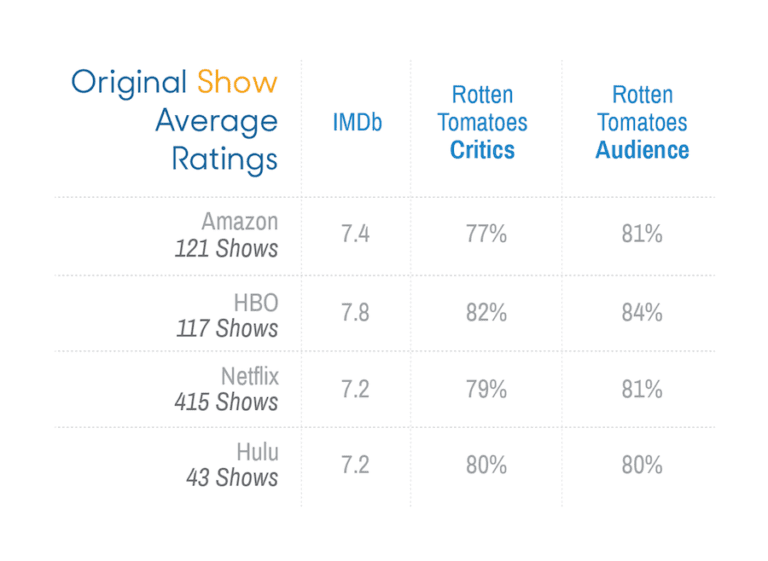 Amazon did have the edge on movies with a 73% Rotten Tomatoes critic score compared to Netflix's 72%. But with ten times fewer original movies in its library, that was a less impressive feat.
Pros
Hit shows
Great selection of documentaries
Cons
Fewer titles overall
Expensive
Why we chose it
Hit shows
More than any other streaming service, HBO Now houses the shows that get people talking. From "The Sopranos" to "Game of Thrones," the premium network seems to always have at least one show that's a must-have for viewers. You can see this clearly in Emmy wins and nominations over the years, too, where HBO has completely dominated the competition. In the past four years alone, it has six out of eight Emmys for Best Drama and Best Comedy — the highest honors in TV.
Great selection of documentaries
HBO's original documentaries are in a class of their own. It currently has 251 feature-length documentaries on HBO Now, and they've received an average Rotten Tomatoes critic score of 91%. The next closest streaming service is Netflix with 93 titles and a 90% Rotten Tomatoes score.
Points to consider
Fewer titles overall
If you're searching for specific movies on HBO Now, you'll more often than not come up empty. With fewer than 1,000 titles available to stream, HBO Now isn't close to Amazon, Netflix, or Hulu in terms of sheer breadth of movies and shows. HBO would probably spin this as a positive — unlike Netflix's "try everything" approach, HBO's seal of approval signifies quality — but there's no denying that you're getting a lot less for your money with HBO Now. It's banking on the "must-see" appeal of a handful of shows, not its library as a whole.
Expensive
Even though HBO spent $10 billion less in 2019 than Netflix — and has more than 3,000 fewer titles — it still charges $2 more per month for its HD plan. At $15 per month, it's the most expensive on-demand streaming service on our list, and is understandably hard to justify for a lot of people. If you want HBO without paying the full price, one option is to replace your cable package with DIRECTV NOW, a live TV streaming service that includes HBO (and by extension, HBO Go) in all of its plans, which start at $50 a month.
Criterion Channel
The Criterion Channel
Pros
Classic films
Bonus features
Four simultaneous streams
Offline viewing
Cons
Fewer new or popular movies
No TV shows
Why we chose it
Classic films
A subscription to The Criterion Channel is like a course in film history: It has more than 1,600 "important classic and contemporary films" in its catalogue, from some of the first movies ever made to more recent Cannes darlings. Of IMDb's top 250 movies, The Criterion Channel had 30 of them, second only to Netflix's 38.
That was impressive, but when you shift the focus to critics' lists, it absolutely dominates. We used Sight and Sound's top 100 list, which polls 846 critics, programmers, academics and distributors every 10 years, and which Roger Ebert called, "by far the most respected of the countless polls of great movies — the only one most serious movie people take seriously." On the most recent 2012 list, The Criterion Channel had 52 films; the next closest was Amazon with six. If you're looking for classic, arthouse, and foreign films, Criterion has a library you won't find streaming anywhere else.
Bonus features
Most of the films in The Criterion Channel's library come with supplemental videos that go behind the scenes with iconic filmmakers, actors, and movie critics. We especially loved their curated collections like "Killer Couples" and "Columbia Noir." If you want to go deep on a specific subject, The Criterion Channel is a wonderful guide.
Four simultaneous streams
The Criterion Channel allows you to stream on up to four devices at the same time, more than any other on-demand streaming service. If you live in a house full of movie buffs, you'll all be able to use one account without interrupting each other.
Offline viewing
Along with Prime Video and Netflix, The Criterion Channel is one of the few services that lets you download movies to watch offline. Just download the app on iOS or Android and you can store titles on your device.
Points to consider
Fewer new or popular movies
The Criterion Channel doesn't have much in the way of blockbusters or recent releases. Of its 1,604 titles, only 106 were made this decade — fewer than the number of films it has from the 1930s. If keeping up with the latest hits is important to you, you're better off going with one of the bigger names.
No TV shows
Unlike most on-demand services, The Criterion Channel doesn't offer a mix of TV shows and movies. It's devoted entirely to films, so you won't get the same well-rounded library you'll find with Netflix or Amazon.
Guide to TV Streaming Services
How to find the right TV streaming service for you
Decide which channels you need
Before you start comparing packages, it's good to have an idea about which channels you want to prioritize. Do you just want to follow your local sports teams without paying a huge cable bill? Make sure the service you choose has your regional sports network, as well as local channels like CBS, Fox, and NBC for NFL games. Don't care as much about the local networks or sports channels? You can save by going with a skinny bundle like AT&T WatchTV that skips these popular channels. Check out live TV streaming services for more info.
Check your ZIP code
To avoid surprises, we suggest entering your ZIP code on your provider's website and checking the exact channel lineup offered. Local channels — the ones that are essential to most TV viewers — often have different availability depending on where you live. And many times, they're only available on-demand, defeating much of the purpose of live TV streaming.
Sign up for free trials
Every live TV streaming service we saw offers a free trial of at least one week, and it's absolutely worth taking advantage of. Once you've narrowed down your list to a few services, take each one out for a test run to see how it feels in your day-to-day life. Many times, little quirks like how a service sets up its channel guide can have a big effect on the overall experience. Of course, you'll never be locked into a service for longer than a month, but it's still a good idea to experiment before you break out the wallet.
Invest in a smart TV, gaming console, or streaming device
Once you've settled on a streaming service, you'll still need a way to get the content to your TV. For this, you'll need two things: a strong internet connection (more on that below) and a way to access the internet through your TV. If you bought your TV in the past few years, chances are it came with some streaming apps pre-loaded, although it might not be compatible with the service you settled on. Gaming consoles like Xbox One and PlayStation 4 also have the ability to download streaming apps, although compatibility is, again, fairly limited. The best option for most people is to invest in a dedicated streaming device like a Fire TV or Roku. These typically cost around $50, plug into a TV's HDMI port, and use a Wi-Fi connection to stream video apps.
TV Streaming Services FAQs
Compare the Best TV Streaming Services
More TV Streaming Reviews
Check out our in-depth reviews of everything you'll need to start streaming:
Analysis paralysis? Subscribe to our newsletter.