Advertiser Disclosure:
We recommend products and services based on unbiased research from our editorial team. We make money via affiliate links, which means if you click a link on our site, we may earn a commission. Any commissions we receive do not affect our recommendations; if you want to know more about how that works, read more.
Essentially, you have two options when it comes to TV streaming. On-demand services like Netflix, Amazon Prime, and Hulu offer a combination of original and licensed shows and movies that can be streamed any time, while live TV streaming services mimic traditional cable TV channels. To find the best on-demand service, we analyzed the critical and audience reception to their original content, while also grading them on their library of licensed shows and movies.
How We Chose the Best On-Demand Streaming Services
Large budget for acquiring and producing content
The best streaming service should be willing to re-invest a hefty chunk of your monthly fee into improving its library. And when it comes to shelling out for content, Netflix is the clear winner. The company spent $12 billion on content in 2018, compared to $5 billion for Amazon, $2.5 billion for Hulu, and $1.5 billion for HBO. It's that willingness to spend that's helped Netflix produce some of the biggest hits of the group — the latest season of "Stranger Things" reportedly cost an astounding $8 million per episode, for example.
Critical and audience reception of original content
In 2018, streaming services produced 160 original scripted shows, surpassing basic cable and broadcast for the first time ever in this category. This trend shows no signs of slowing down, either. As companies like Disney pull content from streaming services to create their own standalone subscription services, it will become increasingly important for streaming services to produce high-quality original content of their own.
To evaluate which providers were succeeding the most in this area, we looked at aggregated critic ratings from Rotten Tomatoes, user reviews from IMDB and Rotten Tomatoes, and nominations and wins in three major award categories: Golden Globes, Oscars, and Emmys. This gave us a good idea of what shows and movies were dominating the cultural conversation.
Large collection of licensed content
Original content is gaining traction, but cable programming is still important to plenty of people. ("This Is Us" garnered 33.4 million viewers in one episode alone last year.) Evidence suggests that this is what most people watch on streaming services, too. According to Nielsen data, nonoriginal programming made up 72% of the minutes that people spent watching Netflix last year.
With that in mind, we looked for streaming services that provided access to cable shows soon after they aired live. If you're a cord-cutter who doesn't care about sports and news, but you still want to keep up with your favorite shows, the best on-demand streaming services offer a great compromise.
User experience
Great movies and shows don't mean much if you have to fight through a headache just to find them. When Nielsen asked consumers to rank the most important attributes in a streaming service, "easy to use technology" came out as the second most important with 56%, only one point lower than "variety of content available." In addition to evaluating the quality of content on each service, we also wanted to see how it felt to actually use them. We spent about five hours browsing, searching, and clicking through each service to grade them on responsiveness, ease of navigation, and organization.
The 5 Best On-Demand Streaming Services
Netflix
Pros
Hefty content budget
Best selection of Popular TV an movies
Abundance of original content
Family programming
Offline viewing
Cons
Fewer network shows
Expensive
Why we chose it
Hefty content budget
Netflix outspends its competitors on both original and licensed content. In 2018 alone, it spent a stunning $12 billion overall on its library. That was significantly more than other streaming services: Amazon came in second at $5 billion, Hulu spent $2.5 billion, and HBO $1.5 billion. Netflix shows no signs of slowing down either: It's projected to spend $17.8 billion in 2020, with over 90% devoted to original programming. If you're only going to subscribe to one service, Netflix is the most likely to use your money to keep improving its library.
Best selection of popular TV and movies
Netflix's library has more TV shows and movies that people actually want to watch than any other service. Out of IMDb's top 250 TV series, Netflix included 73 of them, nine more than second-place Hulu. What's more, the names at the very top, like "The Office" and "Friends" aren't available anywhere but Netflix.
It was the same story when it came to IMDb's top 250 movies. Netflix currently has 38 in its library, while The Criterion Channel came in second with 30. If you want the streaming service with the most popular shows and movies, Netflix is the clear winner.
Abundance of original content
Netflix dwarfs its competition in terms of the sheer amount of original shows and movies it produces. It currently has 415 original TV shows on the service, compared to just 121 for Amazon, 117 for HBO, and 43 for Hulu. The disparity is even more shocking when it comes to original movies produced: Netflix has 417, while Amazon only has 40 and Hulu eight. Netflix has clearly taken the "throw everything at the wall and see what sticks" approach, and it seems to be paying off.
Netflix has won 24 Emmys and six Oscars since 2015 — twice as many as Amazon. It has 165 total nominations across both awards, compared to only 32 for Amazon and 19 for Hulu. The only streaming service that competes with Netflix is HBO Now, which is still primarily a cable network.
Offline viewing
Netflix makes a number of its shows and movies available for download, which allows you to watch them when you don't have internet access. This is a crucial feature for travelers (especially if you have kids). You can load up a phone, laptop, or tablet with the latest season of "Puffin Rock" before your next long drive, avoiding dozens of repetitions of "are we there yet?" from the backseat.
Family programming
If you need a service that everyone in the family will enjoy, Netflix has a seemingly endless supply of shows for kids. By our count, Netflix has 81 original titles for children, compared to just 22 for Amazon, 13 for HBO, and a measly two for Hulu. It also licenses a ton of older classics that parents might remember like "Goosebumps" and "The Magic School Bus."
Points to consider
Fewer network shows
Of the 10 most popular series on broadcast and cable in 2018, Netflix only carries one, "NCIS." When it comes to cable programming, we found Netflix lacking across the board — Hulu is more likely to have shows originally produced on ABC, CBS, Fox, and NBC. Even when Netflix does carry cable programming, it waits until the season is over to put all episodes up at once. If keeping up with cable shows as they air is important to you, you're likely to be happier with Hulu. (If you're looking for a specific show, we also liked the site JustWatch for finding which services carry particular programs.)
Expensive
Netflix pricing is slightly more expensive (and less flexible) than competitors. You'll pay $8.99 a month for standard-definition (SD) viewing — but high-definition is a must for many viewers. The last television to air in SD stopped in 2014, and it's basically impossible to buy a new SD TV. Netflix in HD will set you back $12.99 a month, and $15.99 for 4K Ultra HD. (Hulu and Amazon start around $6 and $9, respectively.)
Hulu
Pros
Network shows
Shows available the day after they air
Flexible pricing
Cons
Less original content
Weak movie library
Why we chose it
Network shows
Because Hulu is owned by Disney (which owns ABC and Fox) and NBC, it has a substantial edge on Netflix and Amazon when it comes to streaming network shows. It's the exclusive streaming service for some of the most popular shows on TV: "This Is Us," "The Good Doctor," and "Manifest" are all on Hulu and nowhere else. If these are the only types of programs keeping you attached to cable, Hulu represents the cheapest way to cut the cord.
Shows available the day after they air
You won't have to wait around to catch your favorite network shows on Hulu. In general, they're aired the morning after they're originally shown in prime time. Depending on the specific contract Hulu has with each production company, it can sometimes take as long as a week, but that's still the shortest timeframe we found. Hulu's competitors wait until the entire season is finished to add shows to their library, with several months of waiting in-between.
Flexible pricing
Hulu is the only streaming service to offer a reduced monthly price if you're willing to put up with some commercials. (Hulu says they show about nine minutes of ads per hour, or roughly two-thirds that of cable TV.) The plan with commercials starts at $5.99, and comes with HD resolution. You can also upgrade to an ad-free version of Hulu for $11.99. We appreciate that Hulu provides options to suit your budget.
Points to consider
Less original content
Hulu's traditional cable ownership allows it to position itself as a network TV alternative. This means that it places less emphasis on original programming. It's produced only 51 original shows and movies, compared to Amazon's 161, and Netflix's 832. Hulu has launched one critical darling in "The Handmaid's Tale," but in general, don't expect a ton of original programming that you can't get anywhere else.
Weak movie library
Aside from HBO Now, Hulu has fewer movies in its library than any other service, and they're generally lower quality, too. Out of IMDb's Top 250 movies, Hulu only has nine, and the only one in the top 30 is "The Dark Knight." Hulu is clearly most invested in providing great TV shows; if movies are more your thing, Netflix, Amazon, and The Criterion Channel are all better options.
Amazon Prime Video
Amazon Prime Video
Amazon Prime Video
Pros
Amazon Prime perks
Enormous library
HBO back catalog
Flexible pricing
Cons
No new network shows
Less critically acclaimed original content
Why we chose it
Amazon Prime perks
Amazon Prime Video more than holds its own as a streaming service, but a Prime membership also includes perks like free two-day shipping on all Amazon.com orders, plus unlimited photo storage, access to Prime Music (a lesser version of the Amazon Music Unlimited, which is more akin to Spotify), and one free e-book each month.
Enormous library
The total number of shows and movies included in Prime Video is staggering: 19,382 movies and 1,646 TV shows. That's almost 16,000 more titles than the next closest competitor, Netflix. Of course, that doesn't mean all those shows and movies are winners. Even with that huge volume advantage, Amazon still had fewer TV shows in IMDb's Top 250 than Netflix and Hulu, and fewer movies than Netflix and Criterion Channel. That said, that huge number does count for something: You'll never run out of things to watch on Amazon.
HBO back catalogue
Amazon is the only streaming service outside of HBO Now with access to HBO's catalog of classic TV shows. Even though you won't get any of the newer shows that are still in production (sorry, "Game of Thrones" fans), we still think this is a pretty awesome perk. Classic TV shows like "The Wire," "The Sopranos," "Six Feet Under," and "Sex and the City" are all available with a Prime membership — well worth the price of admission for some TV fans.
Flexible pricing
Prime membership costs $119 upfront for a full year — which works out to $9.92 per month, a little cheaper than comparable service tiers from Hulu and Netflix (and an even better value if you factor in Prime perks). Students pay only $59 per year. You also have two other options: If you'd rather not make one lump payment, you can pay a monthly fee of $12.99 for access to the same range of perks. If you're not planning to make use of Amazon's free shipping at all, you can also opt to pay just for Prime Video at $8.99 a month.
Points to consider
No new network shows
If you want to watch shows on ABC, CBS, Fox, or NBC without a cable subscription, Prime Video isn't a good option. Unlike Hulu and Netflix, it doesn't carry any new shows at all from these major networks. If you're looking for this type of content, Hulu typically puts episodes up the day after they air on TV.
Less critically acclaimed original content
While Amazon produces a good amount of original content — 121 shows and 40 movies — it's generally not as well-received critically as its competitors. Its shows only received an average Rotten Tomatoes critics' score of 77%, the lowest of the big four streaming services.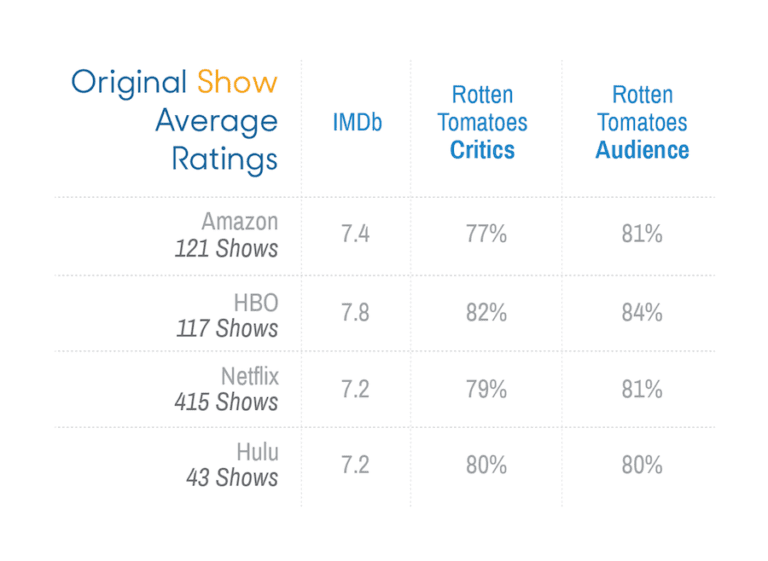 Its 73% on movies ranked slightly ahead of Netflix's 72%, but Netflix has made more than 10 times as many original movies, so that edge is less impressive.
HBO Now
Pros
Hit shows
Great selection of documentaries
Cons
Small library overall
Expensive
Why we chose it
Hit shows
From "Sex and the City" to "Game of Thrones," HBO has consistently produced the most talked-about and lauded television of any TV network or streaming service, and they generally aren't available anywhere else. It has completely dominated the Emmys in recent years, earning more than twice as many nominations and wins as the next closest service, Netflix.
In the past four years alone, HBO has nabbed six out of eight Emmys for Best Comedy and Best Drama — the biggest awards in TV.
It's why Jeff Bezos reportedly mandated that his Prime Video executives bring him the next "Game of Thrones." HBO has had its hand on the wheel of the TV conversation for the past two decades. If you want to be a part of it — and don't want to pay a cable bill — HBO Now is your only option.
Great selection of documentaries
While HBO doesn't make scripted movies like Amazon and Netflix, its series- and feature-length documentaries are in a league of their own. HBO Now currently has 251 original documentaries in its library, with an average Rotten Tomatoes critic score of 91%. The next closest is Netflix with 93 titles, and a 90% critic score.
Points to consider
Small library overall
The number of shows and movies on HBO Now pales in comparison to its streaming counterparts: less than a thousand titles compared to nearly 21,000 for Prime Video. While HBO would probably argue this as positive — less junk to wade through to find something to watch — less choice is hardly a good thing for a streaming service. If you're someone who watches more movies than TV, you'll be better off swapping HBO for (or supplementing with) Netflix or Amazon.
Expensive
At $14.99 a month, HBO Now is significantly more expensive than its competitors. Even Netflix, which has taken plenty of heat for its routine price hikes, is still $2 less per month than HBO Now, and it has five times as many titles. If you want HBO, but don't want to pay full price, you might consider replacing your cable with DIRECTV NOW, a live streaming service that carries cable channels and includes HBO (and by extension, HBO Go) in all of its plans, which start at $50 a month.
The Criterion Channel
The Criterion Channel
The Criterion Channel
Pros
Classic films
Bonus features
Cons
Fewer new or popular movies
No TV shows
Why we chose it
Classic films
If Netflix is the new Blockbuster, The Criterion Channel is the replacement for your old college library's DVD collection. It's like a course in film history, replete with over 1,600 classic and foreign films that have shaped the history of cinema. That's not to say those are all obscure titles, either. Of IMDb's Top 250 movies, which places great weight on popularity, The Criterion Channel had 30, second only to Netflix's 38, and more than bigger names like Amazon, Hulu, and HBO.
While it fared well with the most popular movies, it absolutely dominates the critical darlings. We looked at Sight and Sound's critics' top 100 list, a once-a-decade poll that asks critics to list the 10 greatest films of all time, and which Roger Ebert called, "by far the most respected of the countless polls of great movies — the only one most serious movie people take seriously." The Criterion Channel had 52 films in the most recent 2012 list; the next closest was Amazon with six. If it's arthouse, foreign, or classic films you're after, The Criterion Channel is the only option.
Bonus features
The Criterion Channel does an incredible job of going behind the scenes with people who make and love movies. Nearly every film in its catalogue has supplemental features like director interviews, guest curators, and themed collections. If you're curious about how movies get made and want to learn more, these extras are invaluable.
Points to consider
Fewer new or popular movies
You won't find many blockbusters or recent releases on The Criterion Channel. Out of its 1,604 movies, only 106 were made this decade, fewer than the number of titles it has from the 1930s. If you want to keep up with the latest movies, Netflix and Amazon are much better options.
No TV shows
Unlike the other names on this list, The Criterion Channel doesn't carry any TV shows. It's strictly for movies, so you'll have to get your binge-watching fix elsewhere.
Guide to On-Demand Streaming Services
How to choose a streaming service
Focus on the content that's most important to you
Think about what kind of TV you like to watch. Is it important to keep with your favorite network shows? Do you want to see if "Game of Thrones" lives up to the hype? Or are you just looking for a way to catch the occasional on-demand movie or documentary? Once you've prioritized specific titles, we liked the tool JustWatch.com for comparing which streaming services you can find them on.
Sign up for free trials
After you've narrowed down which services fit your preferences, test them out! Netflix, Hulu, and Amazon all offer one-month free trials, The Criterion Channel goes to two weeks, and HBO Now offers one week. These are worth taking advantage of, especially if there are shows you're curious about but not yet committed to. (Just don't forget to cancel at the end of your trial.)
Connect to your TV
To start streaming, you'll need a strong internet connection (more on that below) and a way to access streaming apps on your TV. Most TVs sold in the past few years have the ability to connect to the internet, and often come with apps already downloaded. Gaming consoles like XBox and PlayStation also have the ability to stream Netflix, Hulu, and Amazon. If you have an older TV and no gaming console, your best bet is to purchase a streaming device like a Roku or Amazon Fire TV. If you'd like to learn more about setting up your TV for streaming, we've put together a full guide here.
FAQ
What is the best free streaming service?
There are a number of streaming services that let you watch movies and shows for free. The selection isn't quite as good as paid services — if a movie's available for free, it probably means the big players didn't think it was worth buying its streaming rights — but you'll still be able to find something to watch. Here are some of our favorites:
Kanopy: Kanopy has a collection of foreign language and independent films that is virtually unrivalled in the streaming world. There are plenty of titles you can't stream anywhere else, paid or free, and serious film buffs could spend years exploring its library. Kanopy even has 50 classic Criterion Collection titles — the only place you can stream them outside of Criterion's dedicated streaming service, The Criterion Channel. You'll need an active library card to log in, and you're limited to about six movies a month (the number varies by library), but it's well worth checking out. Available on Apple TV, Roku, and Chromecast.
Sony Crackle: The best free streaming service for most people, Crackle gives you access to the largest selection of popular movies and shows without a subscription fee. It might not have the sheer volume of some other services, but it's also not weighed down by a lot of garbage — chances are you'll actually know most of the movies and shows in Crackle's lineup. Just be prepared for a two to three minute ad break every twenty minutes or so. Available on Roku, Apple TV, Amazon Fire TV, Xbox, PlayStation, and Chromecast.
Tubi: For a free streaming service, Tubi actually has a surprising number of respectable movies. Critically acclaimed titles like Capote, City of God, and Oldboy sit next to legitimate blockbusters Titanic, School of Rock, and The Blair Witch Project. Unlike Kanopy, Tubi does show ads before and during the stream. It varies depending on what device you're streaming on, but we experienced a couple of minutes of ads for every half hour of video. Available on Roku, Apple TV, Amazon Fire TV, Xbox, PlayStation, and Chromecast.
Yahoo View: If you're looking for a free way to watch NBC shows, Yahoo View is by far your best option. Frankly, we were delighted to find out that you can watch the latest episodes of This Is Us, Saturday Night Live, and The Good Doctor without a cable subscription. You won't have to wait, either — shows go up on Yahoo View the day after they're on TV. It's not very strong on movies, with a little over 50 (mostly obscure) titles, but its offering of popular network shows was unique. Unfortunately, you can currently only stream Yahoo View through web browsers and iOS and Android mobile apps.
Popcornflix: Our least favorite free streaming service, Popcornflix has all the stars you love in all their movies you've probably never heard of (Chris Pratt in 2009's Deep in the Valley, anyone?). Still, while you might have to wade through a lot of rough, there are diamonds to be found: horror classics like An American Werewolf in London and Suspiria, Oscar darlings Monster and Amistad, and a surprisingly deep roster of stand-up comedy specials. Just be prepared to do some digging to find them. Like Tubi, Popcornflix also runs 15-20 second ads every 15 minutes or so. Available on Apple TV, Roku, Amazon Fire TV, and XBox.
How much data does video streaming use?
The better your picture quality, the more data you'll use. Netflix estimates standard-definition (SD) streaming eats up around 0.7 GB per hour, while high-definition (HD) uses 3 GB, and 4K Ultra HD requires a whopping 7 GB.
Fortunately, you can take some steps to curb this usage. Netflix allows you to modify your data usage to low, medium, high, or auto, and adjusts your resolution automatically. Amazon doesn't have a specific setting for data usage, but you can adjust stream quality. Hulu is the only service that doesn't provide options: you're stuck streaming with the settings of the plan you sign up for.
What internet speeds do I need for streaming?
Again, this depends on the resolution you'll be streaming. The FCC recommends about 5-8 Mbps for HD streaming and a full 25 Mbps for 4K Ultra HD. As a rule of thumb, you should double those numbers for every device you'll be streaming at the same time. If you want to have three 4K streams on three different TVs at the same time, you should aim for 75 Mbps. If you don't know what kind of speeds you're getting, we found Ookla's SpeedTest.net to be a pretty accurate measurement.
Can I still stream on an older TV?
You can, but you'll need some special equipment. You have two options for making an old TV smart: Purchase an HDMI to AVI converter and plug in a streaming device, or buy a Roku Express+. We think the Roku is the best option, as it also comes with an HDMI port if you ever want to move it to a newer TV, and it retails for a pretty reasonable $35. It's the only streaming device around that plugs into the yellow, red, and white composite jacks you'll find on older TVs.
If you already have another streaming device you'd like to use, you can go with a converter. The New York Times recommends a model from Cirago that starts at $70, but we also found some cheaper options on Amazon for around $20. There have been a lot of complaints about these types of converters not functioning properly, so make sure you're familiar with the return policy if you decide to go this route.
Comparison Chart
| | | | | | |
| --- | --- | --- | --- | --- | --- |
| | Netflix | Hulu | Amazon Prime Video | HBO Now | The Criterion Channel |
| | Best Library | Best for Network Shows | Best Perks | Best for Original Shows | Best for Classic Films |
| Starting at | $8.99/mo | $5.99/mo | $8.99/mo | $14.99/mo | $8.33/mo |
| Number of streams | One for Basic ($9), Two for Standard ($13), Four for Premium ($16) | Two | Three | Three | Four |
| Offline viewing | ✔ | | ✔ | | ✔ |
| 4K titles | ✔ | | ✔ | | |