Advertiser Disclosure:
We recommend products and services based on unbiased research from our editorial team. We make money via affiliate links, which means if you click a link on our site, we may earn a commission. Any commissions we receive do not affect our recommendations; if you want to know more about how that works, read more.
Hulu + Live TV Review
TV streaming services have gotten a lot of bad press in 2019. YouTube TV raised prices and added channels, DIRECTV NOW raised prices and cut channels, while fubo simply raised prices. No service has benefited more from simply staying put than Hulu. As its live TV streaming competitors move toward more expensive packages, Hulu has emerged as the clear winner, offering the best channel selection of any service for one of the lowest prices.
Hulu vs. Other Live TV Streaming Services
*Varies by location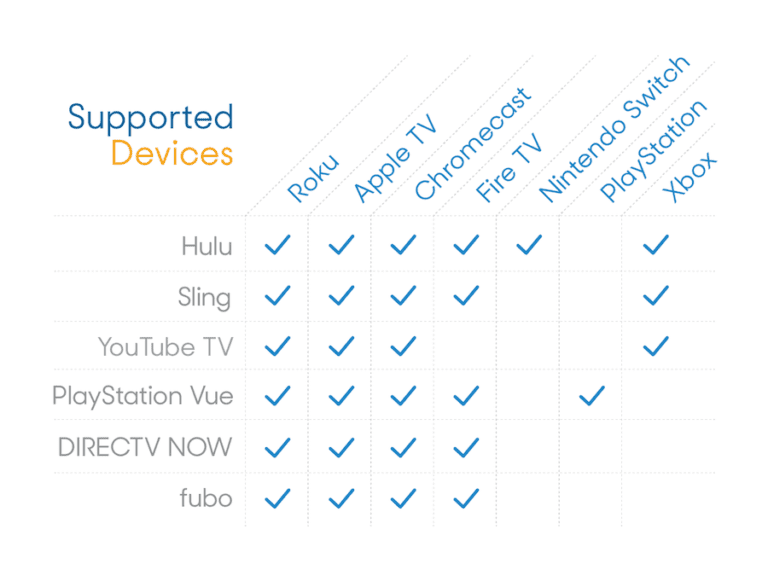 How We Evaluated Hulu + Live TV
There's not a lot separating live TV streaming services in 2019. Untenable prices meant to hook as many subscribers as possible have given way to larger, more expensive packages that look suspiciously like the cable TV ones they were designed to replace. With a few exceptions, most of these services have broadcasting deals with all of the same media companies, so the channels and prices are all pretty similar.
Finding the best streaming service for you comes down to the margins. Would you rather have AMC or A&E? Do you need to catch every game from your favorite sport or just those from your local team? Do you care about sports at all? How much DVR space do you need?
[sc_minimodule feature='shareable_image' anchor=" url='//assets.reviews.com/uploads/2019/04/22120452/Hulu-Logo.png' alt=" title='Hulu-Logo' wrap='full'][/sc_minimodule]
Our First Impressions:

Best channel selection
Missing some key sports channels
Only one package
Includes Hulu on-demand
To see how Hulu stacked up against the live streaming competition, we used the same methodology as our review of the best live streaming services. We relied heavily on data from TiVo's Q4 2017 Video Trends Report, which surveyed more than 3,000 respondents about their TV preferences. One question, in particular, asked them, "Which channels would you be interested in including in your TV package?" The more people wanted a specific channel, the higher the score we gave it. We then added up all of the top 92 channel scores for each streaming service to see how they compared.
But we didn't want to just grade Hulu on paper. To see what it felt like to actually rely on Hulu + Live TV as our primary TV source, we logged in on an Amazon Fire TV and Roku Streaming Stick and watched about five hours of NBA playoffs, news coverage, and morning cartoons over the course of three days. This gave us a sense of the delights and frustrating quirks of the service that would add up over time.
Best channel selection
As of April 2019, Hulu offers the best channel selection of any live streaming service. It wins in both quantity and quality. It has 74 total channels, second most after YouTube TV's 75, and a higher number of channels that consumers said they valued the most. Hulu is the only service to offer every one of the top 10 channels that respondents in TiVo's survey said they wanted the most — two more than any other service.
It has all four local channels — ABC, CBS, Fox, and NBC — as well as popular cable networks like A&E, Discovery Channel, and History. Along with Sling Orange + Blue ($40) and fubo ($55), Hulu is one of the few services that has a deal in place with A&E Networks. That means these are your only options for channels like A&E, History, and Lifetime, all of which ranked in the top 20 most desired channels in TiVo's survey.
Of course, this all comes down to what channels you actually care about. But for most people, we think Hulu + Live TV provides the best value. Here's how it stacked up in the top 10 channels in TiVo's survey.
Hulu's biggest gaps are in premium networks — DIRECTV NOW is the only service to include HBO — and Viacom channels. Viacom has recently voided its deals with nearly every streaming service. If you want Viacom channels like Comedy Central, MTV, and Nick, you'll have to go through DIRECTV NOW or Sling.
Missing league-owned sports channels
If you're a casual sports fan, Hulu will do just fine. You might not be able to see every nationally televised game from each sport, but you'll get all of the biggest ones. However, if you're obsessive about a particular league (or several) and don't want to miss anything, it's worth upgrading to PlayStation Vue's Core plan ($50). That's because Hulu doesn't offer any professional league channels. Without the NFL Network, MLB Network, NBA TV, and NHL Network, you'll miss a decent number of games from those leagues.
That said, Hulu does carry a surprisingly strong collection of college league networks, including the Big Ten Network, SEC Network, and ESPN U. If you're more of a college fan than pro, you can probably get by with Hulu's lineup.
In 2018, seven games were broadcast exclusively by The NFL Network. (You can stream some NFL Network games on Amazon Prime Video, but these games are also simulcast on Fox.) Most of those were on Thursday Night Football, which tends to feature high-profile matchups. Those are brutal to miss if you play fantasy football, and even worse if your home team happens to be playing in one of them.
Carries most regional sports networks
No matter what sports you follow, catching your local team's games is probably pretty important to you. For the MLB, NBA, and NHL, that means having access to your regional sports network (RSN). Hulu fares pretty well here for most people, with a few exceptions.
It has all of the local RSNs for Fox Sports and NBC Sports, which covers about 75% of the MLB, NBA, and NHL teams in the U.S. We'd still recommend plugging your ZIP code into Hulu to check before signing up, but your local team will most likely be covered.
But the markets it's missing are big ones: New York, Los Angeles, and Boston. Hulu doesn't carry local games from the Boston Red Sox, Boston Bruins, New York Knicks, New York Rangers, New York Islanders, New Jersey Devils, or Los Angeles Lakers.
Mediocre channel-surfing experience
Hulu's biggest drawback is its live TV interface and navigation, which is downright bad. We spent a week watching TV on a MacBook Pro, Amazon Fire TV, and Roku Streaming Stick, and it was disappointing on each one.
The first section you see is "Hulu Picks," which promotes original Hulu content. From there, it's hard to tell what's on live TV and what's in Hulu's on-demand library, and the only help you have is a small "live" tag in the description. The sports and news sections had all live content, which made sense. But why was "TV" all on-demand?
Hulu doesn't make finding the live TV guide easy, and once you're there, you can't watch TV and browse channels at the same time. You're also limited to seeing only the current time slot in the guide.



You can navigate up to a "Live TV" button at the top of the screen to access a traditional cable TV-style guide, but even that is disappointing, particularly if you're using a streaming device. When you're watching a channel and want to see what else is on, you have to actually exit the current program you're watching to scroll through the guide. Every other streaming service we tested — and every cable TV setup we've used in the past decade — lets you keep watching the channel you're on while you're looking for something else.
The guide itself leaves a lot to be desired, too. It only shows four channels at a time, and only what's playing at that moment. If you want to see what's coming up after your current time slot, you have to select the channel and arrow over, and it only lets you see one program coming up next. If you want to see what was on before, you're out of luck.
On a laptop, Hulu's guide takes up half the screen, but on a streaming device, it's entirely blocked.
There were a few things to like about Hulu's interface. It allows you to rewind and start over every program, even if you haven't been recording it. Unfortunately, you'll still have to sit through commercials, although they're Hulu's instead of the cable channel's, so they only last 30 to 90 seconds. We also liked how Hulu gives you the option to browse by categories like "News" and "Sports" — if you just want to see what games are on, you can save some time by going there. These categories can be accessed from the home screen, too, which mitigates some of the hassle of finding Hulu's live content.
Extra perks
Hulu has one perk that no other live streaming service can match: It includes Hulu on-demand for free. In our review of the best on-demand streaming services, we named Hulu the best choice for network shows. Because it's owned by Disney and Comcast, it has access to all of the shows from CBS, Fox, and NBC, something you won't find on Netflix or Amazon Prime Video. The $45 version of Hulu + Live TV includes its on-demand library with ads, a $6 per month value, but you can also upgrade to the $51 plan for on-demand with no ads.
Hulu also offers 50 hours of cloud DVR storage that never expires. This was one of the better DVR packages we saw. While PlayStation Vue has unlimited storage, it expires after 28 days. YouTube TV is the only service that truly bests Hulu here, with unlimited storage that never expires.
Hulu's supplemental perks fell squarely in the middle of the pack, with 50 hours of cloud DVR storage (with no expiration date) and two simultaneous streams.



Even though Hulu offers a lot of nice perks, it does fall short on one: It's the stingiest live streaming service when it comes to how many simultaneous streams it allows. You can only watch on two devices at a time, so families with diverse viewing habits might want to opt for PlayStation Vue, which allows for a generous five streams at once.
Hulu does let you upgrade to 200 hours of DVR and unlimited simultaneous screens in the home (and three outside the home) for an extra $10 each. At that point, though, it might be worth making the move to YouTube TV or PlayStation Vue.
The Bottom Line
Hulu + Live TV leaves a lot to be desired when it comes to its channel-surfing experience and simultaneous streams, but it scored the best where it really matters. No live TV streaming service has a better channel selection at a better price than Hulu. Plus, Hulu's on-demand library is included for free, a $6 per month value.