If you're considering medical alert devices, there are many factors to evaluate. Elder care experts agree: The best medical alert system offers reliable equipment, transparent pricing, and help at the push of a button. After tracking down all 27 nationwide providers, we scored medical alert systems on service, transparency, and breadth of equipment. Then we hand-tested five finalists for the easiest set-up and speediest response. Our three top medical alert system picks left us confident our loved ones would be in good hands.
The 3 Best Medical Alert Systems
Medical Guardian – Best Customer Service
Bay Alarm Medical – Most Flexible Plans
MobileHelp – Best for Active Seniors
The Best Medical Alert Systems: Summed Up
| | | | |
| --- | --- | --- | --- |
| | Medical Guardian | Bay Alarm Medical | MobileHelp |
| Monthly cost | Starting at $29.95 | Starting at $19.95 | Starting at $19.95 |
| Wireless range (in-home systems) | 600 – 1,300 feet | Up to 1,000 feet | Up to 600 feet |
| Fall detection available | Yes ($10/month) | Yes ($9.95/month) | Yes ($10/month) |
| Water-resistant wearable device | ✓ | ✓ | ✓ |
| Plan terms | MonthlyQuarterlySemi-annualAnnual | Monthly | MonthlyQuarterlySemi-annualAnnual |
| GPS tracking | Available | Available | Available |
| Two-way communication | Voice | Voice | Voice |
| BBB rating | A+ | A+ | A+ |
How We Chose The Best Medical Alert Systems
Starting criteria
Customer service
On paper, most medical alert companies look identical — the exact same products at very similar price points. We found that customer service is one of the main things that sets them apart. Factors like website layout, FAQ, live chat, and a customer service hotline can be the difference between a ten-minute ordering process and an hours-long ordeal.
Nationwide coverage
Some providers don't offer their service in every state. We wanted to focus on medical alert systems that are available anywhere in the U.S., so we eliminated regional providers from our starting pool.
Reputable monitoring centers
All of our finalists have monitoring centers with third-party certification, either from Underwriters Laboratories (UL) or the Central Station Alarm Association (CSAA). This level of training helps to ensure your call will be handled appropriately in the event of an emergency.
Standalone alert service
Many home security companies offer personal emergency response systems — but only as add-ons to a larger suite of security offerings. With so many standalone services available, there's no need to install an entire security system. That would be like buying a Swiss army knife just for the corkscrew.
Upfront pricing
When we talked with Scott Knoll, MSW and owner of in-home senior care agency By Your Side Home Care, about how to find a reputable service, he told us, "Look for a company that transparently lists prices and services on their website — while not requiring a lock-in contract." Many companies had fees hidden behind asterisks — for example, GreatCall Lively and Philips Lifeline added activation fees at checkout, with no prior warning.
Ordering and setup
Easy ordering
Companies lost points if they didn't provide multiple ways to order. While some seniors might feel more comfortable ordering over the phone, many customers are younger people shopping for their parents, grandparents, or another loved one — so online ordering should be standard and simple.
Simple setup
We ordered both systems from each of our finalists to test them for ourselves. Once the equipment arrived, we unboxed them and assessed how easy it was to get each system up and running.
Hands-on testing
Equipment quality
To evaluate equipment, we began by looking for two basic pieces of technology. Given that over 60% of falls occur in the tub or shower, we saw no reason why any service's wearable devices shouldn't be waterproofed. We also wanted all units that relied on a wall plug to have battery backup in case of power outages.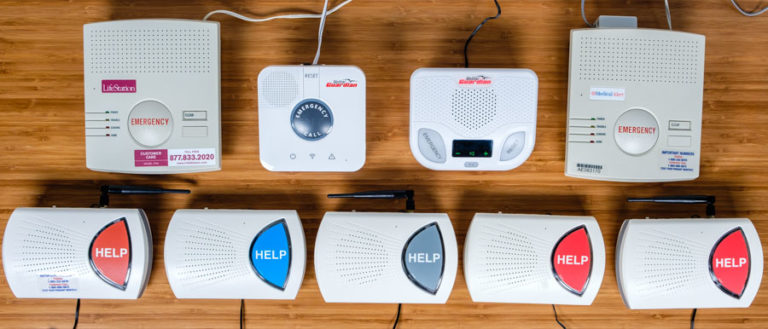 The different base stations of our contenders.
Comfort and style of wearables
Once we set up the base units, we tried out their accompanying pendants and wristbands to see which were the most comfortable. We docked points for scratchy wristbands, unattractive colors, and designs that felt heavy or awkward when worn. Our favorites were sleekly designed and didn't irritate our skin or immediately scream "medical alert."
The different wearables of our contenders.
Response time and professionalism
As a final step, we placed at least five test calls to each company's monitoring center — both by hitting the base unit's emergency button and by pressing the buttons on our pendants and wristbands — then timing how quickly each call was picked up. We also noted the operators' professionalism when we called. We had a uniformly good experience at this step: All operators were kind and thorough, asking us to confirm multiple times per call that no one was actually in danger.
The Best Medical Alert Systems
Medical Guardian review
Medical Guardian
Medical Guardian
Starting at $29.95
Pros
Fastest response time
Customer support
Simple setup
Sleek base design
Stylish wearables
Why we chose it
Fastest response time
Medical Guardian blew the competition out of the water with its incredible response time. Some finalists required us to wait at least a full minute between placing our emergency calls and receiving a response (a surprisingly long time when you're counting every second), but Medical Guardian averaged 39 seconds across five test calls. We let the operator know each time that we were only testing, but in a real emergency, those extra seconds matter.
Customer support
Medical Guardian had uniformly impressive customer service. When we called its helpline, our call was answered immediately, and the representative helpfully answered our questions before wishing us a good evening by name. The company also has a helpful live chat option, which also performed well — the system established a line of communication within seconds after clicking the "live chat" icon. Jeff, a safety advisor and retired police officer, responded right away and was knowledgeable, professional, and friendly. Their name and phone number appeared as soon as our chat began — giving us a way to address follow-up questions to the same person — and we had the option of forwarding our chat transcripts via email (helpful if you're a caregiver collecting information on behalf of someone else.)
Home Guardian base station (left) and Classic Guardian base station (right)
Simple setup
The device was ready to place emergency calls as soon as we plugged it in. Medical Guardian also clearly lays out how to cancel an accidental call, which is more useful than you might think: Our Medical Alert cellular unit summoned paramedics to our office after we bumped against the unit and couldn't figure out how to cancel the alert quickly enough. And like all of our finalists, Medical Guardian also allows you to contact a customized list of emergency contacts before calling emergency services. This means you can contact trusted family or friends instead of emergency personnel at your discretion.
Stylish wearables
Medical Guardian also has the most unique wearables. As with other brands, you'll get your choice of a watch or a pendant; but while most of the watches we tested had a scratchy velcro wristband or displayed the standard white-and-grey button with a cross that was obviously medical alert equipment, the Medical Guardian band looked pretty discreet. Testers with slender wrists found it bulky and preferred the pendant, but both wearables were unusually stylish.
Medical Guardian's Freedom Guardian looks and acts like a smartwatch — without the extra bells and whistles. It comes in black and white with a comfortable, adjustable strap and large touchscreen — again, it's discreet enough to not scream "medical alert." The corresponding mobile app and web portal share your location with friends and family and allow you to send text messages and set calendar reminders. We tested it and were impressed with the audio quality and ease of use. We recommend this watch for active seniors but keep in mind: While it can handle light exposure to water (like showers), the device cannot be fully submerged and fall detection isn't available.
The Freedom Guardian wearable looks like a smartwatch.
Points to consider
Difficult-to-read manual
We had just one qualm with Medical Guardian during setup. We received two instruction booklets: a quick-start guide, and a more in-depth instruction manual. The manual had a comprehensive list of clearly labeled diagrams that explained how the device worked, which we loved — but the font was small enough to be difficult for vision-impaired seniors to read. It's easy to use the system without reading through these details, but vision-impaired folks who want to understand every detail of their system should plan on having a caregiver present during installation.
Bay Alarm Medical review
Bay Alarm Medical
Bay Alarm Medical
Starting at $19.95
Pros
Easy ordering
Solid response time
Free trial and flexible plan terms
Cons
Aesthetics
Unexpected alerts
Why we chose it
Easy ordering
During the initial ordering process, Bay Alarm Medical made an especially strong showing: Web ordering was painless, and its crisp website had video demonstrations, a weekly blog, and clear pricing and terms. An attractively formatted FAQ page answered our questions, and a cheerful live chat rep was waiting to walk us through our options at all times. Customer service reps responded to emails quickly and courteously — when we notified them to let them know that we were missing a terms and conditions sheet with our order, they forwarded the relevant documents to us within the same day.
Solid response time
On average, Bay Alarm Medical took 60 seconds to connect us to a monitoring center: faster than most of our other finalists (though a bit longer than Medical Guardian's 39-second average.)
Free trial and flexible plan terms
Bay Alarm plans offer plenty of flexibility. First off, there's a 30-day trial period, during which you can receive a full refund if you return your equipment. After your trial ends, plans can be set up to bill at one-, three-, and six-month intervals. And multi-month billing doesn't require a contract; Bay Alarm will refund you for any remaining, unused months of your plan if you cancel.
Points to consider
Aesthetics
Bay Alarm's equipment isn't the sleekest or most discreet. Our base station was clunky, with nothing but a speaker and a brightly colored "Help" button. There's also nothing stand-out about the way the wearables look: they're white and grey, with medical crosses clearly visible, and look identical to OneCallAlert's wristband and pendant. They're comfortable, but if you want equipment that's not blatantly obvious about being a medical alert device, we suggest Medical Guardian instead.
Bay Alarm's bold equipment.
Unexpected alerts
Our cellular unit alerted us to signal strength by calling out "Two bars" or "Three bars," sometimes when we weren't expecting it — not particularly helpful information, especially since we don't know Bay Alarm's maximum number of bars.
MobileHelp review
MobileHelp Smart
MobileHelp Smart
Starting at $19.95
Pros
Innovative equipment
Speedy response Time
Cons
Hard-to-read instructions
No price lock
Why we chose it
Innovative equipment
MobileHelp manufactures much of the equipment used by other medical alert companies, so its own offerings are first-in-class. In addition to standard options like landline units, pendants, and wristwatches, MobileHelp is one of the first medical alert companies to offer a fully-functional smartwatch as a medical alert device. The MobileHelp Smart, which looks and works like a Samsung Gear S3 smartwatch, operates via touchscreen and comes with fitness-tracking functions, GPS technology — and a direct line to the MobileHelp emergency center. If you're looking for a device that's discreet and stylish, this MobileHelp watch is a solid option.
MobileHelp's base station and wearables.
Speedy response time
With a prompt response time averaging 46.8 seconds, MobileHelp was the third fastest of all our finalists. In each of our calls to the emergency help center, we experienced prompt, professional responses from service reps.
Points to consider
Hard-to-read instructions
MobileHelp's bulky user manual comes with instructions not just for the unit you ordered, but for every model available from MobileHelp. It took us more effort than usual to locate setup information for the system we actually ordered. We recommend budgeting a little extra time to read the instructions thoroughly, or calling the customer service line for help if you have any questions.
No price lock
Unlike our other top picks, MobileHelp's contract doesn't have a price lock, so it's possible that your monthly fee will go up at some point in the future. MobileHelp's terms and conditions specify that the company reserves the right "to increase fees at any time." But when we talked to customer service about this, we were told that because there is no contract, you're also free to cancel at any time without penalty. You can ensure your rate won't increase with MobileHelp Connect Premium, which also helps cover certain equipment repairs and replacements.
Other Options
Although the equipment can feel a tad fragmented when you open the box, we were impressed with how quickly we were able to set up this GetSafe medical alert system. If you decide to pay on a semi-annual basis, GetSafe will send you the main hub, a couple of interchangeable pendants and wristlets, a security camera, a smoke detector, a wall button, and a voice-activated alert tool. The audio quality wasn't great, but we were thoroughly impressed with GetSafe's response times. All five test calls averaged 26 seconds — one of the fastest times in this lineup. If you're looking for a speedy medical alert system, we recommend this one.
We like that Life Alert doesn't require a landline and that most packages are customizable to fit your needs. That said, you can only order Life Alert systems by phone and the customer service rep we spoke with couldn't give us specific information about monthly cost or features. (Note: some product information is available online, but it's limited.) Due to these concerns, we eliminated Life Alert from our contenders list early on.
OneCallAlert's equipment looks identical to Bay Alarm's and functions similarly, with easy setup and prompt customer service. However, its website is less transparent than others. Although pricing is clearly listed and the company offers a price guarantee, the terms and conditions are either sneakily buried or not on the site at all. When we called customer service about any potential upcharges in pricing, we were met with a surprised "no," as the rep quickly tried to steer us into purchasing a device.
Medical Alert got high marks for its clear instructions and easy setup, but it had one of the slowest average response times of all the contenders, at 74 seconds.
LifeStation's equipment looked identical to Medical Alert's, but its instructions failed to explain set-up as thoroughly, leaving us confused when the machine started yelling voice prompts like "Ready for learning!" and "Timer off!" — disorienting when we were just trying to figure out how to place an emergency test call. The recessed power switch on its landline unit was also difficult for our testers to reach and would make setup difficult for anyone with reduced mobility. But LifeStation did win a few points for customer care: it was the only company to contact us when it detected that the power for our unit had been disconnected, sending us an email that urged us to re-test our system.
We were impressed with ADT's exceptionally fast response time of 39 seconds. But we found the ordering and setup processes more cumbersome. Although ADT customer service told us there is no need to call to activate the system, we found ourselves doing just that and answering a series of personal questions during testing. The speaker was also a tad quieter than some of our other contenders' speakers. However, once we finished setup, we found the emergency helpline reps to be helpful, friendly, and prompt.
Acadian On Call had easy setup (just plug it in) and an excellent customer service line, with near-instant connection to reps who were happy to answer our questions. However, when we tested our system's emergency response, we were less thrilled. Acadian On Call had an average response time of 1:24 minutes, ranking last out of all our contenders. That's not ideal if you're waiting for help in an emergency situation.
We were curious about Walgreens' medical alert system but ultimately disappointed by its quality. When we plugged in our unit and pressed the emergency button, it rang for over three minutes before we finally canceled the call. When we called customer service for help, the rep provided little assistance. After running us unsuccessfully through a couple of troubleshooting tips, he told us to install a different unit if we had another one — we didn't — and that it was possible the equipment just didn't work in our location (downtown Seattle).
Guide To Medical Alert Systems
Who are medical alert systems best for?
You don't have to be among the senior population to take advantage of the services provided by medical alert systems. These options are good for anyone and any age who values safety and preparedness and peace of mind. Specifically speaking, however, these devices are best for people who:
Live alone permanently or for long periods of time.
People who have medical conditions that may require speedy medical attention.
Anyone recovering from an injury, such as a broken leg, hip, or knee.
Anyone with a history of strokes, fainting, or any condition that could prevent them from pressing a help button during an emergency.
Landline vs. cellular connections
You'll have two choices for how your emergency response system is connected. Costs usually differ depending on which option you choose, and we generally found cellular systems to be more expensive.
Landline systems plug into a phone jack. They include a base station and a wearable device (usually a watch or pendant), which routes calls through the base when you call for help. If the majority of your medical risk lies when home alone, this option should suffice.
Cellular systems connect to a cellular network, much like a mobile phone. If you don't have a landline connection, these systems can work with your phone plan. They can be designed for at-home or mobile use. Cellular systems are less susceptible to power outages but can be less reliable in areas with spotty cell service. These are We recommend this watch for active seniors who are often on-the-go.
At-home vs mobile cellular systems
Both connect via a cellular network; the difference is whether a base station is required.
At-home systems route calls for help via a base station. These systems typically have a maximum range within which the base and wearable device (usually a watch or pendant) can communicate.
Mobile systems connect to a monitoring service directly, without passing through a base station. They're equipped with GPS so the operator can send help to your exact location.
Alternative options — security systems and smart tech
The true benefit of an actual medical alarm system is that it's simple and effective. You don't need to be tech-savvy to hit a button. You're also more likely to be intentional about having this device on your person at all times. But in the age of smartphones, smartwatches, and smart houses — it's possible you can achieve the same end goal with the technology you already have.
Smartwatches
Smart watches like the Apple Watch do have some emergency features — you can dial 911 by holding the side button. The watch will send your emergency contacts a text message with your current location and an SOS. You'll need an iPhone (and have to keep it nearby) or a cellular model of Apple Watch for this to work. You also need both hands mobile to activate the emergency mode, which may not be the case for every accident.
Smart hubs
Amazon Alexa and Google Home can technically call a neighbor, friend, or relative. But dialing 911 is a little more complicated. Alexa owners will need to purchase the Echo Connect add-on, and Google Home doesn't currently support 911 calls. Even if you purchase the Amazon add-on, or Google rolls out this functionality, we wouldn't recommend using it in place of a medical alert system. Not only will you have to be able to project loud enough for it to hear you, but you'll have to be in the same room to start with. And as people who've had these products know, they aren't always immediately cooperative. An emergency is the last situation where you'd want to be frustratingly yelling "Hey, Google."
But if you are interested in boosting your home's IQ — check out our roundup of the best smart hubs.
Home security systems
Some of our favorite home security and automation systems offer medical alert buttons as part of their systems. If you've already got a security system, it's worth looking into. But we wouldn't recommend outfitting a whole security system just for their medical alert devices.
How to find your perfect fit
Compare pricing information
Our top picks offer transparent pricing, but that may not be the case with all providers. Watch for extra fees that may be assessed on top of monthly monitoring charges, such as installation or activation fees; these can increase your total cost significantly.
Study plan terms
Look for a price-lock guarantee. If there isn't one, your monthly service cost could increase in the future, even if you choose a plan with a contract. It's also a good idea to investigate whether a contract is required and if there's a cost associated with cancellation.
Check for promotions and discounts
Many medical alert system providers offer promotions for new customers, from free shipping to equipment discounts. Some also offer discounted monitoring if you agree to pay for more than one month at a time. (Note: multi-month billing is not necessarily the same as a contract. Some providers, like Bay Alarm, will refund unused months if you cancel.) Many providers also offer senior discounts and member discounts for policyholders of USAA, AARP, AMAC, and various other senior organizations and associations.
Consider included and add-on features
Recent advances in tech have allowed companies to offer increasingly advanced features, from fall detection to mobile GPS tracking. But don't get too caught up in the bells and whistles. Family caregiving expert Stephanie Erickson recommends, "Keep it as simple as possible. If there are too many buttons or too many features, many seniors will say, 'Forget it, are you kidding me? I can barely work two remote controls.'"
Medical Alert Systems FAQ
As a matter of policy, Reviews.com doesn't accept review units from vendors; whenever possible, we purchase the products for testing ourselves. However, that wasn't the case with the GetSafe Medical Alert System and the Medical Guardian Freedom Guardian smartwatch on this page. While the devices were provided by the manufacturers, Reviews.com's editorial staff only used the products for testing and did not personally benefit from them in any way. The products were returned to the manufacturers.