Reviews.com is reader-supported. If you click on or buy something via a link on this page, we may earn a commission.
Showing results for
Did you mean:
Sorry, something went wrong. Please refresh your browser and try again.
Last updated on
December 13, 2016
The Best Renters Insurance
The 30-Second Review
Price is the driving force behind most renters insurance purchases, but it's impossible for us to know which company has the lowest rate for you. We focused on finding companies we'd be confident buying insurance from, knowing that you'll need to compare quotes for yourself. We looked for high ratings from J.D. Power and Consumer Reports, strong financial ratings from A.M. Best, Standard & Poor's, and Moody's, then tested the finalist's customer service and quote process.
Best Overall
State Farm
Elite financial strength, above-average customer satisfaction rankings, plenty of potential discounts and endorsements, a helpful inventory app, and the easiest quote process.
Highest Customer Satisfaction
Amica
Policyholders gave Amica full marks for "problem-free claims experience," including "damage amount" and "timely payment" following a claim.
One great thing about renting is that your landlord's responsible for the building upkeep, which involves plenty of unglamorous, time-consuming work. But your rent checks they stop short of covering every risk to you and your property. Even if your landlord doesn't require it, renters insurance is a smart purchase because in addition to covering your personal property, it provides a cushion of liability insurance if you're ever sued for damages or injury to someone else.
All our top picks have strong financial strength ratings and top-tier customer satisfaction scores, but the only way to find the best price on the policy for your home or apartment is to do the legwork of getting a few quotes.
Enter Your ZIP Code
Compare renters insurance quotes in your area
How We Found the Best Renters Insurance Companies
We used the Insurance Information Institute's "Find an Insurance Company" tool, as well as state insurance department websites, to compile a list of 68 renters insurance companies. From there, we screened them according to the following standards.
Nationwide availability. (Well, at least 35 states.) We wanted to make our picks relevant for all our readers, so we looked for 35-plus states of coverage and no special eligibility requirements. This eliminated niche providers that might be great for certain people, such as USAA (which is only available to US servicemembers and their families; if you qualify for USAA, you should definitely get a quote).
No middlemen. Not every renters insurance company designs and services its own policies. If it doesn't, it's effectively a broker between you and your underwriting company, and that's an extra step that doesn't benefit you. When it's time to make a claim, wouldn't you rather deal directly with the company cutting the check?
Financial strength. Then we checked each company's financial strength ratings from at least two of the following three agencies: A.M. Best, Standard & Poor's, and Moody's. High ratings are essential — they indicate if a company is financially secure enough to make good on any claims.
Consumer ratings. At the end of the day, it's all about the claims process. Does your insurer make it easy to file and collect? This one is hard to test firsthand without committing insurance fraud, so we turned to survey results from J.D. Power and Consumer Reports. We compared each company's "Customer Satisfaction Index Ranking – Renters Insurance" from J.D. Power's 2016 U.S. Home Insurance Study, as well as its score on Consumer Reports' Homeowner Insurance Ratings. Both are based on survey responses from actual policyholders, who were asked to rate their insurance company on things like premium amount, agent courtesy, and the all-important claims process. We required our finalists to score at least an 80 ("very satisfied") from Consumer Reports, and also be in the top three tiers (average or above) in J.D. Power's rankings.
Having narrowed the field from 68 to five, our last step was to compare the shopping experience for each of our finalists. We looked at how well they explained renters insurance, how easy it was to speak to a rep, and whether we could actually get a quote online. We also compared specific coverage options (beyond standard personal property and liability), and the discounts offered by each.
Premiums didn't factor in.
Even though price remains the driving force behind most renters insurance purchases, it's practically impossible for us to say which company will offer you the lowest rate, given that everyone's dwelling and situation are different. So, we focused on finding companies we'd be confident buying insurance from, knowing that individuals must eventually compare quotes for themselves.
Your renters insurance premiums depend primarily on three things.
As with all real estate, the first consideration is location, location, location. If you live in a particularly windy or snowy climate, or an area with high crime, you'll pay more. The other two main factors are your coverage amounts for personal property and liability, and the amount of your deductible. Then, to a lesser extent, the following also have an impact: the material your building is made from, whether it has protective equipment (like storm windows and smoke alarms), how close it is to fire and police stations, and finally, your credit report and personal history of insurance claims.
Our Picks for Best Renters Insurance Companies
State Farm — Best Overall
State Farm combines elite financial strength with above-average rankings from J.D. Power and Consumer Reports and checks all the boxes for potential discounts and endorsements, but the shopping process, which was helpful from start to finish, is what vaulted it into our top spot. Its website clearly laid out what's important in renters insurance, providing useful background for the quote process (How much personal liability do you need? Do you want replacement cost or actual cash value?). No other top pick came close. If this is your first time getting renters insurance, it's beyond helpful.
State Farm was the only one of our finalists to offer an online tool to inventory your personal belongings — which not only makes filing a claim so much easier, but also makes it easy to zero in on just exactly how much coverage you need. Finally, State Farm's quote revealed a few pleasant surprises, like high standard coverages for home computers ($5,000) and only a tiny premium increase for $200,000 more in liability coverage.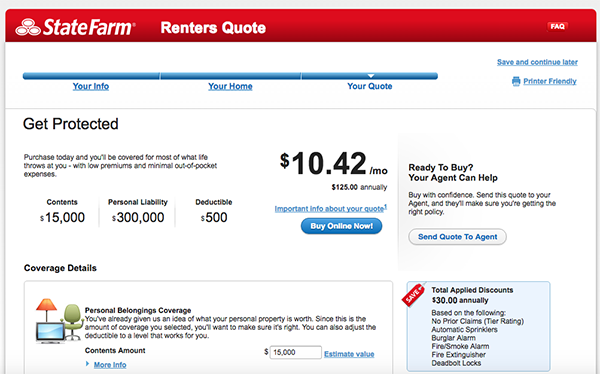 Amica — Highest Customer Satisfaction
Amica was the only one of our finalists to exceed State Farm's financial strength ratings; it's in a league of its own for financial reliability. On top of that, it is head and shoulders above the competition in Consumer Reports' ratings. Policyholders gave Amica full marks for "problem-free claims experience," including "damage amount" and "timely payment" following a claim. Amica consistently sits at the top of J.D. Power's homeowners insurance rankings too, even though it doesn't write enough renters insurance to qualify for the official "renters insurance" index ranking. We loved its straightforward quote process, and especially the Live Chat option on its website, something no other finalist offered. While State Farm has better educational materials and a better way to inventory your home, Amica's performance makes it a top contender, and definitely worth getting a quote from.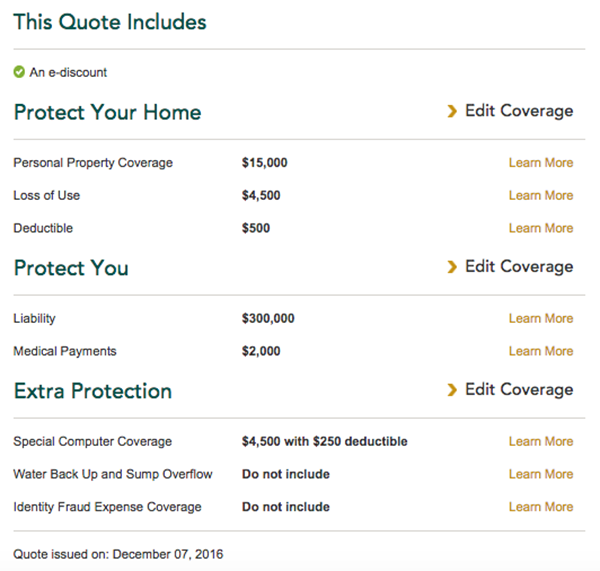 Nationwide — Honorable Mention
Nationwide came very close to matching State Farm in both consumer rankings and financial strength, and its website does a nice job defining what's important in renters insurance. It didn't best State Farm or Amica in any area, but it's still a super-solid choice, and might also give you the lowest quote. And why not? Its quote tool was the easiest one to follow, clearly listing specific included coverages for things like jewelry, building additions, and "loss of use" (more on that later) as well as line items for optional endorsements like identity theft insurance.
There is one slight drawback: Nationwide requires a minimum of $20,000 in personal property coverage to trigger its "Brand New Belongings" full replacement value option. This means that if you don't have many belongings to insure, but want to be able to purchase new stuff in the event of a total loss, you might have to pay for more insurance than you need.
Did You Know?
A standard renters policy covers a lot — but not everything.
The main renters insurance policy form, HO4, covers three basic things: your personal property, legal costs stemming from lawsuits against you, and medical payments to people who injure themselves while on your rented property (as long as they don't live there). The medical payments portion of HO4 is what's known as a "named perils" policy, meaning it only covers certain risks, all of which are "named" in the policy. There are 16 named risks in total, and they cover just about everything that could befall your pad, from fire to burst pipes to volcanic eruption (seriously). Two notable threats that aren't covered in the standard form are hurricanes and flooding; you can purchase hurricane coverage as an optional endorsement, and flood insurance directly from the National Flood Insurance Program. Flood insurance is never a bad idea; the Insurance Information Institute cites it as the most common and costly natural disaster in the US.
"Loss of use" coverage isn't standard, but you should get it.
Another thing not always covered in a standard HO4 is insurance for when you're forced out of your home due to a covered event. Called "loss of use" coverage, it pays for you to stay in a hotel while repairs are made to your dwelling, typically up to a month. (All of our top picks include this coverage in their standard renters policies.)
Take Action
Inventory your belongings. Going through your stuff and cataloging its value is important for two reasons: first, so you don't pay for more coverage than you need, and second, so that you'll be able to get your claim paid quickly. The more evidence you have to prove your loss, the better — that's why State Farm's home inventory tool snagged it the top spot. If your company doesn't offer a tool like that, give the free "Know Your Stuff" app from the Insurance Information Institute a try.
Decide whether to insure your belongings for "actual cash value" or "replacement cost." The difference has to do with depreciation. Let's say your 5-year-old TV is damaged by a burst pipe. If it's insured on your policy for "replacement cost," your insurer will pay you the price you'd have to spend today at the store to buy a new one. If your policy is for "actual cash value" (the cheaper of the two options), your insurance company only owes you what the TV is worth at the time of the loss, including depreciation. Or basically, what someone would have paid on Craigslist for that 5-year-old TV of yours. Replacement cost isn't standard with renters insurance, but all of our top picks offer it. It typically costs only 10 percent more than actual cash value, so it's well worth it.
Shop for quotes. The only way to find the best price for your home and the amount of coverage you need is to get a number of quotes from top-rated companies.
Enter Your ZIP Code
Compare renters insurance quotes in your area