The Best Pet Insurance Companies
The best pet insurance offers coverage that's broad enough for whatever health care your dog or cat needs — with high enough limits to cushion you in a worst-case scenario. For some, the best pet insurance needs to apply to more than just dogs and cats. With this in mind, we consulted with vets and pet care experts on what's essential (and what's simply a nice-to-have). Then we dug into the policy details, analyzed coverage, and put each provider's customer service to the test.
The 5 Best Pet Insurance Companies
Best Technology – Figo Pet Insurance
Figo Pet Insurance
Figo Pet Insurance
Pros
Generous tiers of coverage
Tech-savvy app loaded with features
Excellent customer service
Cons
Relatively young company
Why we chose it
Generous tiers of coverage
Figo's three tiers of coverage all include comprehensive medical protection. The main difference between them comes down to how much they'll cover in a given year: $5,000, $10,000, or unlimited (the more coverage you have, the higher the premiums). Whichever plan you choose, Figo has perks that exceed the typical pet insurance on the market:
It offers optional coverage for vet exam fees (generally around $50) when the exam is related to a covered accident or illness. This comes in handy if you need to make multiple visits for something like a broken leg.
It reimburses claims within 30 days, but a company spokesperson told us that 50% of claims are closed within 24 hours.
It waives the copay and deductible if your pet ever needs immediate, lifesaving treatment.
It has some of the shortest waiting periods before coverage kicks in (three days for accidents and illnesses) and no additional exclusions for hip dysplasia (unlike Healthy Paws).
Tech-savvy app loaded with features
Figo's mobile app, Pet Cloud, is a user-friendly hub that keeps all of the valuable information you may need about your pet at your fingertips. The app allows you to access medical records, geolocate Rover if he runs away, track claims in real time, and point out relevant landmarks like dog parks and pet stores based on your current location. Pet Cloud also gives you access to a licensed vet 24/7, available by live video chat, a feature that might save you and your pet a trip to the emergency room. Figo's website is also a technology win, with easy-to-read coverage checklists, sample policies for both dogs and cats, and a responsive live chat.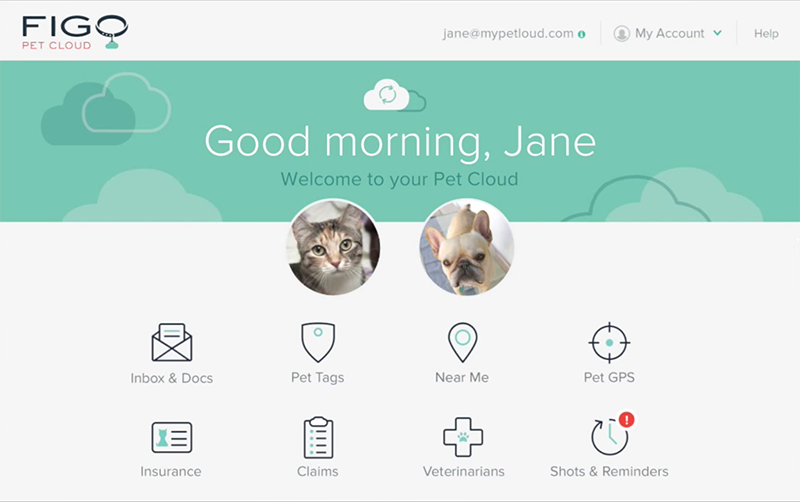 Figo's Pet Cloud lets you store medical records, file claims, and set up reminders in one simple tool.
Excellent customer service
Figo's extra perks and generous coverage was already enough to earn Figo our top spot. But its customer service and app also impressed, outperforming every contender we tested. A cheerful rep took our phone call almost immediately, clearly and patiently answered every question we asked, and never once pushed us to make a purchase. Each one of our phone, email, and live chat inquiries was quickly answered with the warmth and knowledge that you'd want when it comes to your pet. Along with the availability of helpful humans to resolve your questions, Figo leverages an AI assistant, Evie, to make sure that users have a simple and speedy experience if they ever have to file a claim.
Points to consider
Relatively young company
Figo is a new company in the pet insurance market, having sold its first policy in 2015. That inexperience initially made us hesitate, and it may be a drawback if you're more comfortable trusting a well-established company. However, it does give us lots of confidence to know that Figo's policies are backed by Independence American Insurance Company, an A.M. Best A-rated company. This means that although Figo may not have much history in the industry, its policyholders can rely on the financial strength and experience of an established insurer.
Best Pet Insurance for Cats and Small Dogs – Healthy Paws Pet Insurance
Healthy Paws Pet Insurance
Healthy Paws
Pros
Single comprehensive plan
Great customer service
Cons
Weak coverage for hip dysplasia
Second-longest waiting period (for accidents)
Why we chose it
Single comprehensive plan
Healthy Paws' single plan offers comprehensive coverage that makes it an attractive choice. There's no limit to how much its single plan will pay out each year, and having one comprehensive plan can simplify the shopping process if you know what you need and are fine with Healthy Paws' policy. However, if you want more options, we recommend 24PetWatch, which offers four plans, each with unique deductibles and coverage limits.
Great customer service
Customer service through Healthy Paws, underwritten by the robust global insurer Chubb, is top-notch. Company representatives were prompt and courteous, both on the phone and over email, and the website made it easy to find all the info we needed. While Healthy Paws doesn't have the high-tech wizardry of Figo's Pet Cloud, we do appreciate that you can file claims through a mobile app.
Points to consider
Weak coverage for hip dysplasia
While Healthy Paws is a solid choice for dog health insurance, owners of large-breed dogs should be wary of a specific policy rule regarding hip dysplasia, a common genetic disorder. Healthy Paws has a 12-month waiting period for hip dysplasia coverage regardless of breed, and won't cover it at all if your pet enrolls after age 6. Since early onset typically shows signs at four months, and later onset is due to long-term wear and tear, these rules effectively exclude most cases of hip dysplasia.
While many cases of hip dysplasia can be treated with simple pain medication, severe cases require surgery priced between $1,000 and $7,000 per hip (depending on the recommended procedure). If you own a breed that's predisposed to this disorder, you may want to go with one of our other top picks to avoid possibly paying for surgery out-of-pocket. But, if you're insuring a smaller breed dog or cat, it's a solid choice.
Second-longest waiting period (for accidents)
A policy with Healthy Paws comes with a 15-day waiting period for accidents and illness. This is a pretty big window of time compared to the five-day waiting period for injuries featured by Figo and Nationwide's 14-day period. This on top of the 12-month wait for hip dysplasia coverage might be a deal breaker for pet owners who want their pets covered sooner than later. That being said, however, Healthy Paws' wait period is for both accidents and illness. In this regard, Healthy Paws comes out ahead of Trupanion with its five-day period for injuries and 30-day wait for illnesses.
Best Pet Insurance for Young and Purebred Pets – Trupanion Pet Insurance
Trupanion Pet Insurance
Trupanion
Pros
One deductible for related complaints
Great standard coverage
Directly pay vet
Cons
Subpar customer service
Could be expensive
Why we chose it
One deductible for related complaints
Trupanion's unique deductible structure is where it really stands out. Policyholders pay a one-time deductible per condition, regardless of how many related vet visits or follow-up care appointments the pet has throughout its lifetime. With Trupanion's "lifetime" deductibles, you pay a separate deductible every time your pet is treated for a new condition, regardless of when it occurs. If your pet has a lifetime of skin allergy problems and you have a $250 deductible, you'll only pay it once, and then all related skin allergy treatments will be covered for the remainder of your pet's life.
Great standard coverage
Trupanion's single plan offers complete medical coverage with no annual limits on payouts. While its 30-day waiting period for illnesses is twice as long as that of Healthy Paws, it's still a great choice for large-breed pups because it has no extra exclusions for hip dysplasia or cruciate injuries (like a torn ACL), two issues that predominantly affect large dogs.
Directly pay vet
Trupanion is currently the only one of our top picks that can pay some vets directly if the coverage is preapproved, saving you from having to wait for reimbursement (though Figo claims that this feature is coming soon).
Points to consider
Subpar customer service
Trupanion's customer service also left a tiny bit to be desired; it didn't respond to our email, and the website's layout isn't as user-friendly as Figo's. There's also no mobile app. Trupanion has been around the longest of any of the insurers we looked at — 17 years. We take that as a positive for financial stability, but noted that it also dates its customer resources.
Could be expensive
Trupanion's "lifetime" deductible structure could benefit pet owners with puppies, kittens, and purebreds in particular who might not be susceptible to multiple illnesses characteristic to different breeds — if your pet develops a chronic condition, the one deductible payment will cover your pet's treatment for the rest of its lifetime, and you stand to save long term. But if your pet has multiple issues in one year, keep in mind that you'll be on the hook for multiple deductibles.
Best Pet Insurance for Other Pet Species – Nationwide Pet Insurance
Pros
Covers a variety of pet species
Includes wellness coverage
Cons
Cheaper plans use a benefit schedule
Why we chose it
Please note that Nationwide did not meet all of our initial criteria for the best pet insurance providers. However, it's currently the only company that insures pets outside of dogs and cats. We've covered the pros and cons here for owners of other pet species who may be interested in pet insurance.
Covers a variety of pet species
Our other four picks — along with the rest of the pet insurance industry — only offer coverage for dogs and cats. But what about our other furry, scaly, and feathered friends? That's where Nationwide comes in. Along with dogs and cats, this company offers pet insurance that runs the gamut from hamsters, rabbits, and birds to the more "exotic" like sugar gliders, potbellied pigs, and opossums.
Nationwide's avian and exotic pet plan is fairly comprehensive, covering "accidents and illnesses as well as examinations, lab fees, prescriptions, X-rays, hospitalization and more." Unfortunately, the company doesn't offer online quotes for these policies. To learn more about coverage and pricing for exotic pet insurance, you'll have to call Nationwide at 888-899-4874.
Includes wellness coverage
Nationwide's "whole pet with wellness" plan is the only policy among our top picks that covers routine wellness costs like exams, vaccinations, dental cleaning, and heartworm or parasite treatment. This coverage plan reimburses vet bills at 90%, meaning you'll only have to cover 10% out of pocket in almost every single pet care scenario. That said, it comes at a higher-than-average monthly premium.
Points to consider
Cheaper plans use a benefit schedule
Nationwide's best plan, "whole pet with wellness," uses our preferred reimbursement method, covering 90% of the vet bill no matter the cost. However, this coverage is far more expensive than the basic "major medical" — which pays bills on a benefit schedule. To illustrate: When insuring a four-year-old Golden Retriever in Seattle, Nationwide quoted us $46 per month for major medical coverage and $112 per month for the preferable whole pet with wellness plan.
Granted, balancing coverage and cost is always the big question when it comes to insurance. Nationwide just makes the decision between steeper monthly premiums and steeper out-of-pocket costs a little more difficult. Our recommendation? Put your basic information into Nationwide's online quote tool and compare prices for both plans. The best option for you will depend on your pet's breed, age, and medical record, plus the individual quotes this company gives you.
Best Pet Insurance for Pet Recovery – 24PetWatch
Pros
More plans
Unique discounts
Pet recovery resources
Cons
No unlimited annual benefits
Why we chose it
More plans
24PetWatch offers one more plan than any of our other top picks. While that may not seem like much of a difference, having one more tier to choose from could be the difference between finding affordable coverage and settling on a policy that potentially offers more coverage than you really need.
Unique discounts
24PetWatch offers a "multiple pet" discount, which you can find through Nationwide and many other pet insurance providers. Less common, however, is the company's discount on microchipping your pet. Not only will microchipping your dog give you greater peace of mind, but you can save money doing it. Even Figo, which boasted the most discounts of all our top picks, doesn't offer this.
Pet recovery resources
Something that 24PetWatch offered that we couldn't find with any other provider was pet recovery resources. It makes sense; in addition to insurance, the company is known for its microchipping services, which can help owners track down wayward pets. We were happy to see a company that seemed to understand the anxiety and heartbreak when a beloved pet goes missing. Not only does 24PetWatch feature pet recovery tips, but the company also provides a portal to report missing and found pets as well as a missing pet poster generator.
Points to consider
No unlimited annual benefits
24PetWatch was the only one of our top picks not to offer an "unlimited" tier when it came to annual benefits. While its plans do go up to $20,000 per policy term, you'll want to make sure that's enough to cover any illnesses or accidents. In most cases, it is. However, if your pet suffers from any chronic conditions that require repeat hospital visits and diagnostic work (which can cost as much as $2,000 per procedure), you might require more coverage or an unlimited plan.
How We Chose the Best Pet Insurance Companies
To start, we combed the web for all insurers that sell individual pet policies in all 50 states. We wanted to compare only actual insurance, so veterinary discount plans like Pet Assure or financial relief programs like Red Rover were off the list. That left us with 12 companies that offer accident and illness coverage for dogs and cats.
Comprehensive medical coverage
You want your pet's plan to guard against the full range of costly medical issues that could occur over the course of its life. This means that in addition to accident and injury protection, you want continual coverage for cancer and other chronic illnesses, as well as hereditary or congenital conditions (such as cherry eye or liver shunts). Cancer, in particular, can be a very costly experience for pet owners, with an estimated cost of $2,039. The "continual" part is key here, Without it, your coverage could disappear when the policy year rolls over, even if your pet still requires care.
Coverage based on actual vet bills
All pet insurance works on a reimbursement model: You pay the vet bills yourself and then get reimbursed for covered services. Reimbursement should be based on your total vet bill, rather than on a benefit schedule or "usual and customary" charges.
The problem with benefit schedules is that they set a maximum payout for the diagnosis your pet receives. So if the actual treatment costs more, you'll have to pay the difference out of your own pocket. "Usual and customary" reimbursement is slightly better, but it also caps payments (at amounts deemed typical for the treatment in your geographic region).
Both models are risky if your pet's care costs end up being higher than normal, which is why we're only recommending providers that base their reimbursement on the amount paid to the vet.
No limit for specific conditions
Additionally, a good plan should not place a limit on how much it will pay for specific conditions or incidents. Some plans have an annual maximum for covered expenses (say, $10,000). Because you can't predict what will happen to your pet, you want that full amount to be available for whatever comes up.
For example, if your cat swallows a string and needs surgery to remove it, you don't want to find out that only 20% of your $10,000 benefit is eligible to pay for it. Similarly, if your puppy develops cancer, you don't want to learn that your policy only reimburses up to $3,000 per year for cancer treatments.
Prescription drug coverage
For pet owners, prescription medication is not a matter of if, but when. Pet Health and Safety Coach Arden Moore says that prescription drug coverage is vital: "Many conditions require continual medication, which can quickly get expensive without this provision." Even small things, like a $30 bottle of ointment to treat ear infection (a recurring problem for many dog breeds), can add up over time.
To be clear, this coverage is not for preventative medications (like flea treatments), but it covers anything your vet prescribes. This makes it easy to buy prescribed medication directly from your vet, without having to worry about the cost.
How to Choose a Pet Insurance Provider
Get quotes from different providers
"How much is pet insurance?" is likely your biggest question as you research companies. The average annual premium for an accident-plus-illness plan in 2019 was $529, but cost varies widely depending on your specific pet and situation. To find the best value, you'll need to weigh your quoted premiums against the coverage each provider offers for your pet's health risks.
In our sister review of the best cheap pet insurance providers, we collected quotes from each of our top picks for a variety of common pet scenarios. Check out the charts below to compare the average cost of pet insurance across different types of pets and providers.
Of all factors that influence cost, age has the biggest impact
Insuring an older dog costs more. In some cases, a lot more.
These factors will change the price you're quoted, no matter the provider. In general:
Pet insurance for dog costs more than pet insurance for cats.
An older pet costs more to insure than a younger pet.
A pet that lives in an urban area costs more to insure than a pet that lives in a rural area.
The larger your dog is, the more expensive it is to insure.
How much those factors impact your cost differs widely across providers. For example, look how just how sharply premiums rise for a small, mixed-breed dog as it ages.
Insure as early as possible
It goes without saying, but your pet is never as healthy as when it's young. The ideal time to buy pet insurance is when your pet is less than a year old, before most hereditary conditions have manifested to the point where they'd be called preexisting. But if you've adopted a middle-aged or older animal, the rule of "insure as soon as possible" still applies.
Opt for insurance over self-insuring
There are plenty of cost-benefit analyses out there, including one from Consumer Reports that suggests setting money aside for your pet rather than buying insurance. But while it's true you may never recoup the premiums you pay to the insurance company (which is a good thing, since it means your pet stayed healthy), there are problems with this approach.
First, it relies on time passing to allow the savings to build up. If your cat gets sick two months into your $40-per-month savings plan, you have $80 to put toward its care rather than a potential $10,000 or more if you'd paid that $80 as premiums. There's also a peace-of-mind benefit from knowing that your pet is covered: You'll probably worry less and allow it more freedom.
"Thanks to pet insurance, I've been able to provide intensive, emergency care to pets whose owners wouldn't have been able to otherwise afford the care their pet needed to make a full recovery."


Heather B. Loenser DVM Veterinary Advisor, Public and Professional Affairs at the American Animal Hospital Association
Read your policy's 'preexisting conditions' section carefully
This might sound familiar from your experience with human health plans: Preexisting conditions aren't covered. Knowing that your pet has a certain medical issue makes it way riskier to insure, which is why all pet insurers exclude preexisting conditions. But the way they define them in their policies varies. For this reason, it's crucial to read the actual policy (which is sure to be referenced in any dispute) for vague or misleading definitions that could come back to bite you.
Carry documentation with you
Whether your pet insurance provider allows you to access your pet's medical documents via app or website, or you need to make due with hard copies, make sure you know where they are and can access them in hurry.
"Unfortunately, it's all too common for pets to arrive at emergency veterinary hospitals with incomplete medical records. This immediately puts my hospital team, the pet, and the pet owner at a disadvantage. I wish pet owners would carry their pet's medical records with them including their veterinarian's notes, lab work, and radiograph/ultrasound images, especially if they have complex or chronic conditions."


Heather B. Loenser DVM Veterinary Advisor, Public and Professional Affairs at the American Animal Hospital Association
Is Pet Insurance Worth It?
On average, pet owners in the U.S. pay $529 per year (or $44 per month) for pet insurance, according to the North American Pet Health Insurance Association's 2018 market report. The same report lists average claims payouts at a much lower $284 — though to be fair, a one-time "average payout" doesn't account for pets that require multiple vet visits per year for a chronic condition.
So, is pet insurance worth it for you? The biggest thing to consider when making this decision is your pet's breed. Certain dog and cat breeds are predisposed to expensive health conditions — like cancers and bone disorders — that may require thousands of dollars in treatment each year, making health insurance a wise investment for their owners.
Pet Health and Safety Coach Arden Moore gave us a few examples of common dog and cat breeds that are prone to developing costly health issues:
Cavalier King Charles Spaniel: hypertrophic cardiomyopathy (HCM)
Rottweilers, Bernese Mountain Dogs, Golden Retrievers and Siberian Huskies: hip and elbow dysplasia, cancers, and allergies
French Bulldogs: cherry eye and brachycephalic respiratory distress
Siamese cats: asthma and hip dysplasia
Himalayan cats: polycystic kidney disease and progressive retinal atrophy
Ragdoll cats: bladder stones and HCM
We recommend speaking with your vet before purchasing pet insurance. They can walk you through common diseases for your pet's breed, explain the costs of specific treatments, and show you how high totals might climb in a worst-case scenario. This will help you weigh the cost versus potential benefit of insuring your furry friend.
It's also worth considering the number of animals you own (or how many you're likely to own in the future). Two of our top picks, Figo and Nationwide, offer multi-pet discounts and cover routine medical care under certain policies — so if you'll be taking in multiple pets each year for exams, vaccinations, dental care, and more, the financial perks of a plan including wellness coverage might outweigh the annual premiums you'll pay.
Pet Insurance FAQ
The Best Pet Insurance Companies: Summed Up
| | | | | | |
| --- | --- | --- | --- | --- | --- |
| | Figo | Healthy Paws | Trupanion | Nationwide | 24PetWatch |
| The best | Technology | For cats and small dogs | For young and purebred pets | For other pet species | For pet recovery |
| Vet exam fees covered | ✔ | | | ✔ | ✔ |
| Number of plans | 3 | 1 | 1 | 3 | 4 |
| Deductible | $100, $250, $500, or $750 annually | $100, $250, or $500 annually | $50 to $1,000 (in increments of $5) per incident, per lifetime | $250 (however, you can call in for more deductible options annually) | $100, $250, $500, or $1,000 annually |
| | Get a quote | Get a quote | Get a quote | Get a quote | Get a quote |
Data as of November 4, 2019
Our Other Pet Reviews
We've been researching the top pet insurance providers for quite some time, and we've compiled a list of previous reviews covering several different categories and use cases below.