The Best Cell Phone Plans
Finding the best cell phone plans involves more than just looking at the speeds, coverage, and reliability. It also involves personal details like where you live, how many lines you want, and how much you're willing to spend. That's why we took the time to analyze the plans, speak with experts, and crunch the data in order to help guide you to the best carrier for your needs.
The Best Cell Phone Plans: Summed Up
*Plan prices may vary according to the number of lines in the plan
How We Chose the Best Cell Phone Plans
Network reliability
Our search started with the most basic principle of cell service — a reliable network. We turned to RootMetrics, a survey operation that tests the "Big Four" mobile networks (Verizon, T-Mobile, AT&T, and Sprint) and provides an accurate, unbiased account of which networks perform best from a consumer's point of view.
"The first point to consider is which carrier has the best service where you live and work or spend much of your time," say Jamie Huff and Tammy Parker, wireless analysts at Current Analysis. The quality of a provider's network can vary drastically within the same city or metro area. To illustrate this difference, here's what Verizon looks like next to T-Mobile in terms of nationwide speeds (the blue means faster data speeds detected; the orange indicates slower):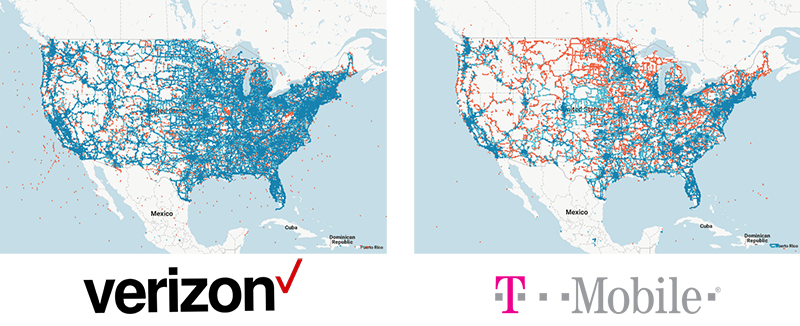 But if you happen to live and work in the Bay Area, you're probably better off with T-Mobile. Here's what those same maps look like when we zoom in on San Francisco:
We favored carriers that score well in reliability and performance, but the best for you could be different depending on where you live.
Phone plans
Once we had an understanding of performance, we dug into the phone plans carriers offered and the prices they charged. Unless you're purchasing a prepaid plan, the days of phone minutes and a nickel for every text are past — prices are based on data now. The best value is typically an unlimited data plan, but we looked into plans with tiered data, too. You'll want to think about how often you use internet data (when not on WiFi) to find a plan that fits your needs.
It's important to know that unlimited never means truly unlimited. But it does mean that the amount of data you receive is so high, it's unlikely you'll run out. Most providers cap their "unlimited" data between 22 GB and 80 GB. The allotment is a far cry above standard 3 GB to 10 GB plans. We compared the price for these plans, too, which can run as low as $30 and as high as $75. Cell phone plans also become significantly cheaper per line as you add to the plan. No shame for the new grad for staying on their parents' family plan — everyone is getting a better deal. Our favorite providers offered a reasonable price for generous data allotments.
Extra features
Carriers will often sweeten the deal by partnering with other companies to offer promotional deals like free Netflix, Amazon Prime, or Apple Music. This increases the overall value of the plan if you'd be paying for these services otherwise — and ultimately increased their ranking in our top picks.
We also evaluated other features like international options and opportunities to bundle with another telecommunication service like television. Cell phone plans that came with these extra perks stood out among the competition based on their appeal for a wide variety of shoppers.
The 4 Best Cell Phone Plans
Verizon
Verizon
The nation's best coverage paired with competitive prices and the new LTE Advanced network
Pros
Reliable and widespread network
Impressive data speeds
Why we chose it
Reliable and widespread network
RootMetrics gives out regional awards to carriers that are top performers in categories like network speed and reliability, call quality, and data performance. Verizon swept the table in 2019, earning 119 of 125 possible awards. The next closest was AT&T with 51 (providers can tie, which is why the numbers don't exactly add up). The difference between those numbers shows that Verizon truly has the best track record for offering its customers a reliable network and satisfying performance across the U.S.
Impressive data speeds
Perhaps most impressive are Verizon's data speeds. Verizon is on the forefront of new technology; it's one of the first providers to have adopted new 5G technology, which promises speeds in the 200 Mbps to 300 Mbps range. While this figure has yet to be corroborated by long-term experience in the real world, it's safe to say it will mark a considerable step up from the 4G LTE network's peak download speeds of 50 Mbps. Verizon claims that this technology works by combining multiple wireless connections together to create what amounts to a bigger, stronger channel piping data straight to your phone.
Points to consider
Expensive
Verizon's plans are consistently more expensive than those of its competitors. For example, the T-Mobile Essentials unlimited plan starts at $60 for one line, with data speed throttled at 50 GB. Verizon's basic unlimited plan, by comparison, starts at $70, with data speeds slowed at unpredictable times based on congestion. The next tier guarantees fast speeds until you hit 25 GB, with a price hike up to $80; the most advanced plan, with throttling at 75 GB, costs $90 for a single line.
On top of that, Verizon doesn't include taxes and fees in its advertised price as T-Mobile does. Verizon's higher price could be worth its dependability in your area, but be aware that there may be more than a little sticker shock when it comes time to pay your bill.
T-Mobile
T-Mobile
The "Uncarrier" outperforms all other carriers in metro areas and now offers unlimited data plans across the board
Pros
Unmatched unlimited plan
Additional perks
Why we chose it
Unmatched unlimited plan
After prodding Verizon to end overage fees with a nifty bit of skywriting in 2015, the "Uncarrier" T-Mobile played its trump card; as of September 2018, all new subscribers receive unlimited talk, text, and 4G LTE data. And though "unlimited" is never truly unlimited, T-Mobile doesn't start throttling speeds until you've hit 50 GB of data usage. It's a generous limit at a great value — especially because video and music streaming won't count toward that data cap. T-Mobile Essentials costs $60 for one line, and each additional line is about $10 cheaper. T-Mobile prices include taxes and fees, while Verizon's comparable 75 GB plan costs $90 before taxes and fees.
And if an unlimited data plan sounds like overkill to you, T-Mobile also has you covered. It offers the cheapest talk/text plan for those who don't need data — just $20 per month per line.
Additional perks
T-Mobile offers its customers extra perks and features to increase its value. Its international plan is unmatched, with text and data in more than 210 countries. Its plans also come with free in-flight texting, one hour of in-flight data use, and a free two-screen subscription to Netflix when you sign up for two lines or more.
Outside of plan-based perks, the T-Mobile Tuesday app also offers weekly prizes like free movie rentals, discounted movie tickets, money toward Dunkin' Donuts or Baskin-Robbins, and opportunities to win sweepstakes.
Points to consider
Weaker network
While the company has made impressive strides to increase network coverage, it still isn't on par with AT&T and Verizon, particularly in remote areas. Be sure to check the network near your address and places you frequent before going all-in with T-Mobile.
AT&T
AT&T
It's no Verizon, but AT&T's merger with DIRECTV offers a unique way for TV-lovers to save
Pros
TV and wireless bundles
Reliable network
Why we chose it
TV and wireless bundles
The one place where AT&T holds a competitive advantage is in its bundles. In mid-2015, AT&T merged with satellite TV provider DIRECTV, making bundling discounts available for the first time. In 2018, the DIRECTV live streaming service was paired with its unlimited phone plans, providing more than 30 live TV channels that you can stream on any platform.
You won't dramatically slash your bill by bundling, but these deals make AT&T worth considering if you're a heavy data user (in the 22 GB range) and you also need a paid TV service.
Reliable network
AT&T falls behind Verizon for network coverage, but its performance is reliable in more markets than Sprint. If your first priority is call performance across many areas, AT&T is good a bet. In RootMetrics' report, it came in second with 51 out of 125 possible awards.
Points to consider
Low data cap
With every carrier, unlimited data isn't truly unlimited — but AT&T sets the limit unusually low, with its cheapest unlimited plan throttling speed after 22 GB of data usage. That's half of T-Mobile's data limit. If you spend a lot of time streaming or browsing social media in places without WiFi, there's a chance you could go over your limit.
Sprint
Sprint
Sprint's network lags behind the others, but the price is right — especially if you're a light data user
Cons
The weakest network
T-Mobile and Sprint merger
Why we chose it
Price
If you're in search of a budget option but don't want to give up the reliability of Big Four service, Sprint has a range of plans that hit their target. It ties with T-Mobile for offering the cheapest unlimited data plan, starting at $60 per month. Sprint also tends to run numerous half-off promotions that can provide an extra nudge.
Perks
It's common for carriers to offer subscriptions to entertainment services as promotions. Sprint goes above and beyond the competition by partnering with four services: Depending on the plan you choose, you can get free subscriptions to Hulu, TIDAL music, Amazon Prime, and Lookout mobile security. This adds to the value of Sprint's plans, especially for customers already paying for some of these services.
Points to consider
The weakest network
Sprint has tried to position itself as the budget brand, with reliability that beats T-Mobile and performs within 1% of Verizon and AT&T. That's a bit misleading, because reliability only measures "accessibility and retainability of voice calls and data sessions" and doesn't account for network speed or overall coverage. RootMetrics' scores and map confirm that Sprint's network is notably less extensive than Verizon's, and it ranks dead last in terms of overall data speeds.
T-Mobile and Sprint merger
The merging of T-Mobile and Sprint is years in the making, and in July 2019, it was approved by the FCC and the U.S. Justice Department. The merger is not final yet, as the deal still needs to be approved by a federal district court. If the deal holds up, T-Mobile will buy Sprint for $26.5 billion and become the third-largest U.S. wireless carrier, with about 90 million customers. A dramatic shift in the industry will likely ensue, as the two companies, now working as one, plan to cover 70% of the country with 5G by 2023. While this has yet to have an impact on Sprint mobile plans, customers fear that a merger will result in higher monthly bills across the board.
How to Find the Right Cell Phone Plan for You
Check your local network
You'll want to start your shopping by checking for the strongest networks in your area. RootMetrics lets you check network coverage in your neighborhood and you can search the site's map by area code, city, or neighborhood, and zoom in as much as you want — the site analyzes coverage almost to the backyard level. You can apply filters from the drop-down menu to look at specific providers or at specific types of coverage, like voice versus data. We'd recommend comparing two providers with the strongest coverage in areas you frequent, like home, work, or school.
Calibrate on your data needs
The average smartphone subscriber in North America uses about 7 GB of data per month, according to a June 2019 report from information and communications technology group Ericsson (up from 3.7 GB in 2016). This number serves as a good guidepost when you choose a plan: It's roughly the amount of data you'll need if you check directions and browse the web daily. But if you're looking to cover multiple family members, or if you spend many hours per day on your phone, you'll need a higher-tier unlimited plan. (And if you don't use your phone even for directions or web browsing? You're a prime candidate for a much cheaper plan through an MVNO.)
| | | | |
| --- | --- | --- | --- |
| Number of Lines | WiFi-First or Infrequent Data Users | Typical Data Users | Heavy Data Users |
| 1 | 1-3 GB | 4-7 GB | 7 GB |
| 2 | 2-6 GB | 8-14 GB | 14 GB |
| 3 | 3-6 GB | 12-21 GB | 21 GB |
| 4 | 4-12 GB | 16-28 GB | 28 GB |
Compare costs
Once you know what you'll need, and from which providers, it's time to compare the costs and find the best phone deals for you. You'll want to factor in any taxes and fees, as well as additional features that increase the overall value of your package. If you have several lines to add, look for promotions that take down the price for family plans. And don't skip out on autopay; it saves you $5 to $10 with every carrier.
Cell Phone Plans FAQ
Should I get a prepaid cell phone plan?
If you have eyes only for your budget, we'd suggest avoiding the Big Four entirely and instead choosing a cheaper MVNO provider like Cricket or Republic Wireless. MVNOs do not operate their own networks and instead offer access to one or several of the major carriers' networks at a reduced cost. Choosing the right MVNO requires knowing which network it uses and whether that network works well where you live.
Although prepaid and MVNO plans are cheaper, data is typically limited to around 3 GB; the highest cap we were able to find was 10 GB. In other words, these plans are only going to work if you use very little data. You also won't have access to lightning-fast load times or recently released smartphones. You'll need to stick with a major carrier for either of these perks.
Do phone carriers do credit checks?
Yes. Credit checks help carriers determine if you'll need to put money down for financed devices. Most often it's a soft credit check, and it won't affect your credit score. If you'd rather opt out, prepaid phone plans don't require credit checks.
Do cell phone carriers have military discounts?
Yes. All of our top picks offer various discounts on phone service for service members, veterans, and their families. This can mean a discounted plan, a percentage off the bill, or discounted accessories.
Our Other Wireless Reviews
We've spent years reviewing all things mobile. If you're looking for alternative plans, or if you want more information on individual providers, check out our other reviews below.